Taking a trip with your loved one is the most romantic thing you can do. Stunningly beautiful scenery, including white sand beaches, verdant forests, unique animals, and gourmet cuisine. Just what more could you want? You two will feel a complete body, mind, and spirit reconnection in the Caribbean. If that sounds like the two of you need, here are the best Caribbean islands for couples looking for the perfect getaway!
1. Turks and Caicos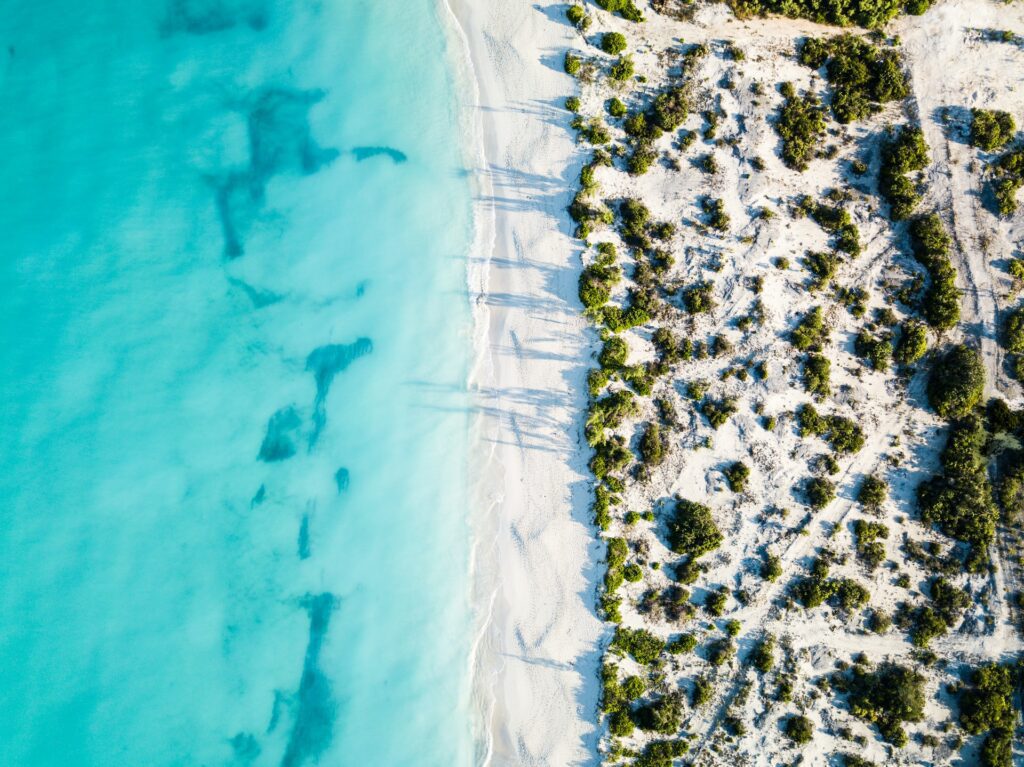 White sand beaches and colonial buildings draped in bougainvillea are among Turks & Caicos' many attractions. Scuba diving couples will find some of the Caribbean's most extraordinary spots outside its coral barrier, stretching for seven thousand feet. It's one of the best Caribbean islands for couples who want to stay low-key and want to savor their moment with the ocean and nature.
These islands in the Caribbean have some of the most beautiful beaches in the world. The sands are so pure it seems to gleam in the sun. Also, the ocean is so clear and pale blue that you can see the seafloor for miles.
In this place, you can spend much time in and around the stunning waters of the Turks and Caicos; in contrast to more urbanized Caribbean islands, outdoor activities take precedence over shopping and sightseeing. The primary pursuits here are water sports, including scuba diving, boating, snorkeling, and simply lounging in the sun.
---
2. Barbados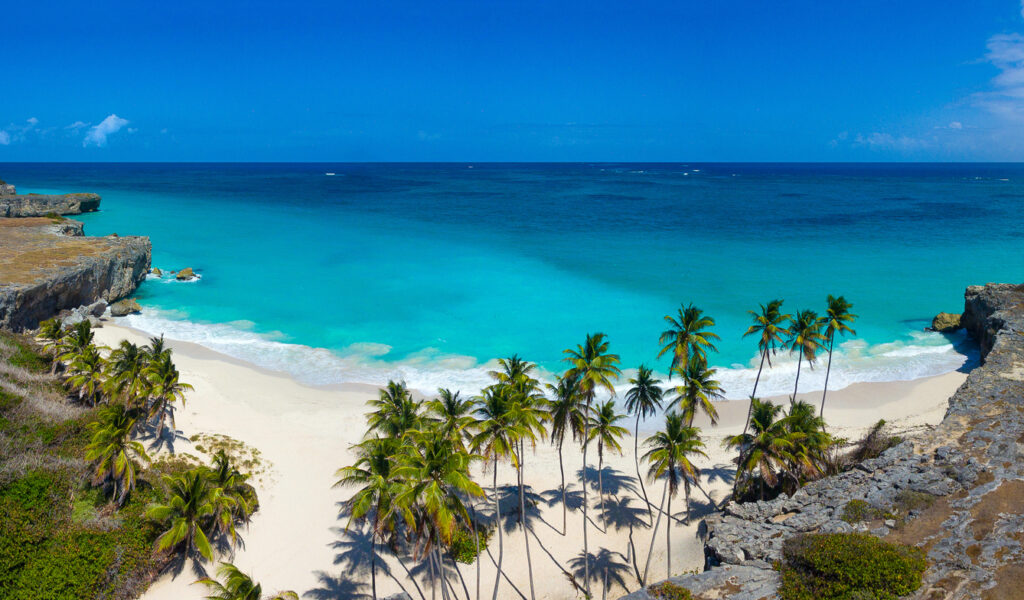 Barbados is among the best Caribbean islands for couples looking for a memorable vacation. Carlisle Bay is located on the outskirts of Bridgetown, the capital of Barbados. Pure white sands and unobstructed views of the enchanted Caribbean make for the perfect tropical getaway.
Bayshore Beach, Brownes Beach, and Pebble Beach are three of the most excellent beaches in Barbados, and they're all located in Carlisle Bay. Enjoy the stunning natural surroundings as you look out over the infinite ocean framed by a grove of swaying fruit trees.
While many great eateries are along the coastline, many newlyweds carry a picnic lunch for a romantic afternoon together. Those who visit the beaches early in the morning or late in the afternoon may be treated to Barbados' most beautiful sunrises and sunsets. This stunning view is the epitome of romanticism.
---
3. Saint Lucia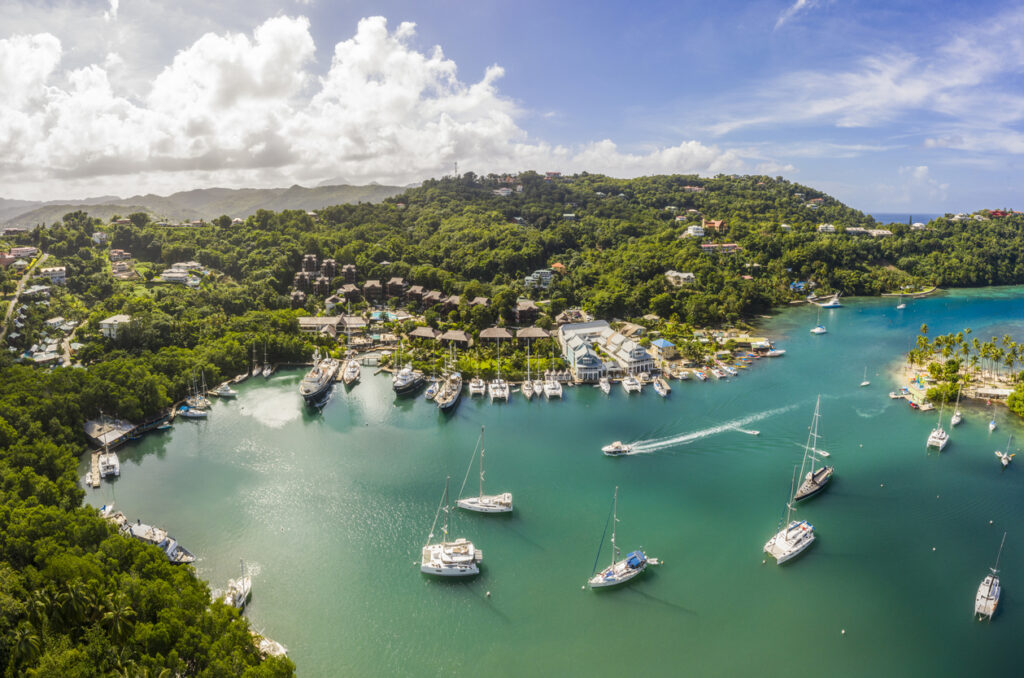 Saint Lucia is perfect for couples looking for a romantic getaway in the Caribbean. It combines a tropical setting with plenty of opportunities for outdoor recreation and fascinating island culture.
Pidgeon Island National Park and Tet Paul Nature Trail offer access to a tropical rainforest. These two are ideal destinations for hikers. Moreover, La Soufrière is located in the lee of the towering volcanic Pitons. It is home to several notable landmarks. It includes the tranquil and romantic black-sand beach of Anse Mamin and the Diamond Botanical Gardens.
Restaurants abound where you may sample regional specialties like salt fish, green figs, and cassava bread. In addition, Friday nights are when the Gros Islet Fish Fry is held, so plan your visit around that and an afternoon cricket match.
The island also boasts the Caribbean's most breathtaking landscapes. Saint Lucia's Pitons, a UNESCO World Heritage site, are located south of the island, away from the busier and more developed northern part. Traveling between the north and the south can be completed in a day, but a more extended stay on either side is highly recommended.
---
4. St. Vincent and the Grenadines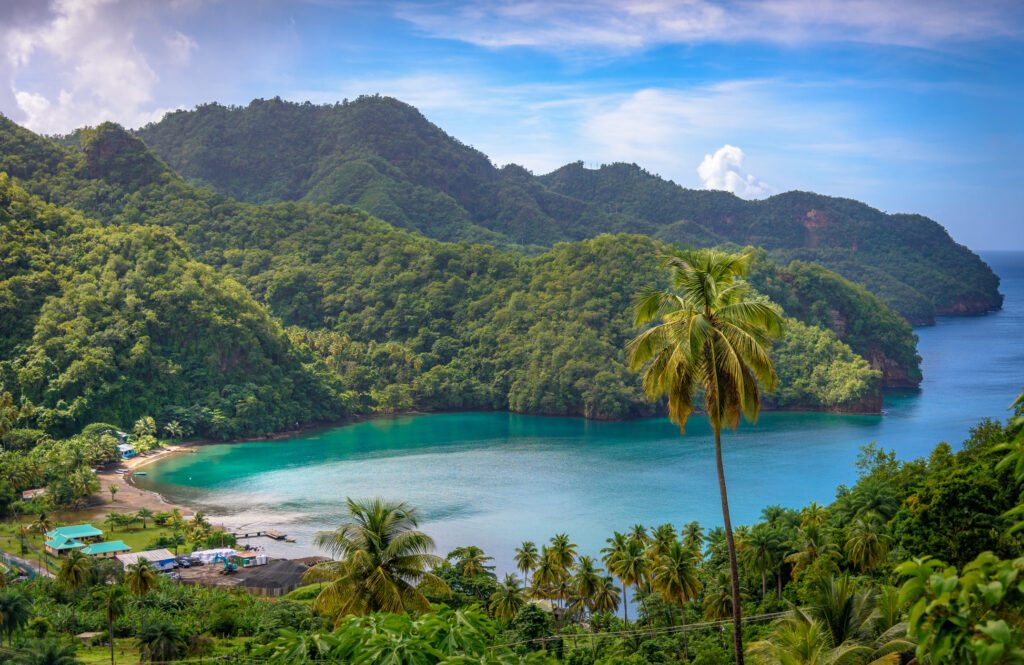 St. Vincent and the Grenadines are known as the "Jewels of the Caribbean," consisting of 32 islands. It is home to some of the world's most swoon-worthy five-star accommodations, ideal for honeymooners. No wonder it ranks among the best Caribbean islands for couples.
You'll find azure waters if you book a stay at one of their honeymoon-friendly resorts and venture into the tropical landscape. Moreover, this place boasts beautiful beaches and vibrant reefs. This makes snorkeling, sailing, diving, tanning, bathing, and other water sports an absolute dream.
In this place, you can hike up a majestic volcano or plunge off a cliff into a waterfall pool. You can also explore lush tropical gardens or relax with a massage on the sand.
Moreover, you and your special someone can also enjoy activities like golf, tennis, and spa treatments. The food is delicious, the sunsets are beautiful, the locals are warm and welcoming, and the prices are all-around reasonable. Indeed, you can find honeymoon accommodations to suit any budget.
---
5. Jamaica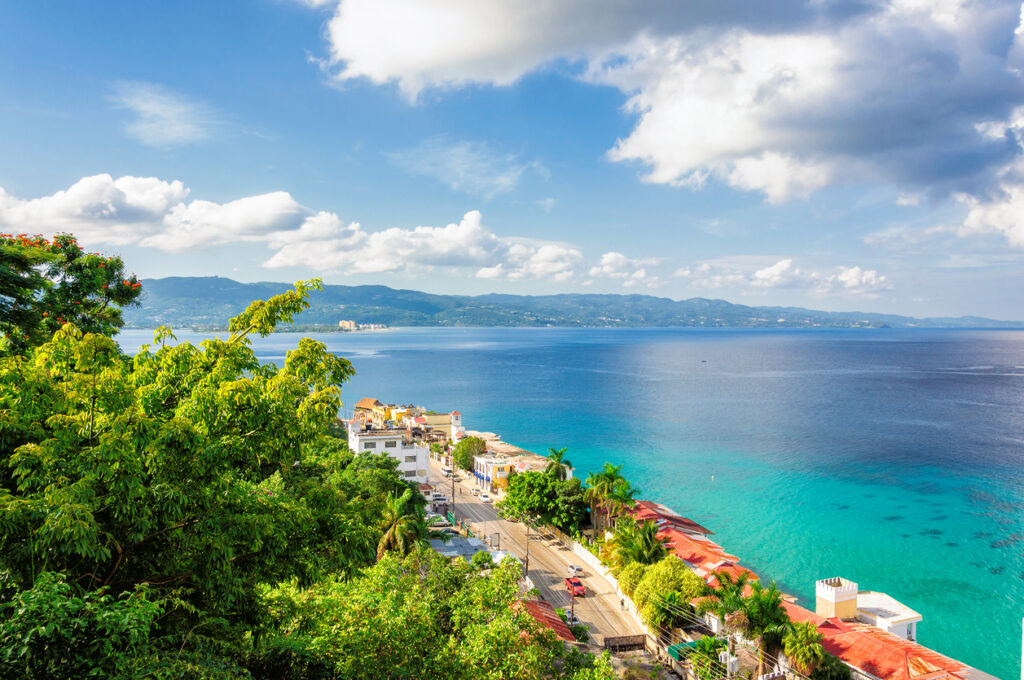 Jamaica ranks among the best Caribbean islands for couples seeking a relaxing getaway. It boasts a pleasant year-round temperature, a laid-back island vibe, and exciting music and dance festivals. Stepping cliffs drop off into the water around the island and lush tropical forests nearby.
The food of Jamaica has been influenced by African, Jamaican, and European cultures throughout its lengthy history. And it is incredibly diverse. Many visitors love the cuisine thanks to its abundant eateries.
Moreover, the island is the birthplace of Sandals Resorts for honeymooners and couples alike. The Sandals resort chain runs roughly 20 resorts on beachfront sites in places like Antigua, Barbados, Grenada, St. Lucia, the Bahamas, and Curaçao. Among these, you can find seven in Jamaica.
---
6. Bahamas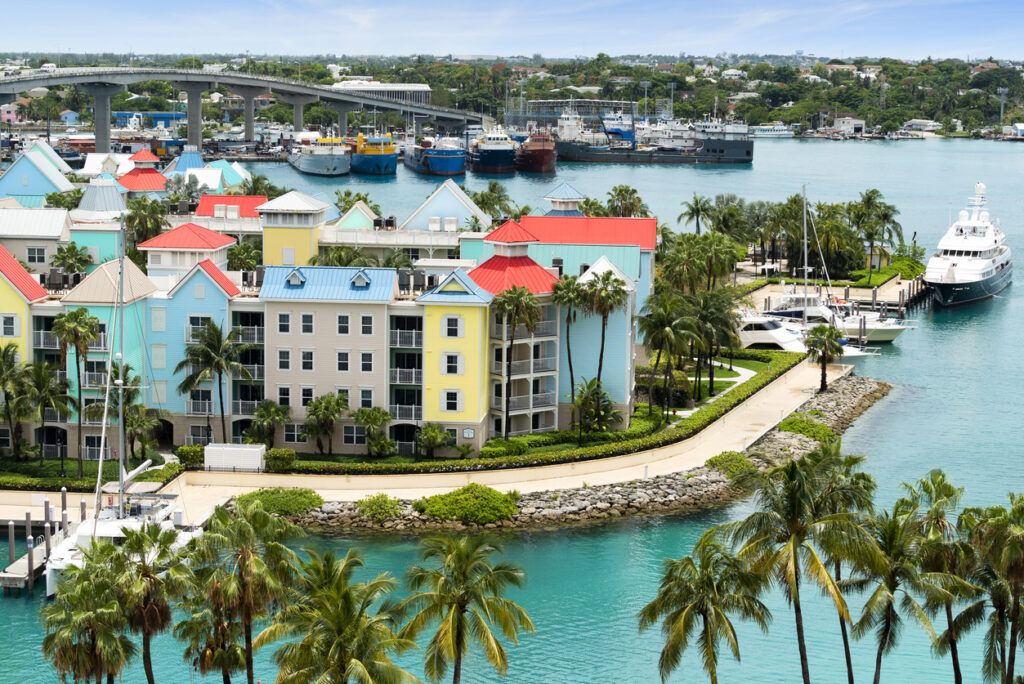 Something unique about the Bahamas must make it so popular with vacationers. This place has an undeniable allure, whether the 700 coral islands, the pink sands, or the pigs lounging on the beaches. In addition, the Bahamas provide a plethora of exciting activities. Being here will always be exciting for you. No wonder it's one of the best Caribbean islands for couples looking for the perfect getaway.
Whereas the days are warm, the evenings are chilly. The pleasant climate makes it possible to enjoy the sights and spend time at the beach. Each and every type of tourist will enjoy their time in this country. Visitors can enjoy picture-perfect landscapes, beautiful beaches, warm weather, lush gardens, and luxurious hotels.
There's also the option of engaging in some daring pursuits. The Bahamas also provide opportunities for those seeking life-changing adrenaline rushes. Best of all, getting to the Bahamas is a breeze. Two local airports offer direct flights to major cities in the United States.
---
7. St. Kitts and Nevis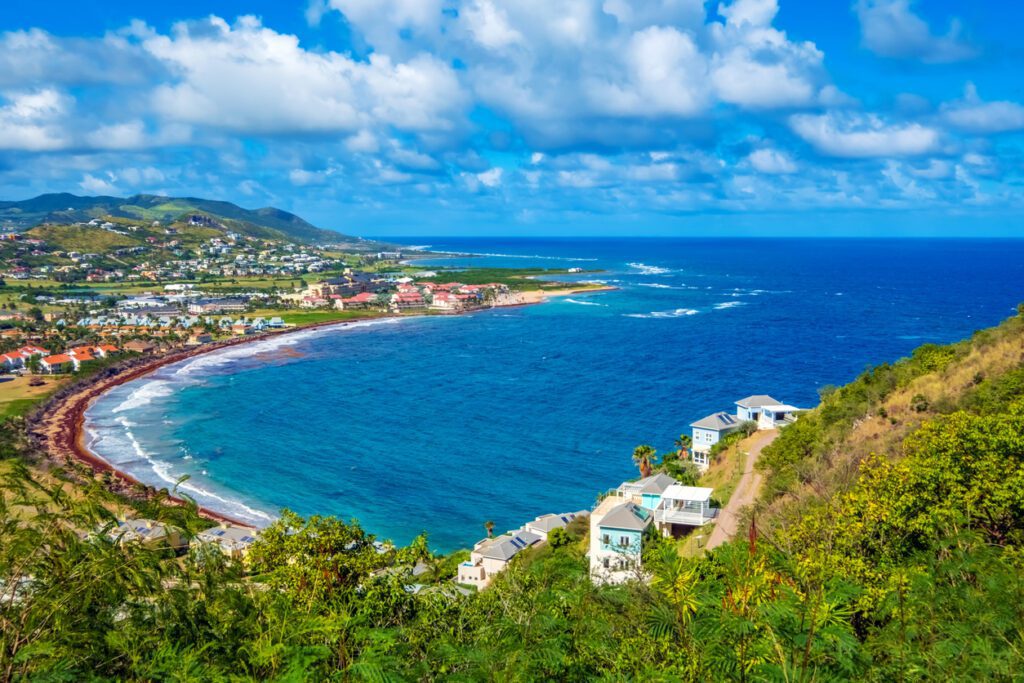 Visitors can find the lovely islands of St. Kitts and Nevis in the middle of the Atlantic and Caribbean seas. It's one of the best Caribbean islands for couples looking for a romantic getaway. This place has beautiful beaches (white and black sand), lush rainforests, and volcanoes.
If you want to take the island's stunning scenery, Cockleshell Beach is a great place to visit. From there, you will see the sweeping vistas of Nevis's mountains.
Alternatively, you may go on a breathtaking climb up Mount Liamuiga, which offers spectacular views from the peak at over 4,000 feet above sea level. It's the highest point in the British Leeward Islands, and a three-hour climb will get you there.
Furthermore, traveling in tandem kayaks from South Briar Bay to Frigate Bay is a unique way to experience the outdoors. Get away from it on a catamaran cruise in Basseterre if you and your significant other need quality time together.
Lay out on the catamaran's netting and take in the dazzling turquoise sea and bright blue sky. After a leisurely sail down the beautiful coast of St. Kitts for an hour, you can go snorkeling or swimming at one of the island's top beaches.
---
8. St. Barts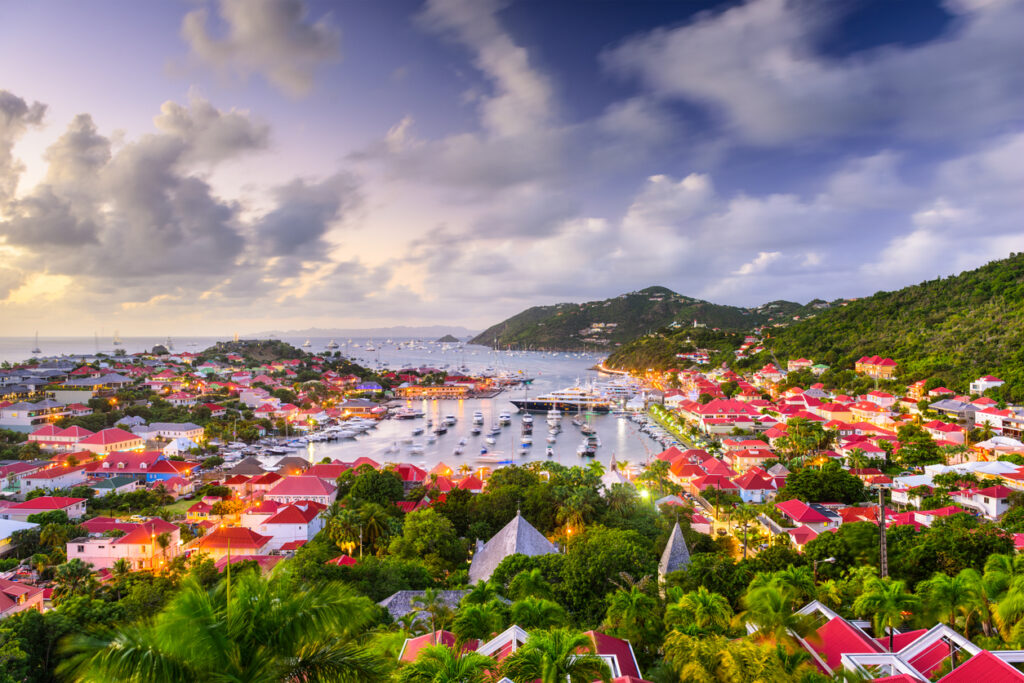 In the French West Indies, St. Barts is the smallest island and one of the most stunning. The island's allure stems from its warm green-blue oceans, white sand beaches, and sweeping scenery.
St. Barts is one of the best Caribbean islands for couples seeking a relaxing vacation. It combines the laid-back atmosphere of the Caribbean with the refined sophistication of France. This is one of the best honeymoon spots in the world, with picture-perfect beaches and many opportunities to spy on famous faces while sipping cocktails by the pool.
Hollywood's elites visit this posh island. St. Barts is known for its picture-perfect beaches and crystal-clear waters. Guests of the island's outstanding resorts or one of the many luxurious villas can forget the outside world and reconnect with their significant other.
---
9. Grenada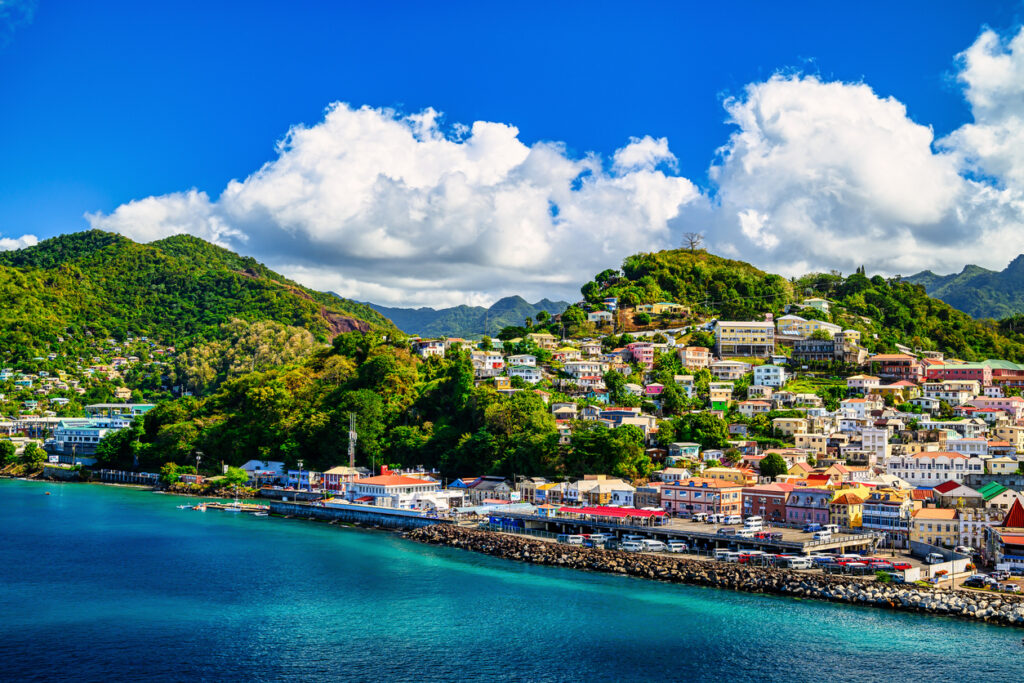 Grenada is a Caribbean paradise that has remained largely untouched, making it a perfect destination for those seeking a genuine beach vacation. With all the exciting opportunities available, you won't have a moment to get bored in Grenada.
Several beautiful waterfalls, chocolate factories, and rum distilleries can be found on this island nation. In addition, there are many places to dive where you can see breathtaking marine life.
Grenada is one of the best Caribbean islands for couples seeking an out-of-the-ordinary vacation. Despite the country's rising star status, it has yet to swarm with visitors. Visit Grenada if you're searching for a destination that can satisfy your need for awe-inspiring scenery, adrenaline-pumping activities, and a wealth of experiences.
Moreover, the area is home to the largest shipwreck in the Caribbean and the world's first underwater sculpture park, providing an unforgettable experience. Sculptures in the Molinère Beauséjour Marine Protected Area serve as artificial reefs, attracting many different kinds of tropical fish.
---
10. Aruba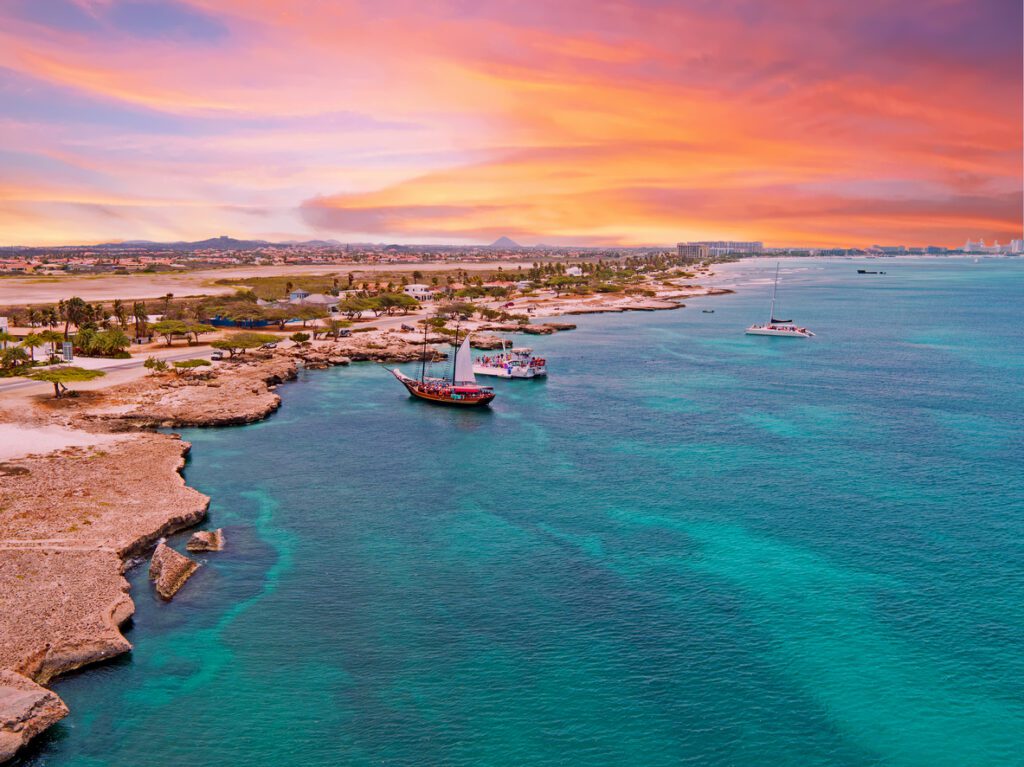 Aruba is perfect for couples seeking quiet, high-end accommodations. The island is ideal for candlelit dinners and long walks on the beach. It is home to numerous five-star resorts, manicured golf courses, and exciting casinos, making it one of the best Caribbean islands for couples looking for a luxurious experience.
Oranjestad, the capital and a bustling harbor town, exudes a charming, Dutch-inspired atmosphere. Indeed, Aruba is where a couple could spend their entire trip lying on the beach while sipping cocktails.
The island is known for its beautiful shores, such as Eagle Beach and Palm Beach, popular with residents and tourists. Visit Palm Island to learn more about coral restoration efforts, or surprise your sweetheart with a trip to the Natural Bridge, a natural marvel formed entirely of coral.
---
11. Antigua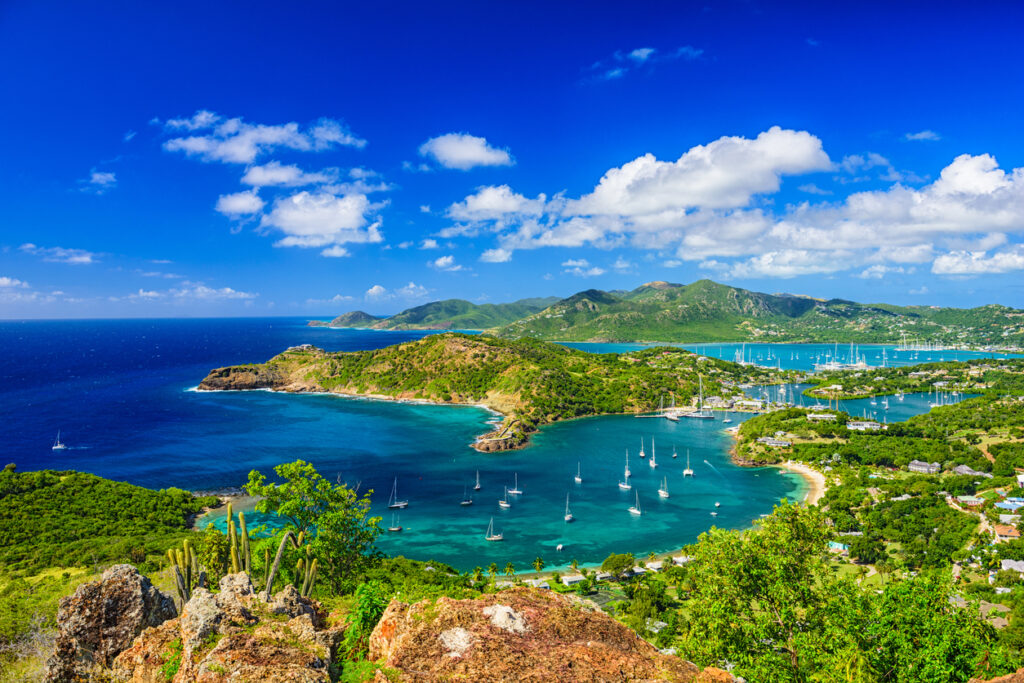 Antigua is one of the best Caribbean islands for couples looking for a romantic vacation spot. Tourists flock to this stunning Caribbean paradise for its 365 beaches. It is ideal for couples or any vacationers seeking a yearlong beach vacation.
The island has exquisite dining options and premium shopping malls. Moreover, there's exciting nightlife and a fashionable ambiance for people looking for fun. In addition, it boasts beautiful beaches, rich cultural scenes, and ancient attractions.
Moreover, many stylish resorts and hotels on the island offer honeymoon packages. So selecting the ideal setting for your romantic getaway should be easy. However, the price of a trip to Antigua may be higher than it would be to some of the other Caribbean islands, but many who have been there say the extra money is well spent. The island has a variety of accommodations, from 5-star resorts to quaint beds and breakfasts.
---
12. Dominican Republic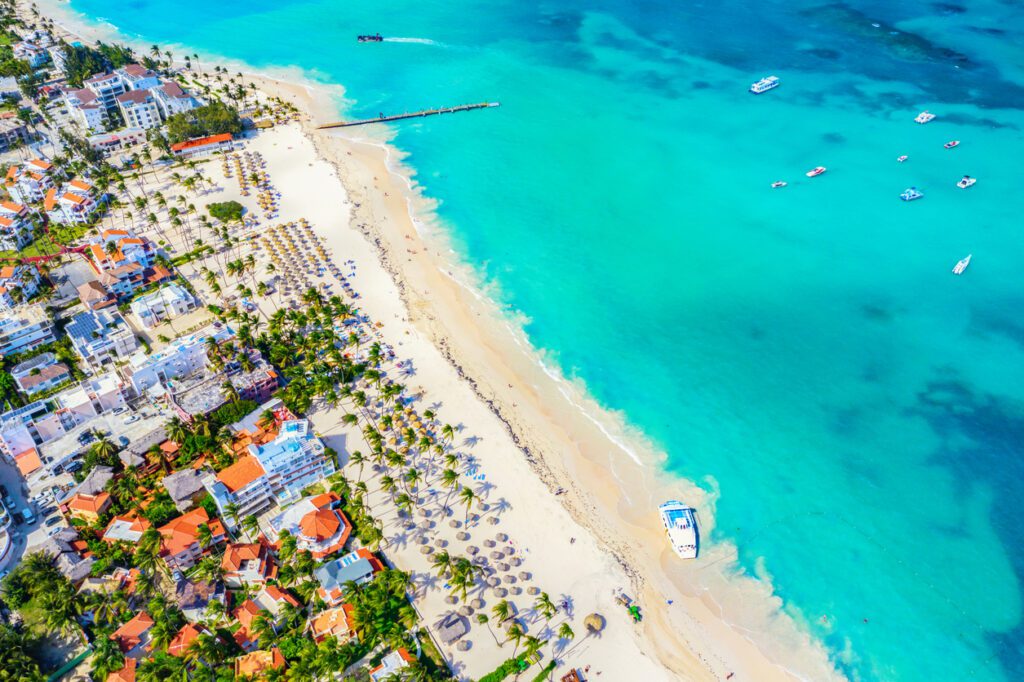 The exotic Dominican Republic is one of the best Caribbean islands for couples seeking a romantic getaway, thanks to its beautiful, unspoiled beaches and blue oceans. Moreover, the island has ideal weather and an unrivaled price-value ratio.
You'll find the best resorts in the Dominican Republic in Punta Cana, next to Bavaro Beach. Bavaro Beach is a crescent of sand 18 miles in length, and it's fringed on both ends by coconut palms and some of the best diving in the Caribbean.
Once the domain of holiday homes for the well-to-do Dominicans, the area now draws in lovebirds searching for a romantic getaway on pristine white sand beaches.
The Samaná Peninsula in the Dominican Republic is perfect if you and your significant other want to feel like you've discovered a luxurious and remote hideaway. Samaná is a quiet, traditional village on the tip of a peninsula that extends into Samaná Bay, where hundreds of humpback whales congregate annually between January and March for mating.
---
Final Thoughts
Are you looking forward to taking a trip with your significant other? You may rekindle your love with the help of the Caribbean's unique blend of romantic scenery, sea breezes, and breathtaking islands by planning a trip to one of these best Caribbean islands for couples.