For several reasons, the Caribbean is the best place to go on a honeymoon. Many people consider the Caribbean to have the world's most stunning beaches. It's the ideal spot to soak up some rays, thanks to the powdery white sand and pristine blue ocean. Additionally, the all-inclusive resorts make for a fantastic place to vacation. The following are some of the best Caribbean all-inclusive resorts perfect for a honeymoon.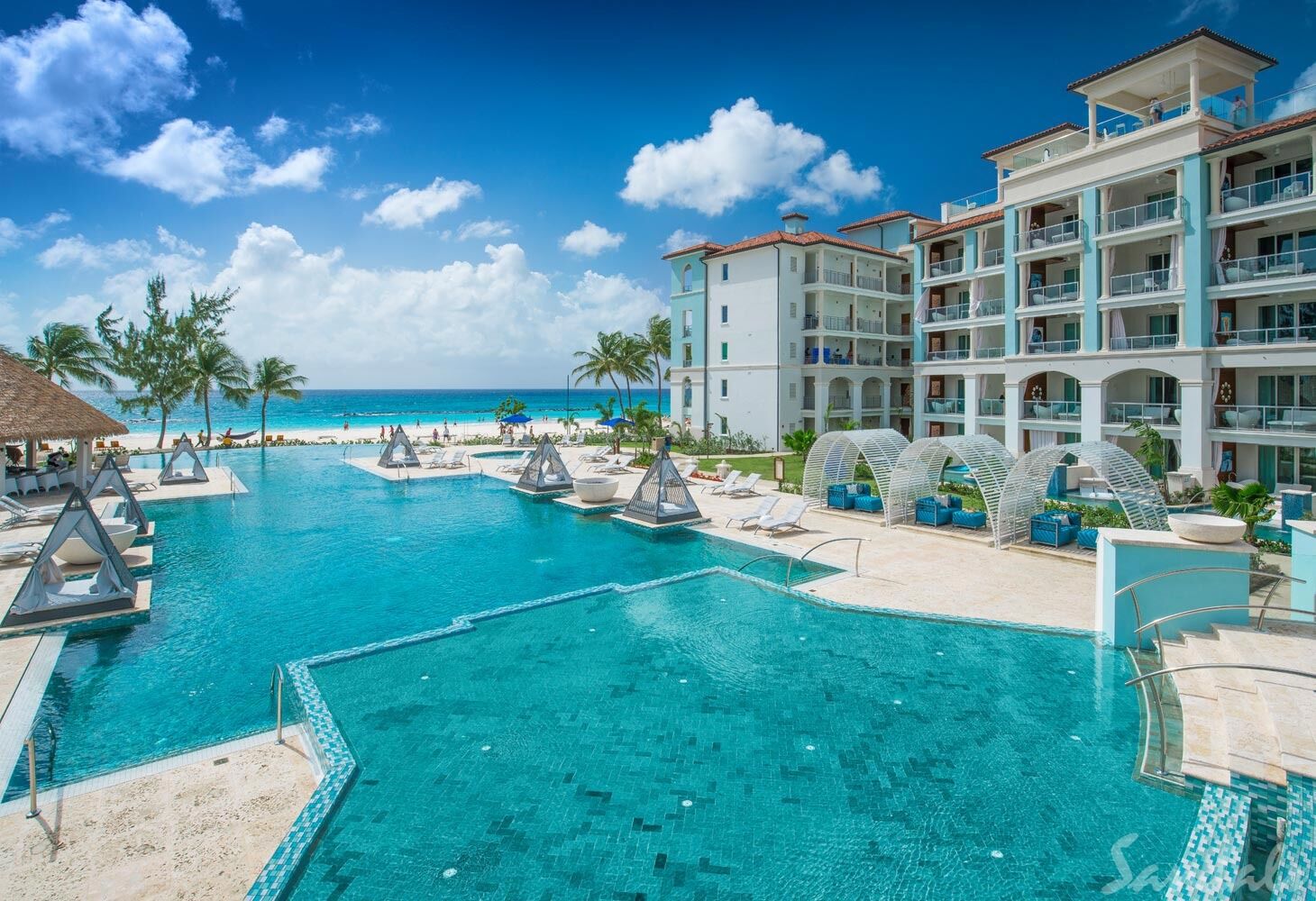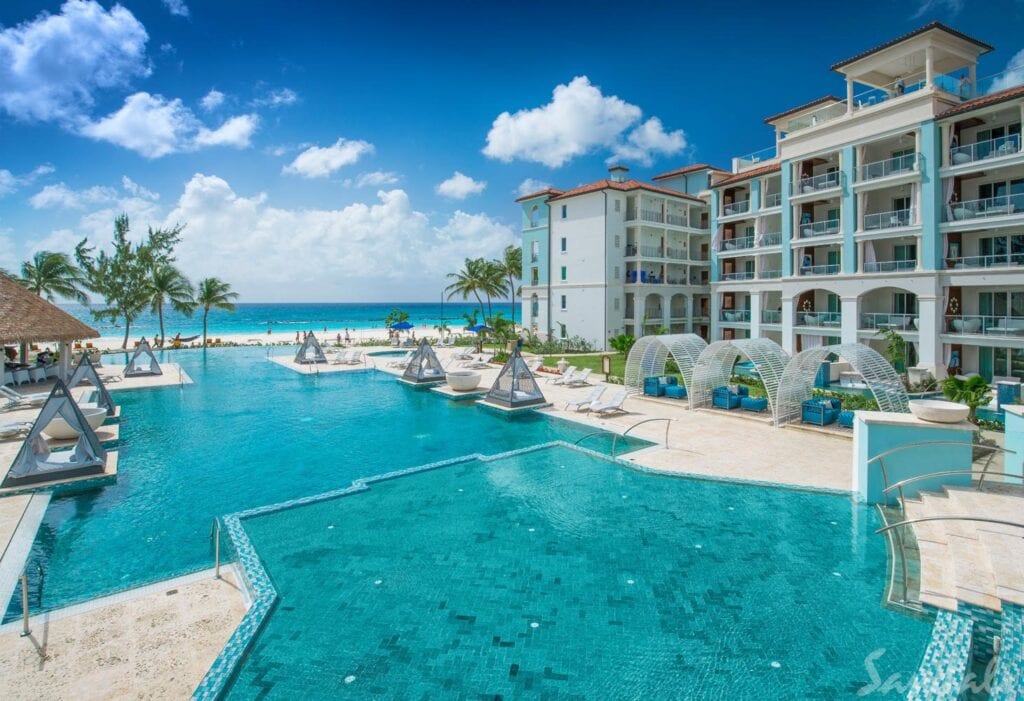 Sandals Royal Barbados, an all-inclusive resort that caters only to adults, has recently expanded. It's an excellent option for honeymooners.
The resort's South Seas Village includes 66 deluxe suites and two swimming pools. Moreover, it has two restaurants focusing on healthy fares.
Sandals Royal Barbados boasts breathtakingly wide white sand. Guests will surely enjoy the brilliant blue waters. This resort adds luxury to the fantastic "royal treatment." No wonder this is one of the best Caribbean honeymoon all-inclusive resorts.
Moreover, staying at Sandals Royal Barbados is like visiting two resorts simultaneously. Because of its proximity to Sandals Barbados, guests also use that resort, increasing their dining options. Visitors also have many options regarding drinking establishments, pools, and recreational opportunities.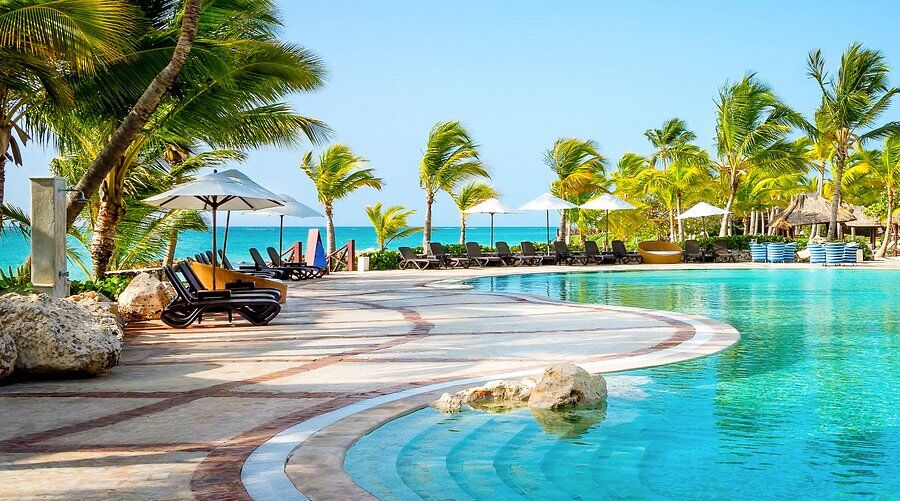 This luxurious resort is behind a guarded gate in the Dominican Republic's posh Cap Cana neighborhood. Over 30,000 acres of gorgeous beaches, manicured gardens, and coastal roads are available at this five-star resort. Moreover, this resort boasts a colonial Spanish castle town look on a cliff above the water and features 324 spacious suites.
You may play golf on one of the world's finest courses and enjoy a pleasant time at the marina. Guests can immerse themselves in the resort's elegant accommodations and five swimming pools. Moreover, there is a luxury spa and various excellent dining options.
Couples looking for fun activities will enjoy this place. There are lots of activities available, including yoga and meditation. Dance classes and coastal water sports are also available. This is one of the best Caribbean honeymoon all-inclusive resorts for couples seeking relaxation.
Furthermore, the resort has a beautiful, secluded white-sand beach, only a short walk from the public Juanillo Beach. Little over four miles away, at Scape Park, visitors may go zip lining or cave diving. Meanwhile, golf enthusiasts can play on the seaside course at Punta Espada Golf Club.
The hotel is less than 19 miles from Bavaro, a popular tourist hub. Plus, the travel to Punta Cana International Airport takes around 15 minutes only.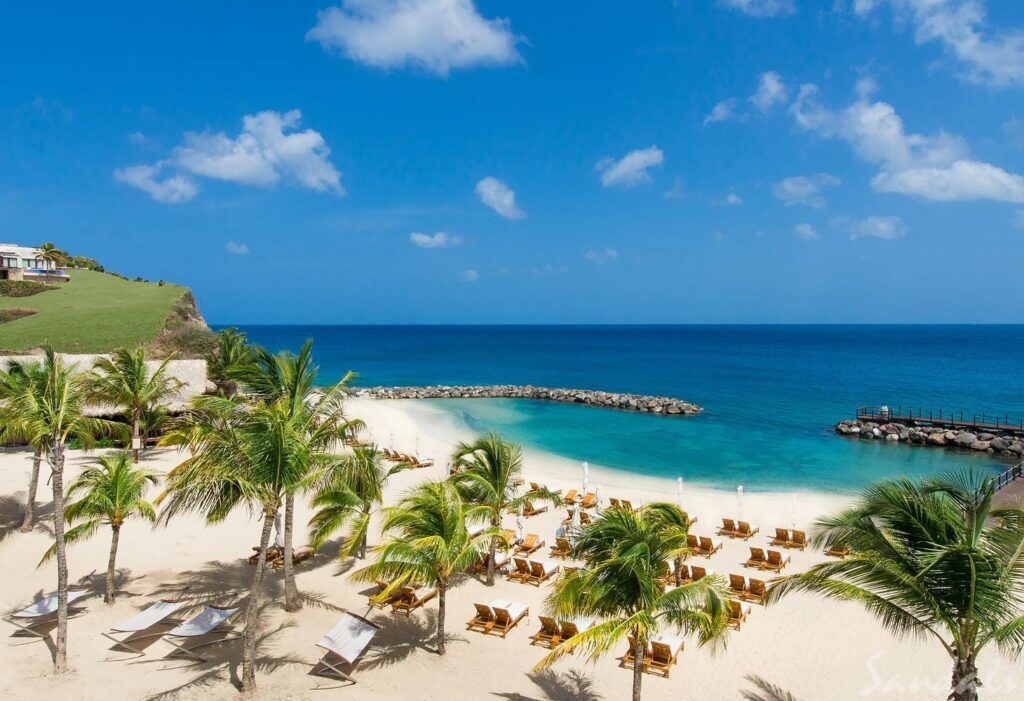 If you're looking for a honeymoon spot to kick back and relax yet still do fun things with your new spouse, Sandals Grenada Resort is a great choice. Located on the private Pink Gin Beach in the heart of Grenada, this resort ranks among the best Caribbean honeymoon all-inclusive resorts. It is a tropical haven and the epitome of Caribbean romance.
Spreading across many villages on Sandals Grenada, you can choose from more than 250 spacious suites. This includes the romantic Lovers' Hideaway.
Furthermore, the resort has plenty of secluded areas for couples to cuddle up in the lush tropical foliage. Sandals Grenada has enough to offer, and guests tend to disperse over the resort, so it always feels open.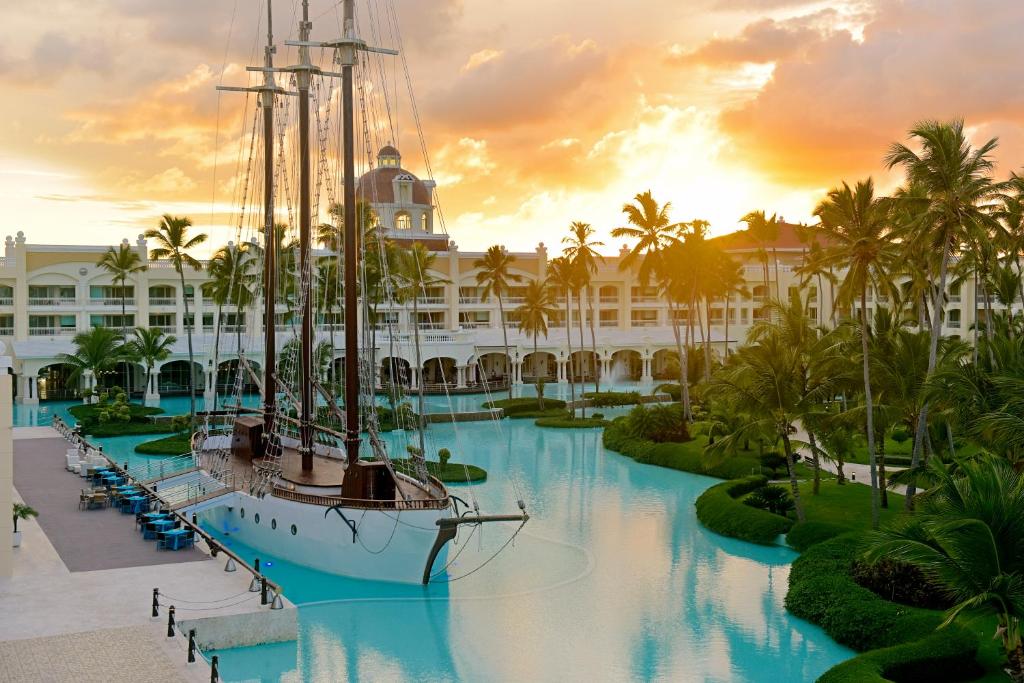 You can find Iberostar Grand Bávaro on Punta Cana's stunning Bávaro Beach. It is one of the best Caribbean honeymoon all-inclusive resorts, and is ideal for couples looking for a relaxing vacation. This luxury resort is only 35 minutes from Punta Cana International Airport.
There is an abundance of high-quality restaurants for guests to pick from. Exceptional service, complete with butlers, awaits its many visitors. In addition to its all-suite rooms and access to an 18-hole championship golf course, this beachside resort boasts a spa and fitness center. Not only that, but Iberostar Grand Bavaro is a haven of calm and serenity.
A tropical jungle surrounds the large property, and white sands wind along the coast. Guests can drink cocktails served under the thatched palapa umbrellas near the beach in this place.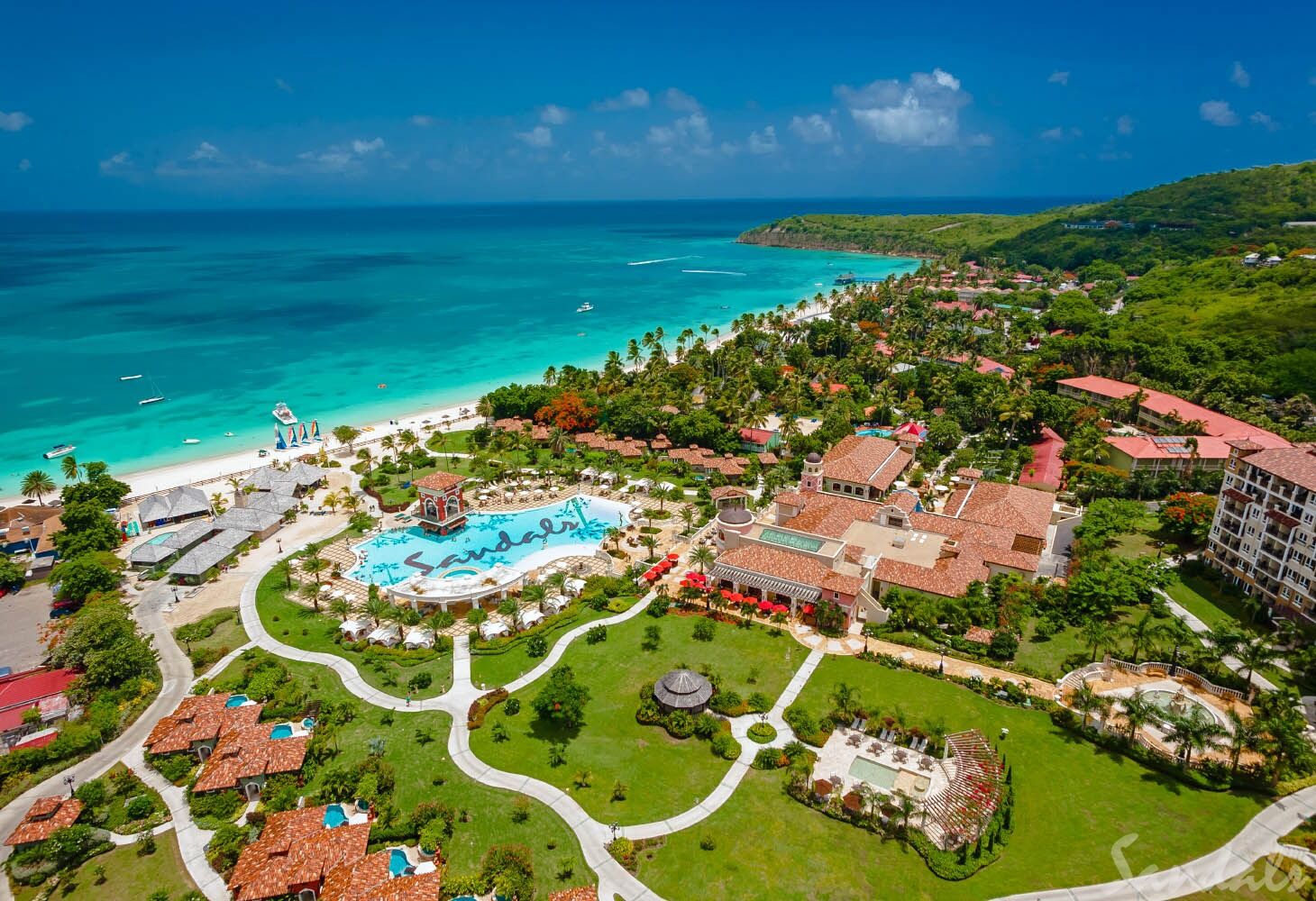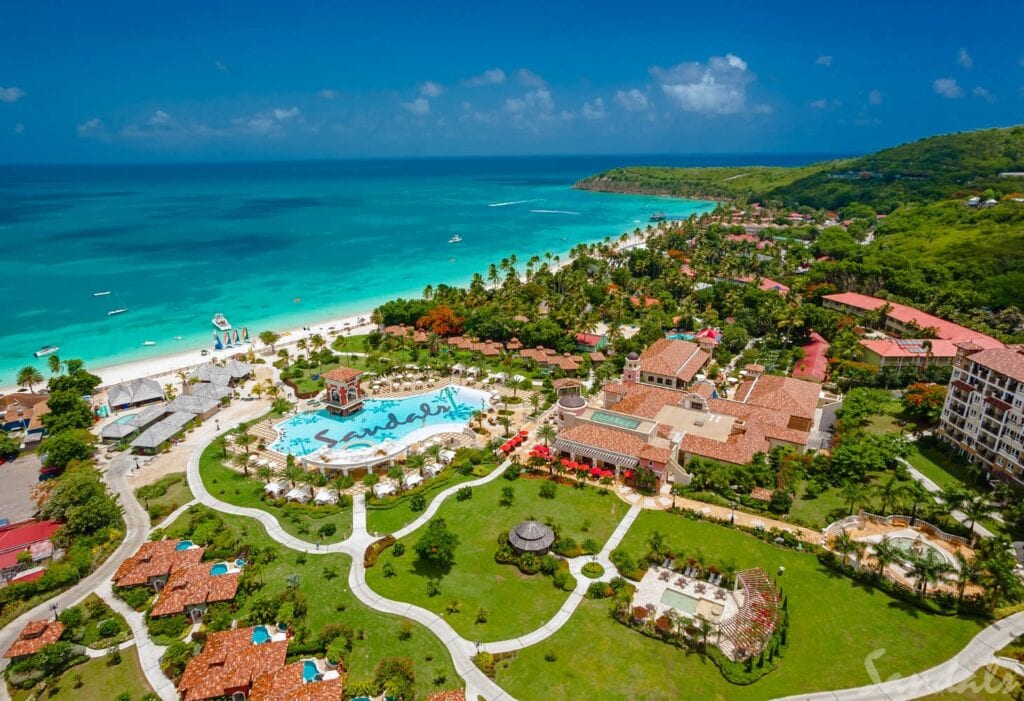 As the "world's most romantic resort," Sandals Grande Antigua is a paradise for lovebirds. Tourists can find this resort in the stunning Dickenson Bay.
Ranking among the best Caribbean honeymoon all-inclusive resorts, Sandals Grande Antigua has a picture-perfect beach. Plus, it has plush suites and an array of complimentary amenities. Many couples visit this resort due to its European elegance and Caribbean vibe.
You can find the resort's rooms and suites in one of two beachfront villages, one with a Mediterranean theme and the other with a Caribbean one. As a newlywed couple, you and your partner will love the tranquility of the Mediterranean Villa with a Private Pool Sanctuary.
A private patio with a pool and whirlpool and water views from the living room windows all contribute to the luxurious atmosphere of this one-bedroom villa. Moreover, there is a walk-in rain shower and a Roman whirlpool tub, all for your pleasure. You will also have a butler, adding to a more luxurious experience.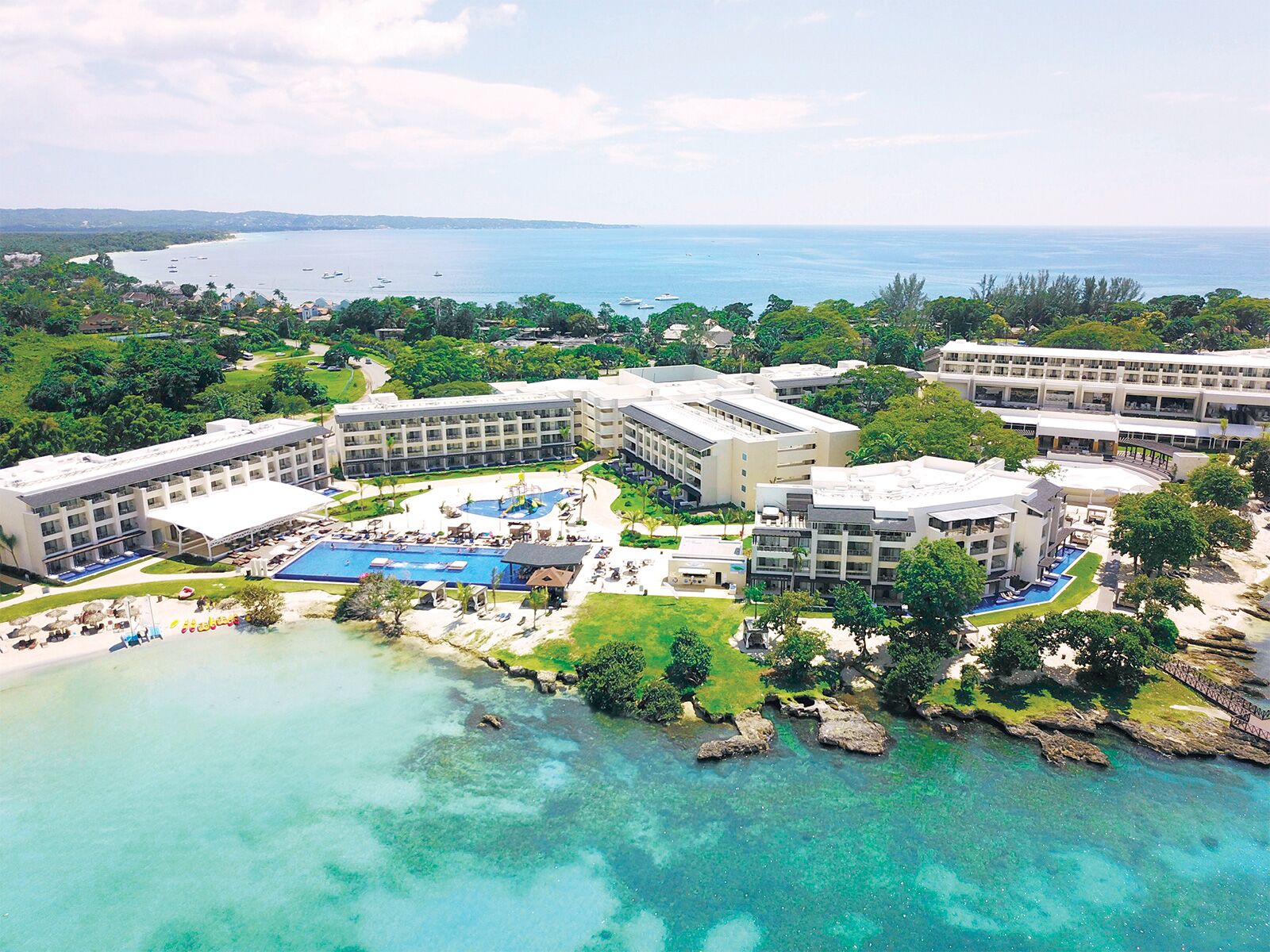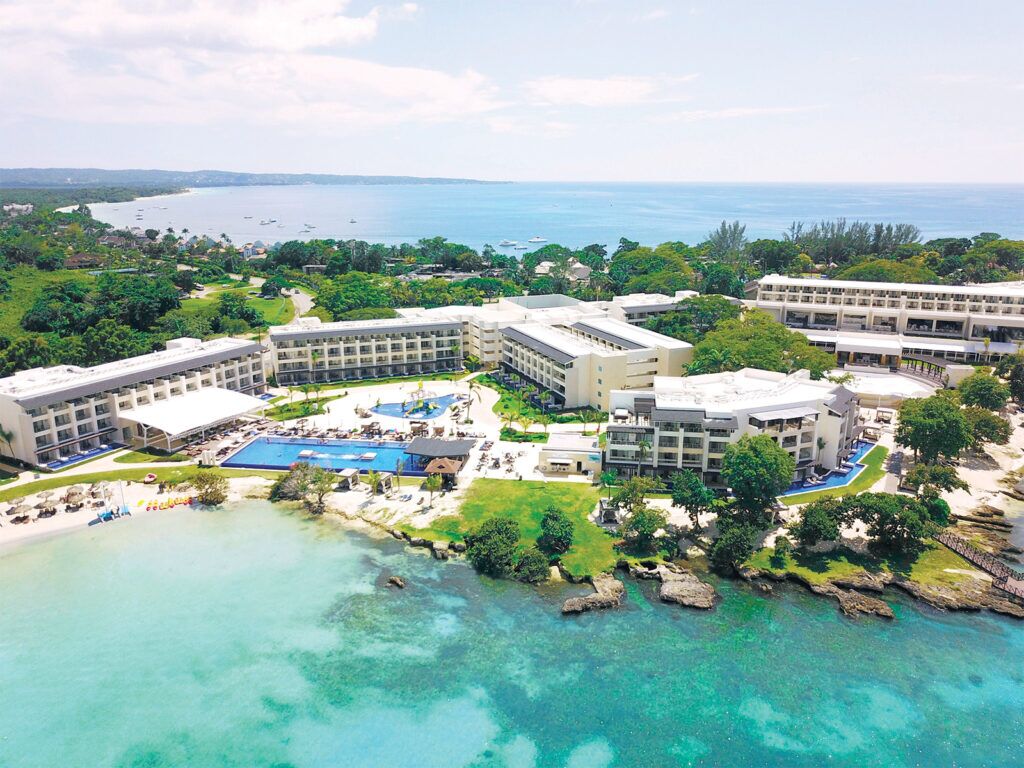 The Royalton Negril offers luxurious accommodations and a restaurant that accepts walk-ins. Indeed, this is truly one of the best Caribbean honeymoon all-inclusive resorts. There are lots of activities for you and your partner to enjoy.
Royalton Negril incorporates Jamaican traditions to create an unforgettable stay with first-rate amenities and service. You pick three separate and individual regions, each with advantages and amenities.
Check out the resort's Diamond Club or adult-only Hideaway for a more refined stay. Concierge services and in-room dining are also provided to guests.
The Royalton Negril also features a pool where guests can relax in the sun while eating breakfast at no extra cost.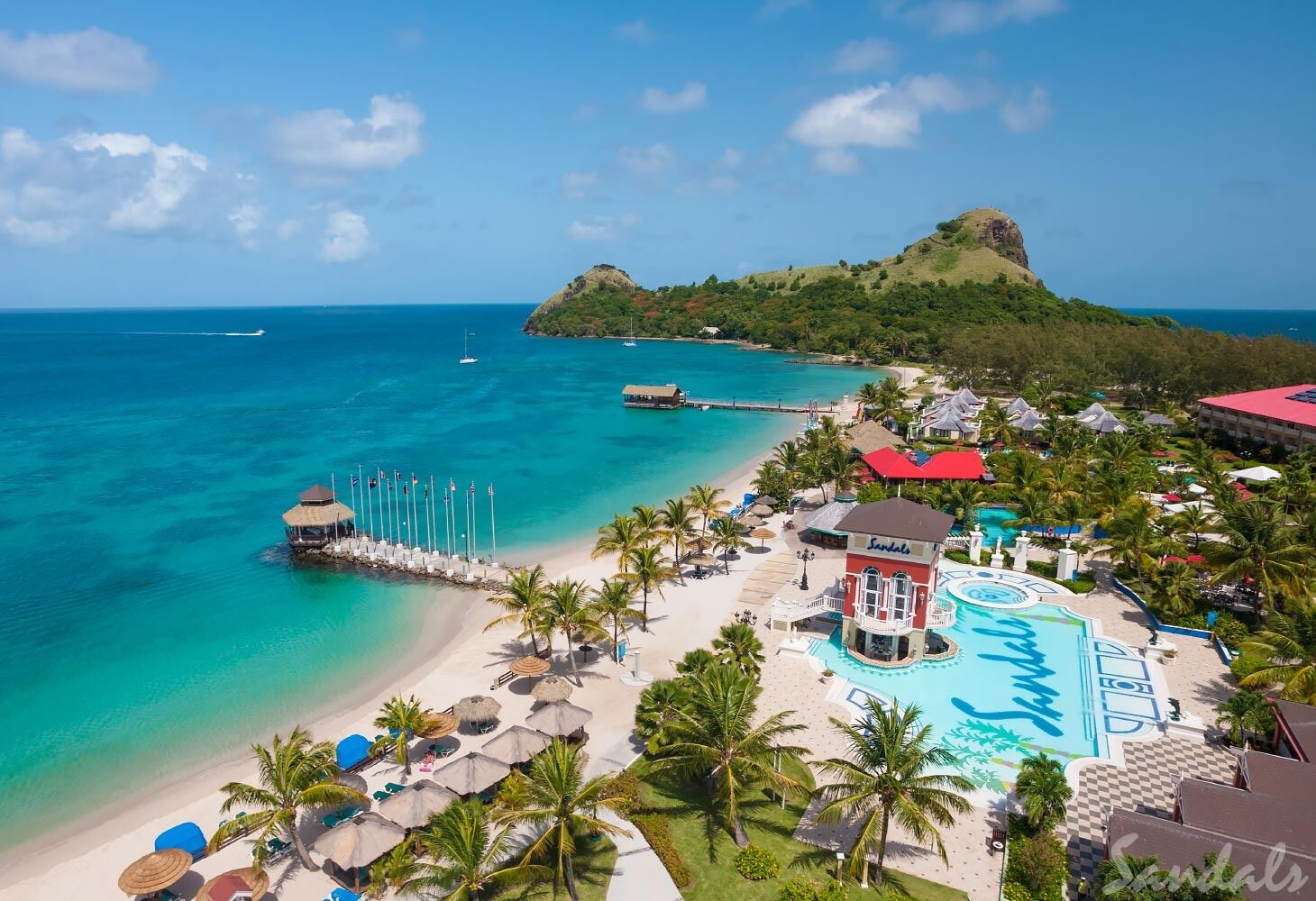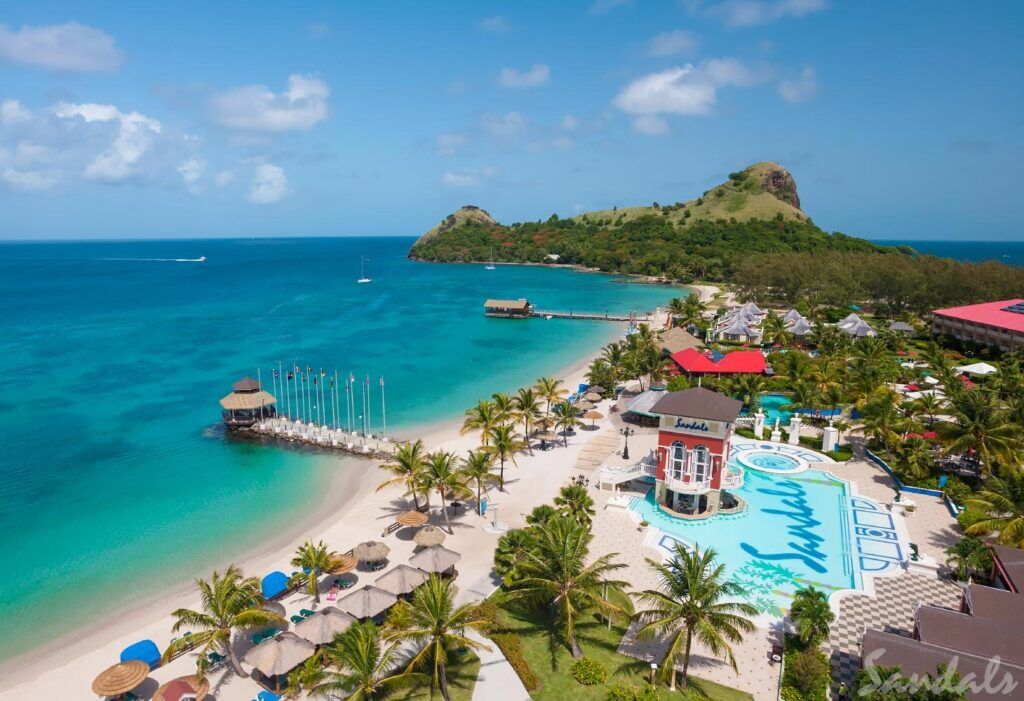 Sandals Grande St. Lucian is on the beautiful beach of Gros Islet in the island's north. It is one of the best Caribbean honeymoon all-inclusive resorts because of its romantic atmosphere.
The spectacular overwater bungalows and wide selection of restaurants and activities are frequently cited as highlights of the Sandals Grande St. Lucian experience in guest reviews.
The bungalows are great if you and your significant other want privacy. Your personal butler will handle everything you need (from unpacking to bathing with rose petals and planning activities to replenishing your top-shelf minibar) at your luxurious hotel.
Moreover, since this place has Rodney Bay, you can enjoy swimming and other water activities anytime.


The Royalton Antigua ranks among the best Caribbean honeymoon all-inclusive resorts. It is in a beautiful spot on Deep Bay, right under the watchful eye of old Fort Barrington. Here, you may unwind in style on a secluded beach that overlooks crystal-clear waters while feeling the soothing breeze of the trade winds.
Moreover, there is entertainment from dawn to night, making this an excellent choice for couples looking to have fun.
Royalton Antigua's convenient location lets you relax by one of our pools in as little as 30 minutes after landing.
Many tourists, notably newlyweds who have always dreamed of a luxurious honeymoon, are flocking to this 5-star resort. It's because of the resort's proximity to the Caribbean Sea.
Indeed, guests will enjoy spectacular views, luxurious rooms, and impeccable service.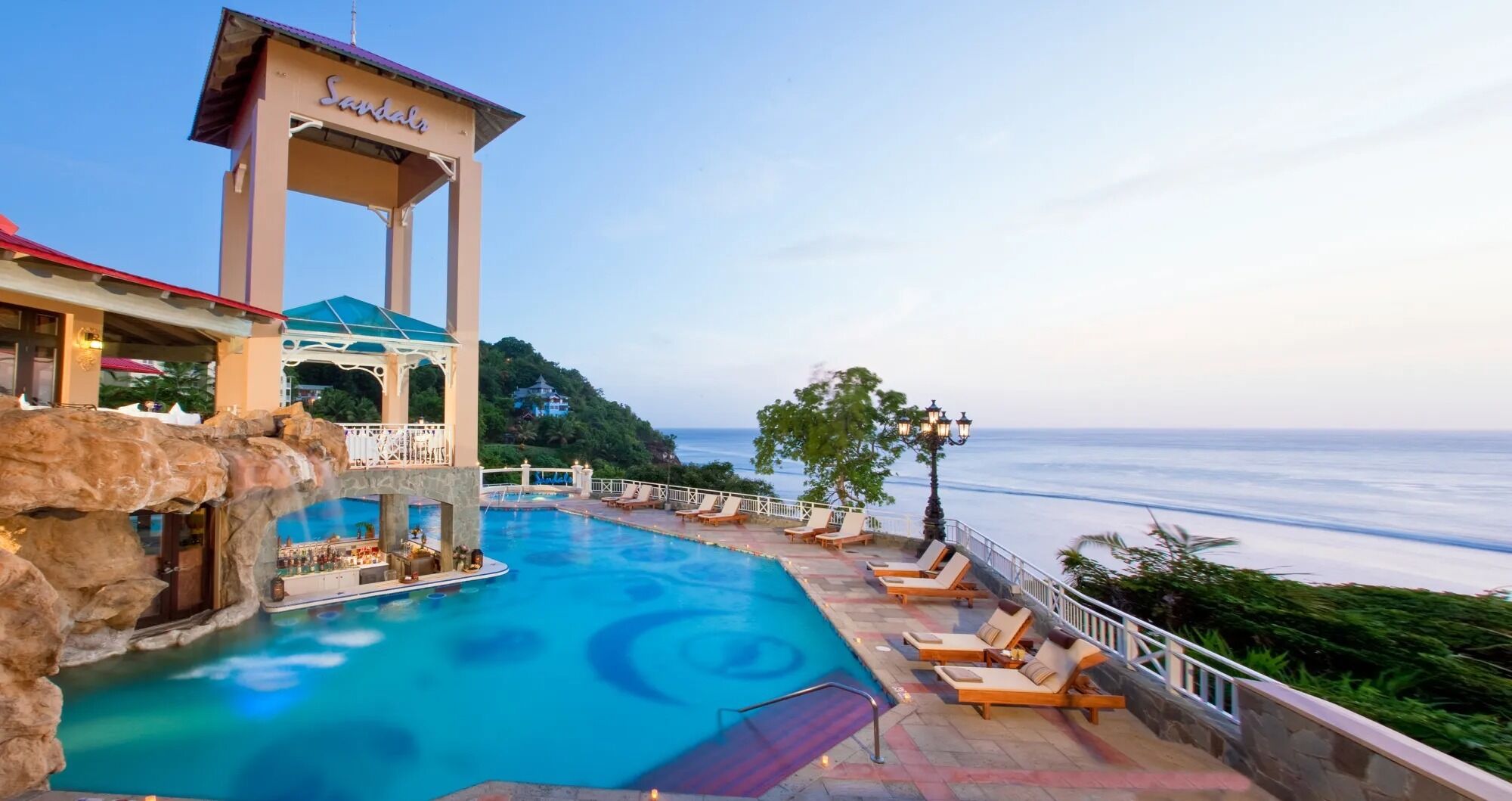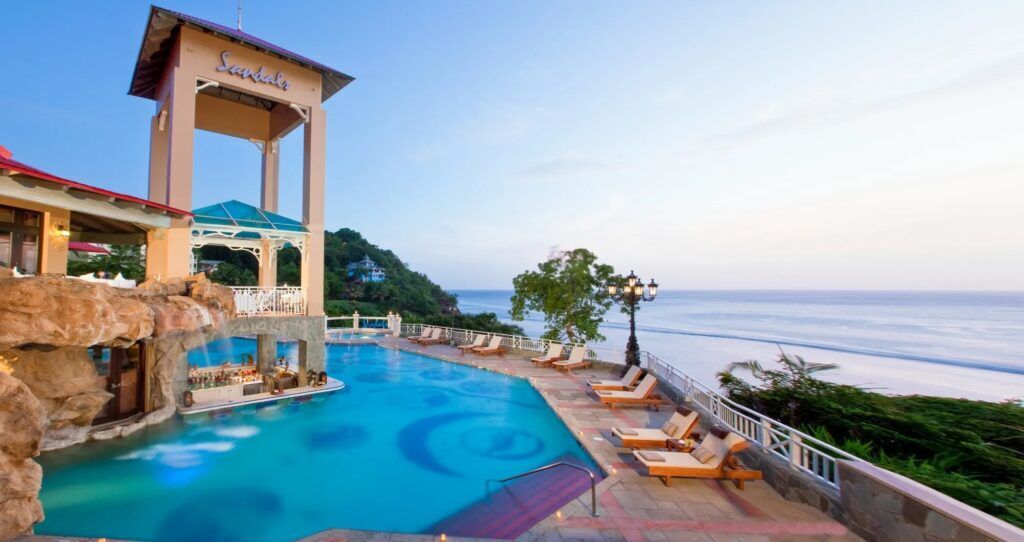 Beautifully nestled into a hillside in Castries, Sandals Regency La Toc is one of the best Caribbean honeymoon all-inclusive resorts.
Four whirlpools and three swimming pools are available at this place for couples who like swimming. Moreover, the 9-hole golf course and greens fees are included in the price of your stay. There are also nine restaurants and eight bars to choose from.
What's more, the amenities of neighboring resorts, Sandals Grande St. Lucian and Sandals Halycon, are also available to guests here.
You can have an all-inclusive stay at Sandals Regency La Toc for as little as $274 per person per night, making it one of the most cost-effective options for those on a tight budget.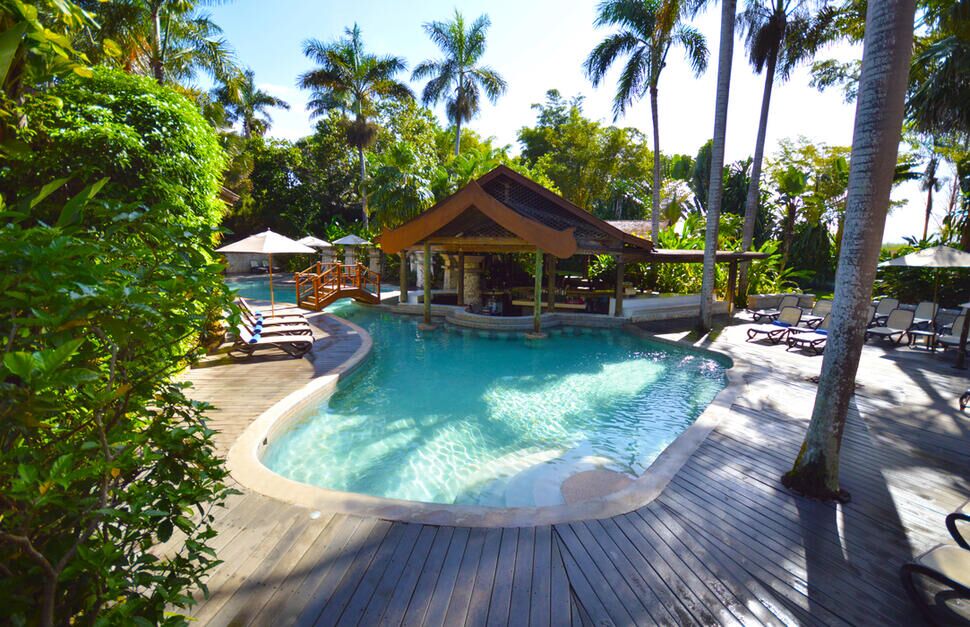 Sunset at the Palms is located on a secluded beach in Negril and offers stunning views of Jamaica's western coast. You may reach the island's most beautiful beaches within a few minutes. Plus, you won't have to give up luxury for privacy at this one of the best small resorts around.
For a romantic evening out, Sunset at the Palms offers an unforgettable panorama of blooming flora and towering trees. The scenery helps create a cozy and all-inclusive ambiance, making it an ideal honeymoon destination.
All 85 rooms at the resort have a unique "treehouse" feel. The resort's spa is tucked away amid the greenery of the grounds. Moreover, the resort features a lengthy beachfront and a swim-up bar serving tropical fare.
As for dining options, the hotel features four restaurants and bars, each with its own unique take on foreign and Jamaican cuisine.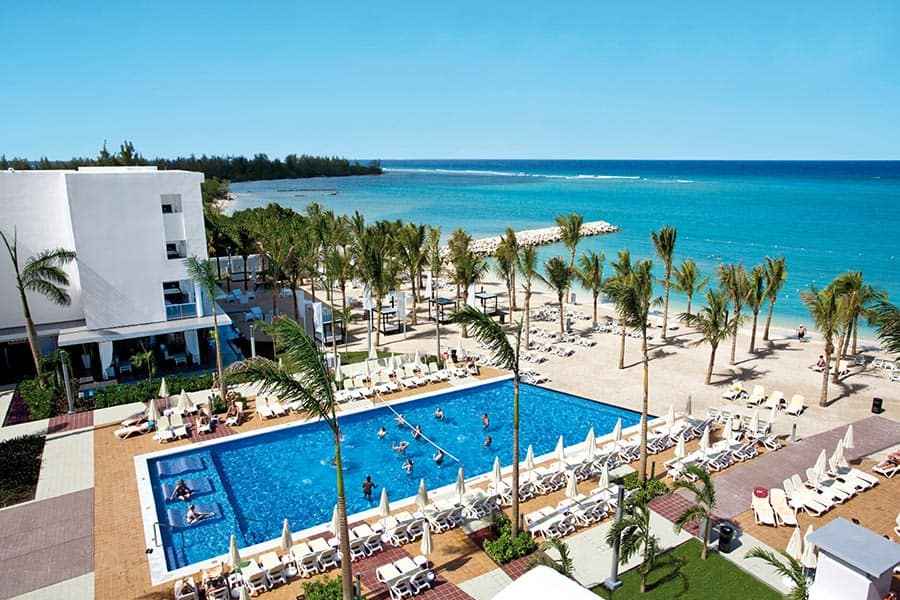 The reviews for this oceanfront hotel are consistently high, and it's simple to see why. Three pools (one has a swim-up bar), the luxurious Renova Spa, and delicious dining options await guests at this expansive resort. There are also countless recreational opportunities, such as tennis and beach volleyball. Moreover, there are scuba diving lessons and even themed parties to experience.
There's no better place to spend your honeymoon than the Jacuzzi Suite. There is a king-sized bed, air conditioning, a minibar with drinks, and a private balcony with a Jacuzzi.
Moreover, you can also take advantage of the property's proximity to the heart of Playa del Carmen, which is only a couple of kilometers away.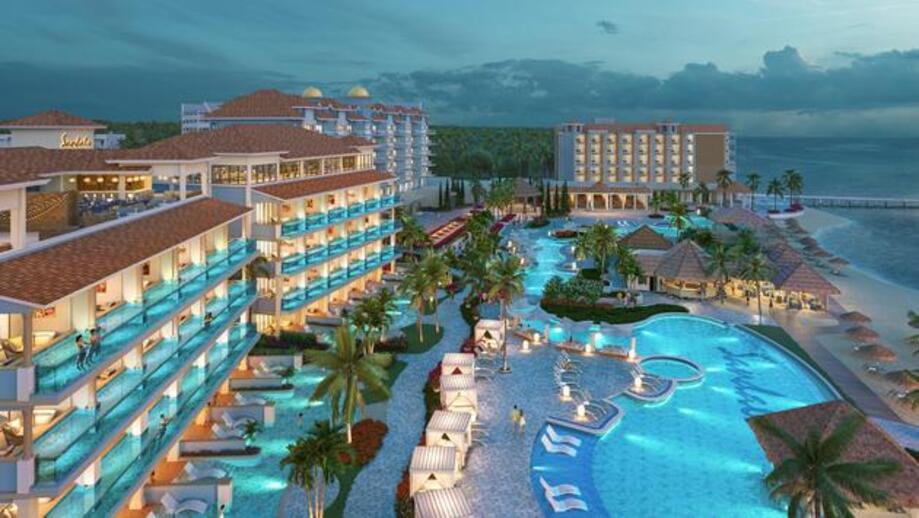 The brand-new Sandals Dunn's River is quickly becoming one of the best Caribbean honeymoon all-inclusive resorts. Thanks to its stunning architecture, breathtaking grounds, and many first-rate services.
In the foyer, a cascading waterfall fed by the river creates a refined, enchanted atmosphere reminiscent of the nearby Dunn's River Falls, which is an internationally recognized natural wonder.
If you've been keeping tabs on the development of the newest Sandals resort in Jamaica and wondering when you can make a reservation, you can do so right this second. They're taking bookings starting in late May 2023.
There are now seven Sandals all-inclusive resorts in Jamaica, three of which are in the Ocho Rios region, thanks to the development of Sandals Dunn's River.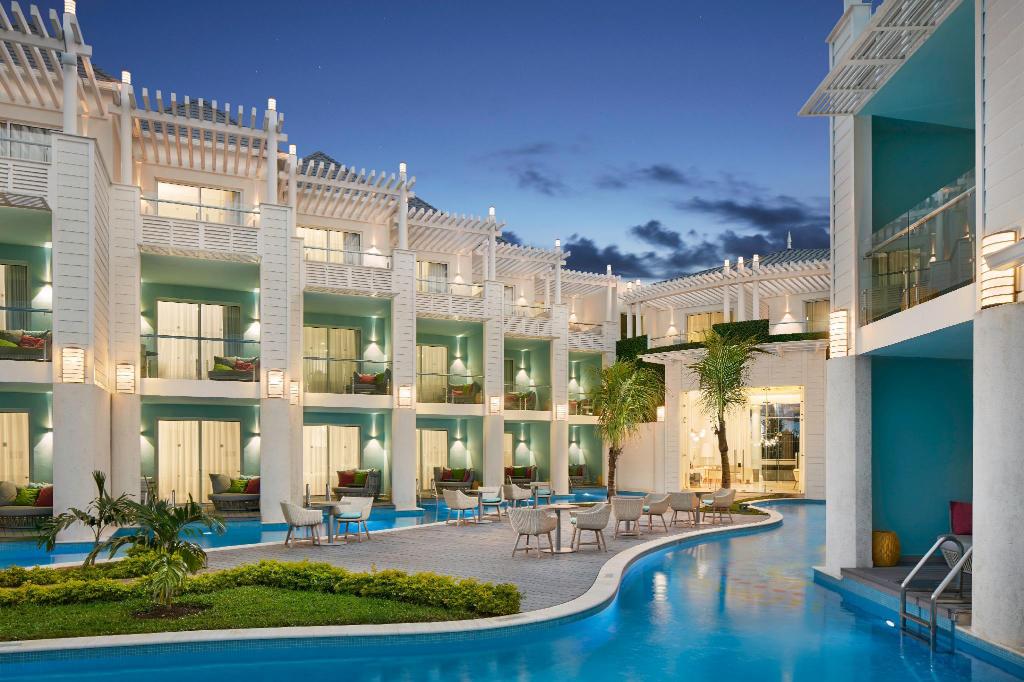 Would you like to soak up some rays on Negril's posh and picturesque shore? If so, staying at Azul Beach Resort Negril is the way to go.
Complete with stunning sunsets, tranquil waters, clear blue skies, and warm tropical weather. You'll find this resort on the west coast of Negril. It is among the best Caribbean honeymoon all-inclusive resorts for couples seeking relaxation and fun activities.
You may spend some time in a tropical setting, where you can let go and recharge in complete comfort. Moreover, the 285 suites of this resort all have stunning ocean views. The rooms are large and tastefully decorated to give guests the feeling of staying in a modern, seaside resort. Plus, the adult-only Honeymoon Suites are an added bonus for honeymooners.
Visitors can take advantage of the luxurious spa, fine drinks, and stimulating live shows offered in this place at any time of day or night. Furthermore, you can choose from many exciting sea and land-based activities.
Final Thoughts
The Caribbean is a stunning place for a honeymoon. It has picturesque beaches, secret coves, and beautiful little towns. For a memorable honeymoon, book a stay at some of the best Caribbean honeymoon all-inclusive resorts and have the perfect romantic getaway!