Many people's ideal vacation is relaxing in a private, opulent overwater bungalow. The best overwater bungalows in the world are suitable for honeymoons, anniversaries, and other romantic getaways. Overwater villas in exotic locations provide the greatest in solitude and breathtaking vistas. They frequently include unique touches like private pools and hammocks suspended over the water.
Where should you book your overwater stay? Here are some of the best overwater bungalows on the planet, perfect for any vacation style or budget.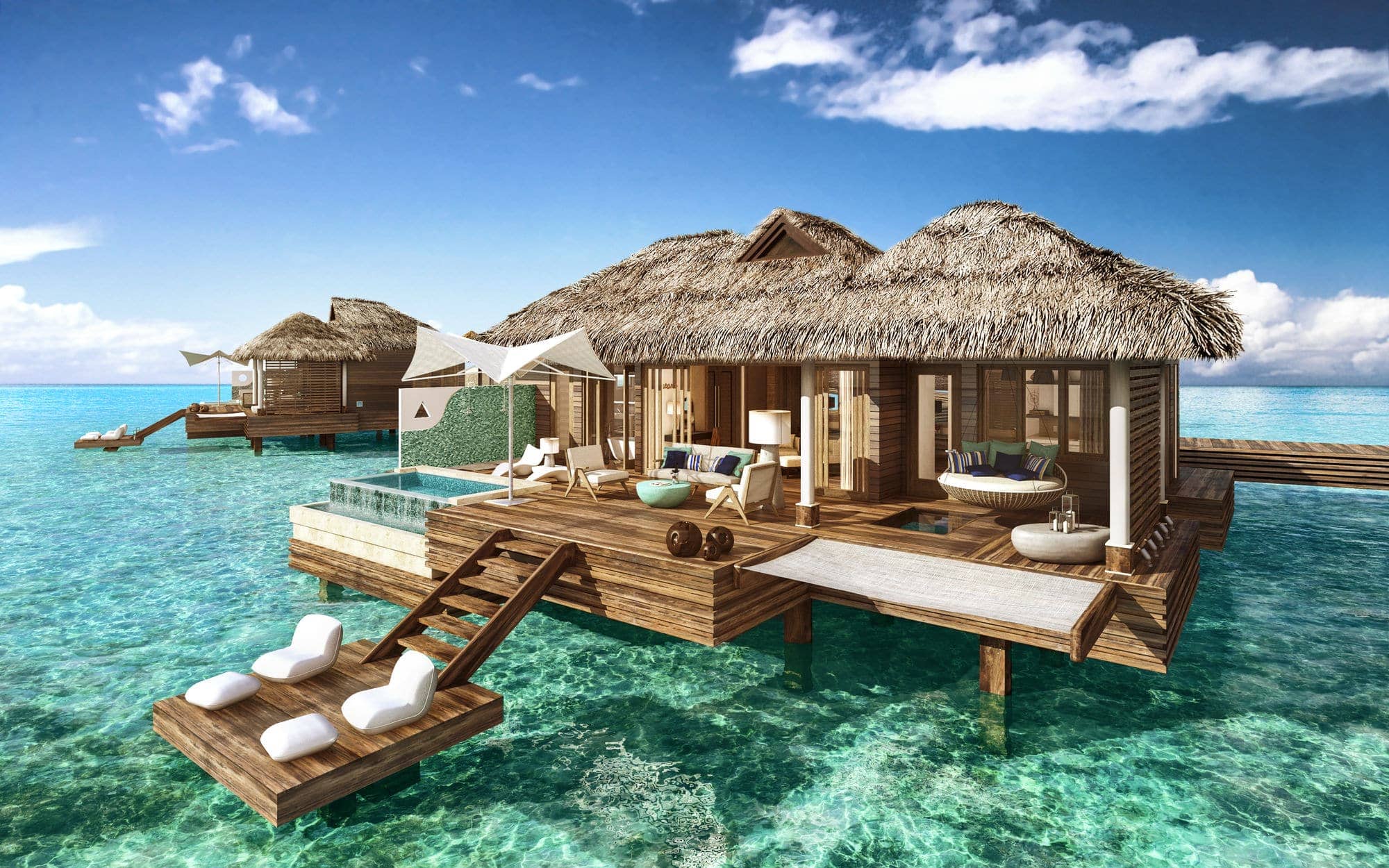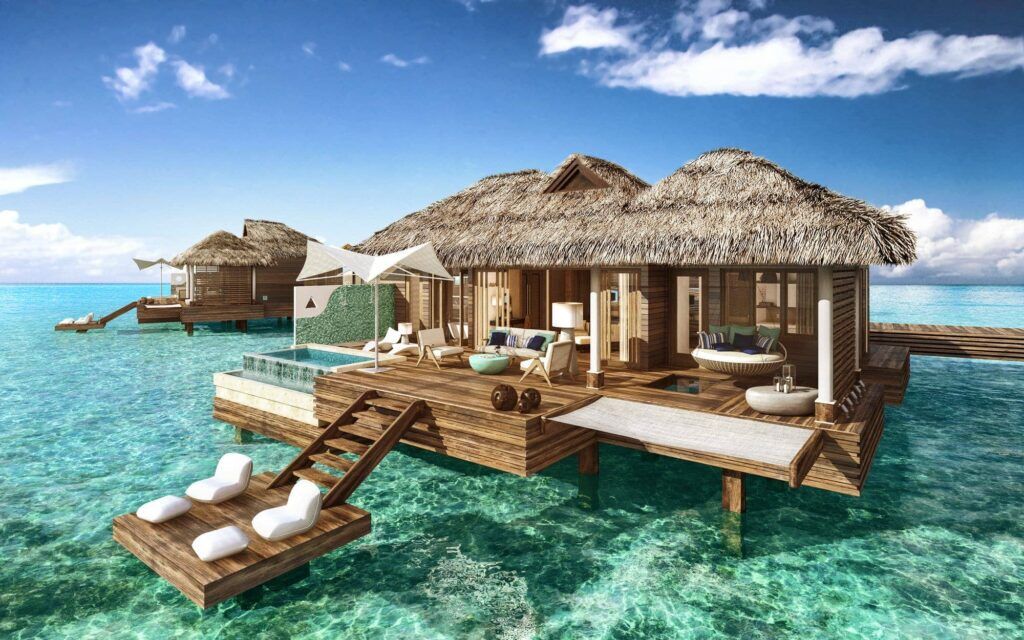 With its over-the-water bungalows, Sandals Grande St. Lucian makes guests feel part of the Caribbean Sea and its marine life. The glass floors and illuminated water allow you to take in the underwater scenery whenever you like.
These ground-breaking, inventive designs combine cutting-edge modern luxury with exotic palapa-style architecture. A distinctive tranquility soaking tub for two, a hammock suspended over the water, an outdoor shower, and a swim-up platform are just some amenities found on Sandals' spacious patio. Furthermore, the interior features a king-size bed, a vast spa-style bathroom, and sea-through glass floors that provide uninterrupted views of the ocean floor.
This place is a stunning paradise, historically significant and dripping in swoon-worthy romance. Get away from it all in one of the world's best overwater bungalows.
---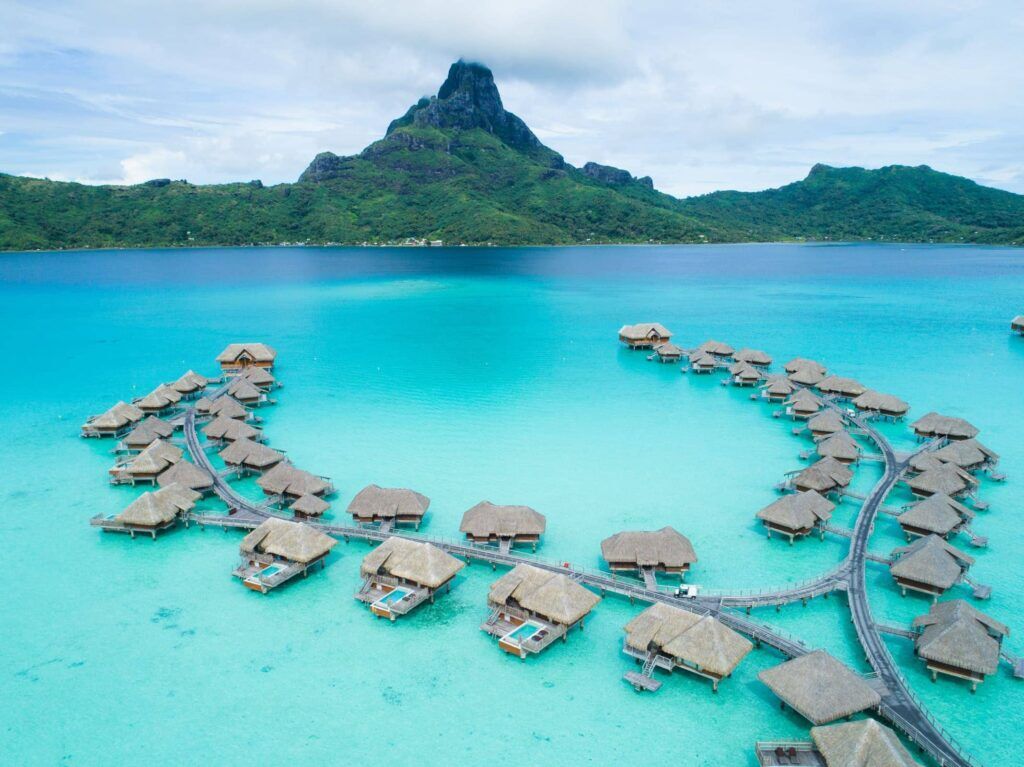 The InterContinental Bora Bora is a luxurious retreat where guests may relax with spa treatments, stay in an overwater villa, and experience the authentic Polynesian culture.
This resort has one of the best overwater bungalows, especially for those in need of a secluded getaway, thanks to its private pool overwater casitas outfitted with every conceivable amenity, its proximity to deserted sandy coastlines and cobalt seas, and its location in a bay that is accessible only by boat.
Conveniently located and designed for optimal health and good looks. Cabins suspended above the ocean are used for massage and therapeutic treatments, outdoor mineral pools are surrounded by vegetation, and dinners on the beachfront have breathtaking sunset views.
In addition, suites have direct access to the ocean and are modern and locally inspired; some even have a private plunge pool, which is hard to top.
As if that weren't enough, the InterContinental Bora Bora offers "room service with a difference" in the form of a canoe breakfast service that delivers delicious meals right to your overwater villa. Alternatively, you can arrange a private dinner on the beach for two, complete with a bottle of champagne.
---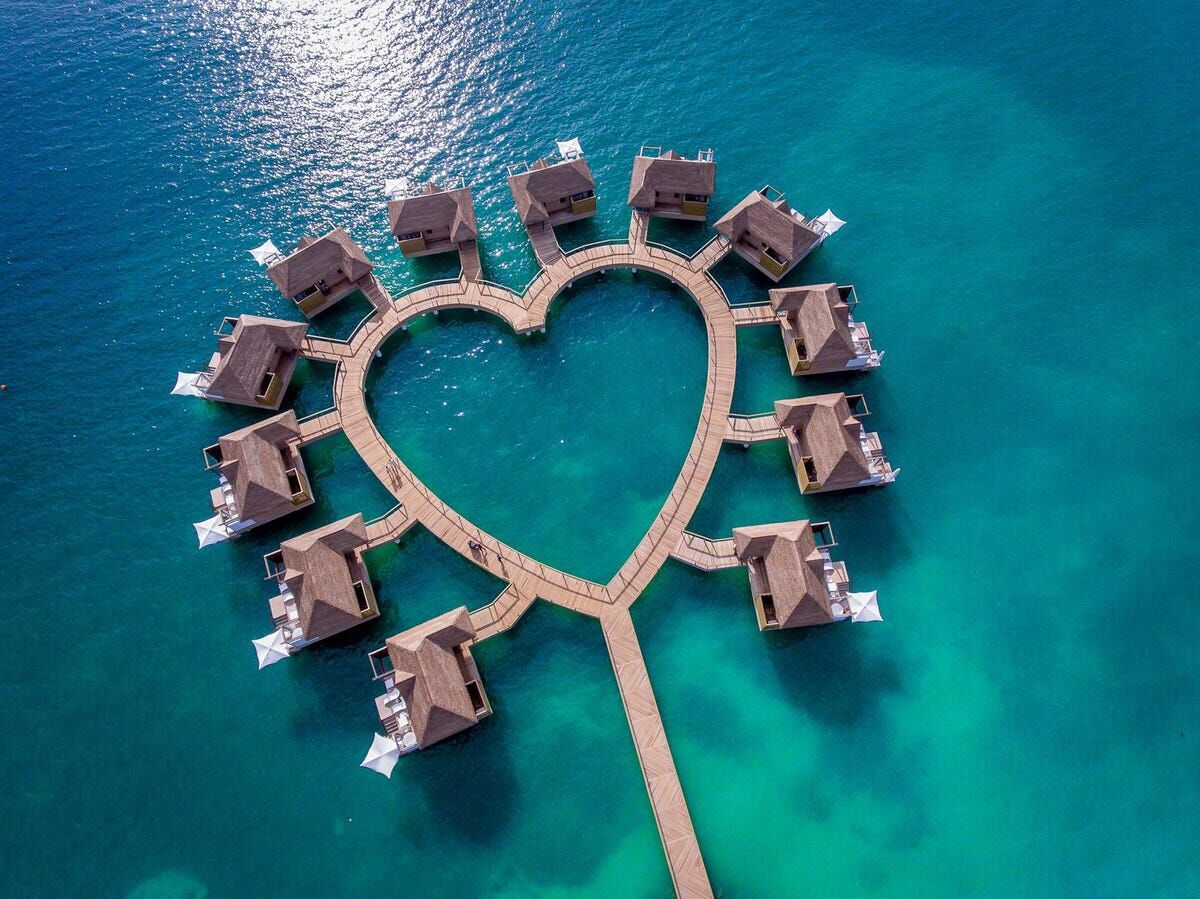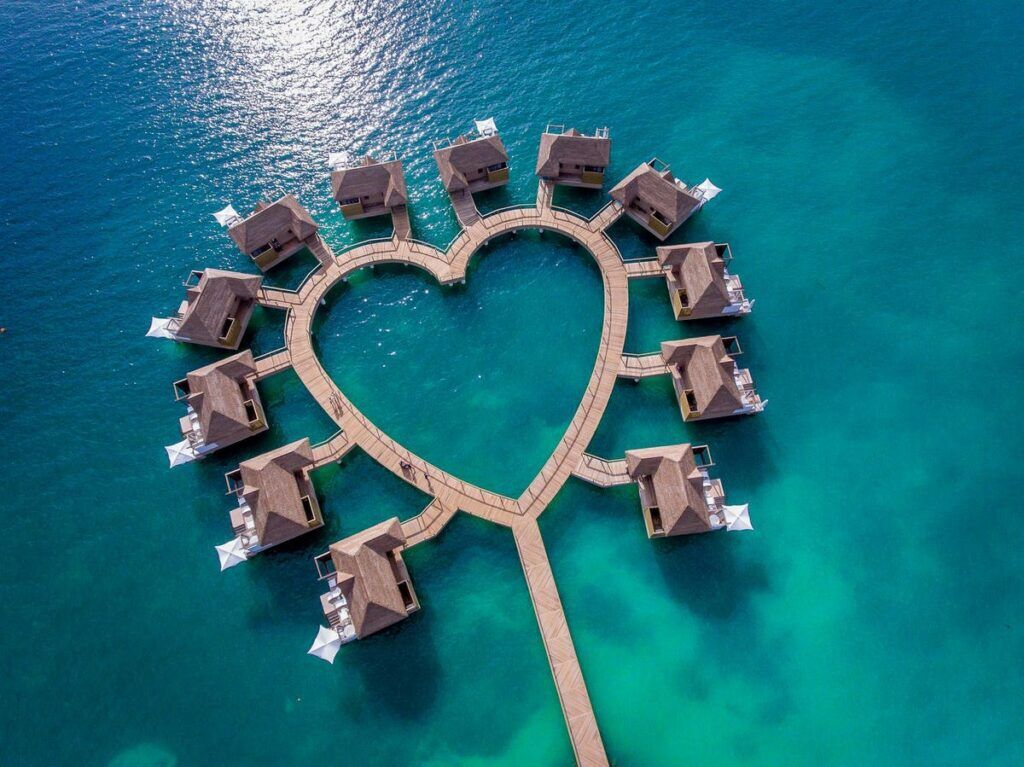 The adults-only Sandals South Coast is one of the best overwater bungalow resorts you can book. The resort also has some genuinely luxurious overwater rooms, complete with their own pools and hammocks, suspended gracefully above the water. Guests can find this resort approximately an hour southeast of Negril on a two-mile stretch of white beach and turquoise ocean within a 500-acre nature park.
When not taking advantage of the resort's beach access, visitors can indulge in the nine on-site dining options and seven bar selections with no restrictions. Standard rooms and overwater honeymoon suites have a private sun deck, outdoor shower, soaking tub for two, and hammock suspended over the water.
With a swim-up platform, a private outdoor shower, and a soaking tub for two overlooking the turquoise waves, the over-the-water bungalows at Sandal offer unparalleled luxury. At the same time, the room's interior features a king-size bed, a spa-style bathroom, and see-through glass floors that provide uninterrupted views of the seafloor.
Make your time even more special at night by gathering around one of the campfire pits or barbecue grills.
---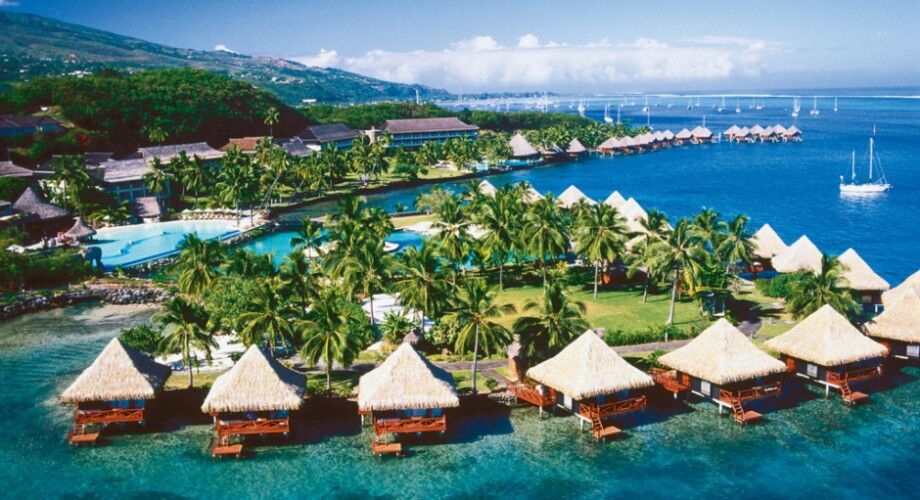 Among the several luxury resorts on Tahiti, the InterContinental Tahiti Resort & Spa stands out as the largest and most luxurious of the bunch. It's also one of the best overwater bungalows worldwide for many tourists. Also, the airport is only five minutes away, making this the most convenient location possible.
Although close to the action, the hotel feels like a tranquil Polynesian retreat and has excellent views of distant Moorea. Elegantly encircled by tropical gardens, this is the perfect setting to start your trip to French Polynesia.
The rooms and overwater bungalows are furnished with the same high standards as those in the most luxurious international resorts.
More up-to-date hotels may exist worldwide, but it only adds to the classic Polynesian allure. Two freshwater infinity pools, an abundance of activities, and complimentary services are just some of the perks of staying at the InterContinental Tahiti Resort. On Friday evenings, guests may enjoy the hotel's Tiare Restaurant and the island's most well-attended traditional Tahitian dance event.
In addition to the resort's five restaurants and hopping tropical bars, visitors may partake in themed nights with regional cuisine and dancing performances. The Overwater Motu Villa Suite, one of several such accommodations, features a private balcony, floor-to-ceiling windows to take in the breathtaking scenery below, and a deep soaking tub.
---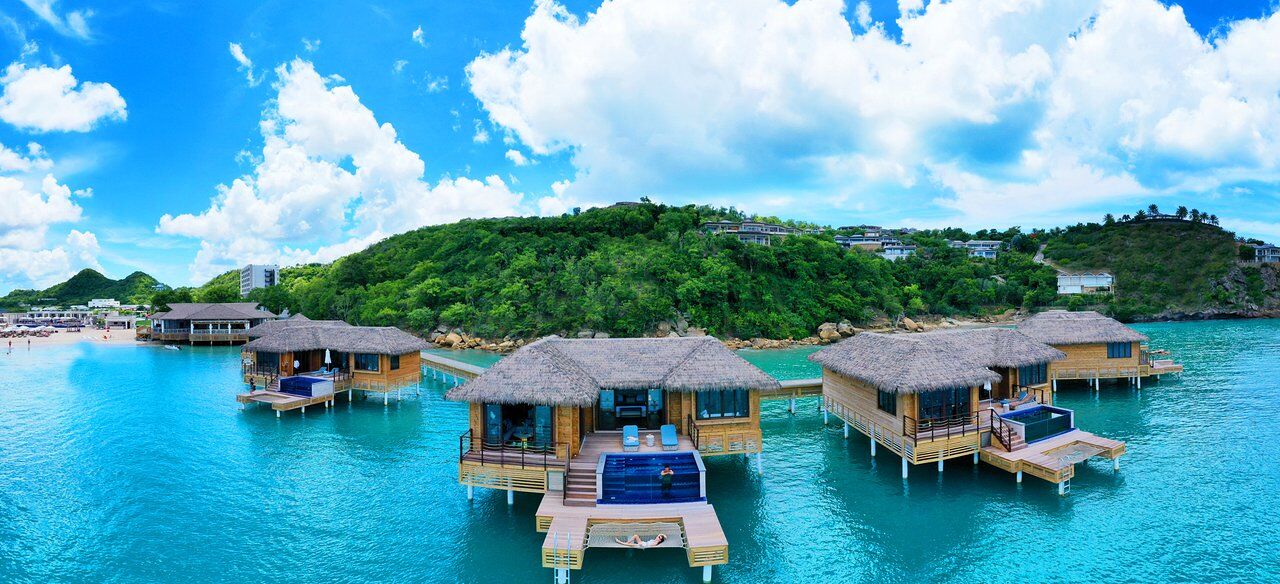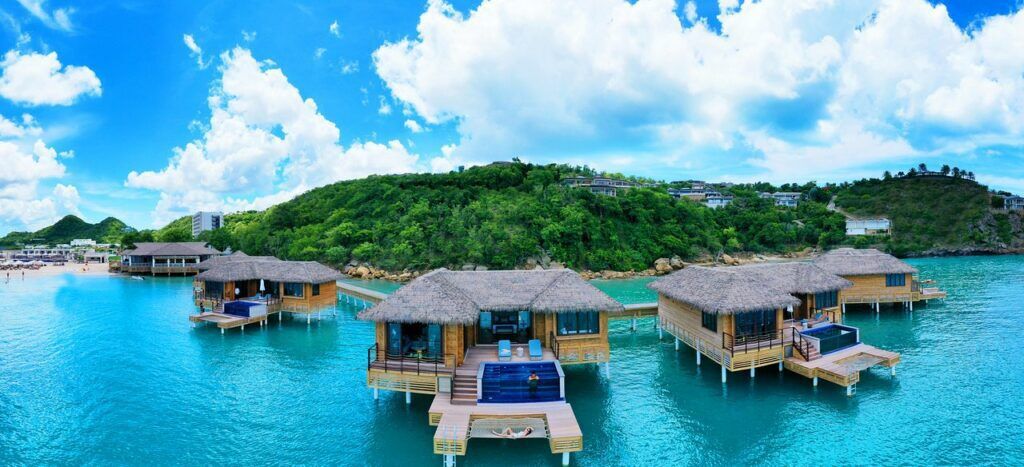 The Royalton Antigua is a world-class, all-inclusive resort with some of the Caribbean's most stunning overwater bungalows.
The pristine sand beach and bright blue ocean at Royalton Antigua have made it a popular destination for vacationers. You can find Chairman Overwater Bungalows at this resort. Each one features a private pool, a spacious veranda, a bedroom and sitting area separated by glass walls, and a butler service.
There will be no unpleasant surprises on the guest's final bill because all meals and entertainment are included in the nightly charge. Meanwhile, there are eight restaurants for customers to choose from and five bars where they may enjoy specialty drinks or their favorite spirits.
Diamond Club status, staying in a Chairman Overwater Bungalow, grants guests access to a private beach area, a more extensive room service menu, and priority booking at the resort's fine dining establishments.
---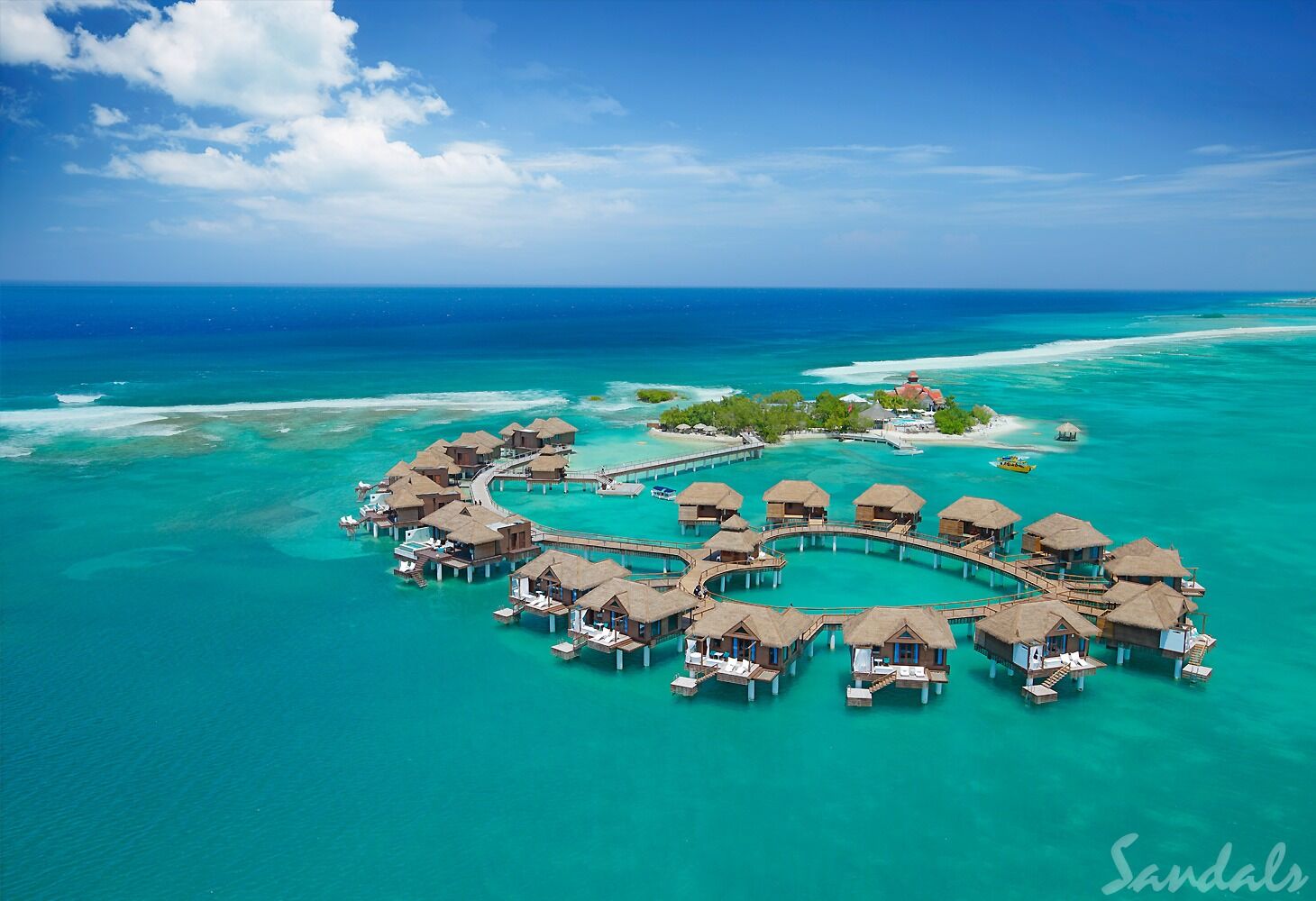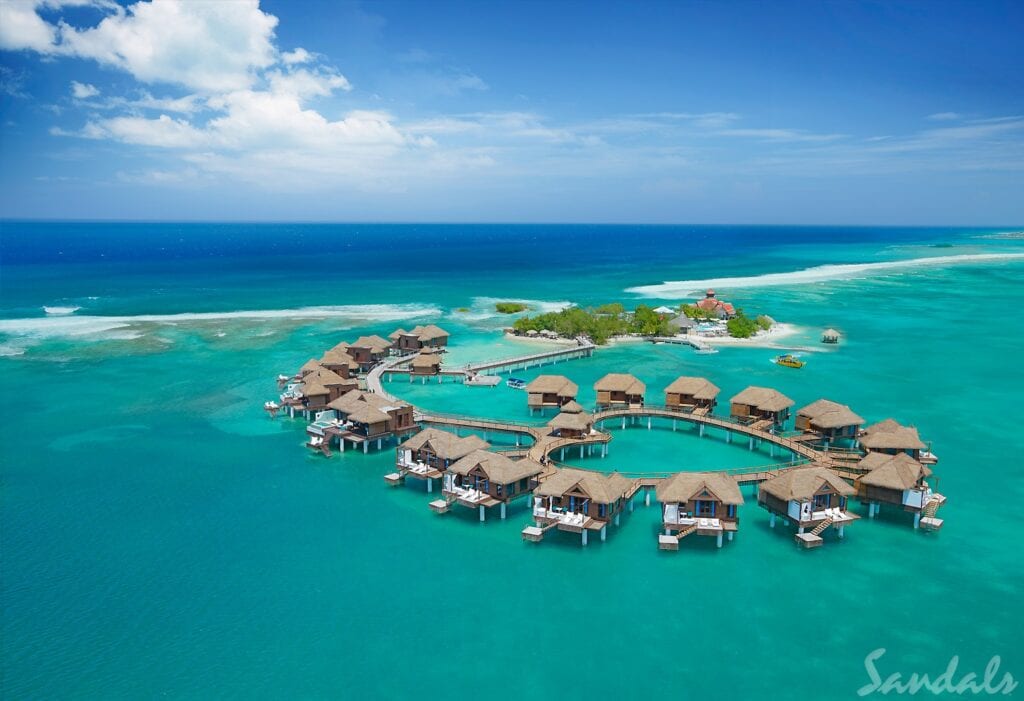 You may experience a mystical fusion of British and Bali cultures at Sandals Royal Caribbean in Jamaica. Sandals Royal Caribbean is known for its relaxing atmosphere, resulting from the resort's lavish decor and personalized service. The combination of Jamaica's warm island welcome and five-star, all-inclusive service will make for a memorable honeymoon.
The overwater bungalows are unlike any other luxury accommodation out there. This resort ranks among the best overwater bungalows around the world. Casual poolside and seaside delights can be enjoyed daily as the mysteries of the Orient are revealed in a quiet natural setting.
Nonetheless, the nightlife is encouraged with posh events, an authentic Thai restaurant, and island-themed extravaganzas.
There is a swim-up bar and whirlpool inside as an added perk. In addition, there is a double-sized hammock suspended above the pool for relaxation. The Sandals Royal Caribbean is the only Jamaican resort with a private offshore island with over-the-water bungalows accessed through bridges.
---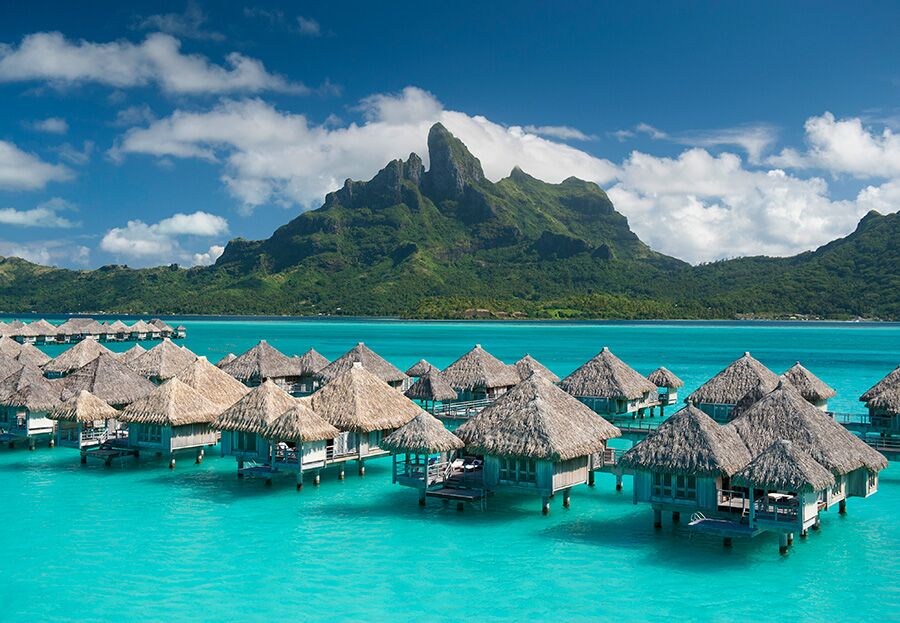 If the fact that the St. Regis Bora Bora Resort has the South Pacific's largest overwater bungalows isn't enough to convince you to book a stay there, the resort's opulent setting should do the trick. It's one of the best overwater bungalows you can visit. Picture perfect, powdery white sand beaches; tall, swaying palm trees; and charming, high-end architecture with thatched roofs.
One of the smallest options begins at 1,550 square feet. Separate bedrooms and living areas, substantial luxury baths, glass panels displaying the turquoise blue seas below, breathtaking vistas, a balcony with loungers, a dining pavilion, and direct water access are all features of these magnificent overwater villas. The outdoor whirlpool or swimming pool is a nice amenity at some of them.
In addition to its three beautiful beaches, a fitness center, and a tennis court, St. Regis also features a sauna, a spa, two pools, and a full-service health club. Water activities and shore excursions are abundant here. The Lagoonarium, an enclosed underwater park, is another highlight of this beautiful private retreat.
---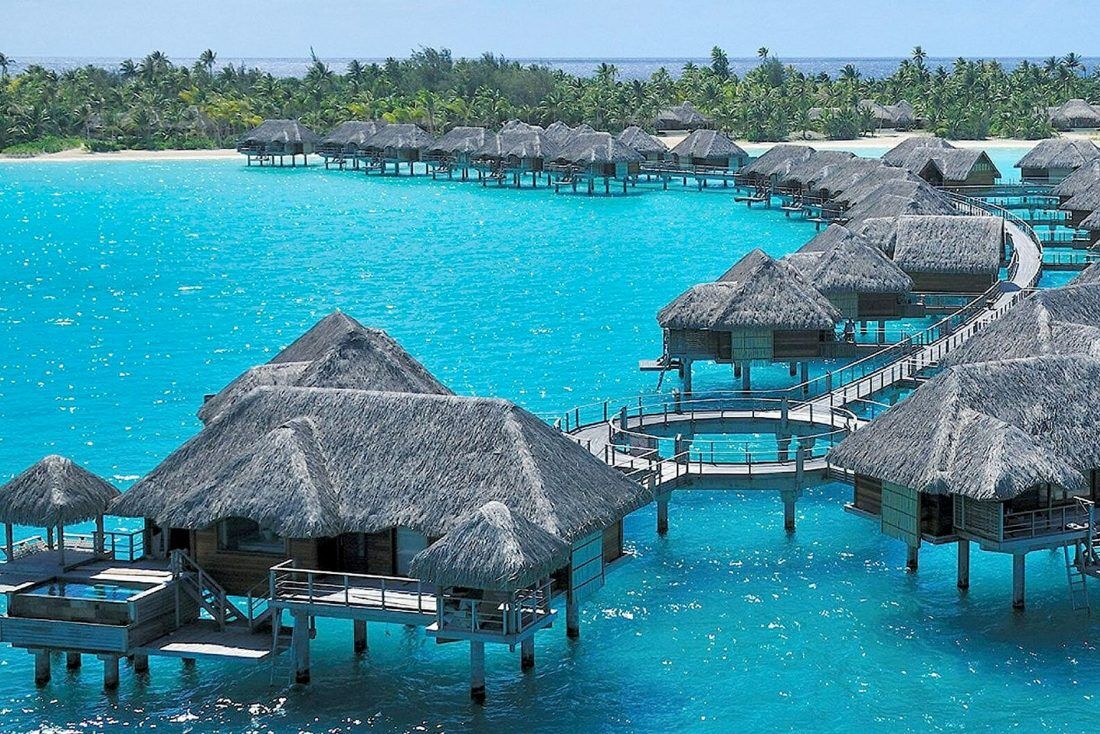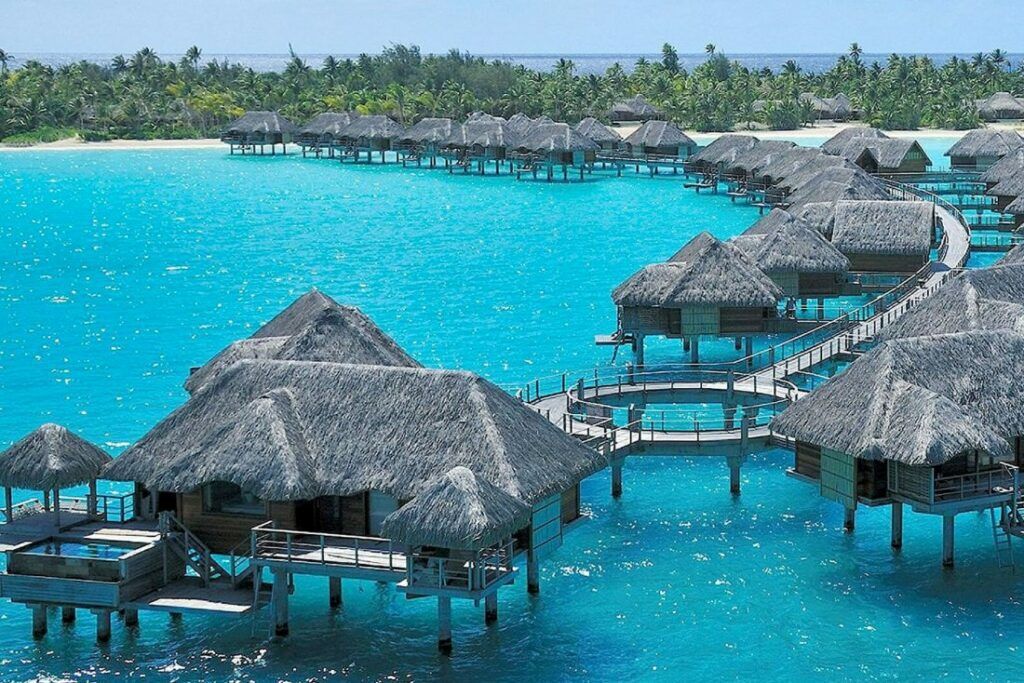 The Four Seasons Resort Bora Bora is the quintessential luxurious island retreat. This gated community is one of Bora Bora's most opulent resorts, a haven of privacy and seclusion. It is one of the best overwater bungalows you can find. It's on the island's northeastern coast, close to the outer coral reef. Many overwater bungalows provide individual plunge pools and breathtaking views of the lagoon or Mount Otemanu.
Walls are constructed from volcanic stone, and mother-of-pearl inlays add a beautiful finishing touch to the structures. Four Seasons Bora Bora excels in romantic getaways, but families can still come here. If you're looking for an alternative to a hotel, these three beachfront homes are your best bet.
Teens can claim their beach on Cool Island with paddleboards and snorkeling gear. At the same time, younger children can enjoy the Tamarii Club's inside playroom and outdoor playground with a splash pad.
The resort's expert marine scientist will gladly take the family on a snorkeling tour of the lagoon for an informative lesson.
---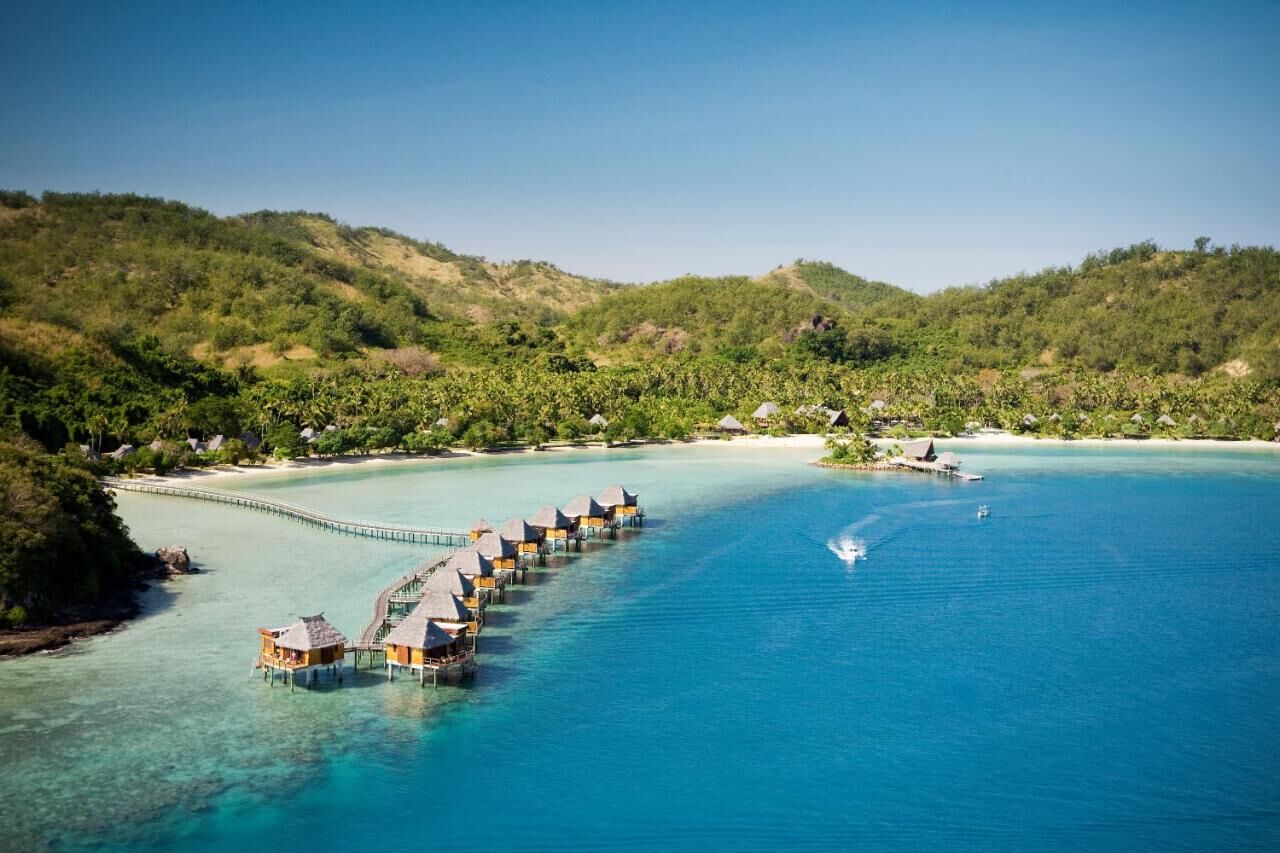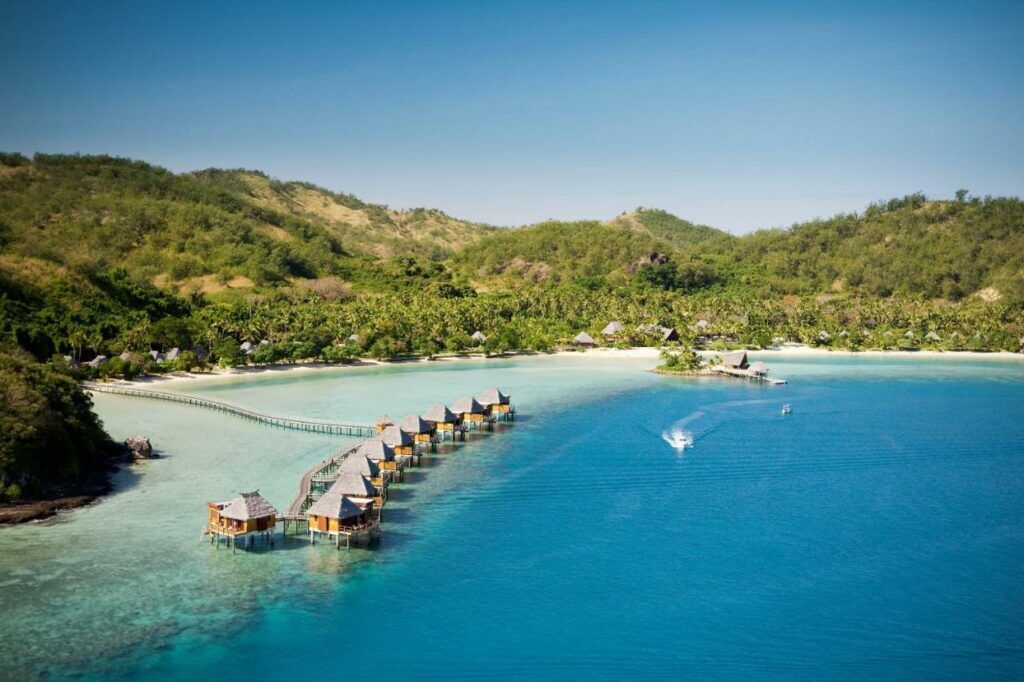 At the five-star Likuliku Lagoon Resort, staying in an overwater bungalow is like having a piece of heaven delivered right to your door. Thanks to the ten traditional overwater bures meticulously recreated here, you'll never forget you're in Fiji.
Here, beneath the clearest blue skies, luxuriant greenery, and a spectacular lagoon of turquoise ocean water, dreams come true. Have we mentioned that they also offer a spa where you can relax those tense muscles? This place is definitely perfect!
Because this is an adults-only resort, your opulent overwater villa will be complete to yourselves. Unwind in the practically outdoor bath or on your private terrace in a complimentary sarong while taking in the breathtaking scenery.
This picturesque resort offers free meals and non-motorized water sports as part of its "all-inclusive" package. Your deal includes a daily canapé platter and a cocktail party on Fridays.
---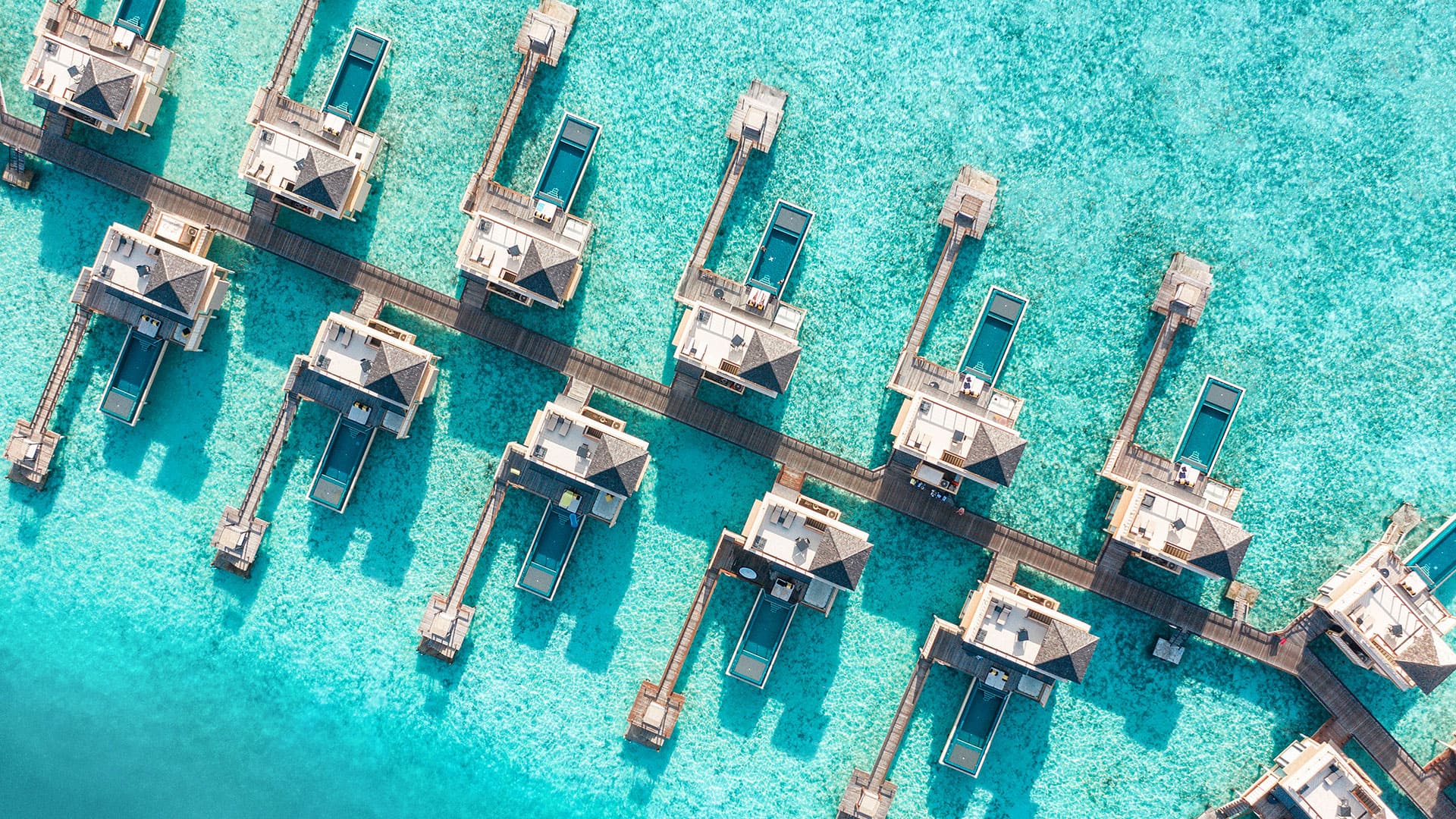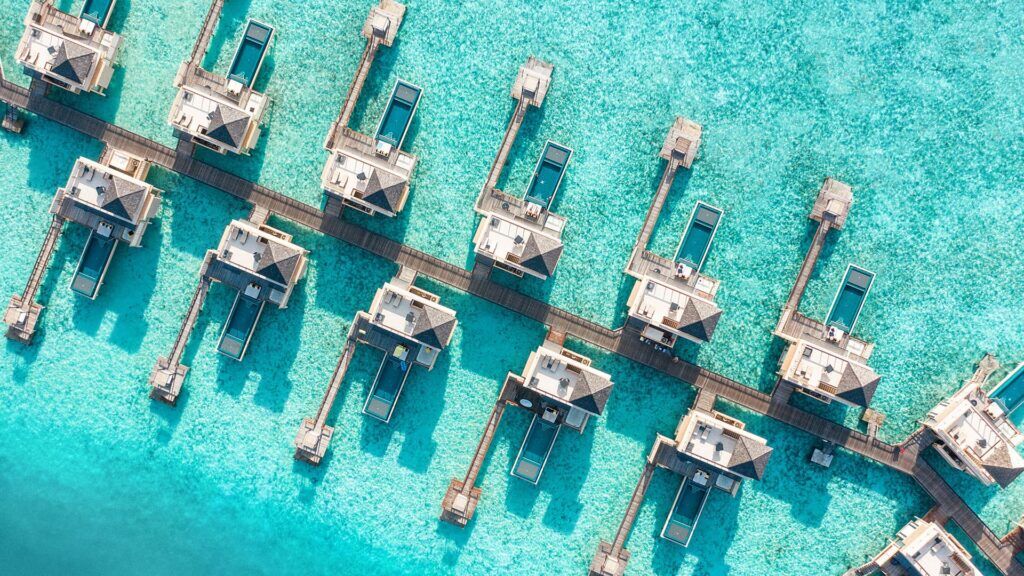 The Angsana Velavaru is where guests can go barefoot in the lap of luxury. This is one of the best overwater bungalows that tourists can visit. Angsana Velavaru is renowned for its breathtaking sunset vistas, impeccable service, relaxing spa, and 34 oceanfront villas.
These overwater homes are the epitome of luxury in this little corner of heaven that stands tall on stilts. They have a rooftop pavilion, overwater hammocks, a private infinity pool, and a dawn or sunset view. Put on your mask and fins and quickly dive off your deck to explore the stunning coral reefs surrounding the resort.
Snorkeling trips, paddleboard outings, catamaran cruises, and wakeboarding tours are all provided at no extra cost to guests daily. Coral planting, stingray feedings, a drumming performance, aqua polo, and outdoor film screenings are some of the other free activities provided. Many families have praised the Rangers' Club's excellent programming for their young children.
---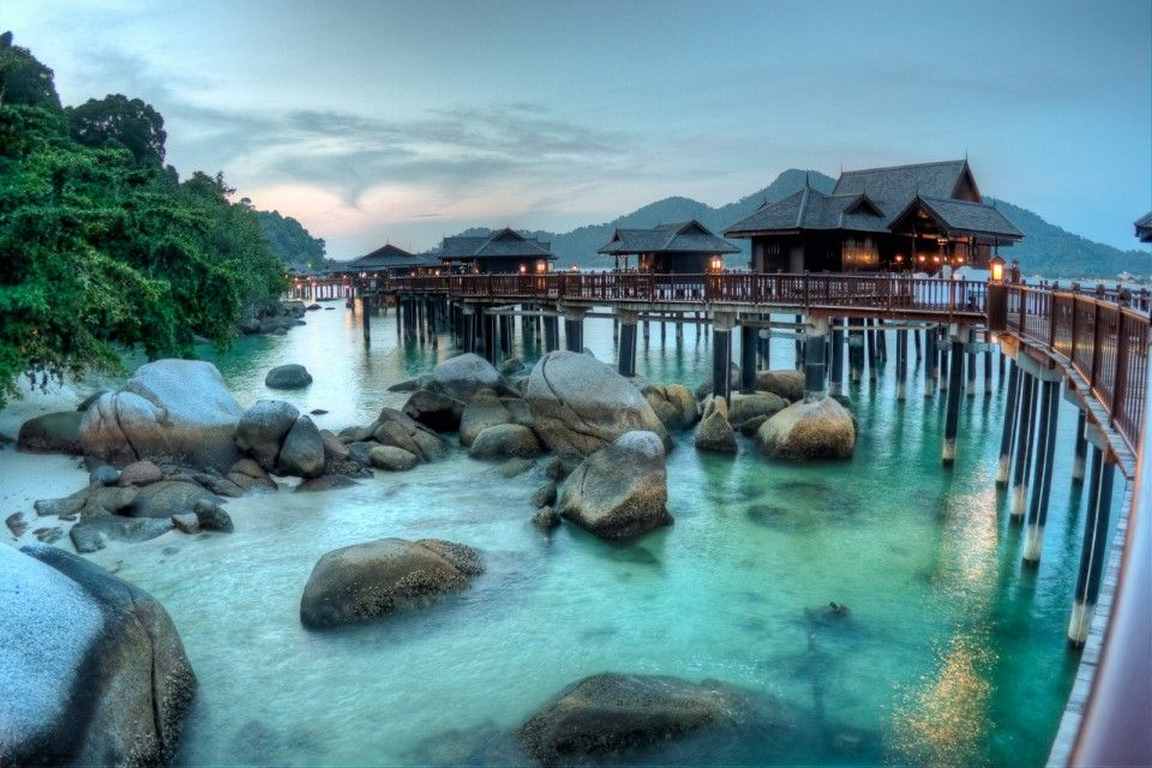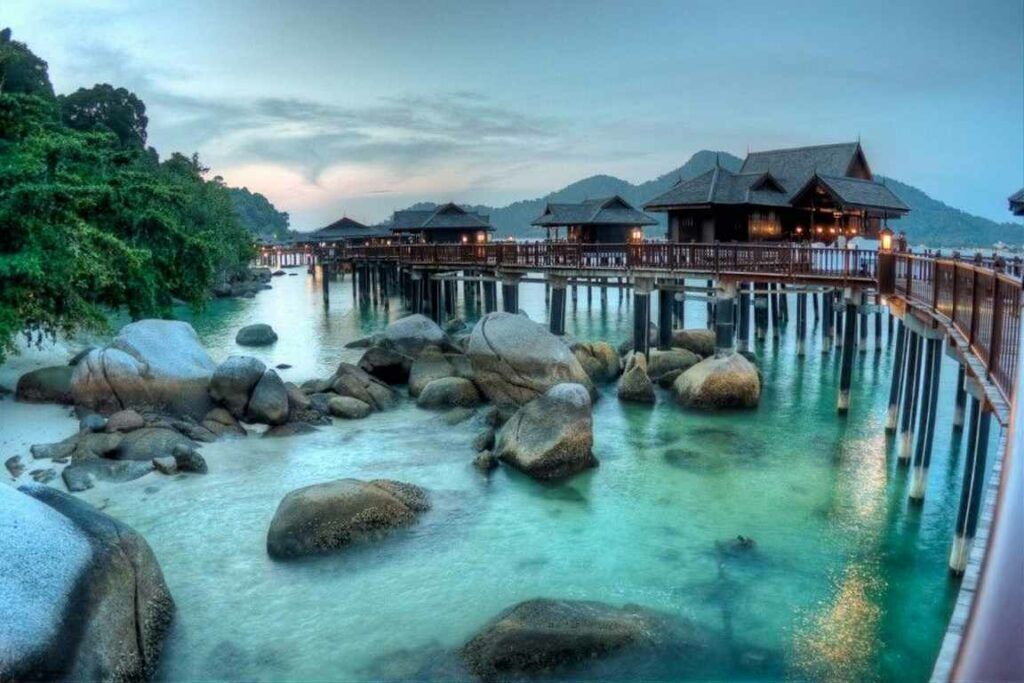 The Pangkor Laut Resort is on a private island off the coast of Malaysia. The resort is elegant and peaceful, with a lush tropical forest, beautiful sandy beaches, and a crystal clear blue sea. No wonder it ranks among the best overwater bungalows around the world.
Pangkor Laut Resort has a mystical atmosphere thanks to its location on Emerald Bay, surrounded by lush tropical jungles and steep cliffs.
You can pick between villas by the sea, on the beach, in a spa, on a hill, or in a garden, many of which have outdoor bathtubs. When listening to the sea views from your balcony, you may hear the high-pitched calls of macaque monkeys.
Relax by one of Pangkor Laut Resort's two swimming pools and soak up some rays. You can also do some yoga on the Spa Villa Deck while feeling the refreshing ocean breeze. Play some squash or tennis, and then go on a nature hike in the jungle led by the local naturalist. Furthermore, the Straits of Malacca can be explored on a yacht hire.
Final Thoughts
What could be more ideal than a stay in a private overwater bungalow? See yourself luxuriating in a soft bed while waves gently lap below. Get into the water from your terrace or dive into the plunge pool to chill. Luckily, you can find overwater bungalows with beauty that will leave you speechless. Pick one of the best overwater bungalows and have an unforgettable vacation.