It might be the rainforests, the mountains, or the beautiful white sand beaches that dot the Caribbean. Whatever the case, Jamaica is a honeymooner's dream and where couples can enjoy some of the world's finest resorts.
Here are some of the best resorts in Jamaica for couples looking for the perfect place for a honeymoon or a romantic getaway.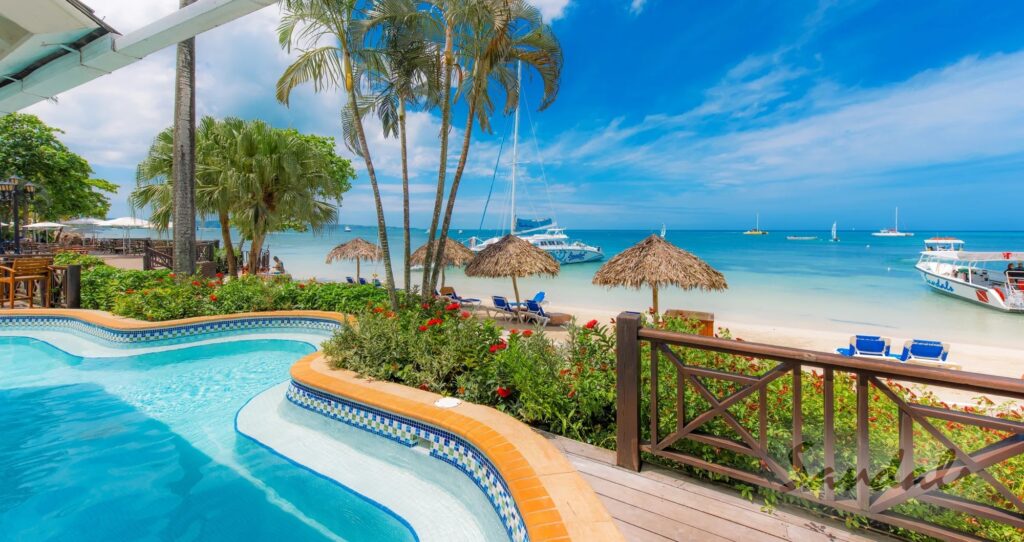 Sandals Negril boasts Jamaica's largest beach at seven miles in length, making it an ideal location for those seeking tranquility. Visitors will enjoy the soft white sand and the ocean wind tickling their toes.
During the day, you may go out and soak up some rays. Then, you can dance your heart out in the sand on nights and feel free. This is a relaxing retreat where the focus is on taking in the sights, sounds, and smells of the unusual locale. The barefoot resort of Sandals Negril is the pinnacle of Caribbean luxury.
This adults-only resort is one of the best resorts in Jamaica for couples. Included in the all-inclusive rate are the resort's five bars, saunas, steam rooms, and a wide variety of activities, including scuba diving and water sports. In addition, all meals at the resort's five restaurants are also covered.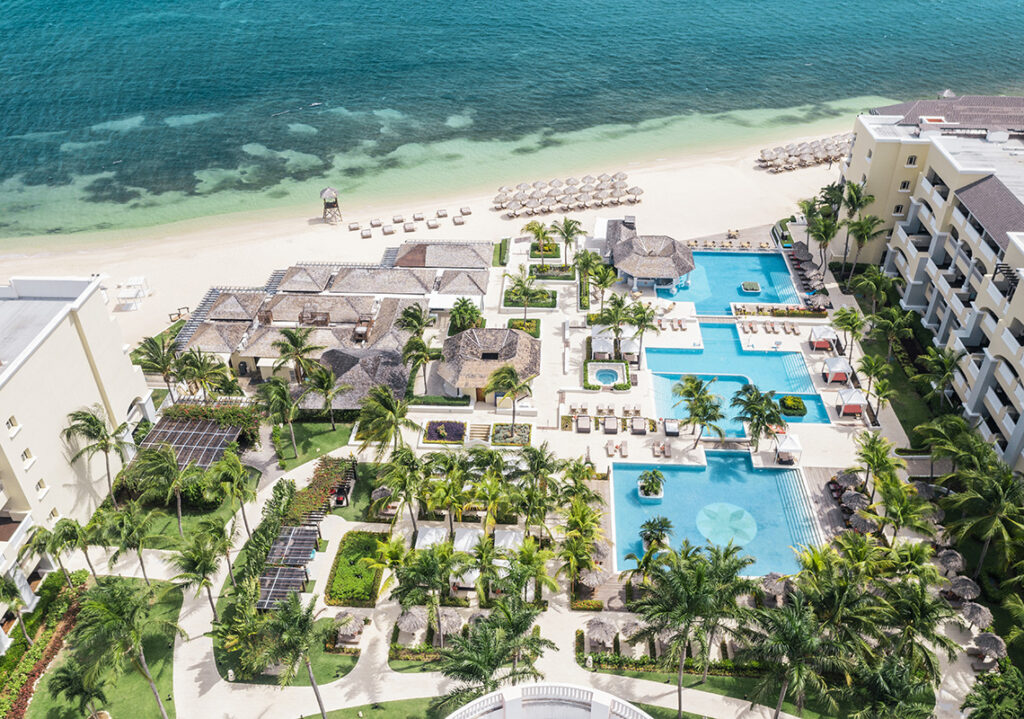 Home comforts and more can be found at the Iberostar Grand Rose Hall, complete with attentive butler service. The posh adult-only hotel boasts a tranquil atmosphere ideal for couples of all types to relax and rejuvenate. This is one of the best resorts in Jamaica for couples seeking a beautiful, soothing experience.
Indulge in soothing spa treatments and feast on delectable dishes from around the world at one of the five restaurants. Moreover, you can also sip expertly mixed drinks at one of the four bars (including a hip swim-up spot).
One of the many perks of an all-inclusive stay is the ability to take advantage of the hotel's five restaurants and bars, the attentiveness of a personal butler, and the variety of live performances available.
Thanks to the resort's friendly and accommodating employees, you will enjoy flawless service that leaves room for spontaneity and romance.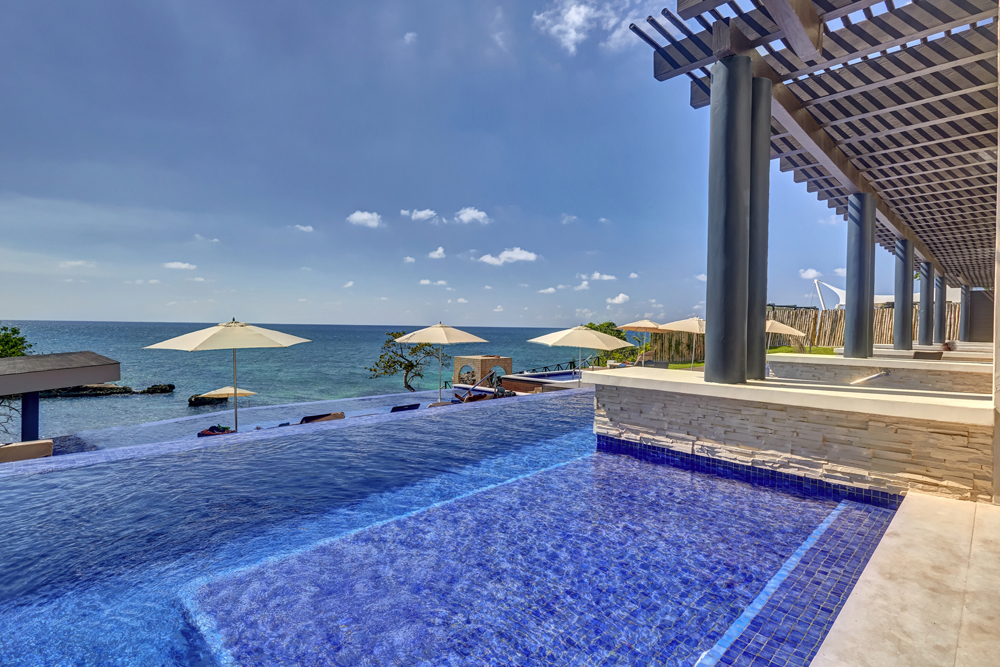 Grand Lido is one of the best resorts in Jamaica for couples who value privacy and security. This beachside boutique hotel offers an authentic and unspoiled alternative for those seeking an all-inclusive getaway.
Adults soak in the sun on the rocky shores of Negril, which can be viewed from just about anywhere.
Guests over the age of 21 are welcome at this clothing-optional resort, which specializes in providing a really authentic and environmentally conscious vacation experience. More than that, Grand Lido is a high-end naturist resort with 26 luxurious ocean-view suites and exclusive butler service, perfect for singles and couples seeking a more liberated vacation.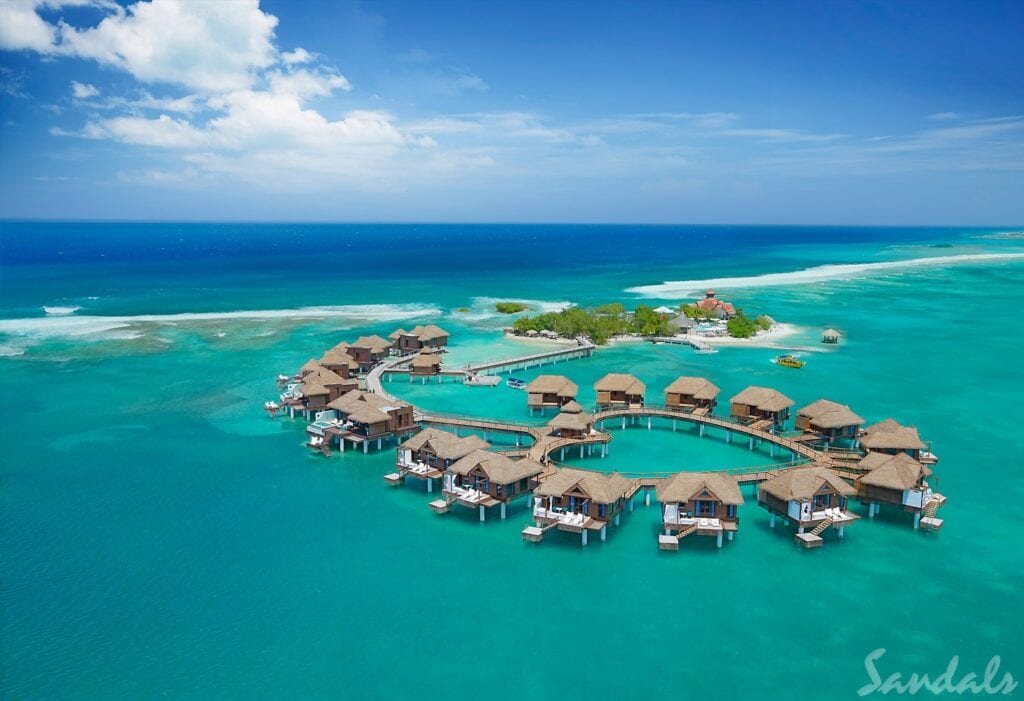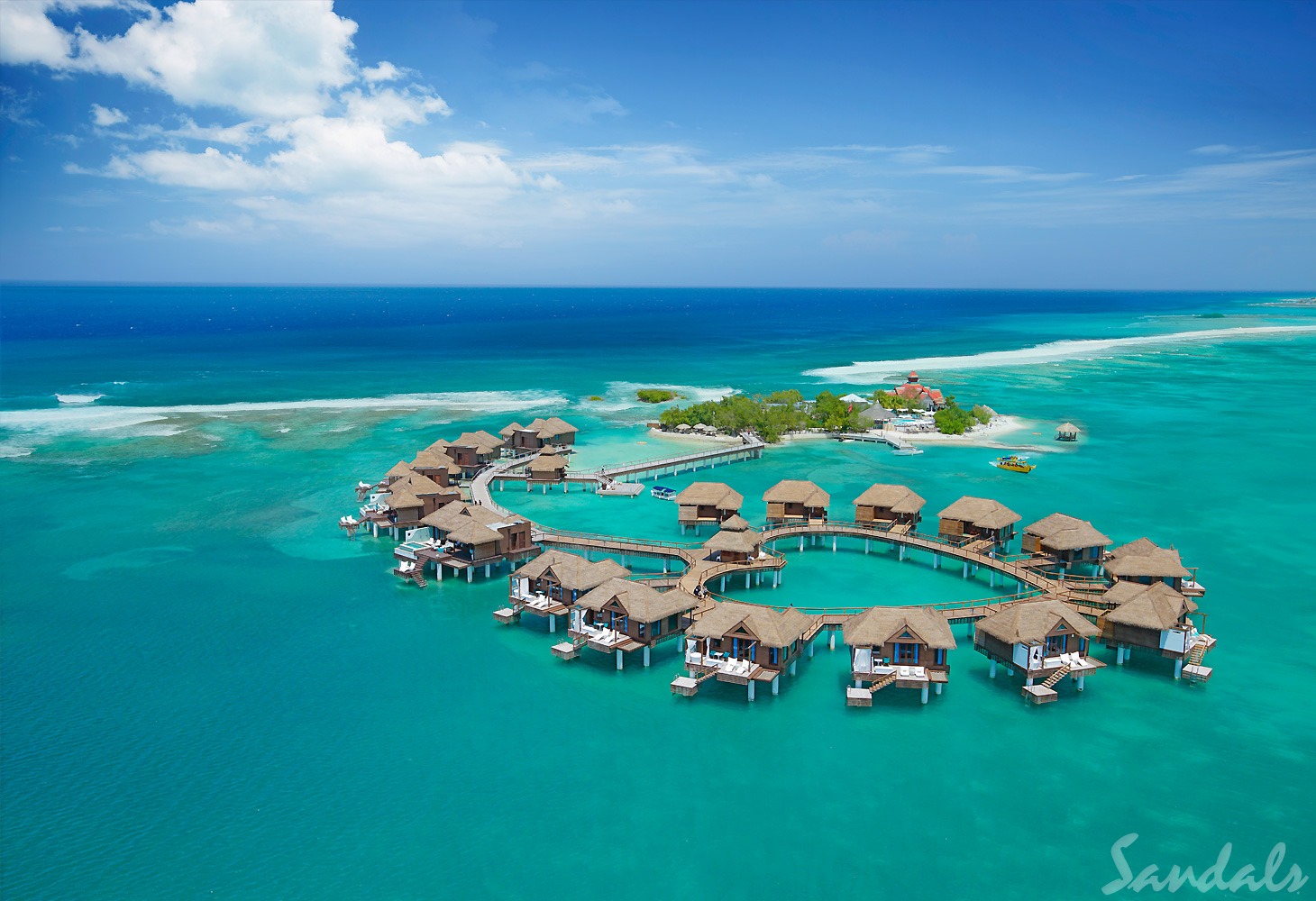 This is one of the best resorts in Jamaica for couples who want a variety of amenities and activities. Sandals Royal Caribbean is an adults-only resort with 15 private overwater bungalows. It fuses the marvelous traditions of both Great Britain and the Far East.
Sandals Royal Caribbean has a lush setting making it ideal for anyone seeking a vacation to remember. The Great House is tastefully furnished in the Georgian style, keeping with established English customs like afternoon tea and croquet.
Moreover, The resort boasts an authentic Thai restaurant, castaway island evening entertainment, and poolside and beachfront elegance.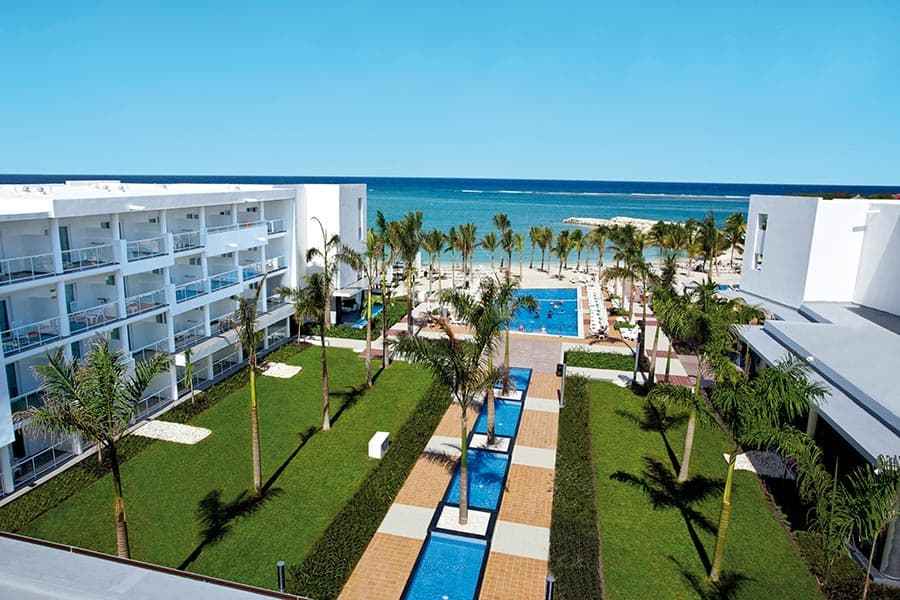 There are several excellent resorts in Jamaica, but the Hotel Riu Palace Jamaica stands out as one of the most romantic. It offers the finest in service and comfort in each of its nearly 200 rooms. Deck chairs await you on the Jamaican shore, and you can choose between lounging in the shade or soaking up the sun from atop one of the infinity pools, complete with swim-up bars.
Furthermore, you can take advantage of the Renova Spa at the Montego Bay hotel, which is only a few yards away. You can also participate in one of the daytime or nighttime activity programs with live music. And then you can also go scuba diving, play sports like tennis and golf, and work out at a gym.
As an added bonus, the resort offers a wide variety of cuisines. Lastly, if you want to go all out, you may have a candlelit supper on the beach with a picture-perfect view. This is one of Jamaica's best resorts for couples needing romance and intimacy.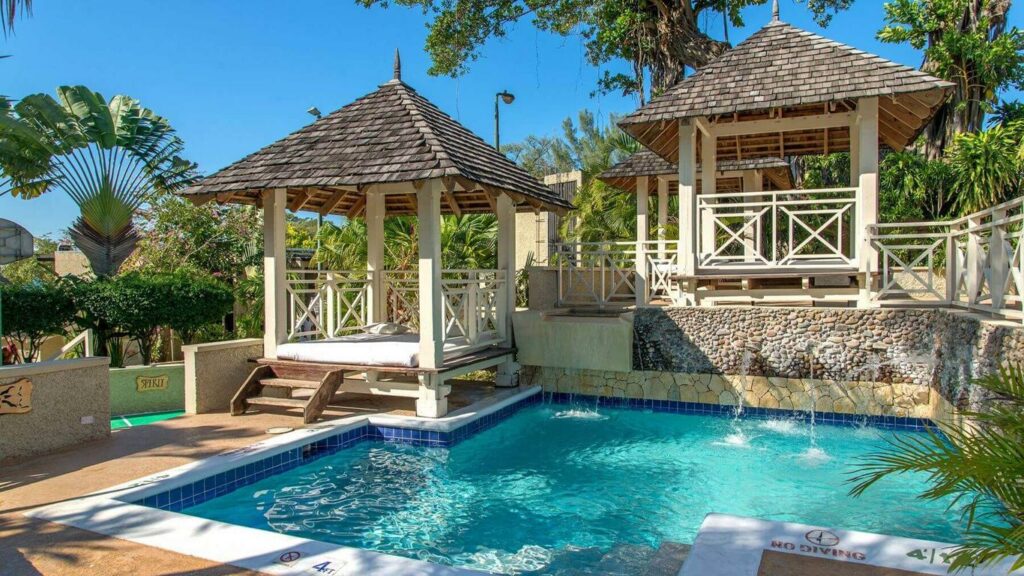 Hedonism II is one of the best resorts in Jamaica for couples who are more adventurous and looking for a bit of fun. Located on a secluded stretch of Negril's Seven Mile Beach, this resort is a favorite with adults due to its dress code-free policy.
Guests of varying sensibilities can choose between the resort's "prude" and "nude" areas; the latter features a swim-up bar and Romping Shop Playroom designed for sensual play. The resort has everything a guest wants or needs at a four-star accommodation.
Hedonism II's vibrant nightlife sets it apart from others, as do attractions like snorkeling and glass-bottom boat rides and tours. It's no surprise that this resort has established a worldwide reputation as the place to spice up your romantic life. This one-of-a-kind opportunity will undoubtedly leave an indelible mark on one's mind.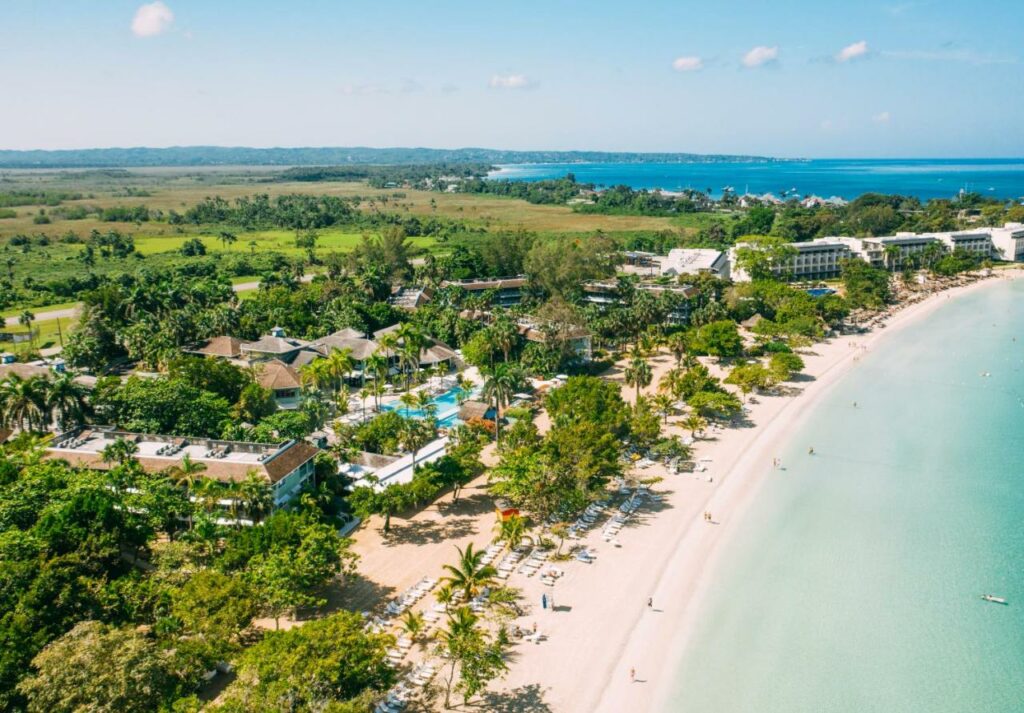 In a picturesque setting on Negril Beach, Couples Negril is an all-inclusive resort reserved exclusively for couples. It has been one of the best resorts in Jamaica for couples since its opening in 1982. The rooms, the lobby, and the recreation spaces have been updated, but the resort still exudes that vintage Jamaican vibe.
Couples looking to enjoy the sunset on the world-famous 7 Mile beach would love this resort. Moreover, guests can dance beneath the star-filled Jamaican skies, sip cocktails while their toes are in the sand, and see nearby attractions.
With time, Couples Negril has expanded into a full-fledged luxury resort, complete with a large swimming pool and swim-up bar, watersports, tennis courts, and a state-of-the-art fitness center.
Hyatt Zilara Rose Hall is one of the best resorts in Jamaica for couples looking for a romantic getaway. A haven for mature guests, this Montego Bay hotel caters exclusively to grown-ups.
Guests can choose between standard rooms or deluxe suites, each with a private, fully furnished patio with views of the pool, gardens, or ocean. Some rooms are designed to be "swim-ups," meaning they lead directly into a swimming pool.
Over 16 different dining options, including 24-hour room service, are available to guests. In addition, guests can enjoy various recreational opportunities, including multiple outdoor pools, a 24-hour fitness center with daily gym classes, nightly live performances, watersports, dancing lessons, and a spa and salon.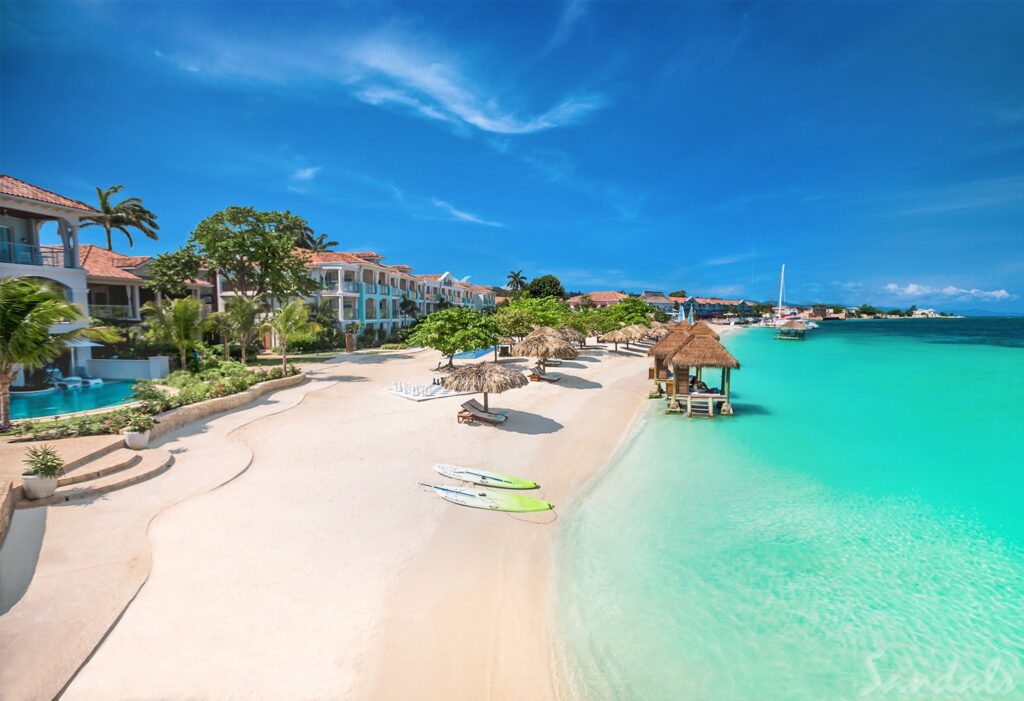 Sandals Montego Bay has everything you want if you plan a romantic getaway. You can reach the airport only ten minutes from this massive, wide resort that sits on the shore. The resort's grounds have six pools, three whirlpools, and a Red Lane Spa with free-use saunas and steam rooms.
In addition, the resort's extensive list of perks sets it apart from the competition. Guests may enjoy their meals at any of the resort's ten restaurants and scuba diving, snorkeling, live entertainment, tennis, water sports, and fitness centers.
Sandals Montego Bay is one of the best resorts in Jamaica for couples looking for a picturesque setting, exciting activities, and various ways to unwind.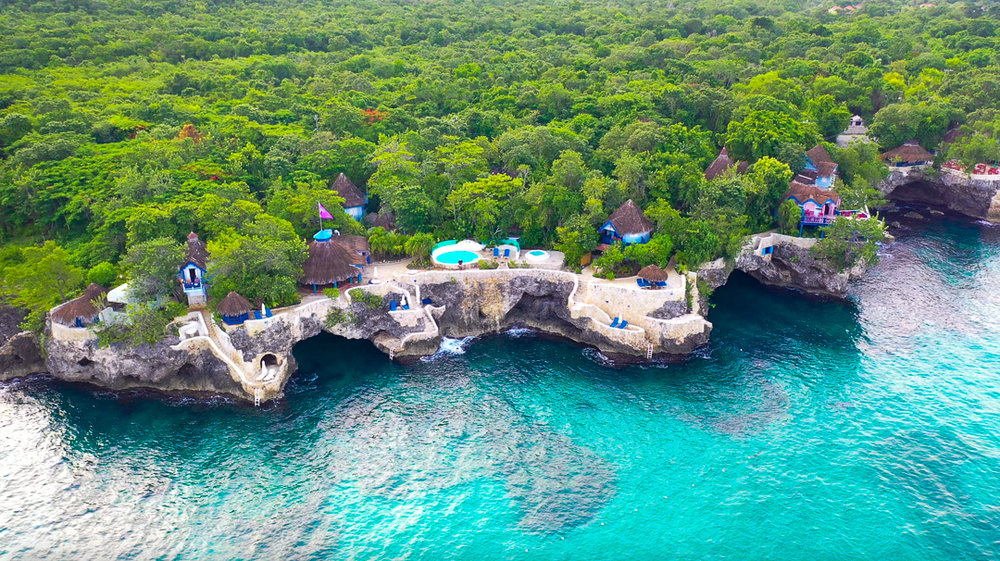 Need some clear skies, starry evenings, and profound experiences? One of the best resorts in Jamaica for couples, The Caves is a carefully designed nirvana that combines Negril's rustic allure with the city's chic sophistication.
The Caves are loaded to the gills with personality, allure, and breathtaking ocean vistas. As an added bonus, the home-cooked meals at The Caves are delicious and healthy.
Every day, diners can choose from a menu of delectable options made using seasonal, locally sourced ingredients. Couples looking for a romantic atmosphere will find it at The Caves, where they may enjoy everything from real Jamaican barbeques to exquisite candlelit 5-course banquets.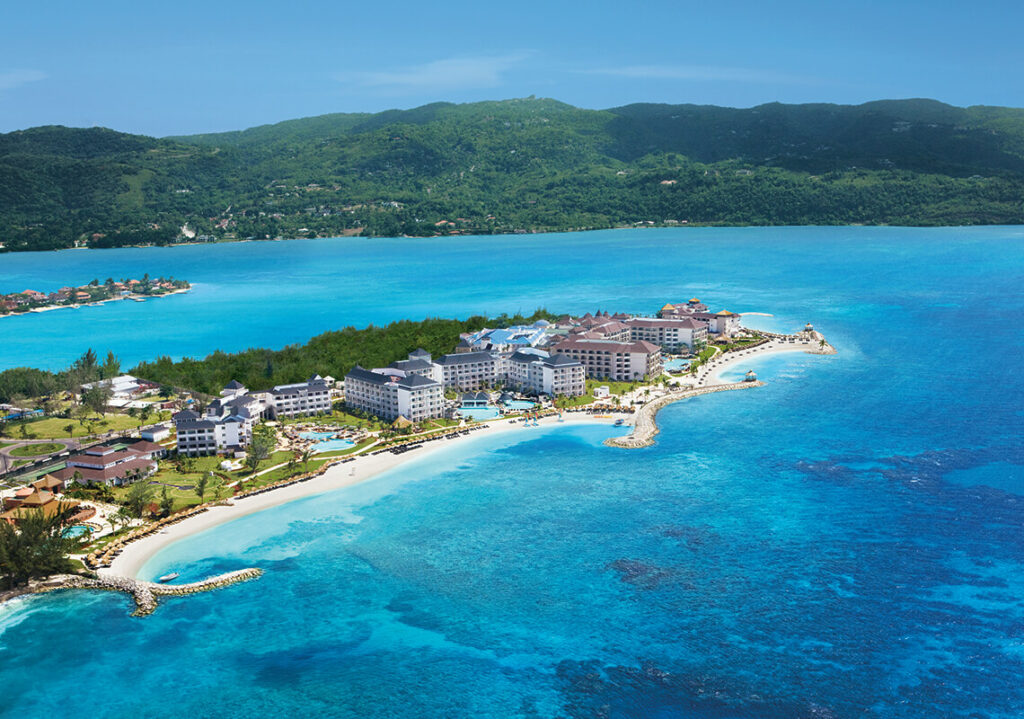 Secrets St. James Montego Bay is one of the best resorts in Jamaica for couples looking to unwind and recharge while also having a good time.
In this resort, you may enjoy a wide range of gourmet cuisine, an endless supply of beverages, and the services of a personal butler at the pool or on the beach.
The resort hosts themed events frequently, provides nightly entertainment, and boasts a variety of pubs and clubs right on the beach.
In addition, the hotel's spa offers numerous massages, spa treatments, and beauty salon services. Views of the ocean and the resort's grounds from the rooms are breathtaking and set the mood for a restful holiday.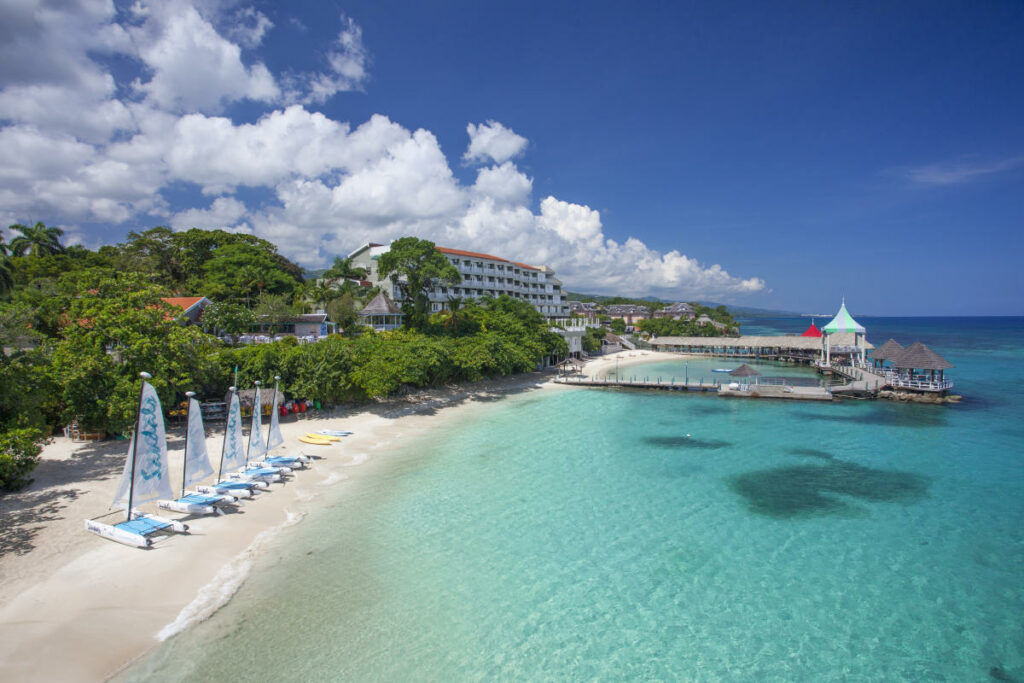 Sandals Ochi is one of the best resorts in Jamaica for couples looking to get the best of both worlds. The excellent Sandals Golf & Country Club is on one side, and a lively beach club with bars on the other.
The other side of the opulent resort is a calm haven where the sound of silence reverberates through the air. Over 700 feet above sea level, the Sandals Golf & Country Club features a rolling 18-hole course that has earned it a reputation as one of Jamaica's best. You can practice in this place to hone your golfing skill.
In addition, the hillside villas at Sandals Ochi will wow you with their unique blend of classic and contemporary design, which was created to complement the resort's natural setting. This five-star resort takes care of every detail, from the private pools to the butler service, so you can kick back and relax.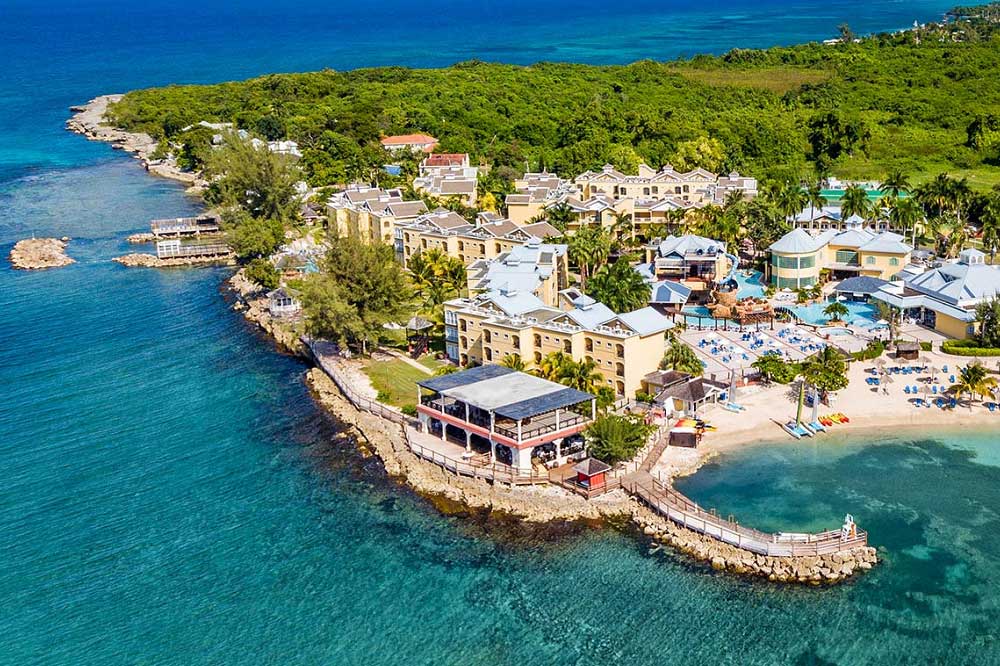 Vacationing at Jewel Paradise Cove is an unforgettable experience for any couple. This one-of-a-kind Jamaican resort is conveniently located near the beautiful Runaway Bay Beach and the Runaway Bay Golf Club.
You may skip traveling to other areas since this resort offers everything you want. Activities like kayaking, snorkeling, and yoga seem particularly beautiful against the breathtaking backdrop of the island's white sand beaches, vivid reefs, and azure waters.
There are 225 luxurious rooms available, each including butler service, iPod docks, and private balconies or terraces. In addition, three of the resort's pools feature swim-up bars and hot tubs. There is also a white sand beach with plenty of loungers and umbrellas, nightly entertainment, and a full-service spa.
This is one of the best resorts in Jamaica for couples looking for a new place to spend a romantic vacation.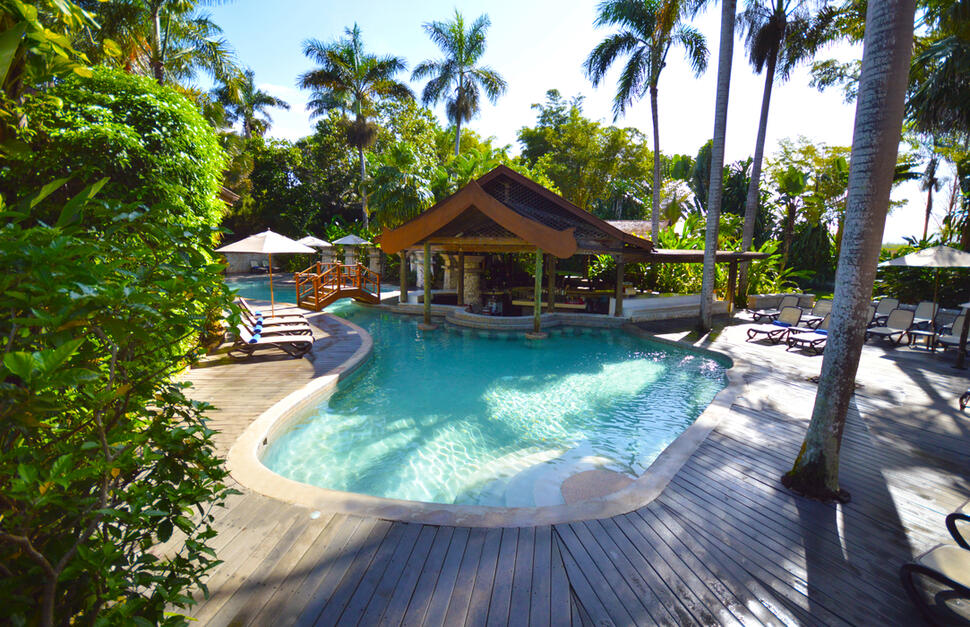 Beautiful sunset views of the western coast of Jamaica may be seen from Sunset at the Palms, perched on a private beach near Negril. All of the island's most beautiful beaches are within easy walking distance. This is one of the best resorts in Jamaica for couples looking for an intimate resort experience without sacrificing luxury.
A fantastic panorama of flowers, trees, and the sky awaits lovers at Sunset at the Palms. The scenery helps to create a cozy and complete ambiance, making it an ideal honeymoon destination.
The resort's eighty-five rooms all have a "treehouse" feel. The spa at this resort is set in a tranquil garden and offers a variety of relaxing treatments. In addition, it features a lengthy stretch of beaches and a swim-up bar serving a selection of tropical drinks and food.
Final Thoughts
If you and your partner dream of having a romantic getaway with white sand beaches and clear blue waters, now is the perfect time to plan your visit to Jamaica. The island is home to some of the best resorts for couples who want unforgettable vacations. If you're a couple looking to unwind, have fun, experience exciting adventures, or wish to spend some time with nature, then Jamaica is the place you're looking for.