Fantasizing about basking in the sun on a remote Caribbean island? If you're planning a trip, Jamaica is a place that many travelers wish to visit. Moreover, the best resorts in Jamaica for families offer many Caribbean delights. With its year-round balmy climate, dazzling blue waters, refreshing ocean air, and laid-back, positive spirit, Jamaica is the place for you and your family!
Keep reading to learn the best place to stay in Jamaica. We've compiled a list of Jamaica's best resorts for families looking to make fantastic vacation memories.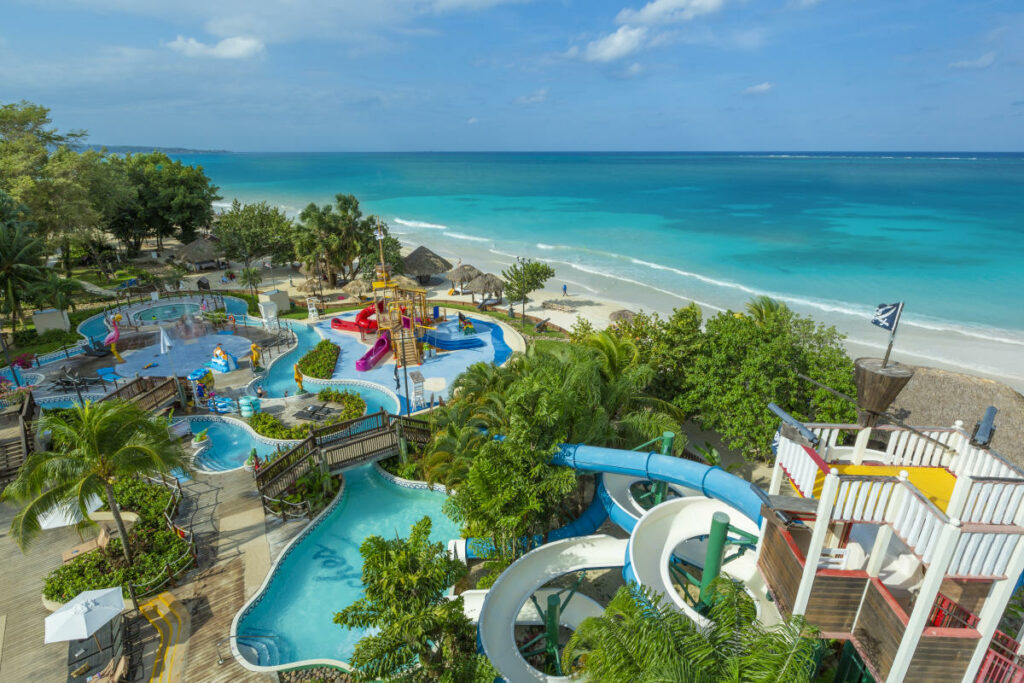 Beaches Negril Resort & Spa, located on Seven Mile Beach, is a stunning luxury resort and spa part of the Sandals chain of wonderful vacation experiences. It is one of the best resorts in Jamaica for families looking for a fantastic getaway.
This all-inclusive resort has a kids' camp, adolescent hangout areas, and family-oriented events for kids of all ages. Water activities, including snorkeling, and stand-up paddle boarding, are available at the on-site water park, which also features a lazy river. Moreover, there is nightly entertainment aimed at guests of all ages,
Elegant and spacious, all rooms have plush bedding and private, fully-furnished balconies. You'll have your pick of nine restaurants featuring cuisines worldwide, from sushi to Caribbean to Italian to American.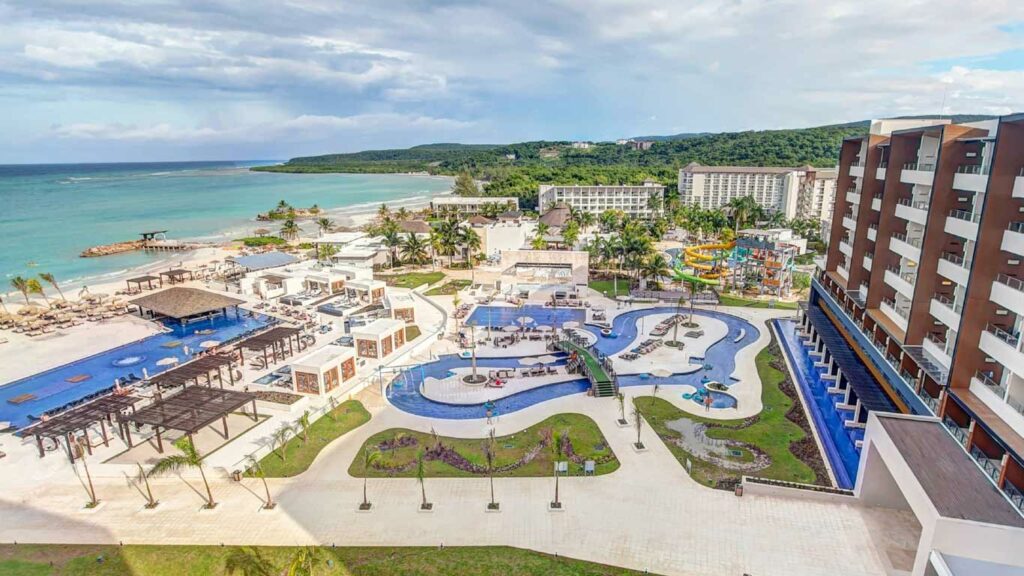 The Royalton Blue Waters in Montego Bay is one of the best resorts in Jamaica for families traveling together. This resort allows guests to enjoy the amenities of a high-end, all-inclusive vacation spot, including gourmet meals. It is part of Marriott's Autograph Collection, so you may use your Bonvoy points.
Many facilities are geared toward families. Kids and teens can enjoy organized games and fun activities at the designated clubs. If you'd instead explore as a group, the resort offers various water sports and daytime and evening activities. Moreover, the lazy river and pirate-themed water park are big hits with the younger guests.
Parents can enjoy peace and quiet in a poolside cabana or beach while the kids have fun at the club. The spa also features a fitness center with lessons taught by certified instructors for guests' usage. The modern rooms at this all-suite hotel have luxurious resort-brand beds. The suites are elegant, with many including Jacuzzis and pools with swim-out access.
There are 11 restaurants to choose from, covering a diverse range of cuisines, so you won't go hungry. Choose from various cuisines, including an international buffet and a la carte Tex-Mex, Caribbean, Asian, and Italian options. Aside from that, room service is available at any time.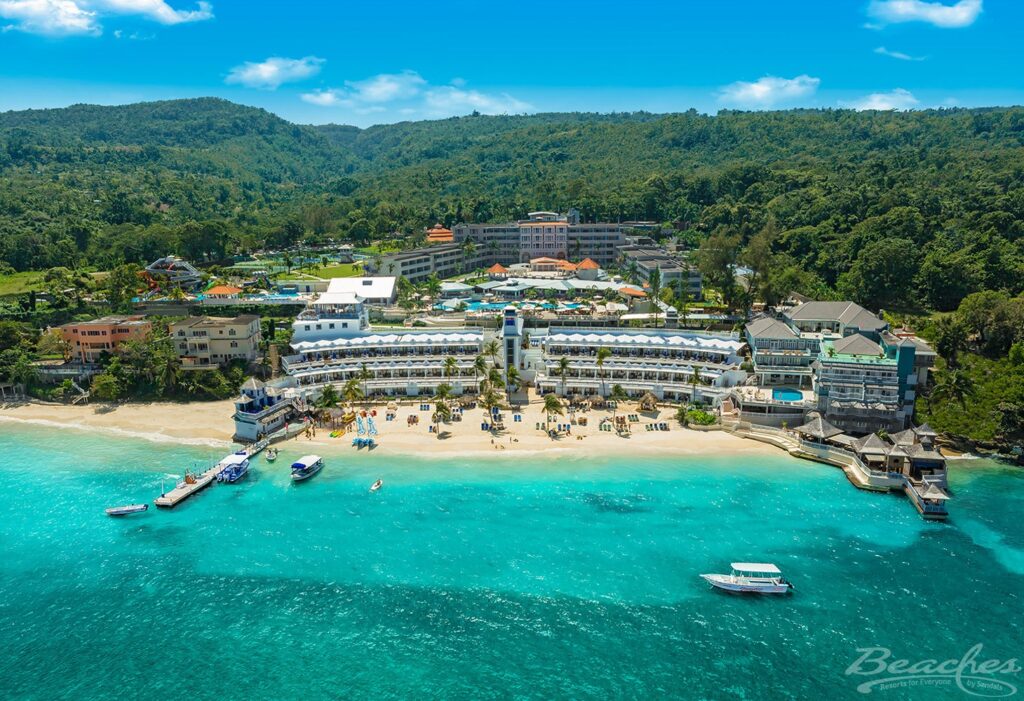 Beaches Ocho Rios is less frantic and bustling than Beaches Negril. Yet, it is still one of the best resorts in Jamaica for families who want to experience the Caribbean vibe. All rooms provide complimentary high-speed internet access, mini-fridges, flat-screen televisions, coffee machines, and microwaves. Some also feature whirlpool tubs, wet bars, and other luxurious extras.
All meals and drinks at the resort's seven restaurants, six bars, and round-trip airport transportation are on the house. There is golf, sports courts, a spa, outdoor pools, two giant hot tubs, and a nightclub.
Your children will have fun in the resort's kids' clubs. They have a lot going on for kids of all ages, so they'll be entertained the whole time you're in Jamaica. For a fantastic all-inclusive vacation with the kids, look no further than Beaches.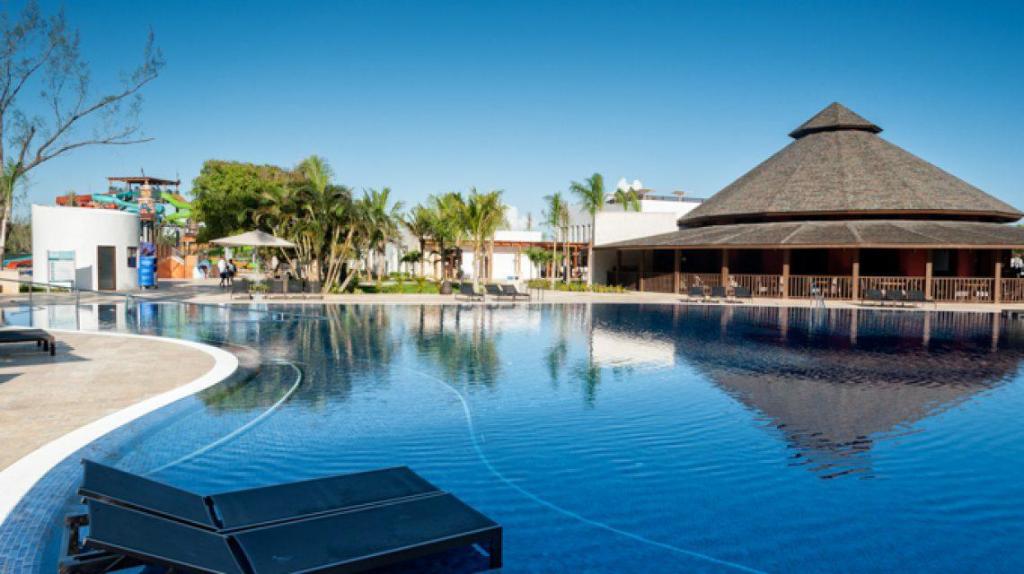 It's no secret that the Royalton White Sands Resort by Marriott is among the top-best resorts in Jamaica for families. Although it's around 35 minutes from the airport, many travelers choose this one because of its seclusion from Montego Bay.
All 325 rooms provide access to the resort's facilities, including the white sand beach with plenty of umbrellas and chairs. In addition, there are complimentary beach cabanas, various buffets, à la carte restaurants, and many other dining options. An additional major lure for grownups is the Royal Spa, which has an area with a pool just for them.
For families, there is a wealth of entertainment options. The water park at the pool features waterslides and a lazy river, and the kids' club offers planned activities every hour of the day.
One of the best golf courses in the world is located nearby, much to the delight of golf enthusiasts. Everything from the scenery to the services to the various activities will make your stay memorable for you and your loved ones.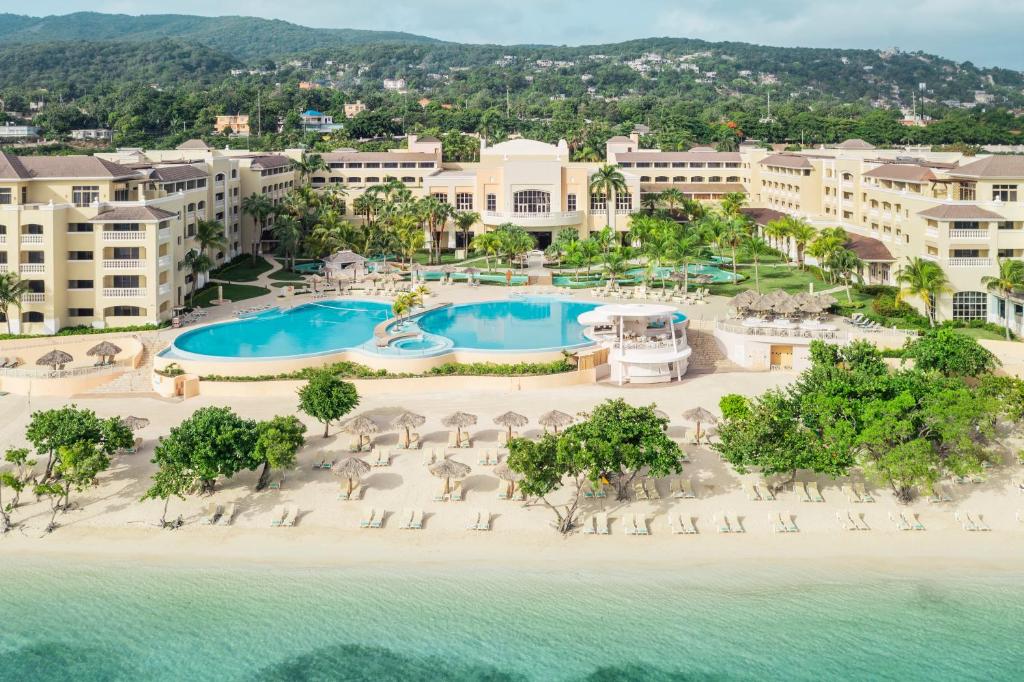 If you're looking for a family-friendly resort that won't break the bank, look no further than the Iberostar Rose Hall Beach. It's one of Jamaica's best resorts for families on a tight budget but still wanting to experience Jamaica's beauty.
The resort's cuisine is regarded as one of its main draws. You can take your time trying out the various gourmet eateries serving up both regional and international specialties.
In addition, you may feel and look your best while on vacation thanks to their salon and spa services. You're lucky if you'd like to enjoy spa time without bringing your children. There's a diving center on the premises, staffed by professionals who can teach you everything you need.
Look at the fantastic landscape above ground, then dive down and see what lies underneath. Take the kids to the beach with some rented snorkeling gear, or if you'd rather stay above the water, hire some kayaks.
While the older ones try out windsurfing or sailing, the little ones can have fun in the kiddie pool or at the kid's club.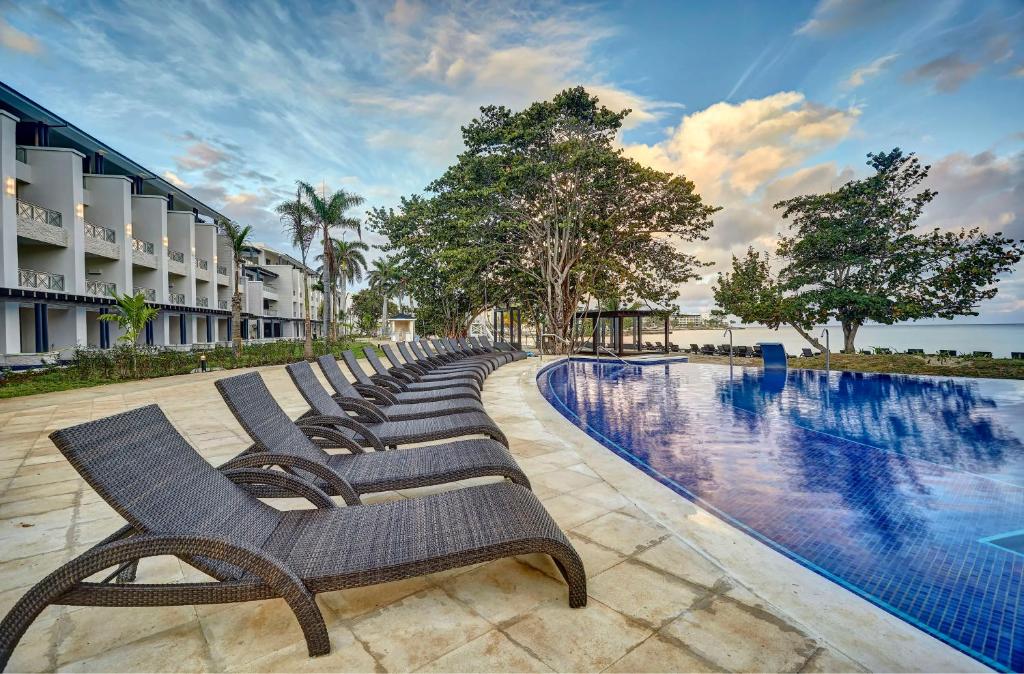 Another of Jamaica's best resorts that are perfect for families is the Royalton Negril. The rooms at this resort are luxurious, and there are two kilometers of beachfront to explore.
High-thread-count bedding, jacuzzi tubs, couch beds, minibars, coffee makers, satellite TV, and free WiFi are standard in all rooms. No matter what time of day, you can always order room service; some accommodations even have private access to the pool or ocean.
Tennis courts, water sports, first-rate live entertainment, a spa, a salon, an outdoor pool, a gym, and more are also available. Clubs and events for children and teenagers will be a big hit. There are ten restaurants to choose from, from Italian and French to Asian and Tex-Mex, marine and foreign fare, and even a steakhouse.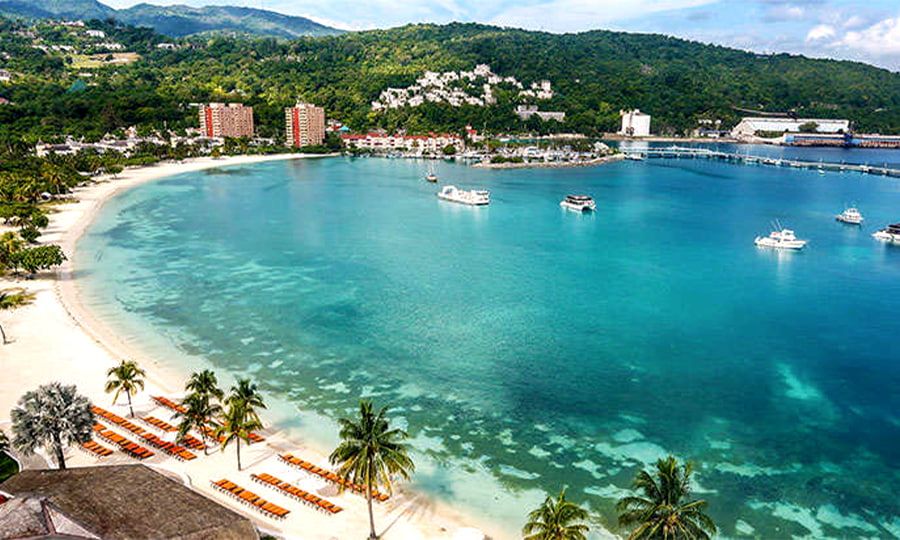 Moon Palace Jamaica is a dream place for families searching for an exotic experience and an all-inclusive vacation. This five-star resort is among the finest in Jamaica, thanks to its proximity to beautiful beaches and the clear blue water. It has six different types of rooms and suites for maximum comfort.
Non-motorized water sports like kayaking, scuba, snorkeling excursions, paddle board yoga, and even a FlowRider Double Wave Simulator are included in all-inclusive packages and premium libations made by professional mixologists.
The resort's king and double rooms are transformed into a five-star haven with turn-down service, complimentary red wine, huge smart TVs, CHI hair styling products, free resort-wide WiFi, unlimited local and long-distance calls, and 24-hour room service.
Fine dining is simple to get at the resort. It typically features locally sourced, organic, "farm-to-table" products expertly prepared by Michelin-starred chefs.
Brunch at Buccaneer's reef with breathtaking views, exquisite Italian at law gondola, or any of the resort's other restaurants serving American, Jamaican, and Pan-Asian fare. When hunger strikes, have some fantastic brick oven pizza or finger snacks delivered by our helpful crew.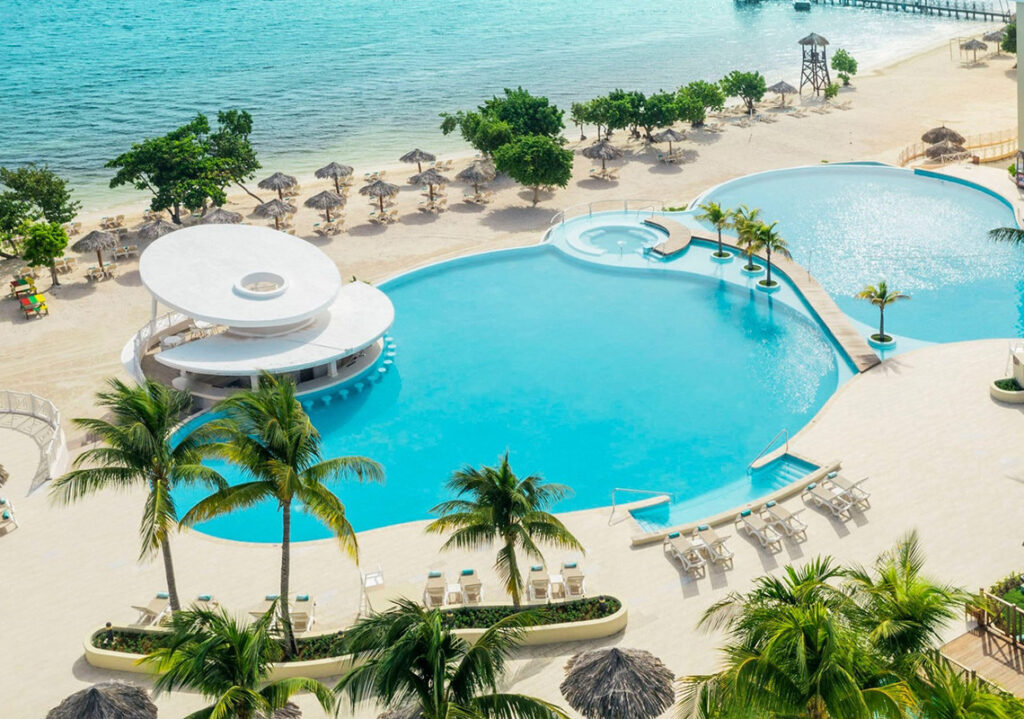 This 5-star resort in Jamaica, the Iberostar Rose Hall Suites, offers guests various activities and amenities. You can't find a better ocean view than this one in Montego Bay.
Family vacationers are encouraged to stay at this resort. Due to this, it is regarded as one of the best resorts in Jamaica for families. Facilities explicitly catering to the needs of children are available.
There is a kid-friendly pool and water park for the little ones. Moreover, there is a playground with various play equipment for the kids to enjoy. Guests can choose between two films at the hotel's theater every night.
In addition, a kids' camp is available at the Iberostar Rose Hall Suites. This is intended for kids aged 4 to 12. Every day is filled with exciting events. What's more, your hours can be extended to accommodate your schedule. The rooms all have their own balconies, and the views are breathtaking. Each room is designed to ensure a restful stay for its guests.
A buffet and à la carte restaurants are available to guests of the Iberostar Rose Hall Suites. There are plenty of places for tourists to try Jamaican cuisine, including traditional cafes and a restaurant serving American and Italian fare. The resort also has live performances each evening. Guests of the Iberostar Rose Hall Suites can frequently enjoy live performances by musicians, comedians, dancers, and vocalists.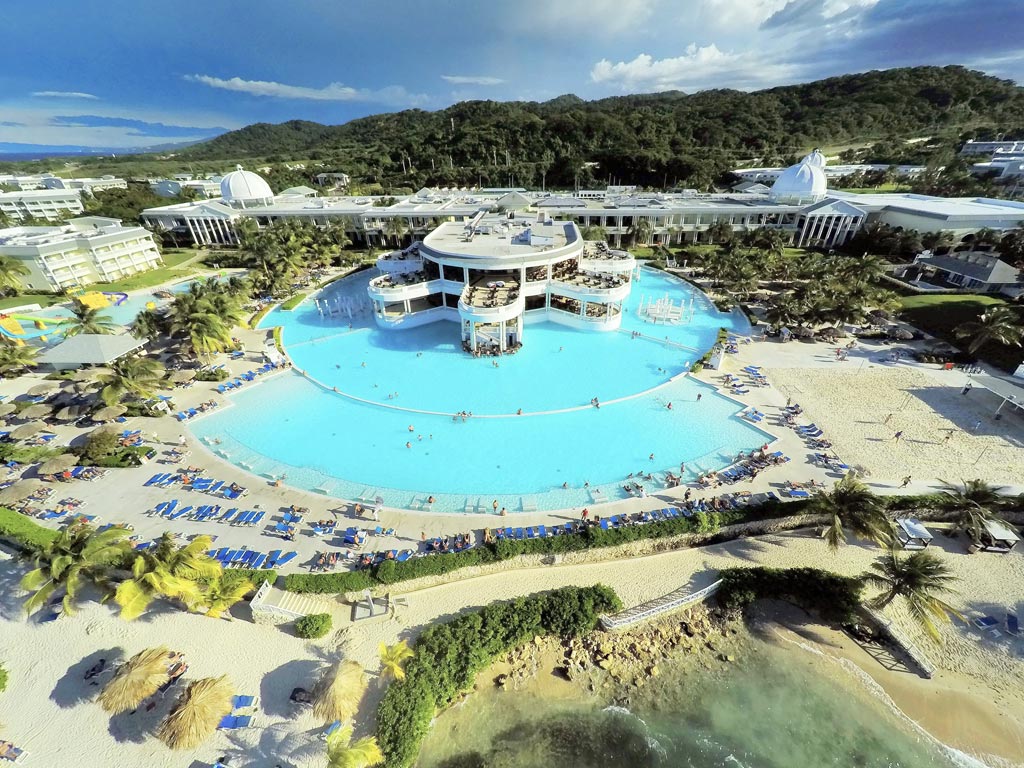 Families seeking a relaxing beach getaway may find the Grand Palladium Jamaica Resort & Spa a welcome change of pace. This 5-star hotel in Montego Bay, Jamaica, features sleek modern decor and breathtaking ocean views.
There are accommodations suitable for a family of four and trademark suites for those with a giant travel party. This is undoubtedly one of Jamaica's best resorts for families, especially with kids. All-inclusive beverages and meals at the Grand Palladium are charged to visitors' wristbands.
Six pools are available to resort guests, including an infinity pool that will surely be a hit with the kids. An on-site water park complements the exclusive access to the coastline, where they can soak up the rays. Catamaran sailing, other water sports, basketball, volleyball, and more are just a few activities suitable for families.
Children of all ages can make new friends at one of several kids' clubs, such as the Baby Club for infants and toddlers or The Mini Club for youngsters aged four to twelve. Enjoy a tiny disco, some painting, and some games! The Junior Club is where teenagers between 13 and 18 can socialize. Raggs & Friends, the hotel's resident colorful characters, engage kids throughout the hotel's eating, musical activity, and live music stage presentations.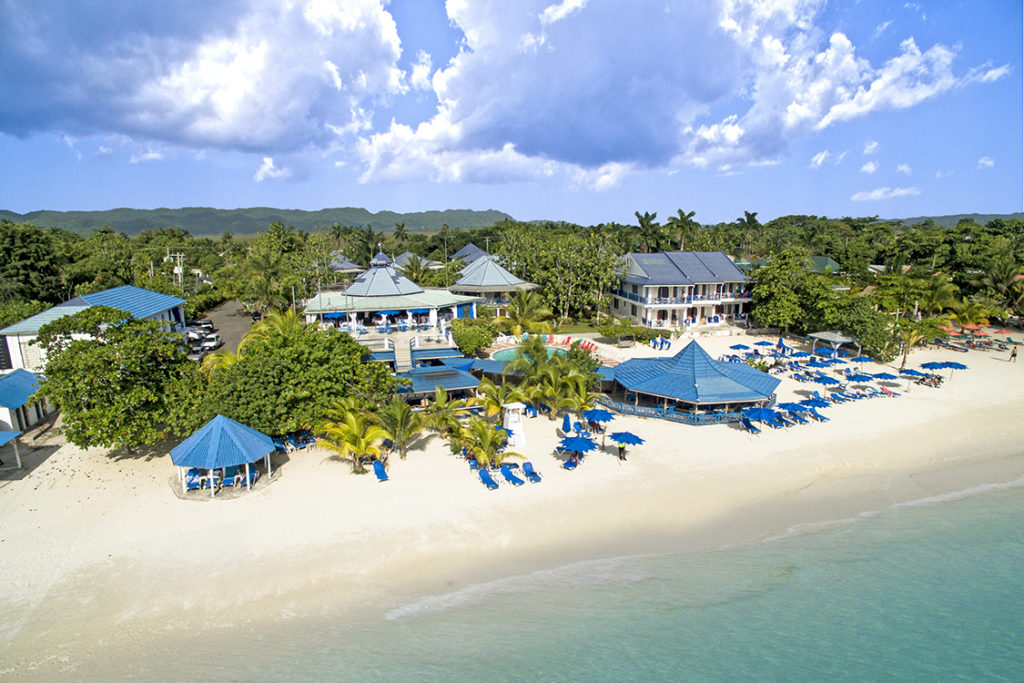 The Negril Tree House Resort is one of the best resorts in Jamaica for families who are on a budget yet want to be in a fantastic location. You can find it directly on Negril's Seven Mile Beach. Guests can rent suites with kitchenettes to cut down on food expenditures. Moreover, you can choose between accommodations with views of the garden or the ocean.
The on-site restaurant serves Chinese and Jamaican cuisine for lunch and dinner in addition to its standard American breakfast menu and a swimming pool and hot tub. The Kool Runnings Waterpark, another family favorite, is within driving distance of the property.
Final Thoughts
Jamaica is a joyful and free-spirited island. The sugary white sands and clear blue water will leave you breathless. It is a beautiful island with various activities, from hiking to waterfalls to lounging on the beach all day.
By booking one of the best resorts in Jamaica for families, you can rest assured that your loved ones will enjoy a relaxing and enjoyable stay in the Caribbean.