When it comes to classic vacation spots with pristine beaches and crystal clear water, few places can compare to Montego Bay in Jamaica. You can unwind on pristine beaches under an azure sky or get your groove on in the heart of the action just outside your hotel door. Here are some of the best resorts in Montego Bay, Jamaica, that will surely give you the Caribbean experience you want.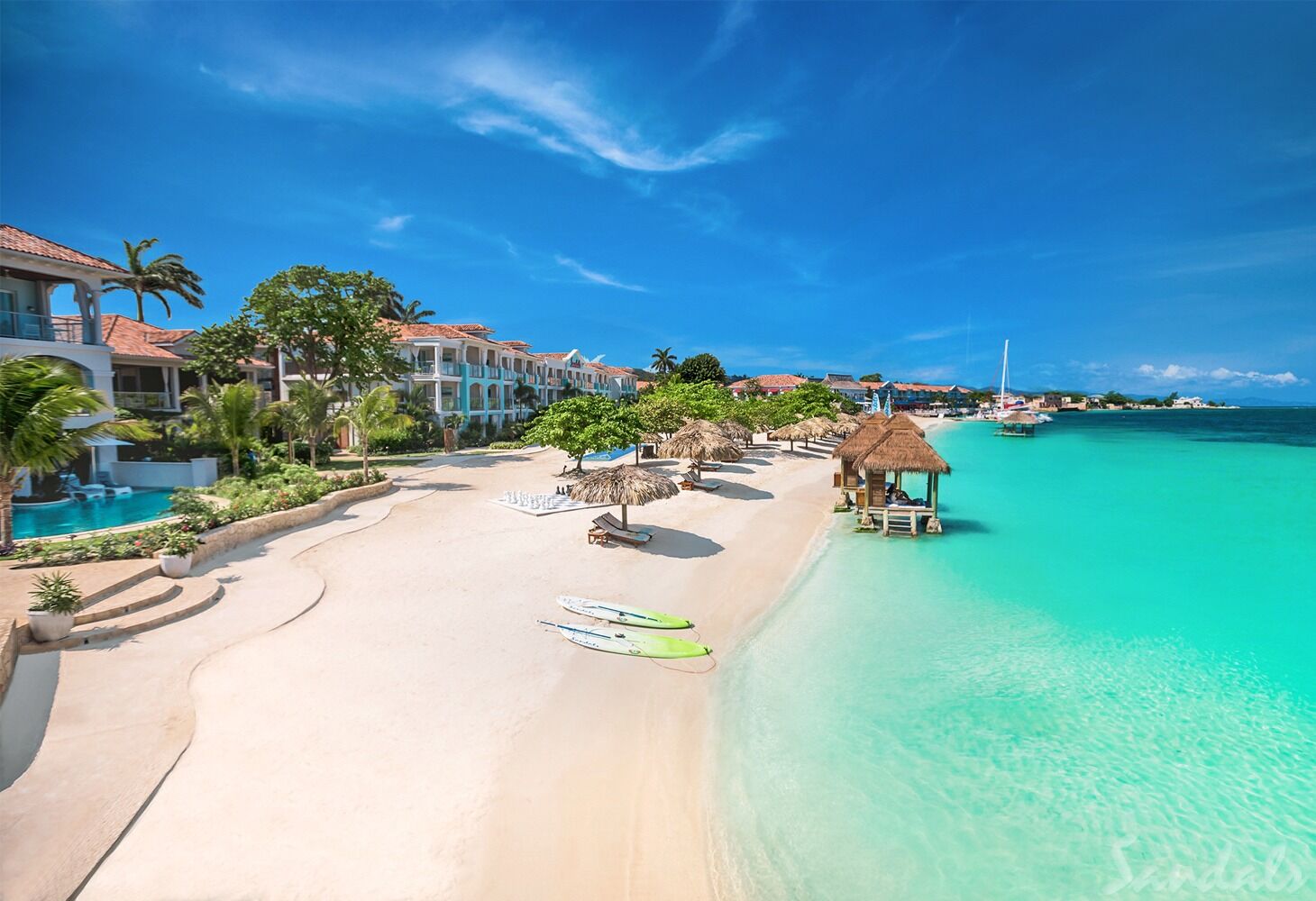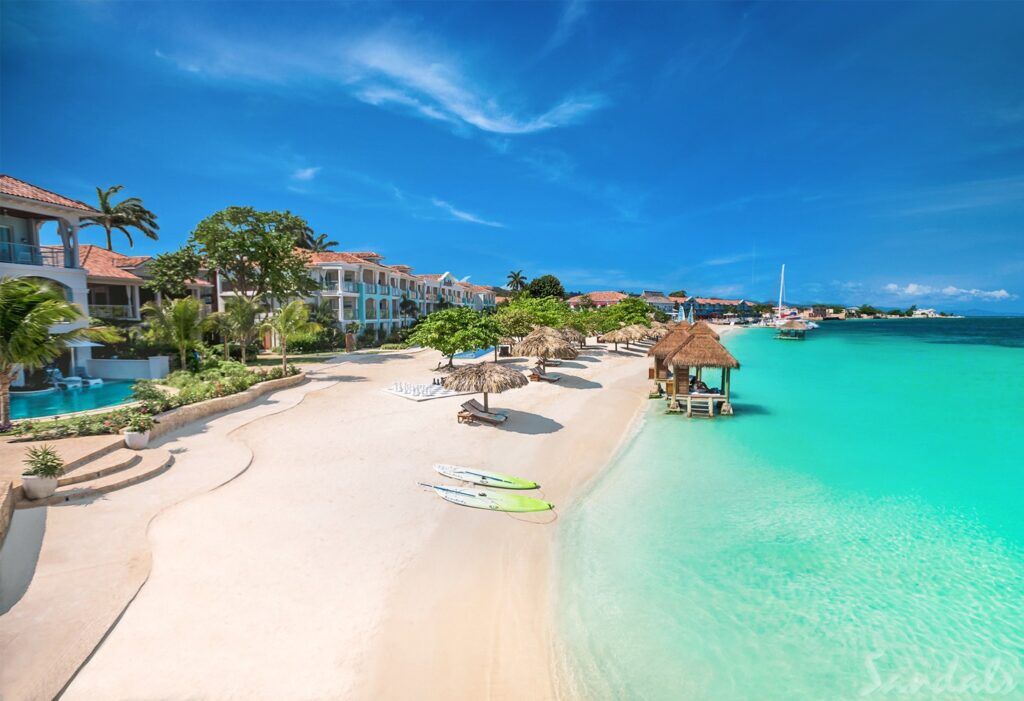 There are 223 guest rooms and suites available at Sandals Montego Bay. Love Nest Suites are situated anywhere the couple chooses, whether on the beach or at the cliff's peak. Romance is in the air when you have your very own balcony, drapes for seclusion, and a soaker tub made for two. A newlywed couple might enjoy staying at this resort.
Guests looking to try something new can enroll in a scuba diving course at the resort. You can choose from as many as 16 dining options at Sandals Montego Bay, guaranteed to satisfy any craving. All guests can eat for free at any of the resort's restaurants whenever they like, no matter the time of day. Various cuisines are available, from sushi to steak, to the Caribbean.
Sandals Montego Bay is one of the best resorts in Montego Bay, Jamaica. It is the place to go for a Caribbean vacation that is both peaceful and stunning. Finding a more ideal setting would be impossible than this quiet, white-sand beach with crystal-clear blue water.
Couples who wish to focus solely on their time together will feel right at home in one of the suites designed with romance in mind. The resort's all-inclusive nature and superior lodgings allow visitors to relax and enjoy their stay without worry.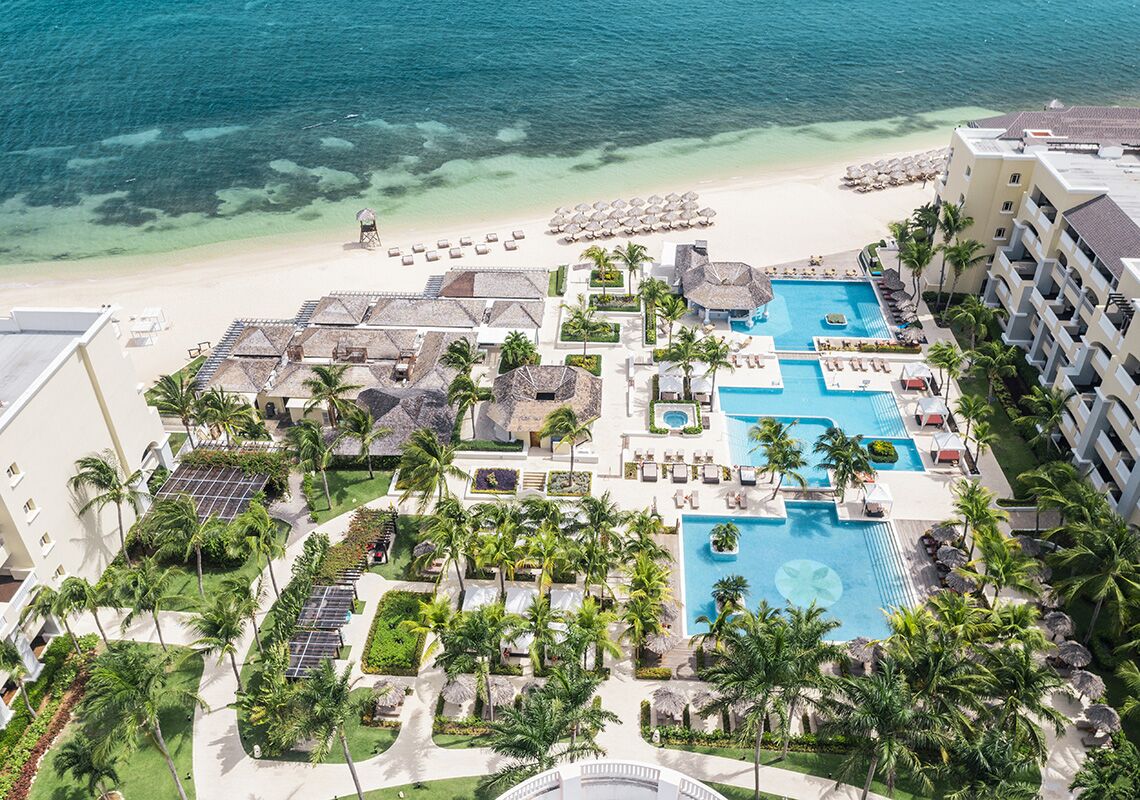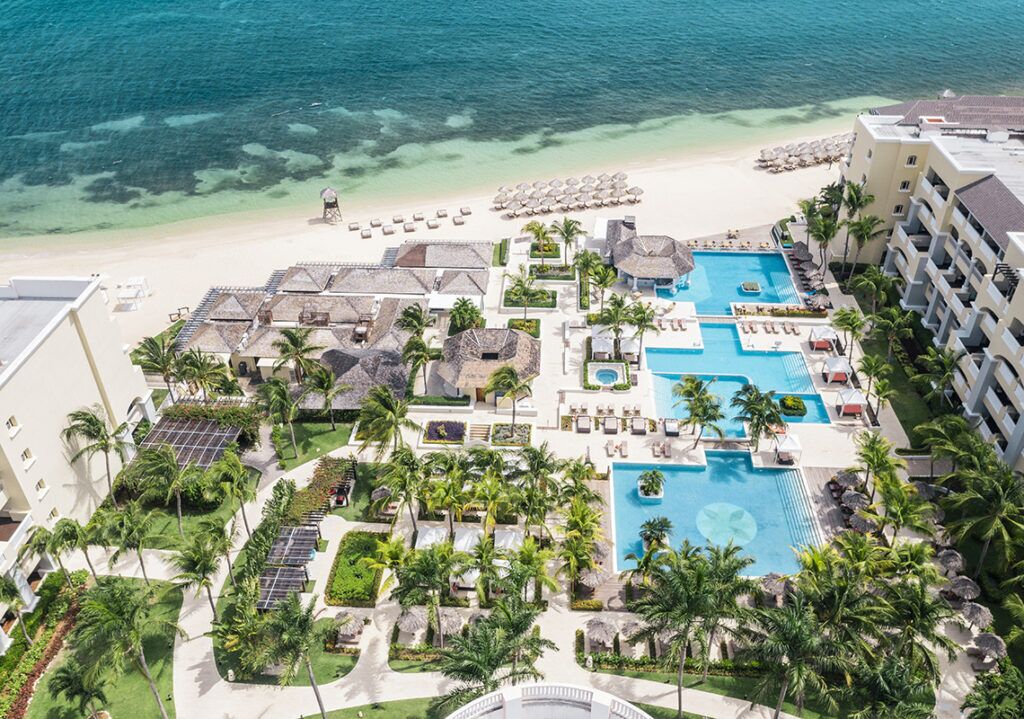 Iberostar Rose Hall Beach is one of the best resorts in Montego Bay, Jamaica, for vacationers looking for an all-inclusive beachfront resort in the middle of the Caribbean. It's perfect for lone tourists, romantic getaways, and small parties.
Iberostar Rose Hall Beach is conveniently located in Montego Bay's historic Rose Hall district, just minutes from the city's top sights. Ocho Rios is about an hour from the breathtaking Dunn's River Falls and a 20-minute drive from Sangster International Airport.
Plenty of restaurants, cafes, and entertainment options are within a short drive. Many visitors enjoy the hotel's prime beachfront by engaging in exciting watersports and other outdoor pursuits. The Iberostar Grand Rose Hall Beach rooms are luxurious, beautifully decorated, and spacious. The hotel offers a variety of room types, including a Superior Room that can sleep up to four people and look out over the garden or pool.
A Star Prestige Standard Room has a balcony, garden views, and high-end bathroom amenities. Moreover, a Double Seaview Star Prestige Room with all-access privileges, upgraded amenities, and beachside butler service is also available.
Every imaginable type of traveler will find something to enjoy among the many onsite services and activities. Spa Sensations provides high-end services, and the resort's breathtaking outdoor infinity pool creates a paradise-like atmosphere. At the theater and movie theater, kids of all ages may enjoy a variety of performances and films. In contrast, adults can enjoy the disco and pool hall.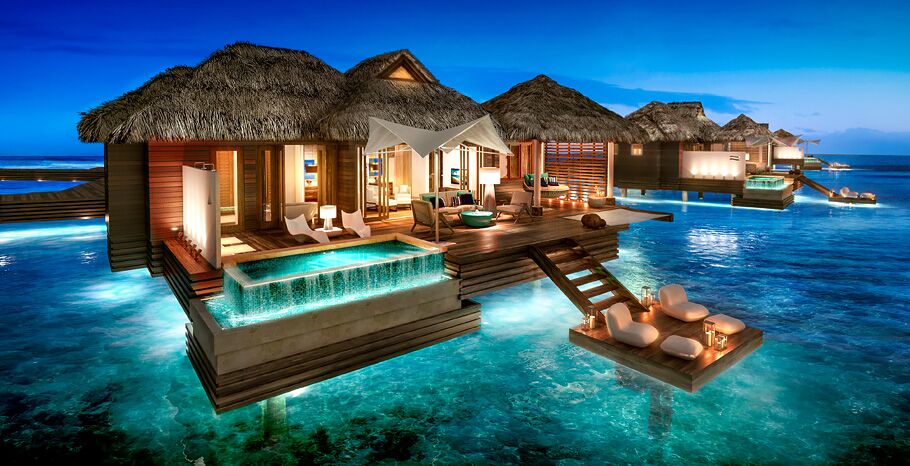 The Sands Royal Caribbean in Montego Bay features a turquoise ocean and white beach. This five-star resort offers romantic accommodations and gourmet cuisine for two.
This Sandals property is the best alternative to Bora Bora if you've always wanted to experience an overwater bungalow. The blue waters in front of this posh resort in a lagoon on Mahoe Bay are pretty quiet, almost always, making them ideal for several water activities.
Among the many possibilities for places to stay are unique to the Caribbean overwater bungalows and villas, popular choices for couples.
Several apartments even have private pools or direct access to one of the larger pools; others even have butler service.
If you're seeking a romantic atmosphere, this is one of the best resorts in Montego Bay, Jamaica. Even the standard garden-view rooms are tastefully designed, with dark wood four-poster beds and generally a terrace.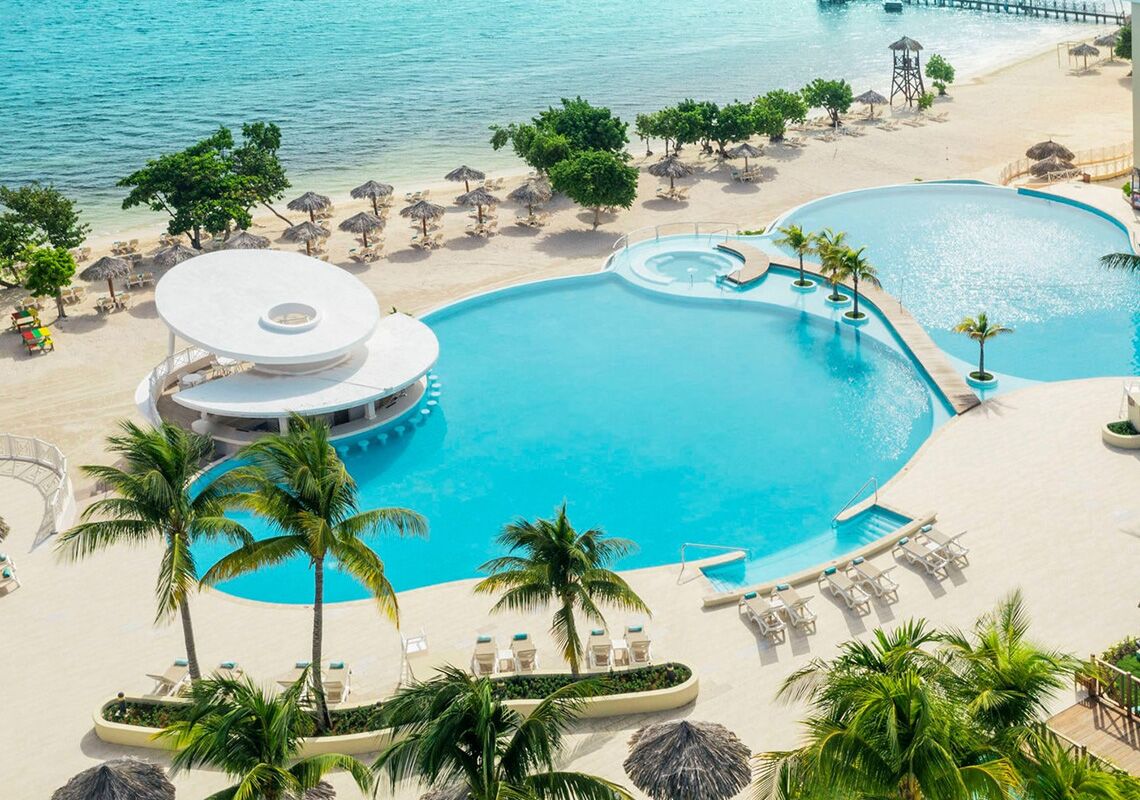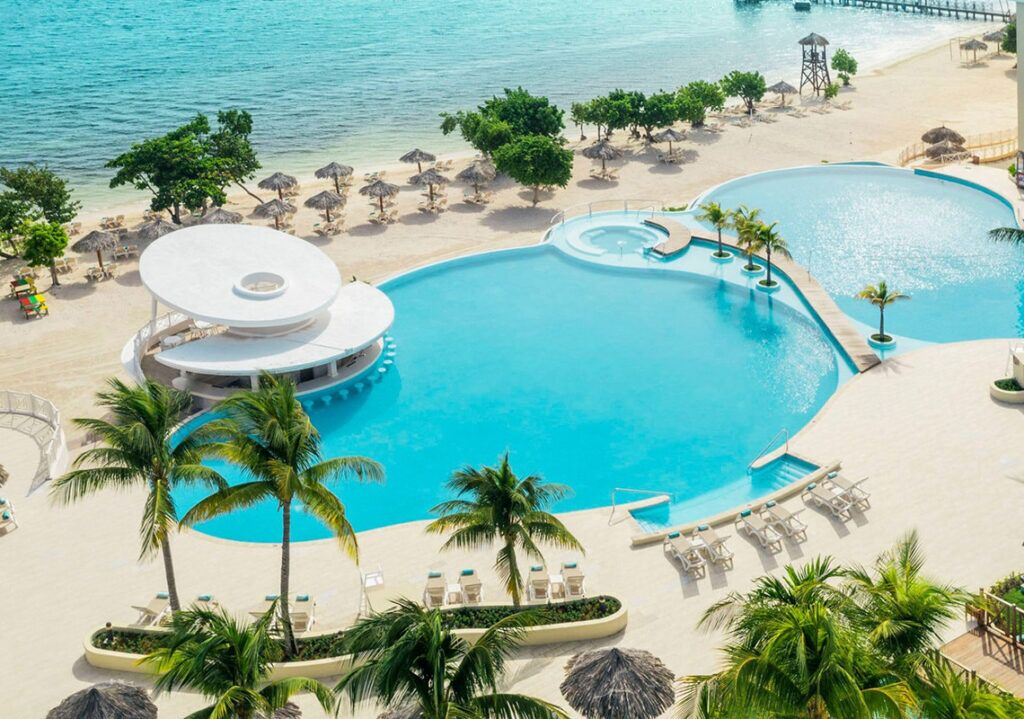 The Iberostar Selection Rose Hall Suites is one of the best resorts in Montego Bay, Jamaica. It is a stylish resort with a gorgeous white sand beachfront location with beautiful balconies and patios, some of which offer breathtaking views of the Caribbean Sea.
Be pampered all through your stay with the hotel's round-the-clock room service. The luxurious spa, where you and your significant other can unwind with massages and other spa treatments, also belongs here.
A variety of dining options and bars are available at the hotel. At the same time, those looking for excitement will be pleased to learn that exciting water activities are also available. There are three outdoor pools at this 5-star hotel, and the surrounding sundecks are furnished with plush loungers, making them ideal for lounging in the sun for hours.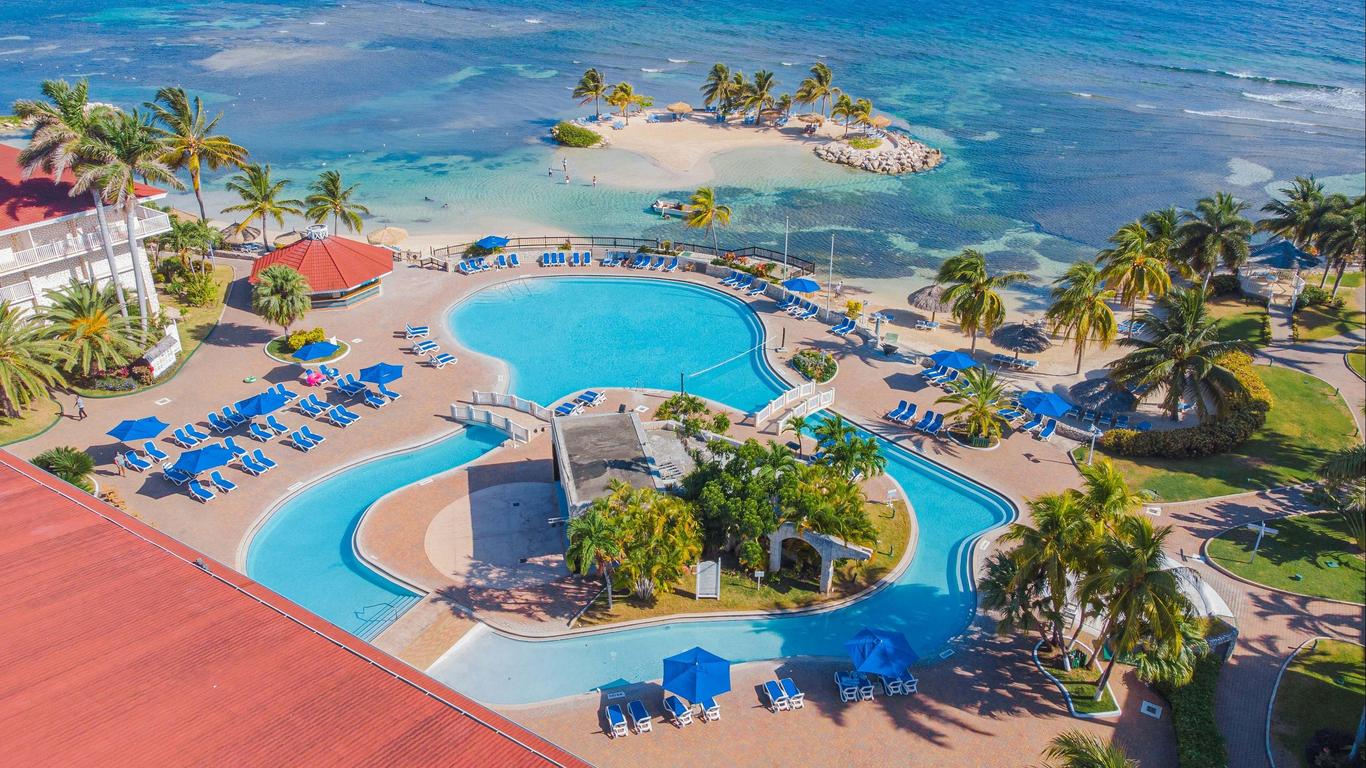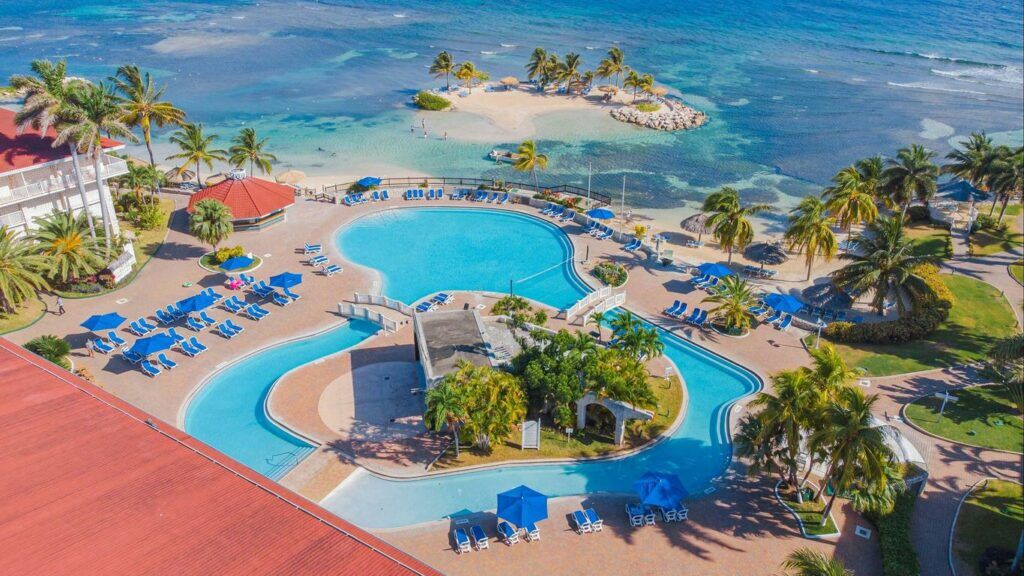 Ten minutes after arriving at Montego Bay International Airport, you can check into this all-inclusive beachfront hotel. The Holiday Inn Resort is one of the best resorts in Montego Bay, Jamaica, if you want to relax and enjoy your vacation without any hassles. The local attractions include the Rose Hall Great House, Dunn's River Falls, and the Martha Brae River.
At the Holiday In, you can unwind in a room with a flat-screen TV and other amenities designed for your pleasure. Spa services, a casino, volleyball courts, and other recreation facilities are among the few available extras. You can choose from five different eateries serving excellent food onsite.
The children's activity center will keep the small ones busy so you can enjoy the outdoor pools or a thrilling water sport without interruption. All guests, regardless of age, will find something they like at the Holiday Inn Hotel.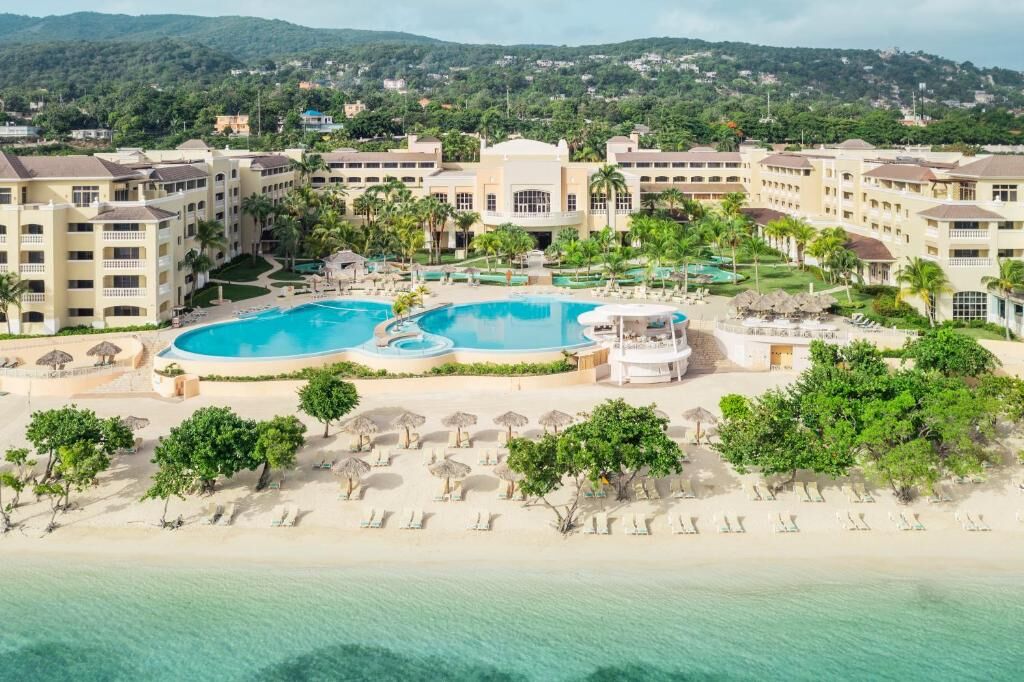 You'll find the Iberostar Rose Hall Beach resort on a breathtaking length of Jamaica's southern coast. This all-inclusive resort offers guests superb room service and stunning ocean views from their accommodations.
Iberostar Rose Hall Beach ranks among the best resorts in Montego Bay, Jamaica. It provides guests with everything they might want for a romantic break, from adventurous activities to a relaxed ambiance ideal for sunbathing and drinking exquisite cocktails.
There are four restaurants, and five bars, one of which is a swim-up bar called Deep Blue. Moreover, there are also several outdoor pools and a fantastic spa for your enjoyment. During your stay, you can participate in various entertaining group activities during the day. Then in the evening, you can wind down with live music, performances by trained performers, a nightclub, and a games room.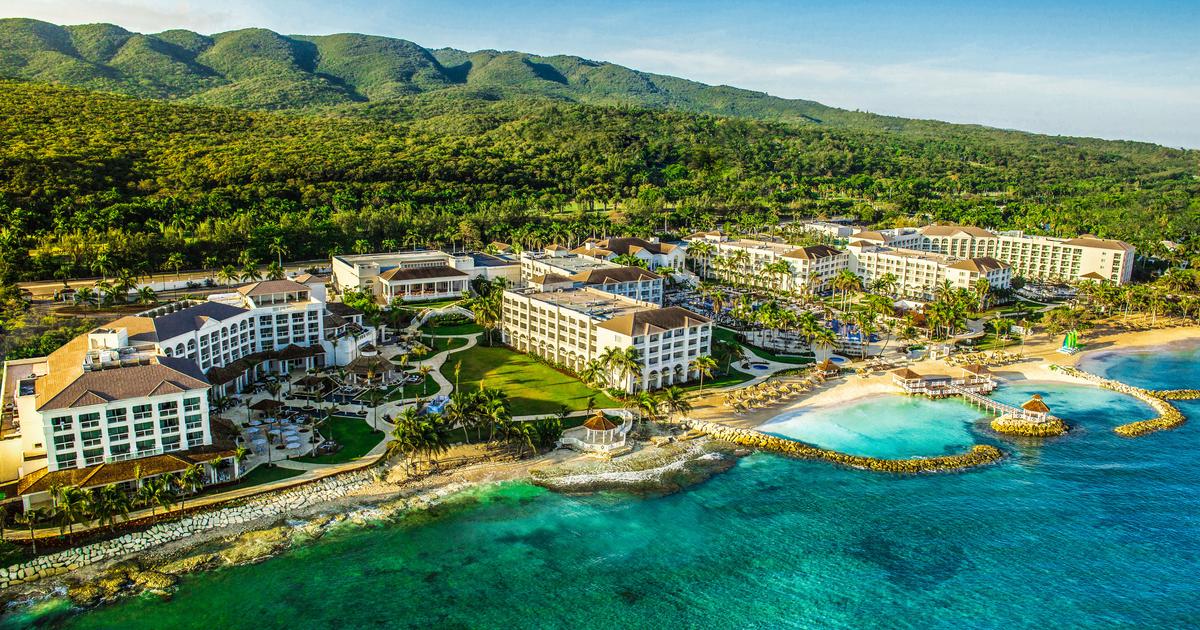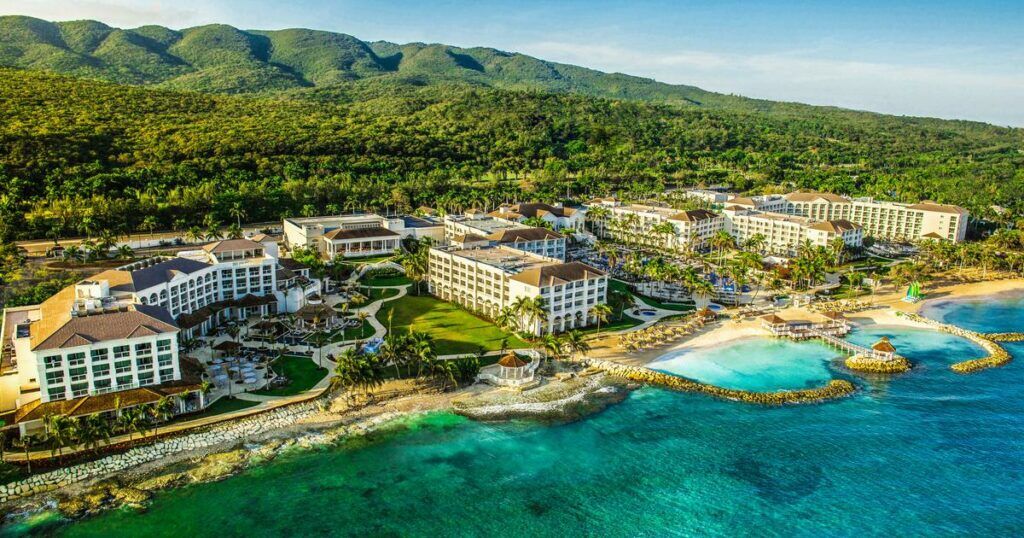 Hyatt Zilara Rose Hall is one of the best resorts in Montego Bay, Jamaica, for those looking for a luxurious retreat from the stresses of daily life.
Couples, groups of friends, and alone travelers can do whatever they choose inside the resort's expansive grounds. Careful attention to detail ensures that guests enjoy a relaxing and enjoyable stay, complete with exquisite meals, perfectly mixed drinks, and unforgettable experiences.
The Hyatt Zilara Rose Hall's stunning facilities and grounds always impress. The rooms and suites feature free high-speed Internet access, flat-screen televisions, coffee makers, and private balconies or terraces with views of the garden, pool, or ocean.
For a more luxurious stay in Jamaica, you should spring for a semi-private pool and direct access to the pool from your room by booking a Butler Suite, or for a personal butler and private check-in/check-out, for a Swim Up room.
When you're ready to relax in the Caribbean, take advantage of the resort's all-inclusive amenities, such as using nonmotorized sports equipment at the beach. You can also enjoy meals and drinks at any of the resort's 15 restaurants, bars, and specialty shops (some shared with the neighboring Hyatt Ziva Rose Hall).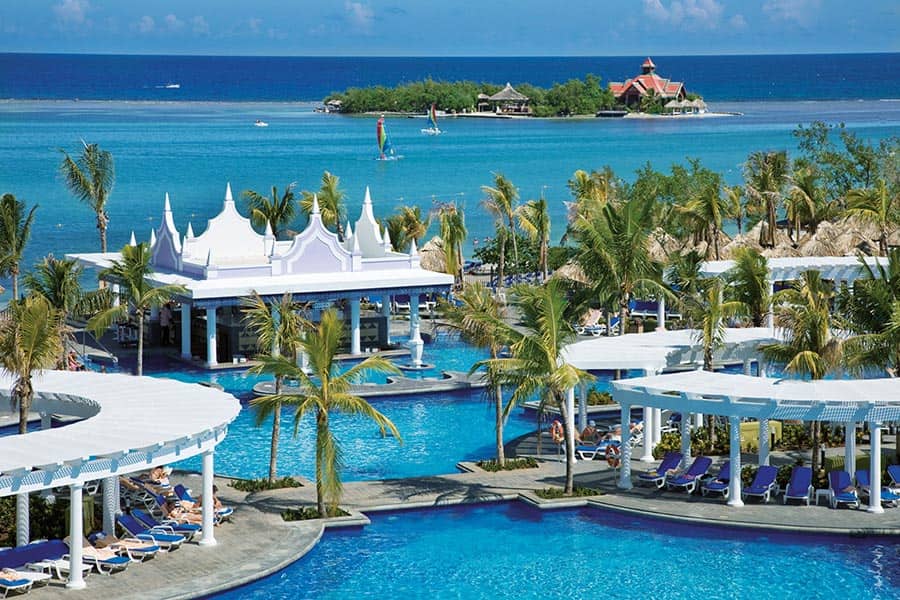 The Riu Montego Bay is like a real palace, complete with a moat made of a freshwater pool. The hotel's lobby, dining halls, and guest suites contribute to the opulent ambiance and make you feel like royalty.
Beautiful tropical setting with white sand beaches and clear water that makes you question reality. In addition to its own stunning private beach, the Riu is flanked by two of the island's best public beaches: Doctor's Cave and Dead End.
A world-class golf course across the street at the "Half Moon Hotel" has hosted international competitions. Snorkeling and glass-bottom boat trips are the resort's most popular activities. Still, guests may also sign up for exciting activities like horseback riding and scuba diving.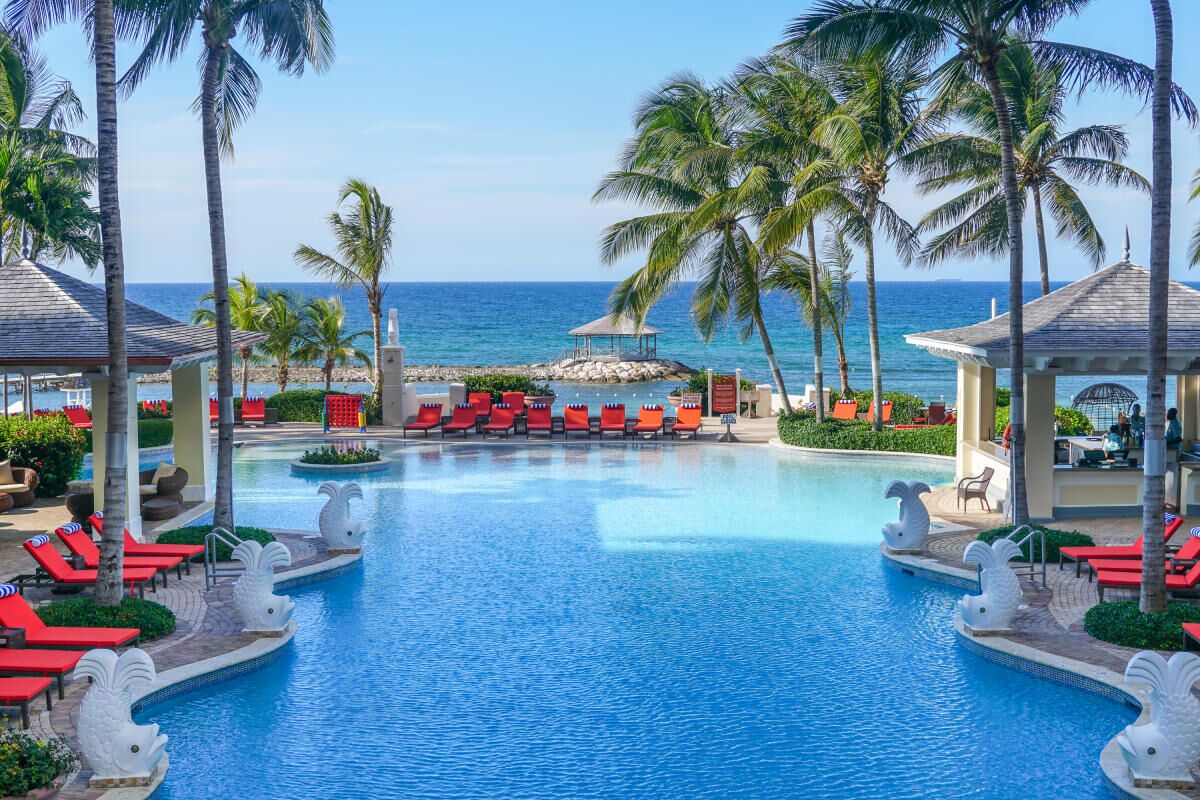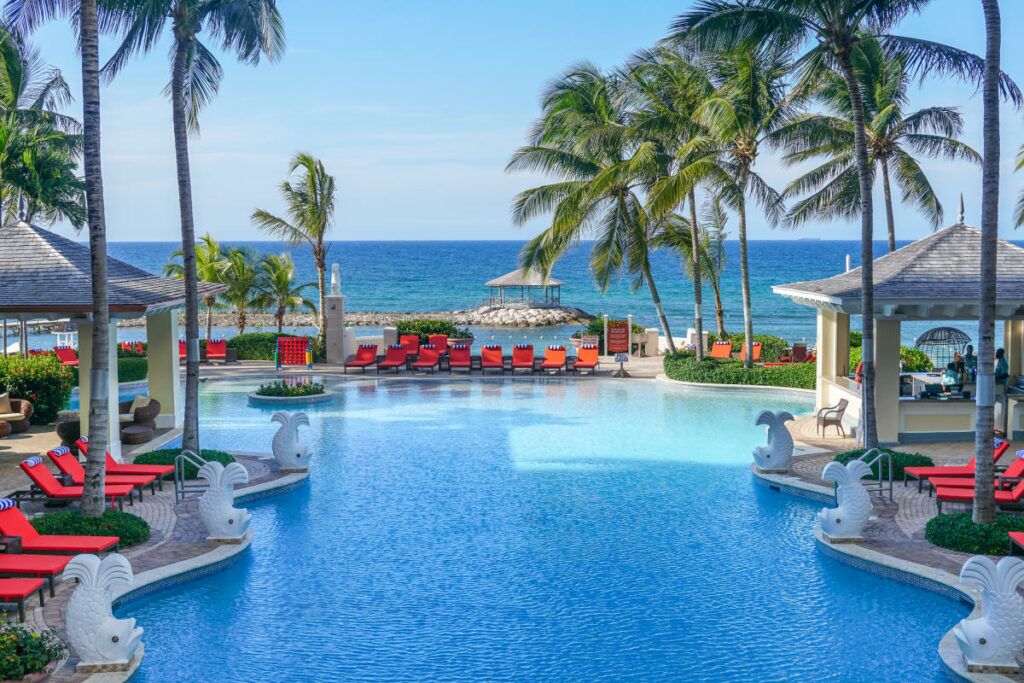 Jewel Grande Montego Bay Resort & Spa, a five-star hideaway in Jamaica, is the best spot to escape it all. It's the kind of tropical island paradise where the only need to get up is to refill your drink. You'll want to extend your stay at this beachfront resort in Montego Bay because it's so comfortable and convenient.
The Jewel Grande Montego Bay Resort & Spa guests can choose from a wide variety of spacious rooms, including one- and two-bedroom options, as well as three-bedroom suites, three-bedroom villas, and opulent penthouses. Each suite has a private balcony, air conditioning, Bluetooth speakers, a mini-bar refilled daily, and bathroom amenities.
The Jewel Grande Montego Bay Resort & Spa has a wide variety of dining options, from informal quick snacks and desserts to authentic Jamaican specialties and American standards. Visitors have dining options, including eleven restaurants, eateries, bars, and cafes.
Best of all, everything is integrated into the price. This is one of the best resorts in Montego Bay for those seeking comfort, relaxation, luxury, and adventure.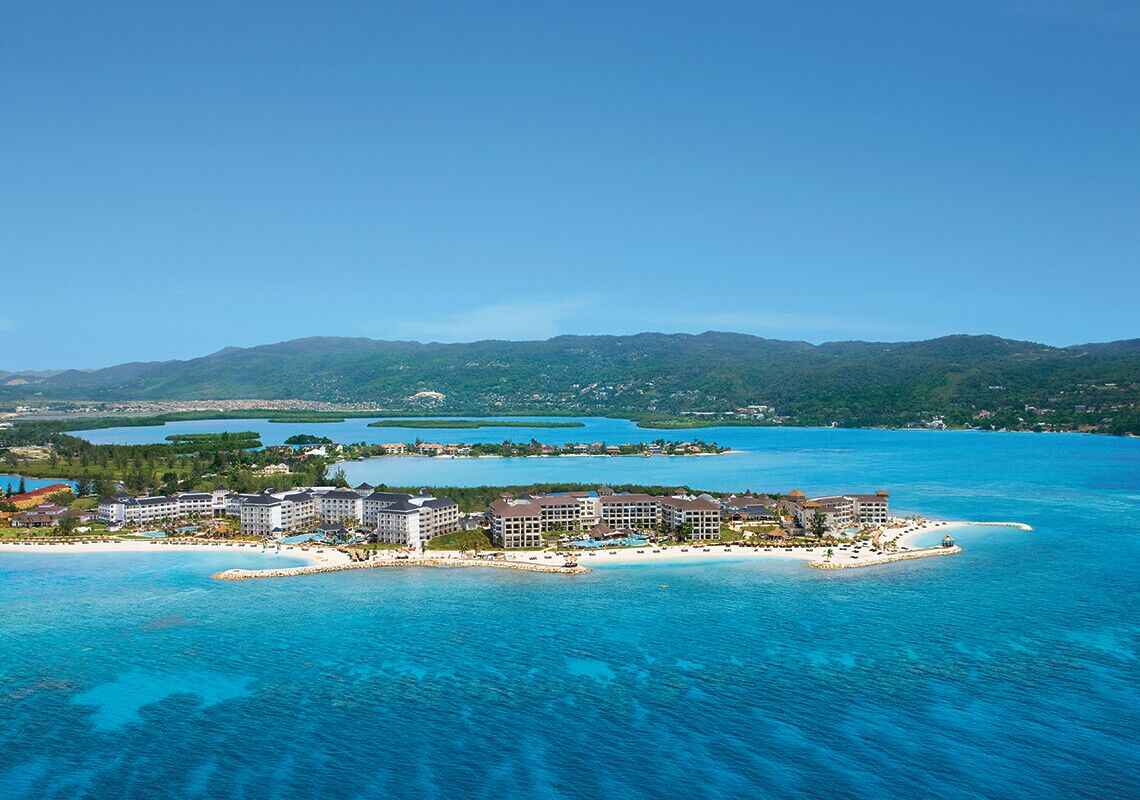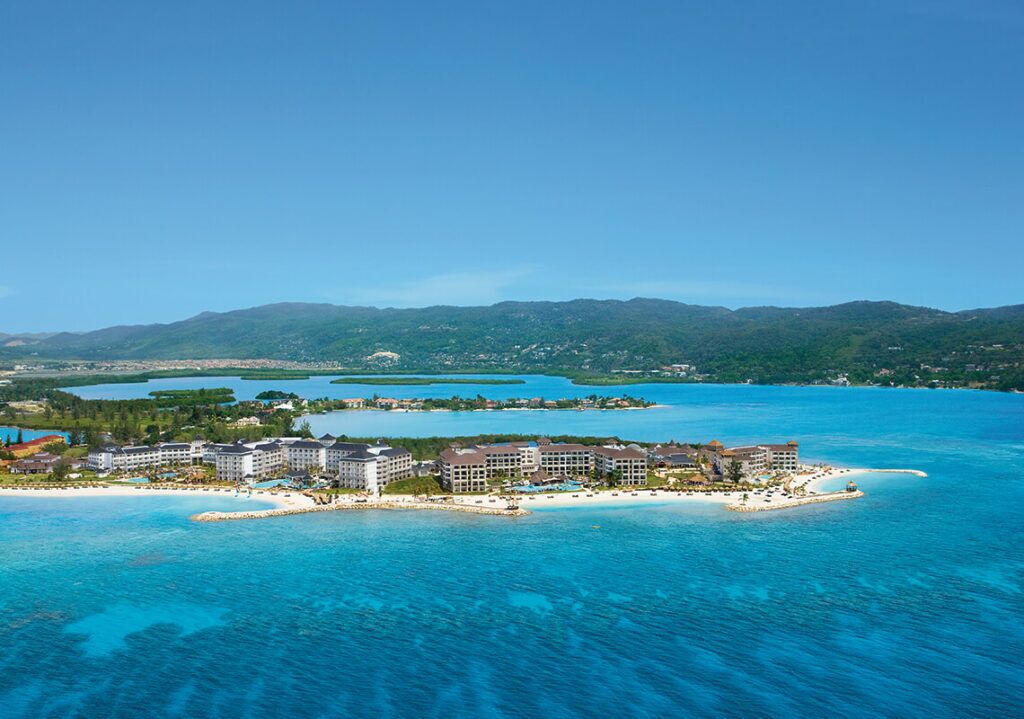 The Secrets St. James Montego Bay ranks among the best resorts in Montego Bay, Jamaica. It provides guests with various gourmet dining options, a free flow of cocktails and other alcoholic beverages, and butler service at the property's swimming pools and beachside.
Guests can take advantage of the onsite spa, which features a variety of massage therapies, facials, and beauty treatments. Beautiful views of the beach or the resort's grounds provide a soothing ambiance for any romantic or solo getaway. The resort's restaurants welcome walk-ins and offer room service around the clock; reservations are not required.
Seven high-end restaurants are available to guests, serving everything from seafood and steak to Mexican and Italian and a sprawling buffet with options worldwide. Several pubs and lounges, each with its unique atmosphere and selection of drinks and entertainment, can be found throughout the resort.
In addition to the five bars, seven restaurants, and two pools already available to Preferred Club visitors, the whole Breathless Montego Bay complex is at their disposal. The resort has its exclusive entrance to the white sands of Montego Bay's stunning beaches, which stretch for half a mile.
Final Thoughts
The town of Montego Bay, Jamaica, is a beautiful cultural melting pot, teeming with both native Jamaicans and foreigners who have made the island their home. Book one of the best resorts in Montego Bay, Jamaica, and enjoy the sights only you can see in this place. You will surely fall in love with its pulsating nightlife in the form of pubs and clubs, delectable cuisine at various restaurants, stunning beaches, and outstanding local art and craft.