Looking for the best Sandals resort in Jamaica for your next getaway? Sandals resorts almost always have oceanfront locations and offer all-inclusive rates. Paying just one price covers lodging, meals, and entertainment for an all-inclusive vacation, simplifying the planning process.
There are plenty of things to do right within the resort, as Sandals Jamaican properties provide private beaches and various on-site amenities. Book a stay at one of these Sandals resorts in Jamaica and prepare to be pampered while taking in the island's breathtaking natural beauty and rich cultural traditions.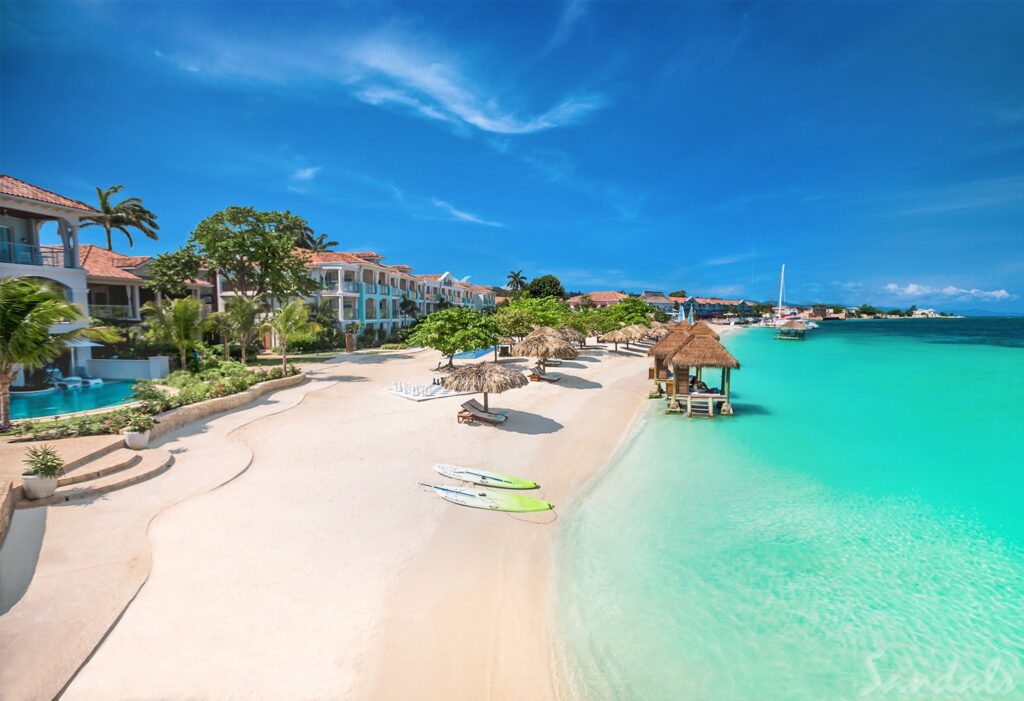 One of the best Sandals resorts in Jamaica is located near Montego Bay. It has a stealthy position on the shore, close to the reefs that tourists can explore. Have a refreshing drink at the new Over-the-Water Bar or relax in the privacy of your own Tranquillity Soaking Tub as the sun shines. There are other Sandals Royal Caribbean resorts in the area. The resort offers complimentary round-trip transportation for its guests. 
In the history of Sandals, this is the first resort to offer all-inclusive packages. There are two butler-serviced suites, one of which has a private pool. It's the perfect place for a destination wedding because of the beautiful water chapel.
Moreover, there are 12 excellent restaurants there, including three gourmet options. The nightlife is also fantastic, with six lively pubs and a swim-up choice among them. Sandals are the first and still the best-known of the chain's resorts. Daytime activities include swimming and motorized water sports, and evenings are spent stargazing around the fire pit.
With a Love Nest Butler Suite, you and your special someone may enjoy a relaxing and romantic trip without lifting a finger. Regardless of the room you end up in, you'll have a wonderful time.
---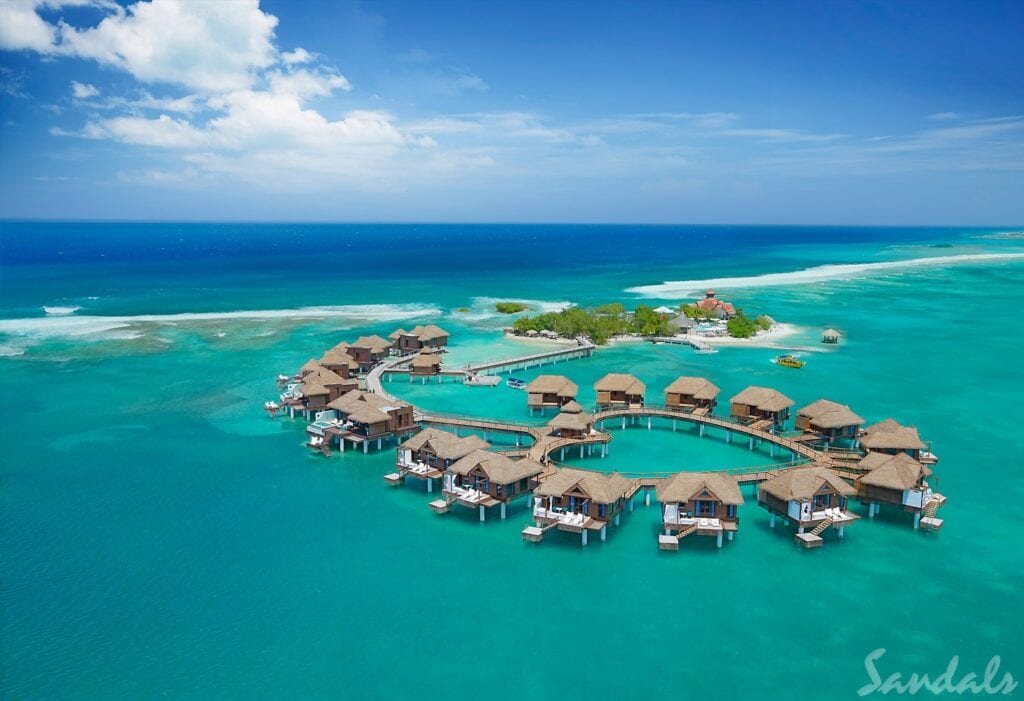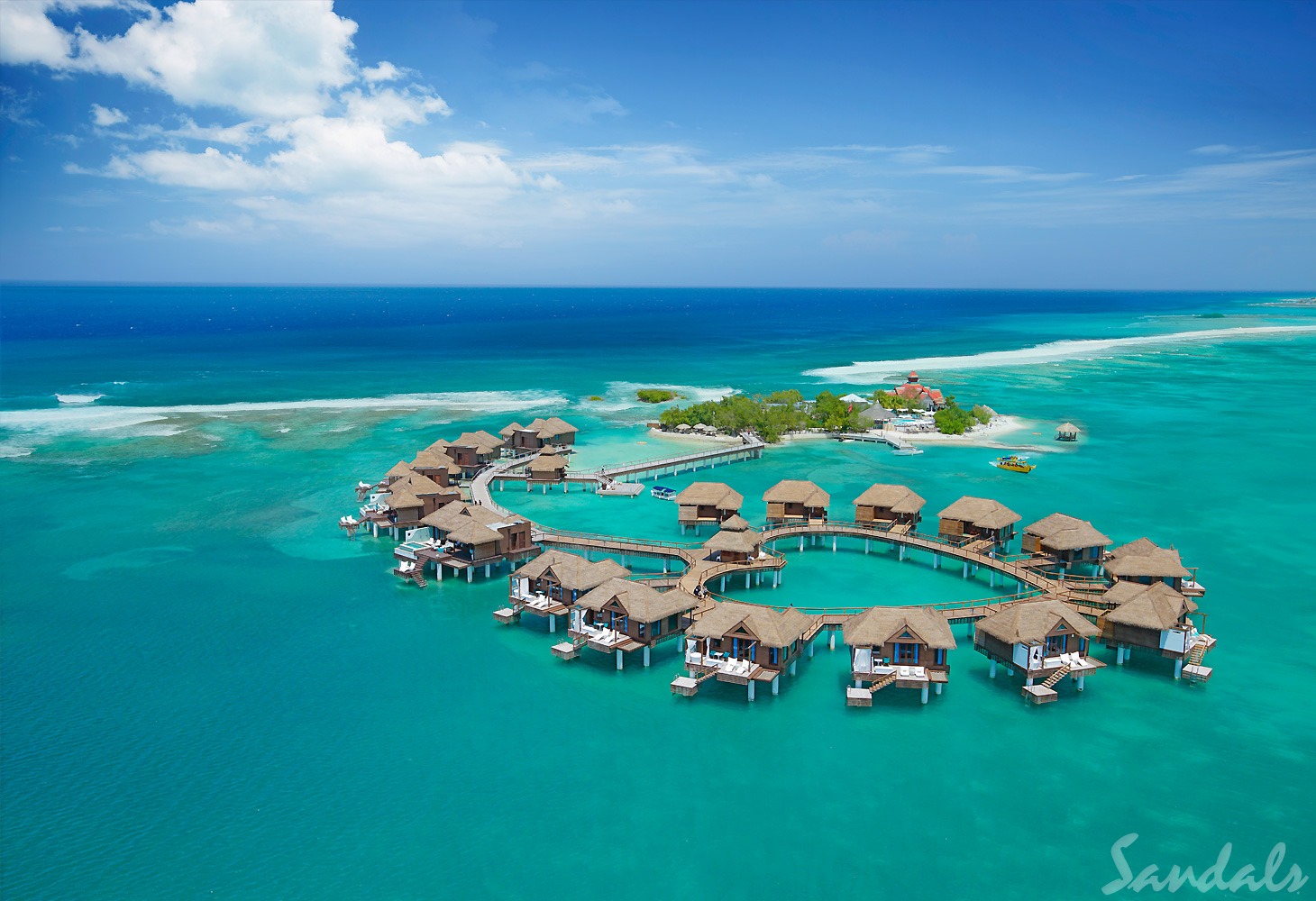 If you're a couple looking for a wide range of activities, Sandals Royal Caribbean is the best resort in Jamaica to explore. The resort is on the smaller side compared to other Sandals resorts in Jamaica. Yet, it still manages to pack a lot of fantastic amenities into a tiny footprint. Furthermore, Sandals Montego Bay is a short shuttle ride away.
There are exquisite grounds to compliment the Georgian architecture, which reflects the building's British roots. A private island can be accessed via ferry from the resort. You'll feel like you're in Bali with all the poolside cabanas and lounge chairs.
As an added bonus, there is a swim-up bar and whirlpool inside. Stay in one of the overwater villas. And relax in a double-sized overwater hammock. Sandals Royal Caribbean resort is the only one in Jamaica with its own private offshore island, replete with over-the-water bungalows reached by bridges.
The island is accessible through a short boat journey from the resort itself. Spend the day here and eat at Jerk Shack for lunch, an authentic Thai restaurant with outstanding service. You can order as many different dishes as you wish.
---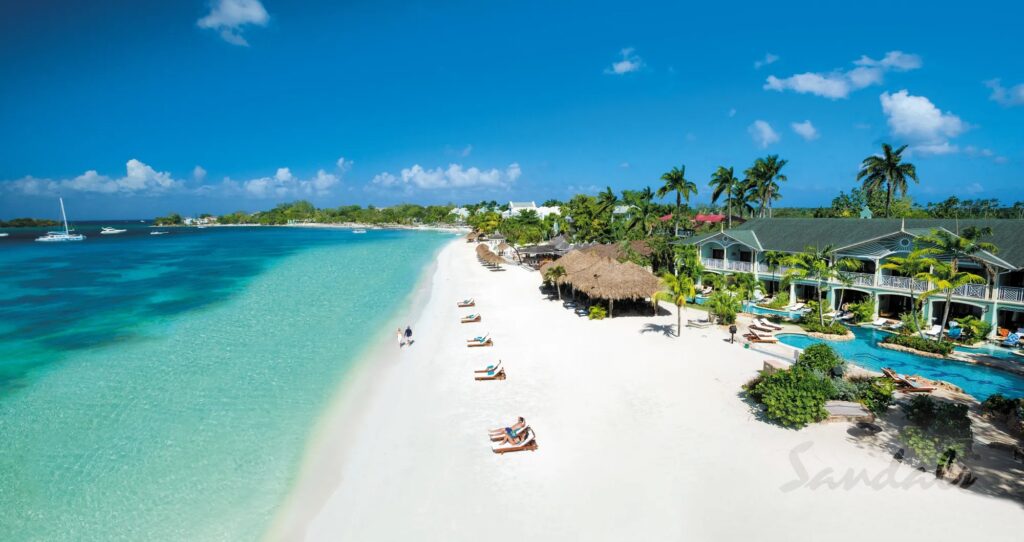 Sandals Negril capitalizes on its location on one of the Caribbean's most well-known beaches. Seven Mile Beach is a white-sand paradise with palm palms and quiet waters ideal for swimming, kayaking, and paddleboarding.
Because of this, Sandals Negril is among the best Sandals resorts in Jamaica for underwater exploration. Snorkeling opportunities abound both onshore and offshore. Spend your vacation in a beachfront room, some featuring private patios with Jacuzzi baths.
Unlike at some hotels, you won't have to get up early to stake your claim on a beach chair here. This Sandals resort was specifically designed to provide a relaxing atmosphere for honeymooners. Sit back in a hammock built for two and enjoy the sunset with a glass of iced tea.
The resort has seven fine dining establishments, and guests can access the renowned Seven Mile Beach. Sandals Negril has five bars, including two swim-up bars, all serving upscale liquors and original cocktails. To provide a relaxing and enjoyable stay, the hotel offers specialized accommodations with butler service.
---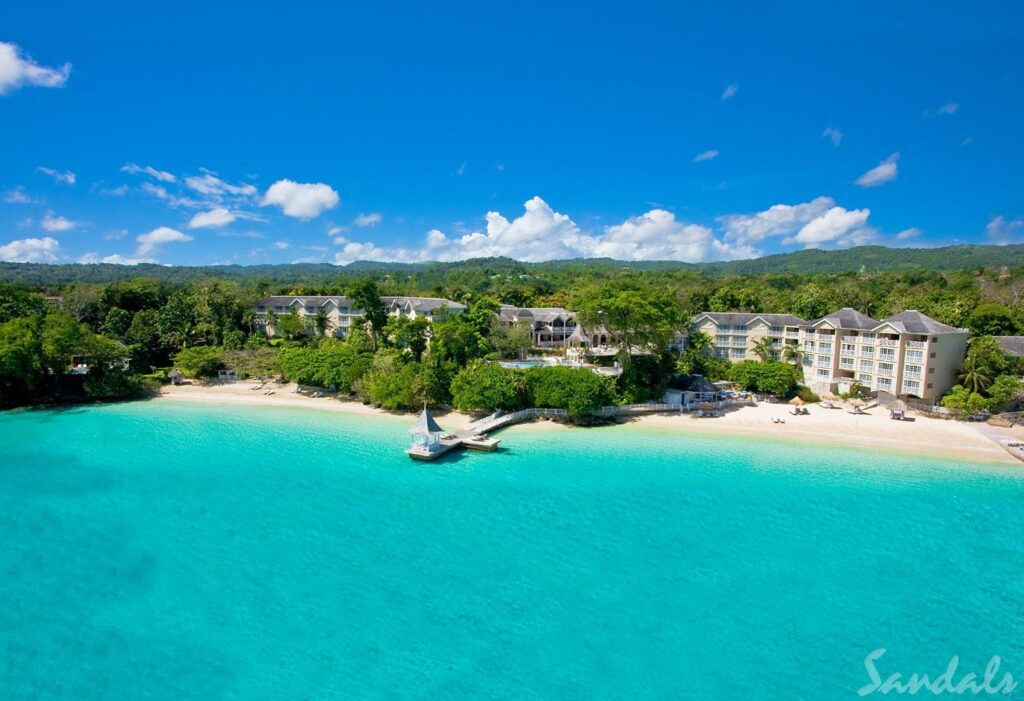 Sandals Royal Plantation ranks among the best Sandals resorts in Jamaica. It is an all-suite, five-star, adults-only resort in Ocho Rios with 74 ocean-view suites available, each serviced by a dedicated butler.
Golfing, water activities, and scuba lessons are available during the visit. There are a total of five different dining options, in addition to a fitness facility and nightly shows.
Villas are available; some even have their own pools and patios off the bedrooms. You can pick between rooms with views of the garden, pool, or the ocean. Land and sea sports are available at the resort, and duty-free shopping at the resort's stores.
Although there are plenty of things to do inside the resort, guests may arrange local excursions such as ziplining and sightseeing. The treehouse suites have individual verandas, and the two-story rooms have balconies.
Fine cuisine can be found alongside seaside grills among the many on-site dining options. Water sports such as kayaking are provided at no cost to guests.
---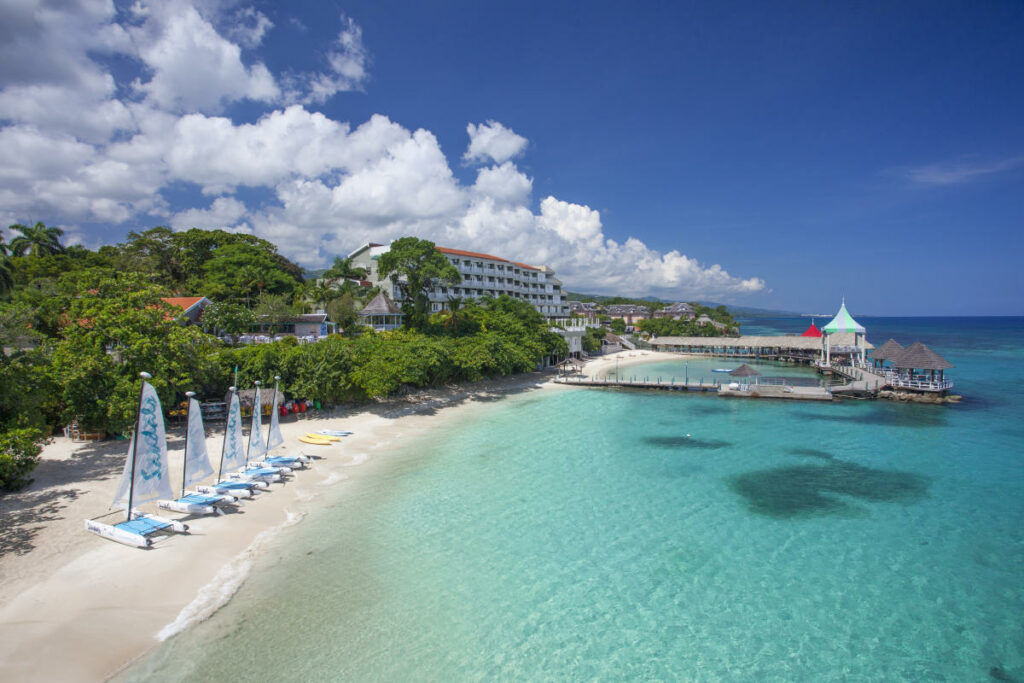 The expansive grounds of Sandals Ochi provide guests with a wide range of accommodation and entertainment alternatives. This resort's more than 100 acres of Garden of Eden provides plenty of space to retreat to your little paradise. No wonder it's one of the best Sandals resorts in Jamaica.
You can dine at any of its sixteen restaurants or drink at any of its eleven bars, all of which serve only the finest international cuisine and premium liquors.
There are 105 pools of various sizes at this resort. A round of golf on the 18-hole course is a great way to spend a relaxing afternoon or get some swing work in. Also, the Ochi beach club provides fantastic events for those searching for crazy fun.
In addition, there are bustling beach clubs, pubs, multiple pools, a scuba diving center on one side, and a large, exciting pool at the Great House on the hillside. The suites at Bulter Village feature semi-private pools and plenty of space for quiet reflection. Your butler can bring you all you need to have a perfect day by the pool.
---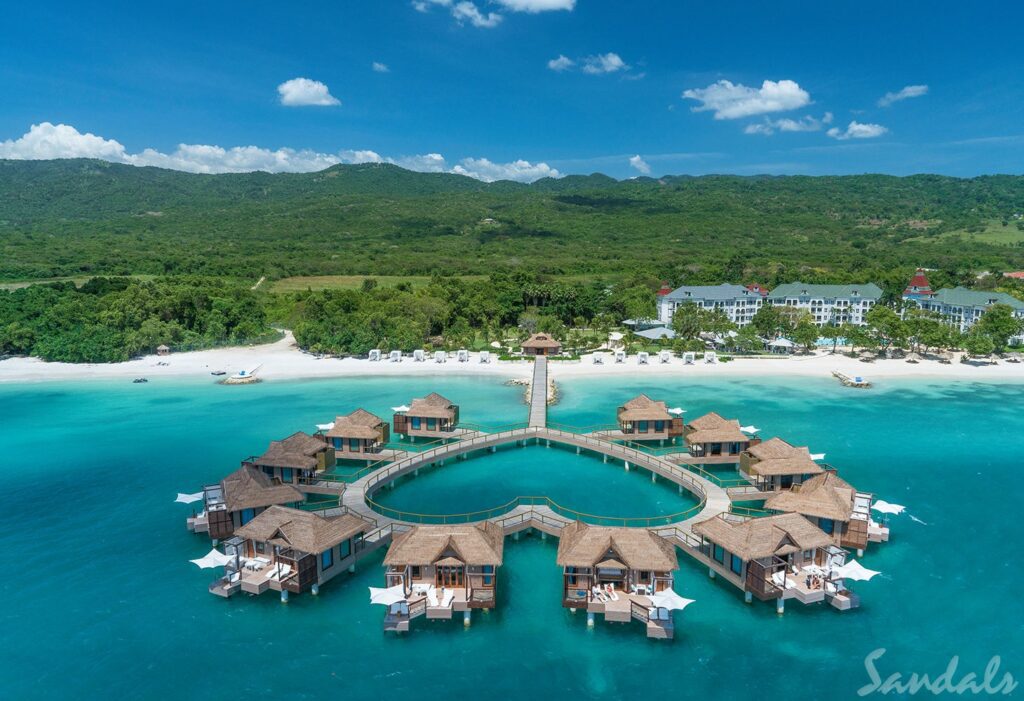 Sandals South Coast is a serene resort with a private beach in a protected nature preserve. Take a stroll along the powdery white sand beach that stretches for two miles, or relax and take in the dazzling views of the Caribbean.
You can visit the overwater bar or stay in one of the overwater bungalows in this resort. The stunning overwater chapel at Sandals South Coast makes it one of the top Sandals resorts for a destination wedding. A beautiful, uninterrupted beach stretches for two miles before this resort in Jamaica.
Sandals South Coast is a water lover's paradise, with its over-the-water bungalows and bar. If you and your intended are seeking a place to tie the knot by the water, they even have a chapel built over it. There are three pools right on the beach for you to enjoy.
Nine fine dining establishments and seven open bars are available for dining and drinking pleasure. The resort is situated magnificently in a natural park that spans 500 acres. You can feel like royalty with their finest butler service. If you're seeking a lavish vacation, this is one of the best Sandal resorts in Jamaica to choose from.
---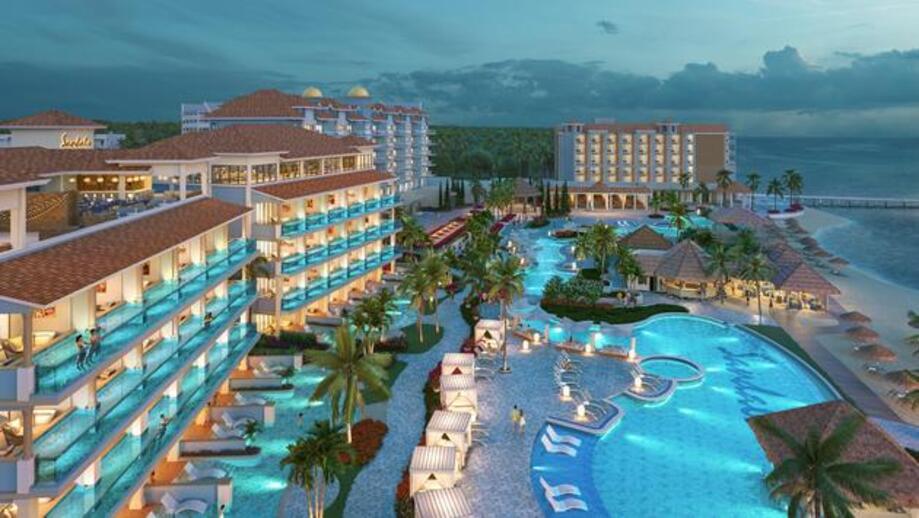 In May of 2023, Sandals will unveil its newest resort in Jamaica. There will be twelve fine dining establishments and nine bars, one of which will be a swim-up bar. Skilled chefs will serve up cuisines from all across the world.
One can take a raft ride down the Dunn's River or relax in a beachfront sky pool suite. Like previous Sandals resorts, they intend to provide guests with unlimited food and drink and various water sports.
The new Sandals Dunn's River is quickly becoming one of Jamaica's most popular honeymoon destinations due to its stunning architecture, breathtaking landscaping, and a plethora of first-rate services.
Several rooms and suites at Sandals Dunn's River, like the first-ever Skypool Suites in Jamaica, are nothing short of extraordinary. The first of its kind, these suites at Sandals Grenada have an elevated infinity edge pool that stretches the length of your balcony while providing breathtaking views of the ocean and the shore. On your balcony, you'll find a Serenity Soaking TubTM for two.
Moreover, the first-ever Coyaba Sky Rondovals from Sandals are now available. These unique, circular villas feature a sizeable swim-up pool, a rooftop patio, and access to the river pool. The terrace has comfortable seats, a bistro table and chairs, a telescope, and a Tranquility Soaking Tub for two.
What To Expect From The Best Sandals Resorts in Jamaica?
Your all-inclusive stay at any Sandals Resort in Jamaica will include gourmet meals at up to sixteen restaurants per resort, snacks, and drinks at any of the resort's eleven bars, and a full bar in your room.
Guests can dine at any other Sandals resort, ensuring their palates remain engaged. Various exciting activities are available, including PADI-certified scuba diving, water sports, golf courses, day and nighttime entertainment, and beach sports; will you and your spouse work together or compete against one another?
There is no need to worry about a thing, as most luxury suites come with personal butlers to see to your every want. Each resort offers an oasis of peace and romance, restricted to guests aged 18 and up.
Best Sandals Resorts in Jamaica FAQs
Which is the best Sandals resort in Jamaica that has the most beautiful beach?
The three Jamaica Sandals resorts—Sandals South Coast, Sandals Montego Bay, and Sandals Negril—are cut for having the most excellent beaches. It is all relative to your preferred beach experience.
When deciding between Sandals, Sandals Negril is the best for snorkeling, Sandals Montego Bay is the most exciting, and Sandals South Coast is the most tranquil and pure.
Which Sandals resort in Jamaica is the biggest?
If you're looking for a large resort, your best bet is Sandals Ochi. Nevertheless, if you combine Sandals Royal Caribbean and Montego Bay, you'll still have a pretty sizable resort.
Which is the best Sandals resort in Jamaica to visit for honeymooning?
Sandals Royal Caribbean has the most opulent suites available. This Sandals property's over-the-water villa is Jamaica's most private and romantic accommodation. Honeymoon suites are available at the Sandals South Coast and the Sandals Royal Caribbean.
Which is the best Sandals resort in Jamaica for nightlife and parties?
Sandals Ochi is the best resort in Jamaica if you're looking for a nonstop party. It's home to the infamous Ochi beach club, known for its wild events.
Which Sandals resort in Jamaica has swim-up rooms?
The rooms at the Montego Bay, Royal Caribbean, South Coast, Negril, and Dunn's River resorts all have direct access to the pools.
Which is the best Sandals resort in Jamaica that caters to budget travelers?
Since Sandals provides so many high-end amenities, its prices must reflect that. But the reality is that even on a tight budget, Sandals has plenty to offer. Regarding Jamaican resorts, Sandals Ochi is by far the most affordable option. For just $217, you and your spouse can stay in one of the hotel's Riviera Honeymoon Luxury rooms. Everything is included with this price, including food and drinks. Moreover, you get free reign to the resort's many amenities.
In addition, the Caribbean Deluxe accommodation at the Sandals Resort in Negril costs $266 per person per night, making it the next most affordable option among the Sandals properties.