Sandals Resorts is one of the luxury resorts that many travelers seek in the Caribbean Islands. If you enjoy golf and are considering a trip to the Caribbean, a Sandals resort is exactly up your alley! There are various Sandals golf resorts for every individual. You can find them in the Bahamas, Saint Lucia, and Jamaica. Don't stress too much if you're a beginner because they have everything down to a T!
Bahamas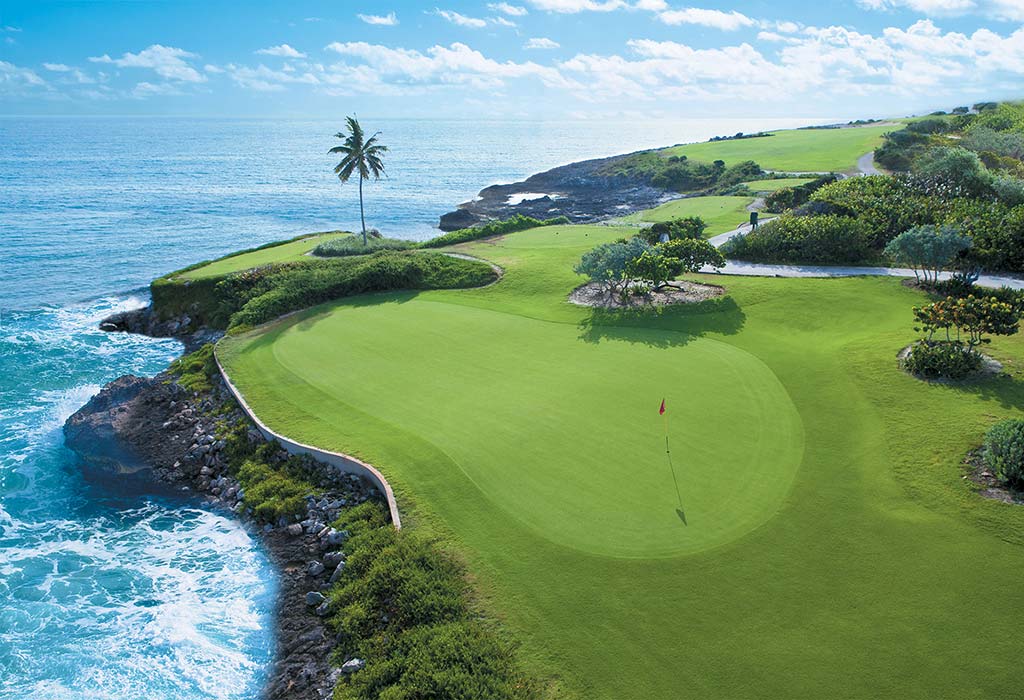 Sandals Emerald Bay in the Bahamas is known as the best Sandals golf resort, thanks to its spectacular Greg Norman-designed course. According to Travel+Leisure Golf, it is among the best in the Caribbean.
The front nine holes of this 18-hole par-72 championship course weave through various coastal dunes and picturesque mangroves. The back nine holes stretch up to 7,000 yards and are set around the rugged peninsula of Emerald Bay. You can go directly to the pro shop for any golfing necessities. Moreover, you can head to the club lounge to eat, drink, or even relax.
When the World Golf Awards were held in 2021, Sandals Emerald Bay was recognized as the finest golf resort in the Bahamas. Moreover, the Bahamas Great Exuma Classic golf tournament is played on this acclaimed course, which also holds the record for longest in the Caribbean. The back nine holes offer stunning scenery and a much stricter test of golfing skill.
There are bunkers, a practice range with chipping and putting greens, a jogging path along the beach, and a pro shop at this course. Each week, they host a free golf clinic for everyone interested. The rental of a golf cart is mandatory and will cost $50 for up to two individuals per day. The pro shop also offers private golf lessons for an additional price.
Explore Sandals Golf Resorts in The Bahamas
---
Jamaica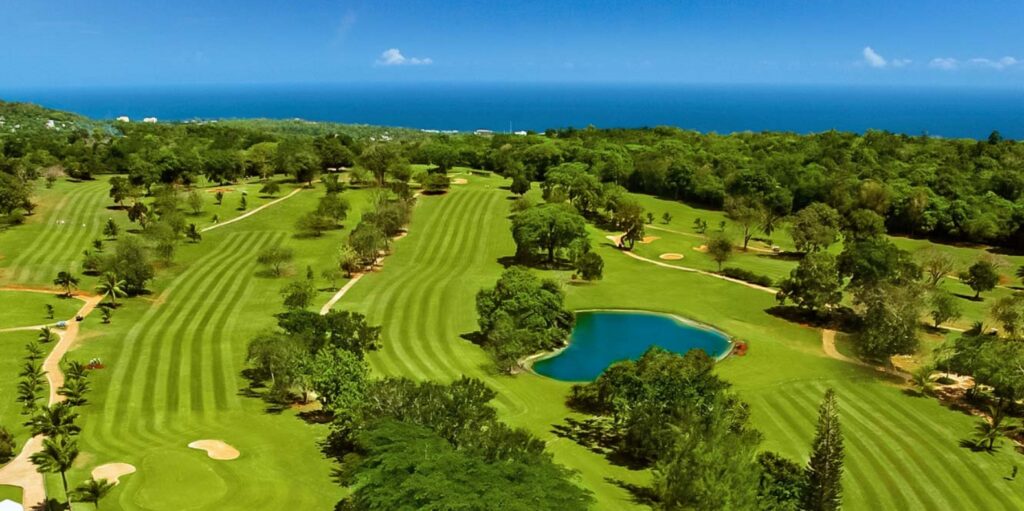 You may play at one of Jamaica's finest courses—Sandals Golf & Country Club—when you stay at Sandals golf resorts in Jamaica. The breathtaking 18-hole course in Ocho Rios is elevated 700 feet above sea level, providing breathtaking panoramas of the surrounding mountains and ocean. Many visitors like to play golf in this Sandals resort because it welcomes players of all skill levels, and it's forgiving for beginners.
Sandals Resorts International made "the elite golf course in Jamaica" a priority after purchasing Upton Golf Club in June 1992. Since then, the facility has expanded to become one of the best in the Caribbean, earning accolades from publications like Golf Digest and Frommers.
They used Tifdwarf Bermuda grass to rebuild the tiny, drop-off greens. Bermuda grass resurfaced the narrow fairways, creating a well-kept, visually appealing course. Thus, golfers at any of Jamaica's seven Sandals Resorts can enjoy this beautiful country club.
Moreover, you'll find a Pro Shop, Golf Shop, Driving Range, the Sweet Spot Jerk Shack on the 10th green, and a Clubhouse at Sandals Golf & Country Club.
The course winds its way over undulating hills. It rises to an elevation of 700 feet, providing spectacular ocean vistas and nearby mountains. The 18-hole resort course features three sets of tees and is 6,404 yards for a par of 71. In addition, it features narrow fairways and small drop-off greens that take advantage of the scenic surroundings. If you want to perfect your swing, the driving range is the perfect spot. You can then have dinner at the clubhouse's restaurant with a plantation theme.
Weekly free golf clinics are available. There are also golf lessons (for an extra fee). Furthermore, there is also a snack bar, a restaurant, a driving range, and a putting and chipping green. All guests at Sandals Jamaica resorts receive complimentary greens fees at Sandals Golf & Country Club. However, only those staying at Sandals Ochi, Sandals Royal Plantation, or Sandals Dunn's River will receive complimentary transportation to and from the course.
Explore Sandals Golf Resorts in Jamaica
---
Saint Lucia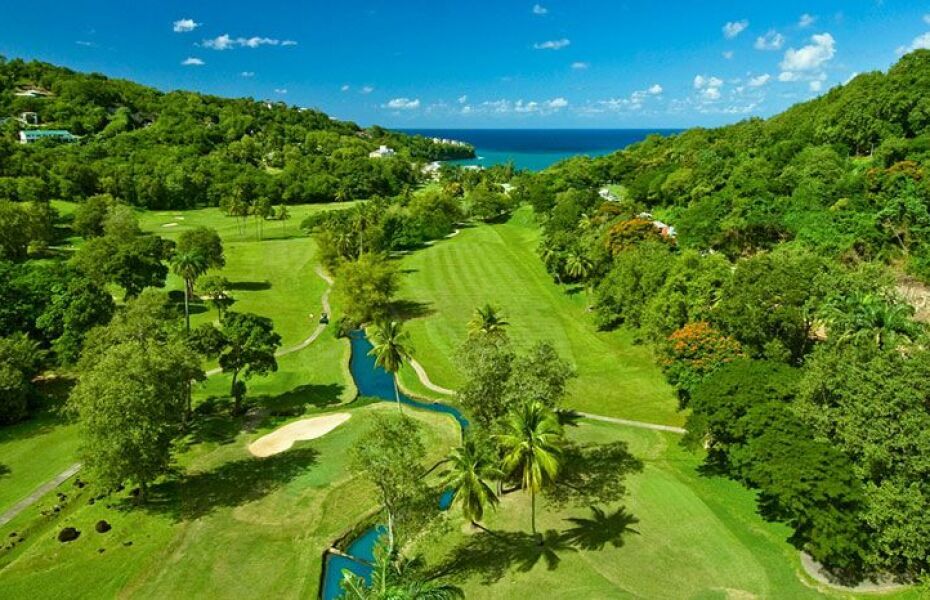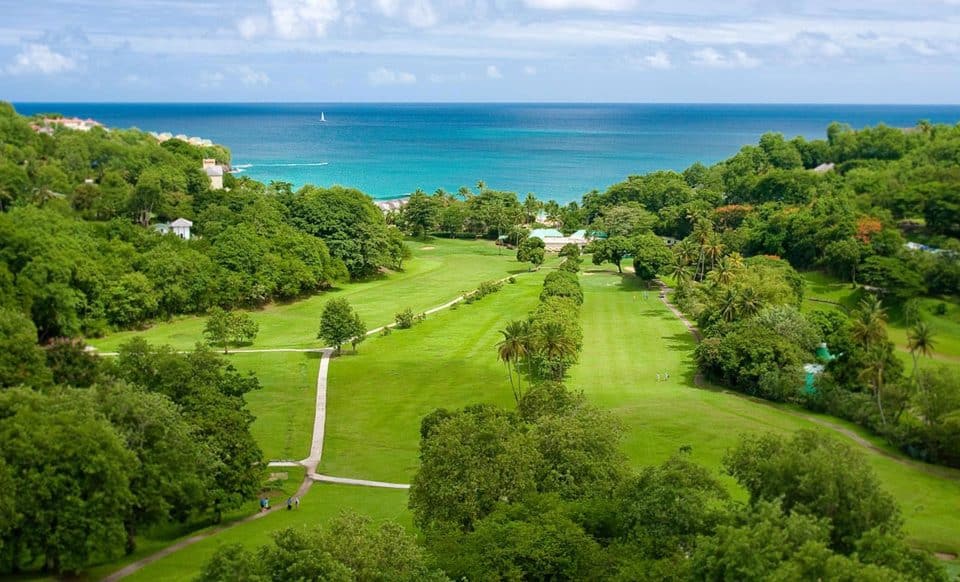 If you're staying at one of Saint Lucia's Sandals golf resorts, you can pick between two excellent courses: the Sandals La Toc Golf Course and the Cap Estate Golf & Country Club.
Set in a lovely valley dotted with villas, the 9-hole La Toc Golf Course is a popular destination for golf enthusiasts. With a total length of only 3,300 yards, this course will force you to fine-tune your ability to choose the right club for the situation. Several holes will require pinpoint accuracy to navigate successfully. This course is a par 33 located in a valley with undulating hills. Moreover, it features a golf shop, a practice net, and locker rooms.
In contrast, the 18-hole course at Cap Estate Golf & Country Club is a par 71 that spans 6,744 yards across rolling green hills filled with picturesque ponds and lush vegetation. Golfers of all skill levels can benefit from the excellent practice facilities at this course, which include putting and chipping greens and a driving range. In addition, changing rooms, a pro shop, and a driving range with full-sized bays and putting greens are all available on the premises.
Green fees are included in both courses. Also, there are weekly free golf clinics and golf lessons (for an extra cost). Moreover, greens fees and transfers to both courses are included in the price of your stay at any of the Sandals properties in Saint Lucia.
Explore Sandals Golf Resorts in Saint Lucia
---
Sandals Golf Resorts FAQs
Do they offer golf club rentals at Sandals?
Yes. Suitable for right- and left-handed players, you can rent golf clubs at Sandals golf resorts. You don't have to bring shoes or golf equipment if you're trying to travel light. You can rent them directly from the pro shop.
What's included at a Sandals Golf Resort?
The following are some of the inclusions you may expect to find at Sandals' world-class golf courses in Saint Lucia, Jamaica, and the Bahamas:
Each golf round includes complimentary round-trip transportation between the resort and the course.
Each course features a clubhouse with full amenities.
Each week, all of Sandals' golf courses offer free drop-in clinics for groups of golfers.
Does Sandals Curaçao have a golf course?
The Sandals Curaçao resort does not have its own golf course. Nevertheless, a nearby, equally stunning 18-hole course is available. Sandals Royal Curaçao provides complimentary round-trip transportation to and from the old quarry golf course. The golf course has a rugged terrain that tests golfers of all ability levels.
What do all of Sandals Resorts' golf courses have in common?
If you enjoy golf, you will appreciate Sandals Resorts. Why? Because all courses provide free PGA-certified golf clinics and PGA Golf Lessons by appointment (for an extra fee). Moreover, you can also have lessons with a PGA pro (also for an additional cost). Every course is challenging and will help you become a better player.
Is golf free at Sandals Resorts?
You may play golf with complimentary green fees in Sandals golf resorts in the Bahamas, Jamaica, and Saint Lucia.
---
Final Thoughts
Those are the best Sandals golf resorts in the Caribbean. And if you enjoy or want to learn golf in the Caribbean, you should visit one.
The Sandals golf resorts host major tournaments, but they also make an effort to make first-timers feel at home. Sandals resorts are fantastic places to play golf, whether you're a seasoned golfer or this is your first time picking up a club.