Nobody can look away from the Caribbean without feeling a surge of emotion. Many visitors have described it as a paradise. If you're looking for the perfect spot to have a romantic getaway with your partner, it's time to book a place in one of the best Sandals resorts in the region.
Sandals resorts have picture-perfect tropical settings and pristine beaches. And they provide some of the best honeymoon accommodations in the world. You can find these resorts on several Caribbean islands. It includes Jamaica, Saint Lucia, The Bahamas, Barbados, Granada, Antigua, and Curaçao.
Read on to learn how to pick the best resort for your honeymoon or another couple's vacation.
Best Sandals Resorts in Jamaica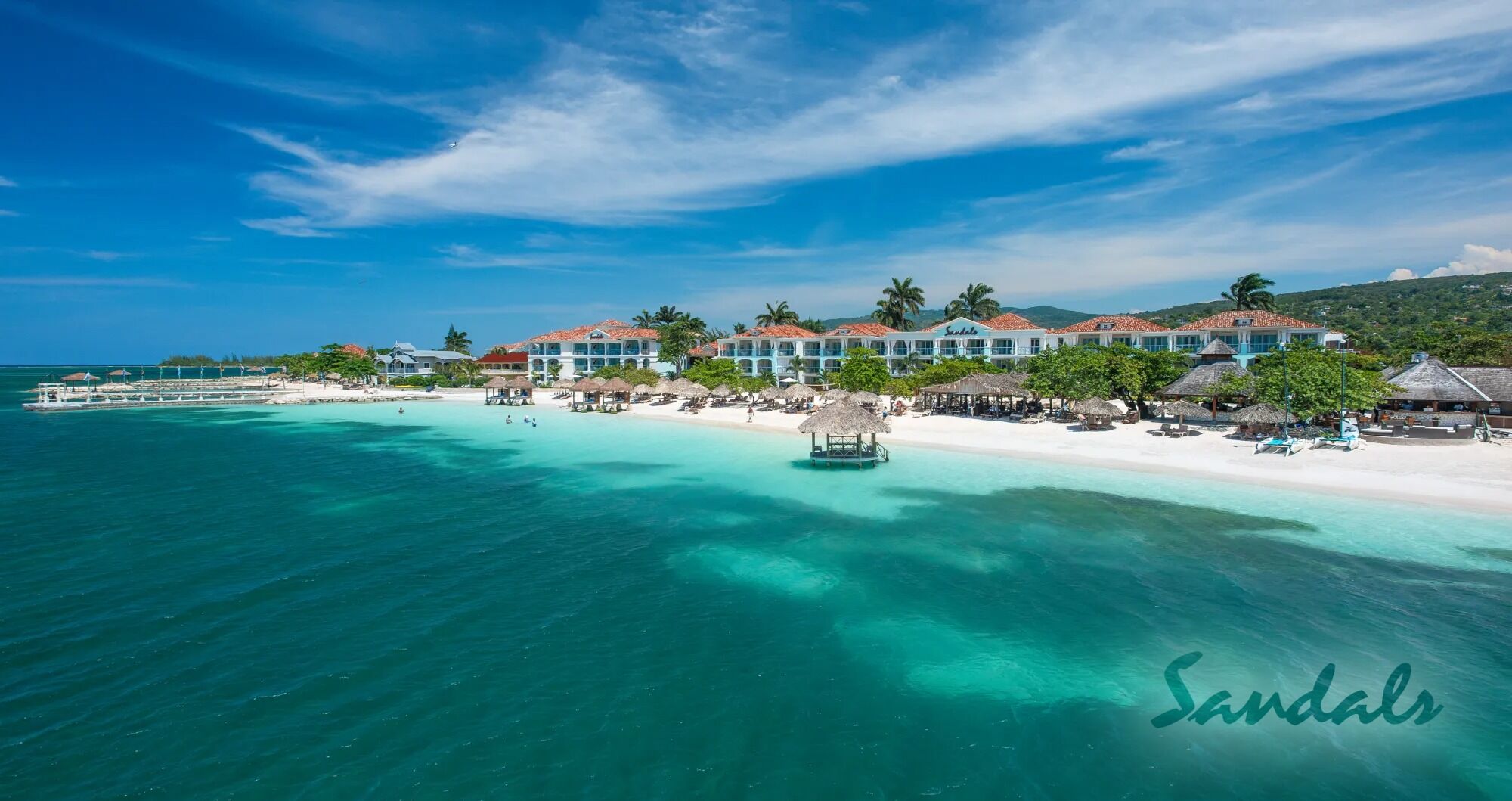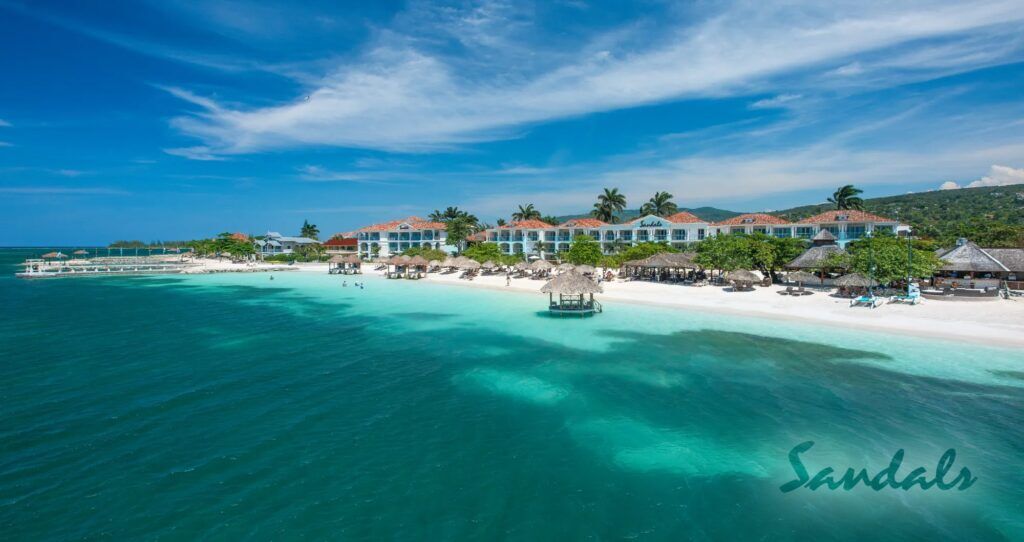 If you're looking for a luxurious vacation in Jamaica or the Caribbean, this is one of the best Sandals resorts you can find.
It occupies 26 acres and has three more restaurants than any other Sandals resort, a private beach, and four swimming pools.
When you stay here, you get access to the facilities of Sandals Royal Caribbean and Sandals Inn. Because of this, you can access several dining options to twenty and the number of bars to twelve. Each room at Sandals Montego Bay is tastefully decorated and might even have a four-poster bed and mahogany furniture.
Moreover, you can find a haven of laid-back romance here and luxury steps from the water's edge. Guests can take in stunning ocean views from the island's open-air lobby.
During your honeymoon, you may also treat yourself to a luxurious stay in a private overwater cottage. Those seeking variety and proximity to an airport will not find a better Sandals Resort than this one.
---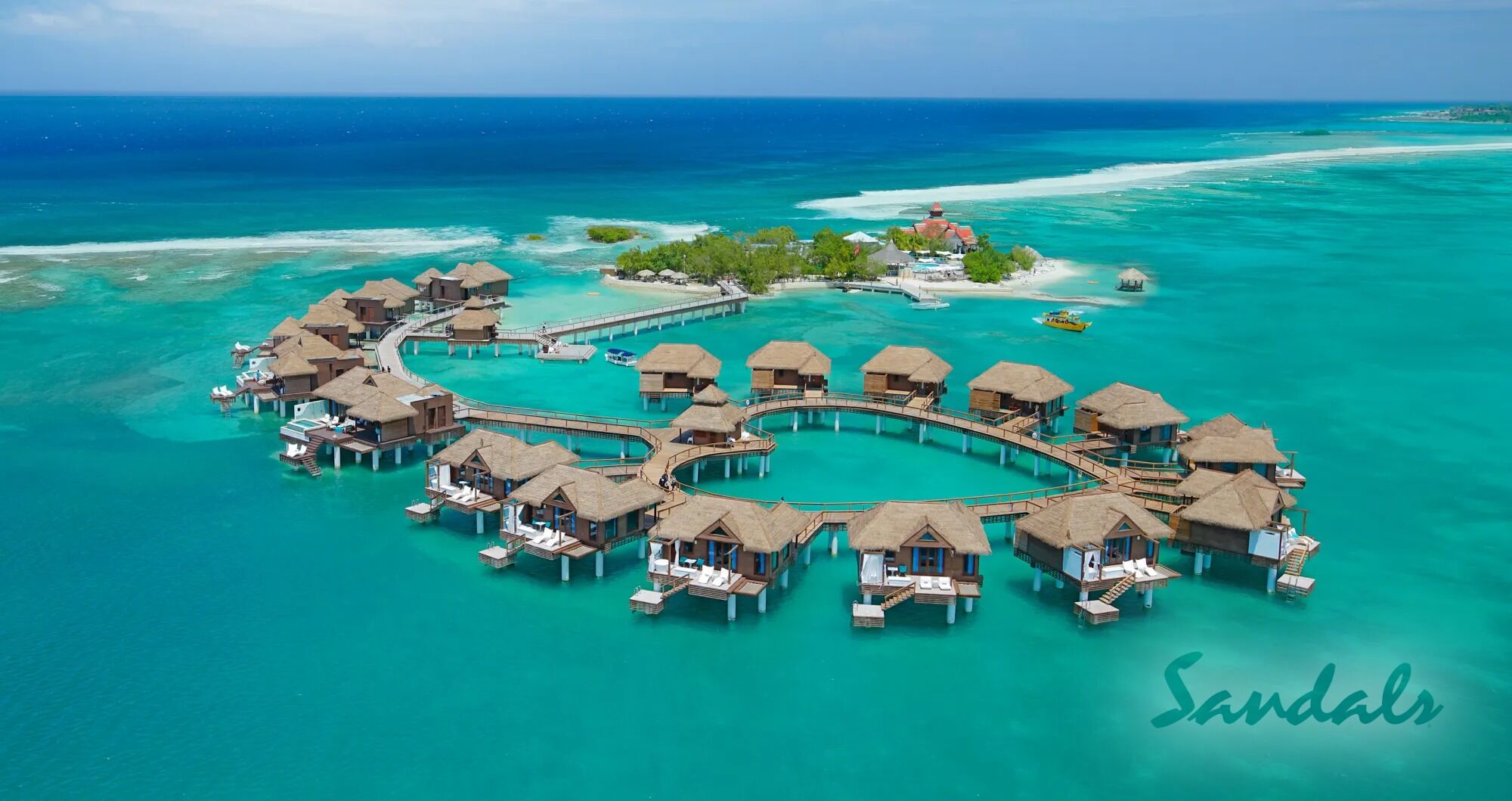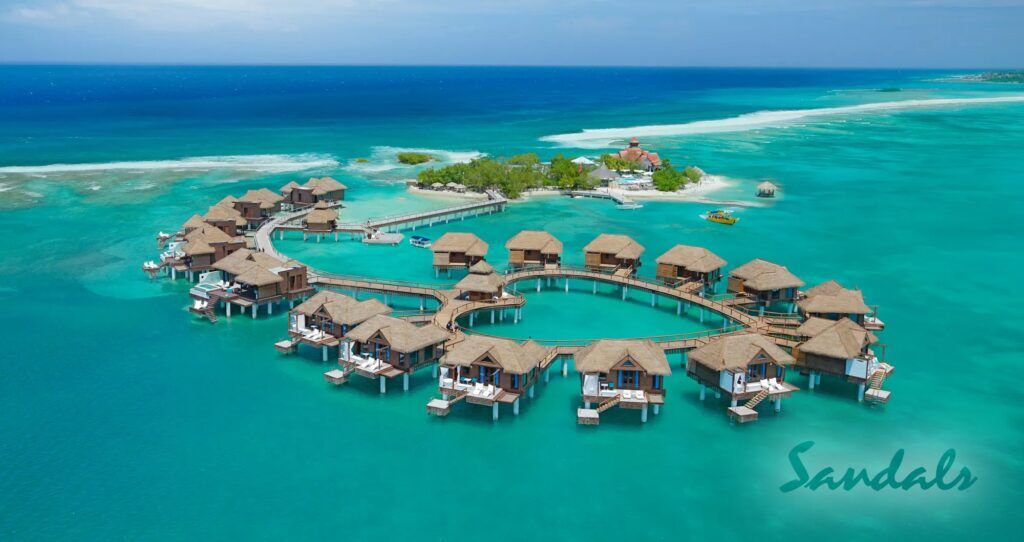 When you visit this resort, you'll find The Gregorian-style Great House. It represents the resort's British past and adds to its allure. The house preserves its distinctive customs, such as afternoon tea and a lively game of croquet.
Sandals Royal Caribbean's private island is just a short boat ride away, where guests can stay in luxurious overwater bungalows. There are nine different dining options to choose from, each featuring food from a different part of the world.
You can also check one of the 12 restaurants at a neighboring Sandals resort. Furthermore, a trip on a real dragon boat to the Royal Thai offshore eateries is something you'll enjoy.
---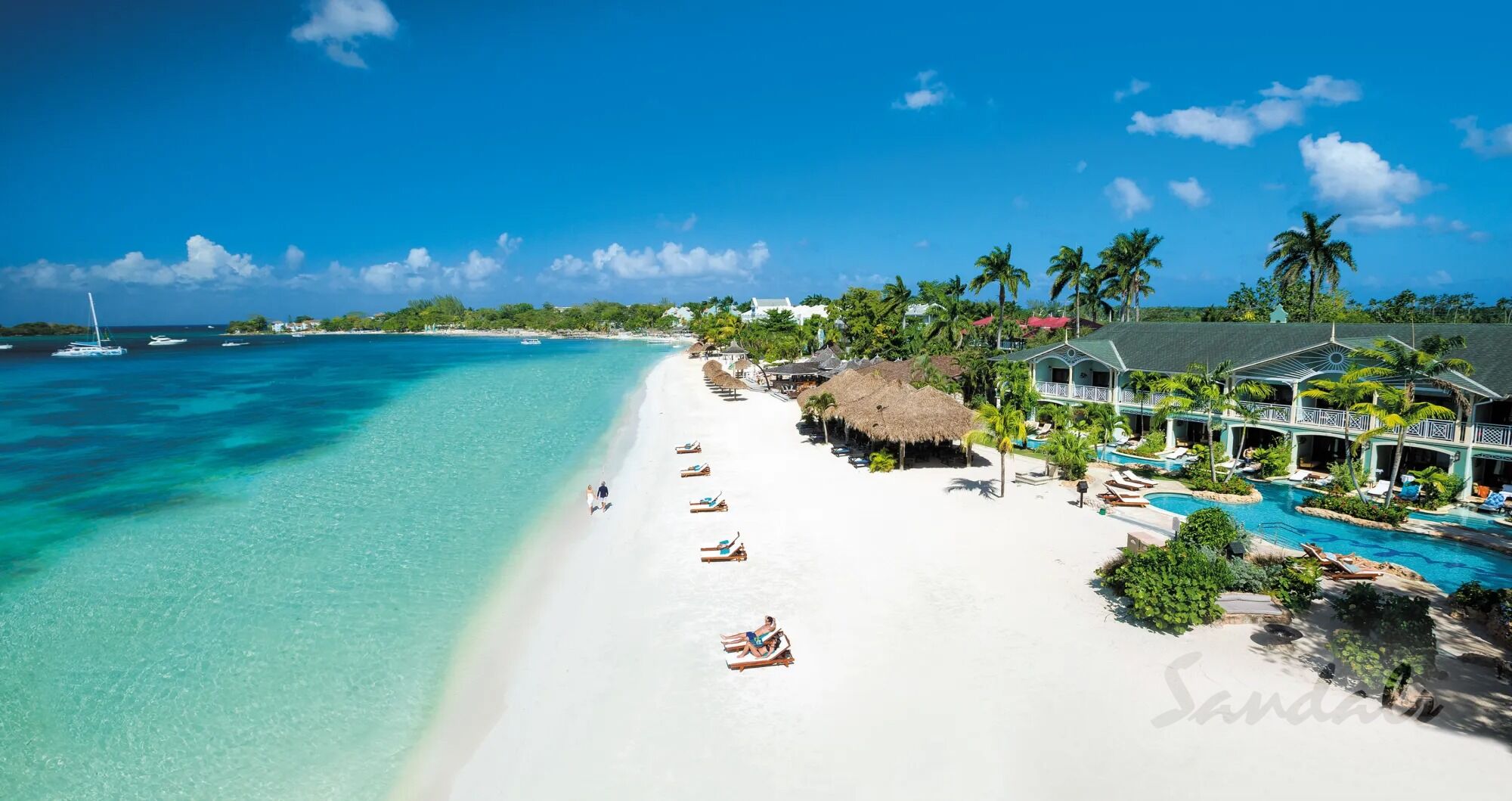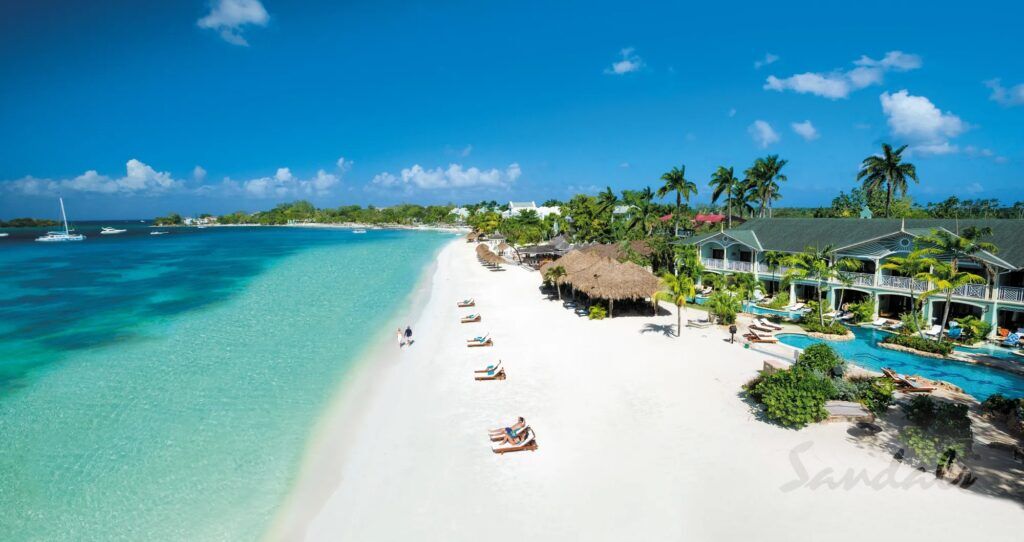 Sandals Negril is one of the best Sandals resorts to visit if you're a nature lover. It is Jamaica's trendiest adults-only resort.
After more than ten years of consistent effort toward environmental superiority, Sandals Negril has been recognized with EarthCheck's highest honor, the Double Platinum Certification.
This resort is perfect for couples to unwind and let their love blossom. It also has a serene atmosphere. And it perfectly represents the carefree attitude that has made Negril a popular tropical vacation spot for decades.
This opulent Caribbean resort is set on seven beautifully manicured acres along the world-famous Seven-Mile Beach. Furthermore, it boasts stunning turquoise waters of the Caribbean Sea that caress the white sands.
---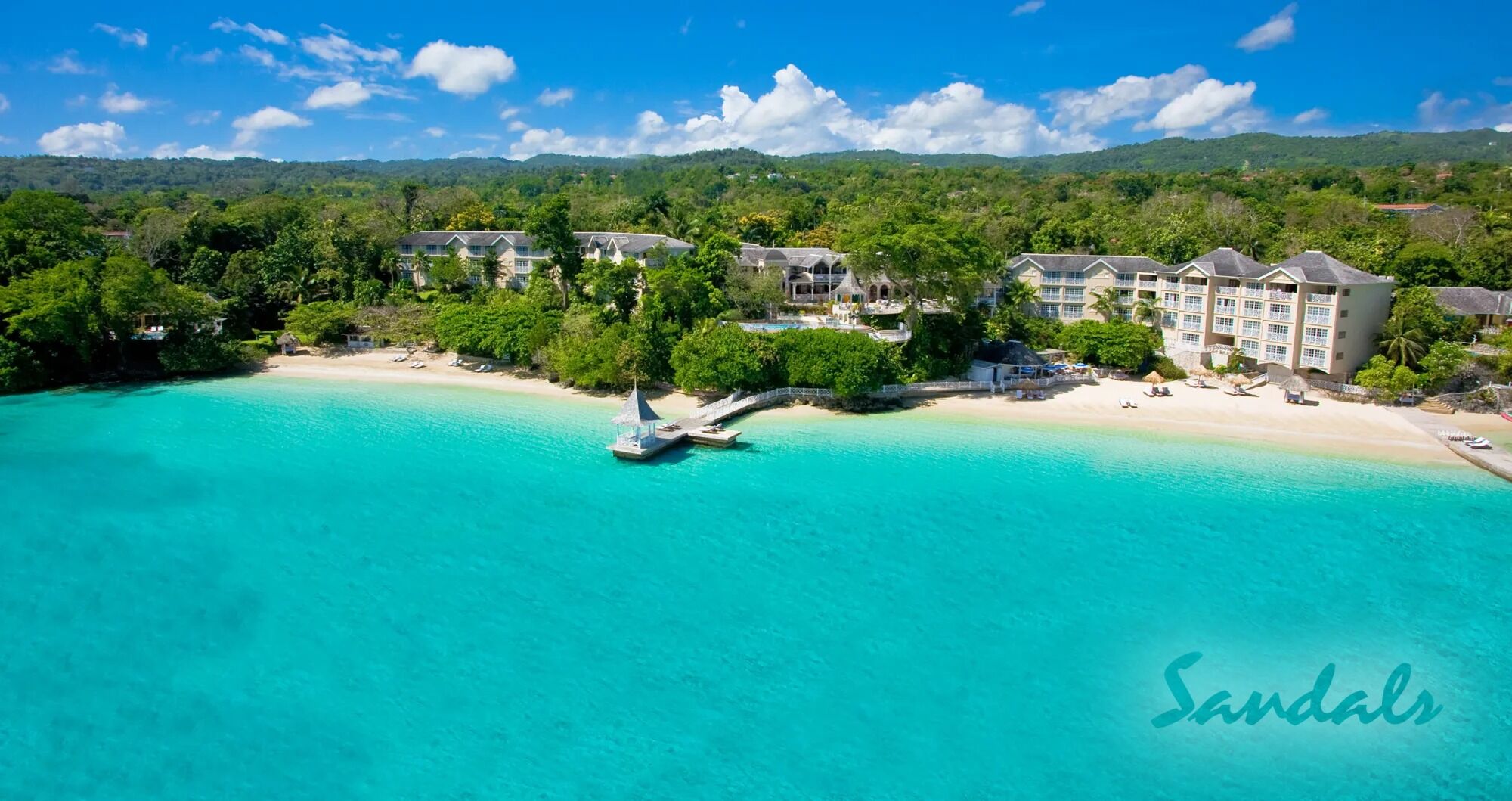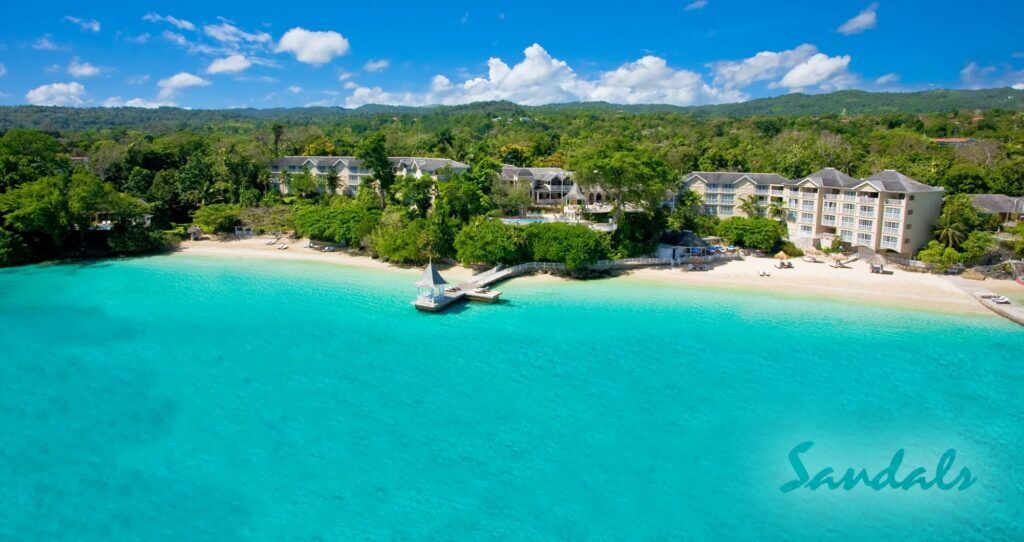 The charming resort of Sandals Royal Plantation has verdant tropical gardens. Since it has the fewest number of rooms of any Sandals resort, it is also the least expansive. But it has everything you'd expect from a five-star resort and more.
A lot of people claim that Sandals Royal Plantation is one of the best Sandals resorts they have ever gone to since it is entirely butler-level and has the feel of a boutique hotel with the warmth and hospitality of a bed & breakfast.
Meanwhile, the resort's beach butlers, cozy rooms, and friendly staff are just a few reasons why visitors return year after year. Furthermore, Ocho Rios Blue Hole and Dunn's River Falls, two of Jamaica's most popular tourist destinations, are within easy driving distance of the resort. Transportation to Sandals Ochi is complimentary for Sandals Royal Plantation guests.
---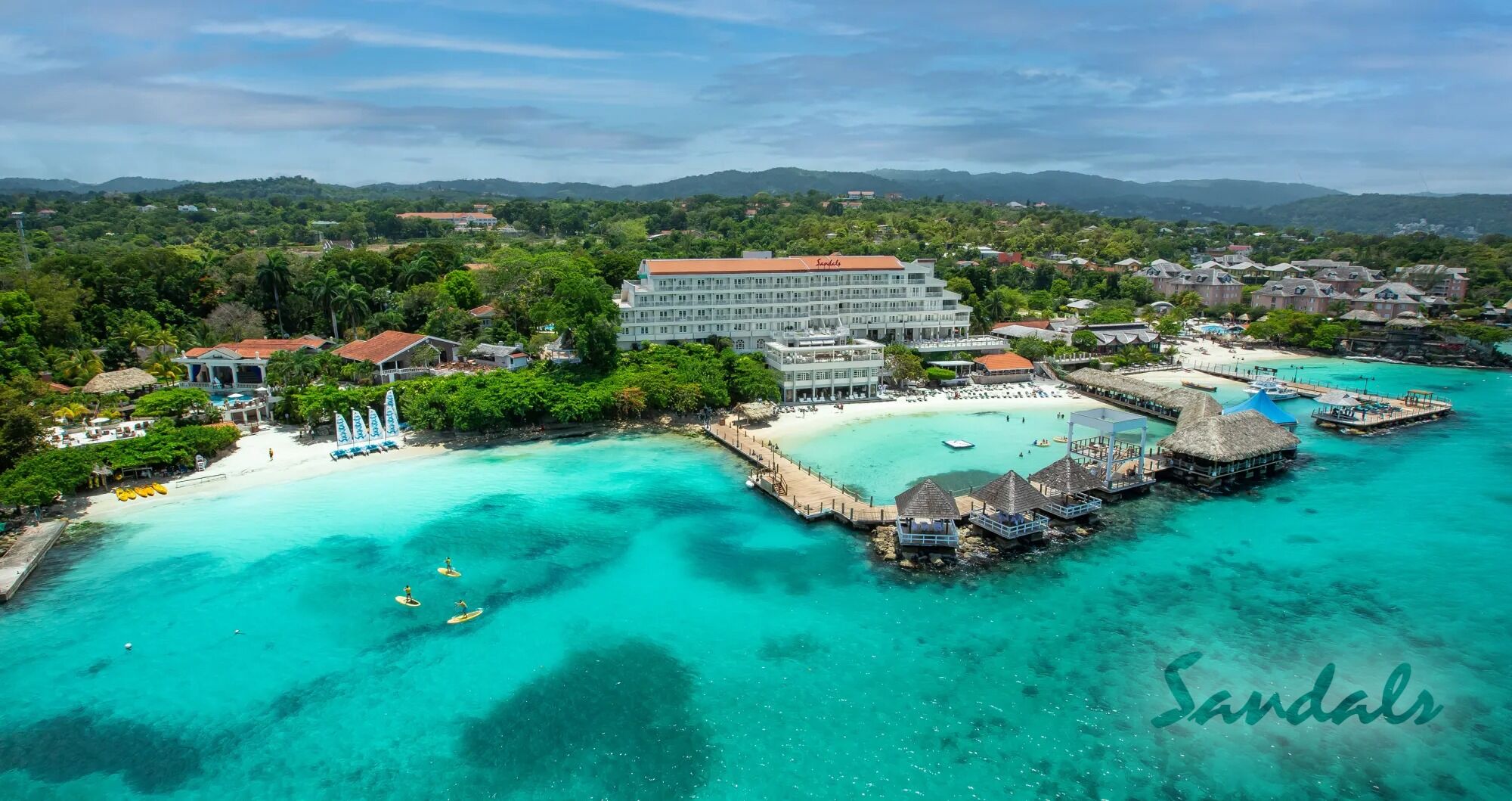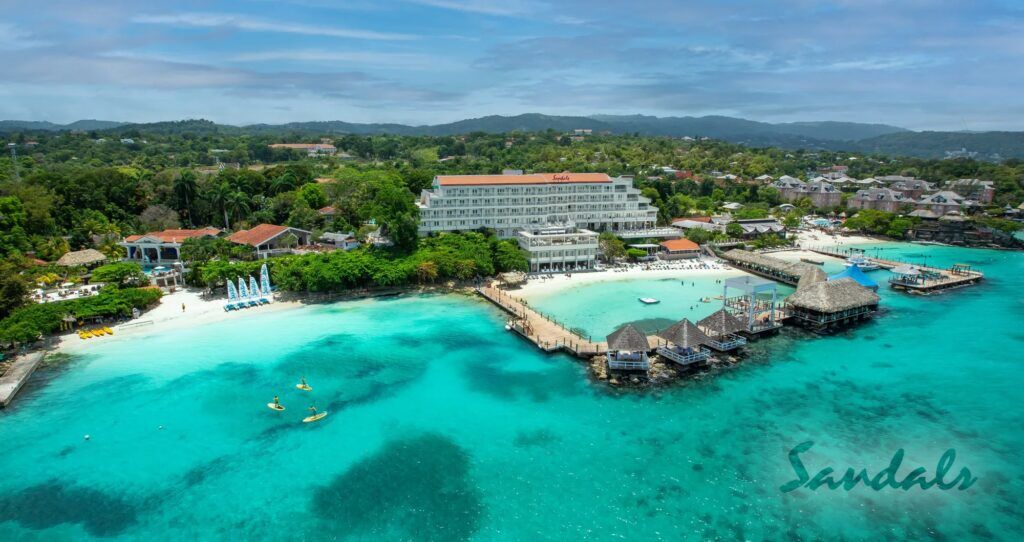 Newly redesigned and restored in 2016, Sandals Ochi in Ocho Rios features rooms on the beach and in the surrounding hills. For those searching for a truly one-of-a-kind vacation, the "Great House" provides a secluded retreat within the Butler Village, complete with a cluster of villas and plunge pools and the specialized attention of a personal butler.
All the oceanfront rooms at the Riviera Seaside are conveniently close to the swim-up bar and promenade at The Ochi Beach Club. In addition, couples may enjoy the shade of a gazebo while dining at the a la carte restaurant that overlooks the water.
And lastly, if you're a golf fan, Sandals Ochi is one of the best resorts you can visit. This Sandals property features an 18-hole golf course and a spa that has received rave reviews from guests.
---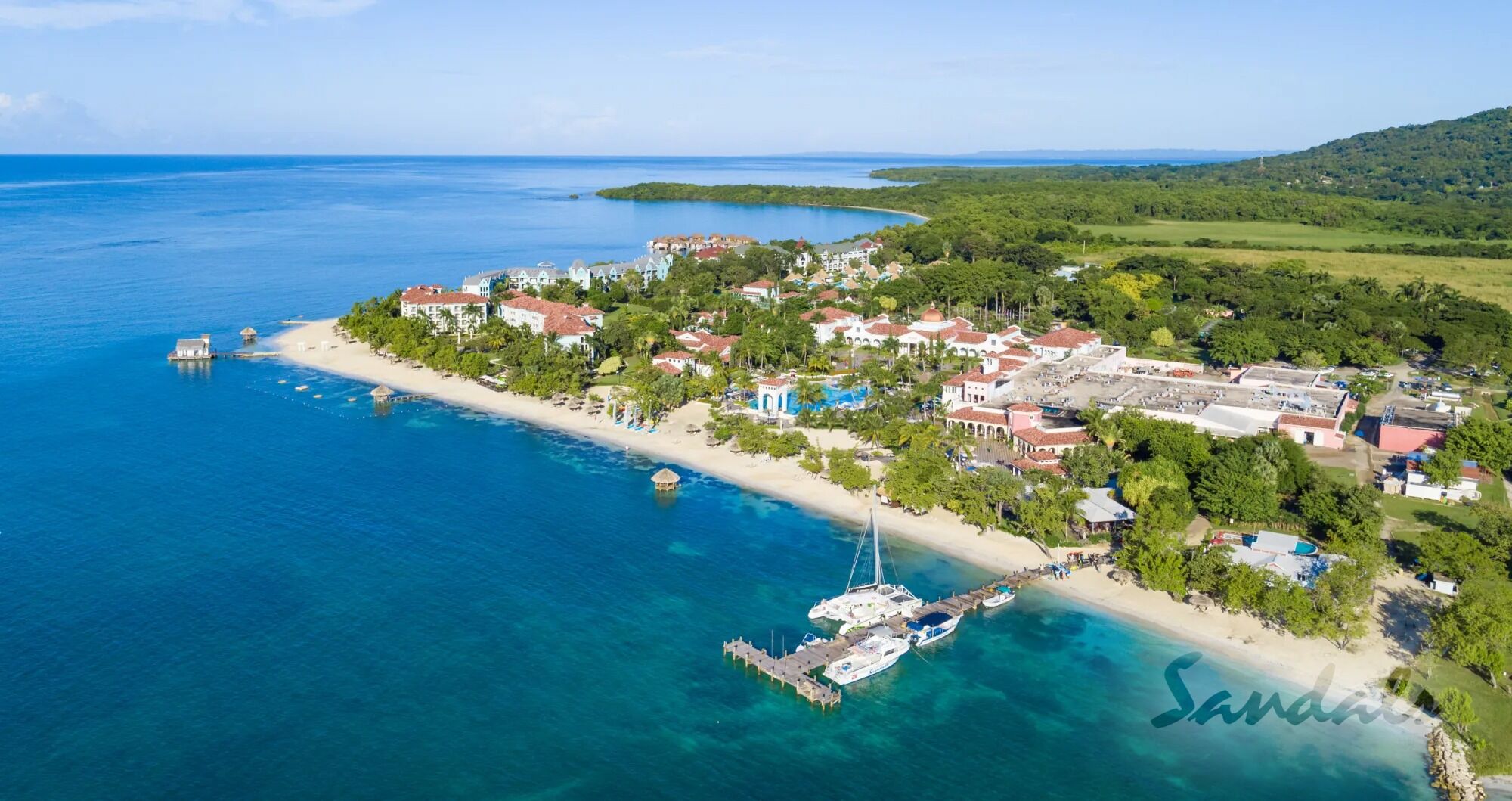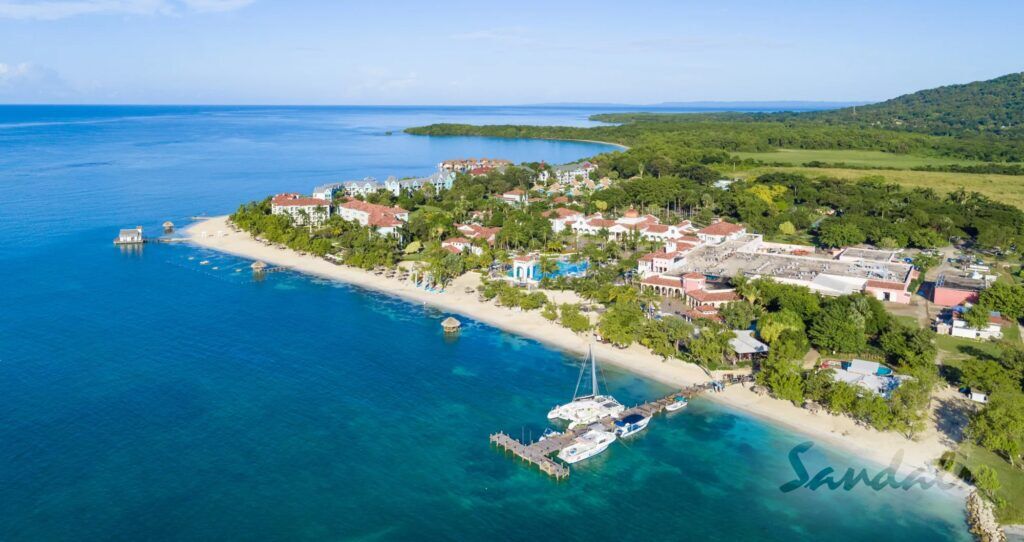 This place is Jamaica's best beachfront and oceanview resort. Beautiful and secluded, the overwater bungalows are ideal for a couple's retreat.
Furthermore, you can spend the night using the bonfire pits and other fire facilities, adding to a more luxurious experience. Lastly, the nine restaurants at this Sandals Resort include a wide range of cuisines, from Italian to Asian to Mediterranean to Jamaican and Caribbean.
---
Jamaica's north coast is characterized by rivers winding through trees and waterfalls plunging down the mountainside. Indeed, love blossoms easily in this peaceful place, brimming with nature's bounty.
The Sandals founder specifically chose this area because of its gorgeous beach and proximity to a stunning natural attraction in Jamaica. Sandals Dunn's River, previously closed, will reopen to the public on May 23, 2023, after undergoing a major renovation.
Best Sandals Resorts in Saint Lucia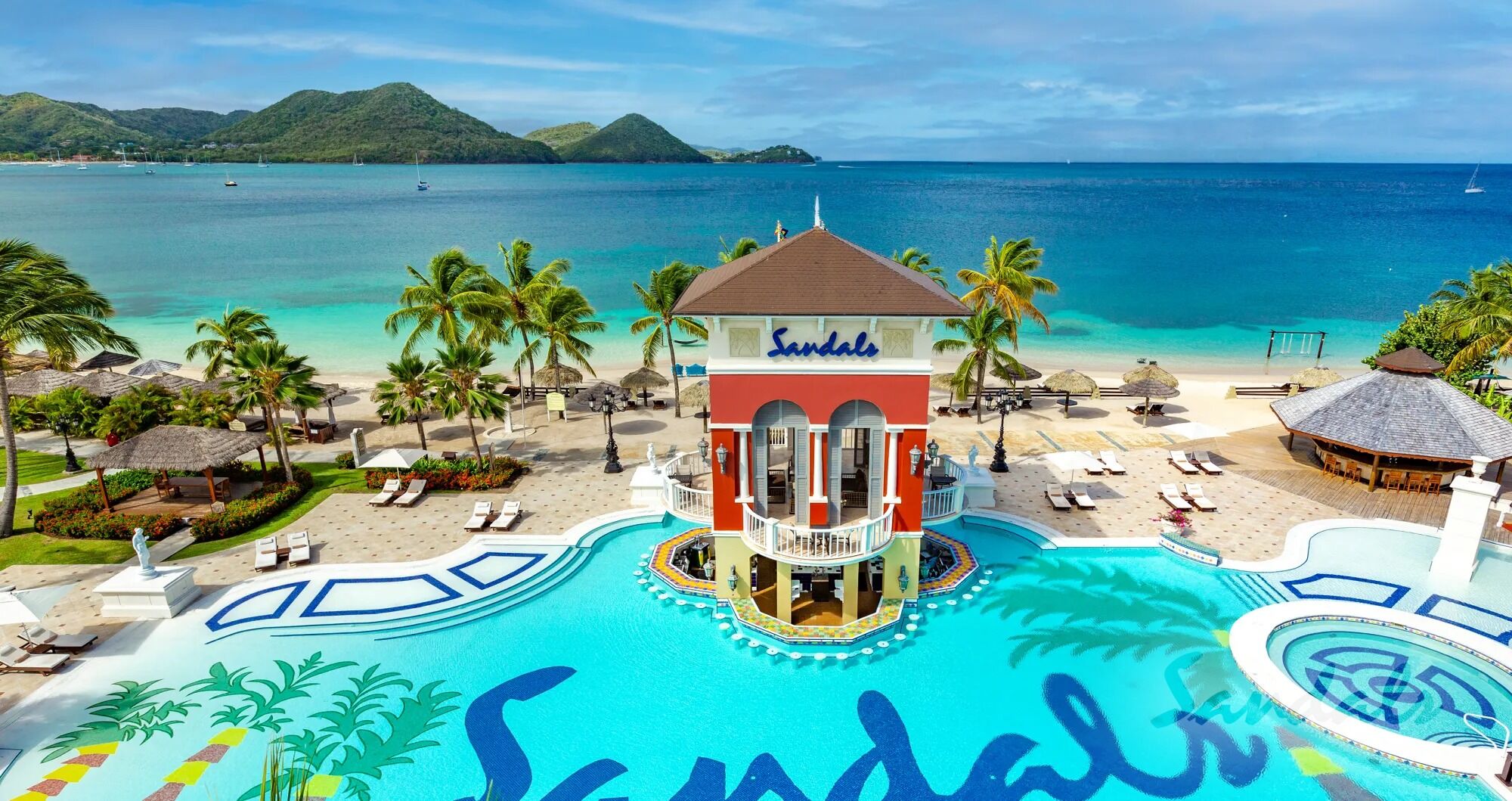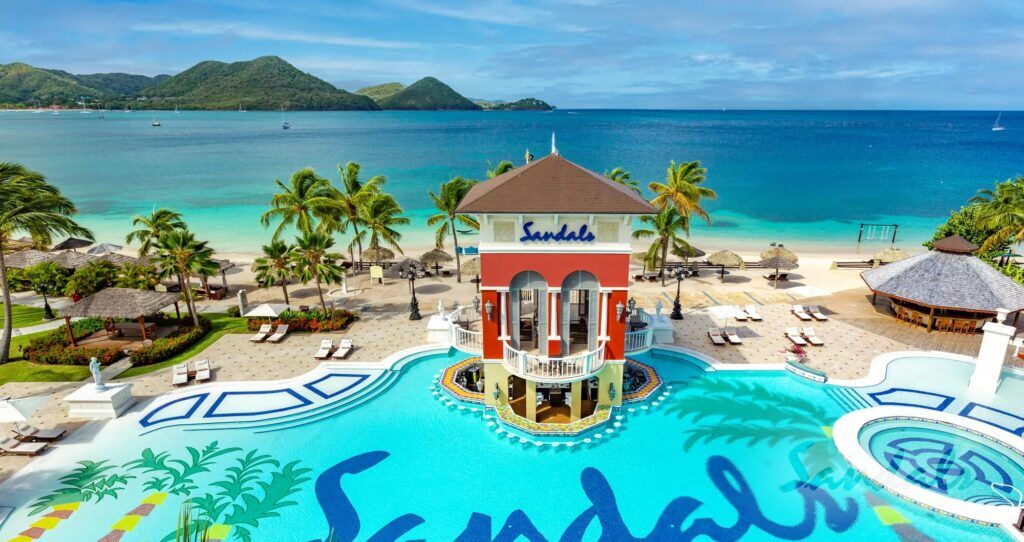 Sandals Grande St. Lucian is the place to go if overwater bungalows are what you seek. This property is one of the best Sandals resorts. It is known as "the closest getaway to a picture-perfect postcard."
The resort's 12 eateries, plus the 15 at a neighboring Sandals property, ensure that guests never go hungry. Both the Sandals Regency La Toc Golf Club and the Sandals St. Lucia Golf & Country Club at Cap Estate are within easy reach, and the resort will transport you there and back for free.
Sandals Regency La Toc and Halcyon Beach provide access to exotic underwater playgrounds, allowing divers to explore the world below further.
---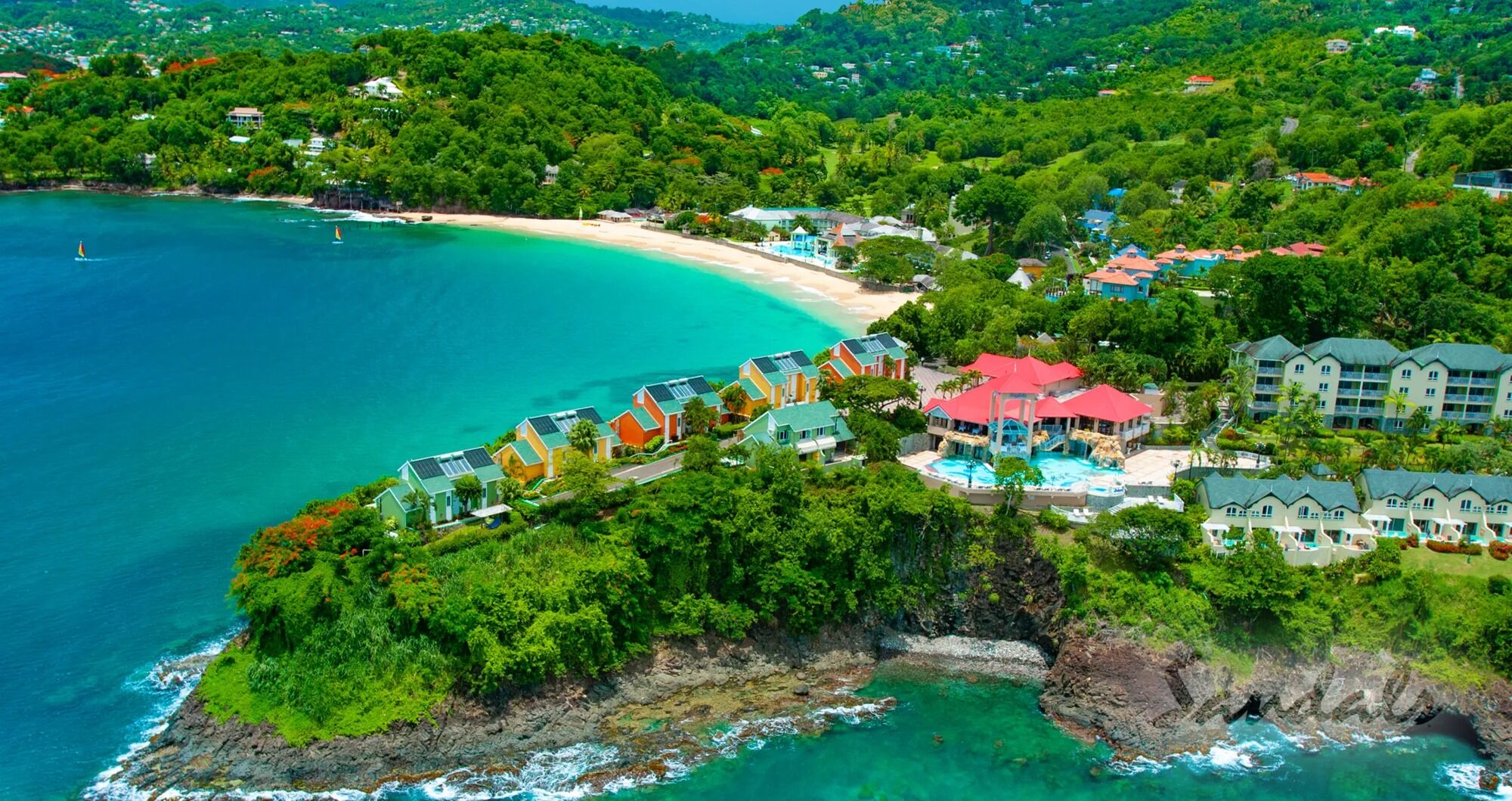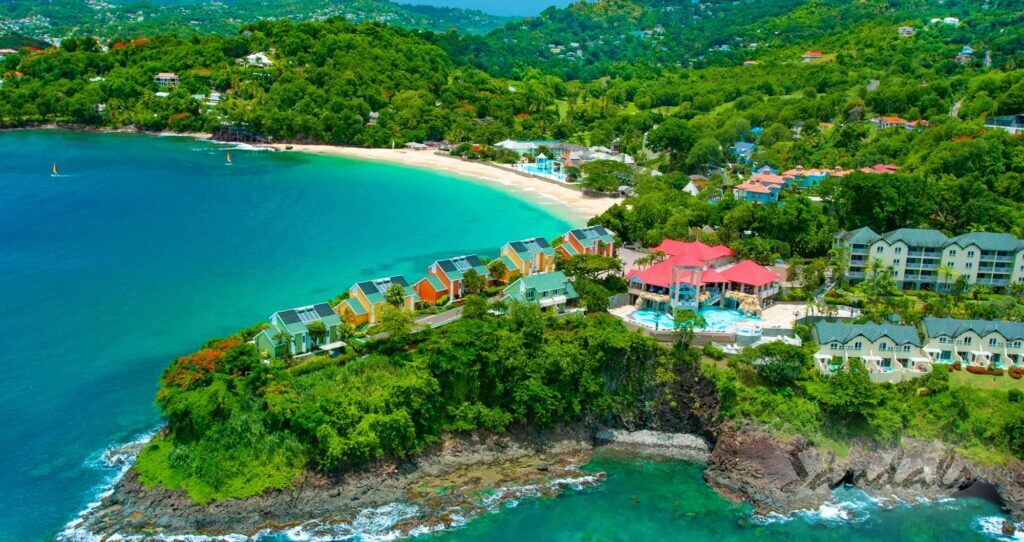 Sandals Regency La Toc is regarded as one of the most luxurious and best Sandals resorts on the island of Saint Lucia. Its lush tropical setting and rolling fairways at the challenging executive-style golf course on-site make it the epitome of luxury. At the same time, the resort's exclusive Sunset Oceanview Bluff Village adds another level of seclusion.
You can find Sandals Regency La Toc on a beautiful half-mile crescent-shaped beach in an area known as the "Green of the Caribbean" for its dazzling emerald waters.
---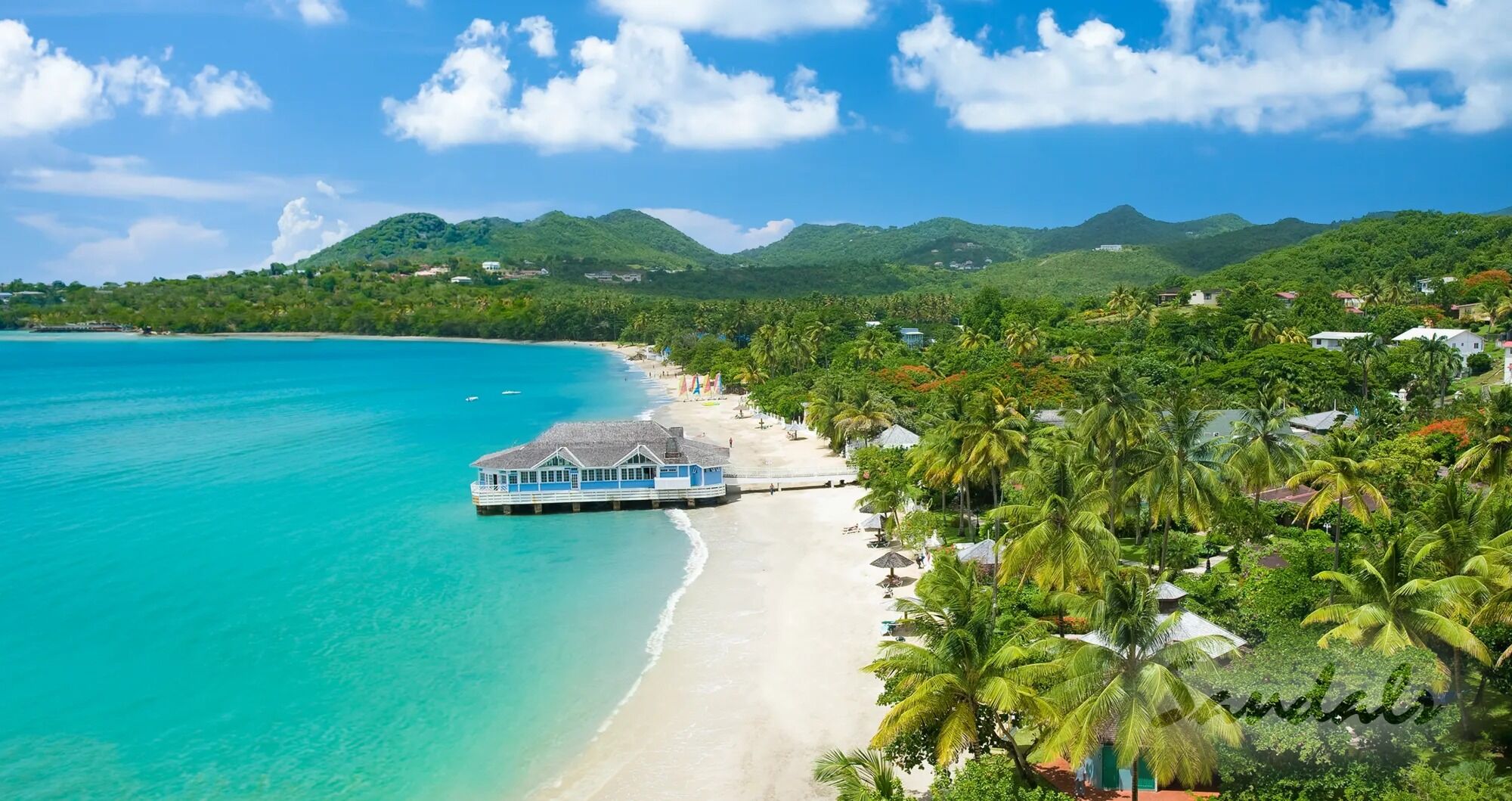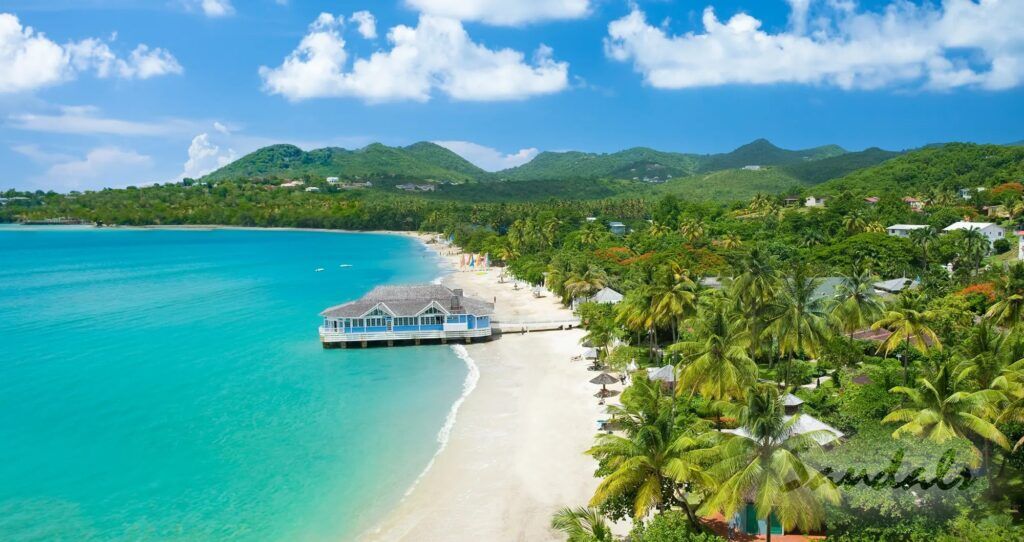 Sandals Halcyon Beach, with its verdant tropical gardens and gorgeous white-sand beaches, is the most archetypally Caribbean of all the Sandals Resorts. Moreover, it has six mouthwatering Global Gourmet restaurants, and seven unique bar concepts are available to guests of this all-inclusive Caribbean resort.
The two challenging golf courses offer free greens fees and gratis transfers for golf enthusiasts. In addition, of the three Sandals properties in St. Lucia, Sandals Halcyon is the quietest and coziest.
Best Sandals Resorts in The Bahamas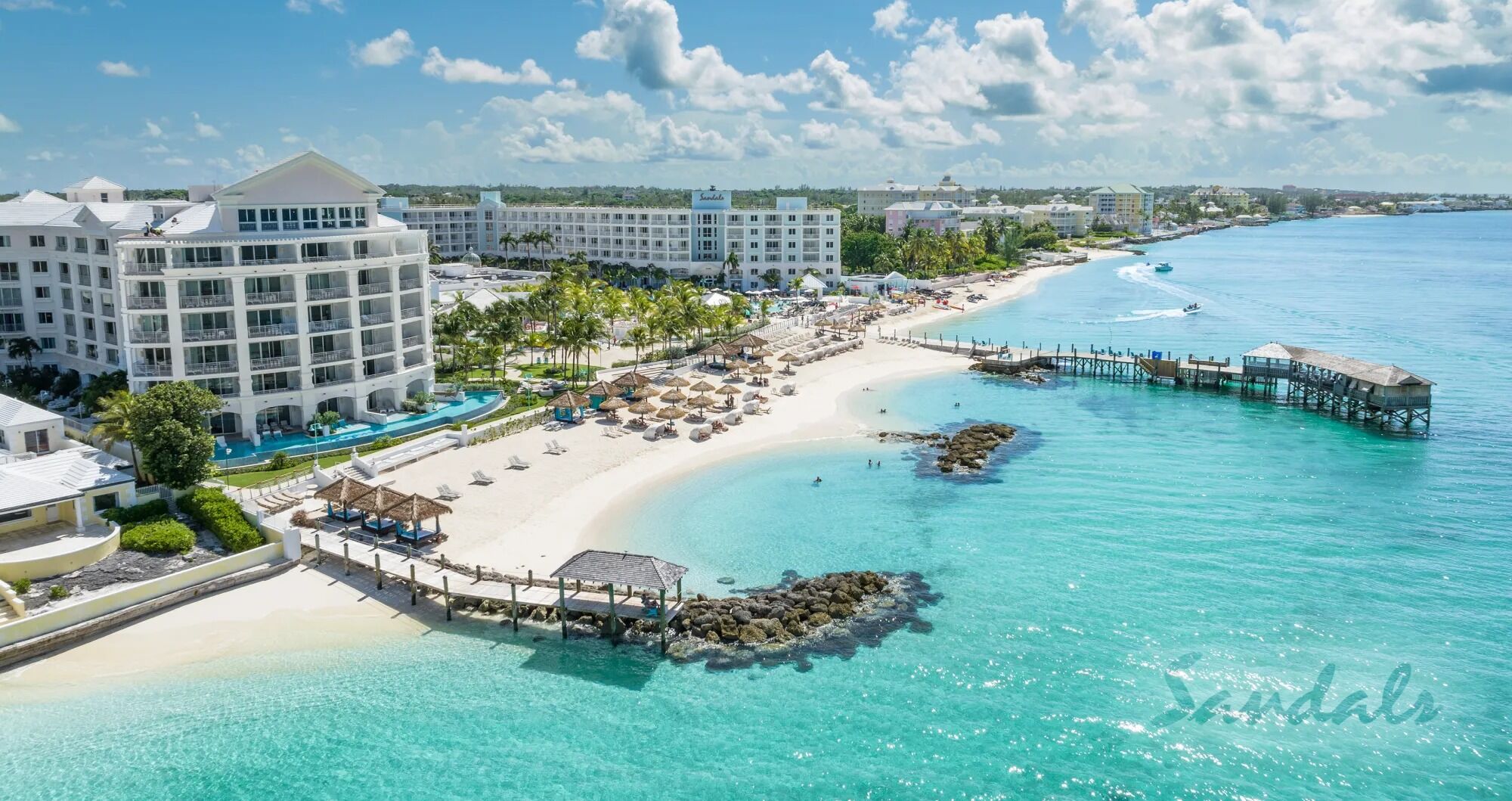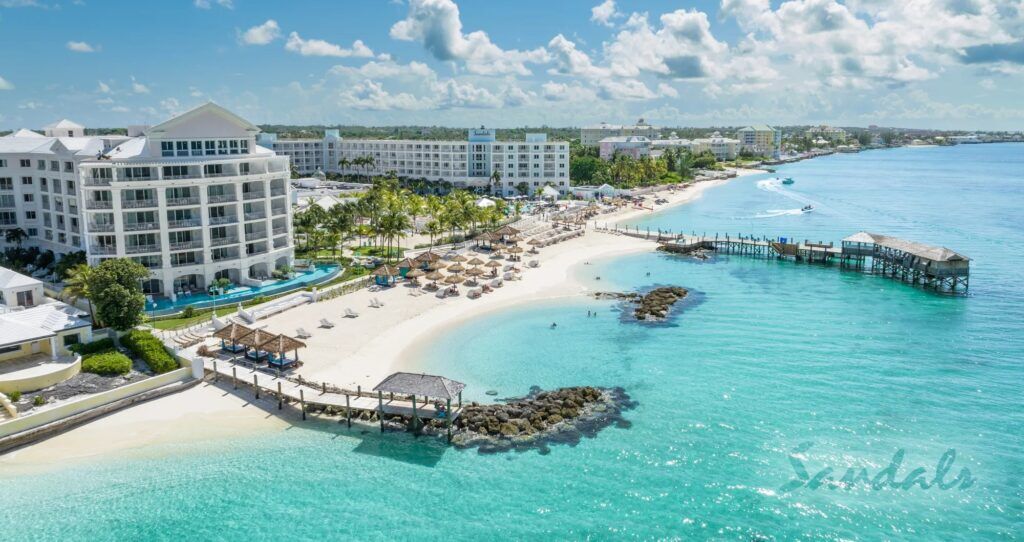 Sandals Royal Bahamian is just a flight away from the United States. This resort is a fantastic choice for vacations of any length. It has undergone extensive renovations and now offers guests access to a private offshore island. Moreover, it has excellent snorkeling opportunities for people who enjoy these activities.
When it comes to Sandals Resorts, this one is tops. A short drive will take you to this Nassau, Bahamas hotel from the nearby airport. Moreover, there is a casino in the area, so it's also a good choice for those seeking an exciting getaway.
---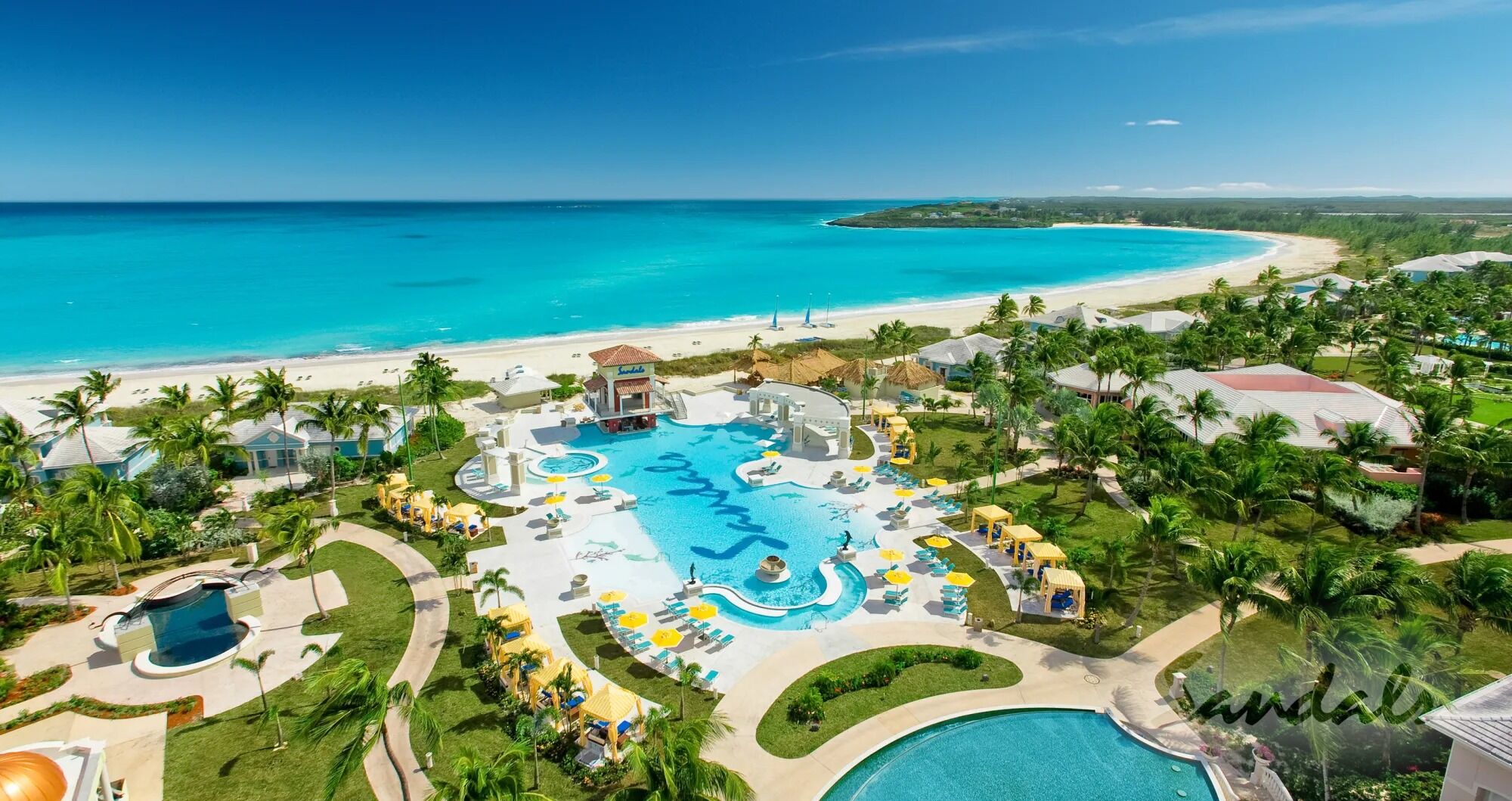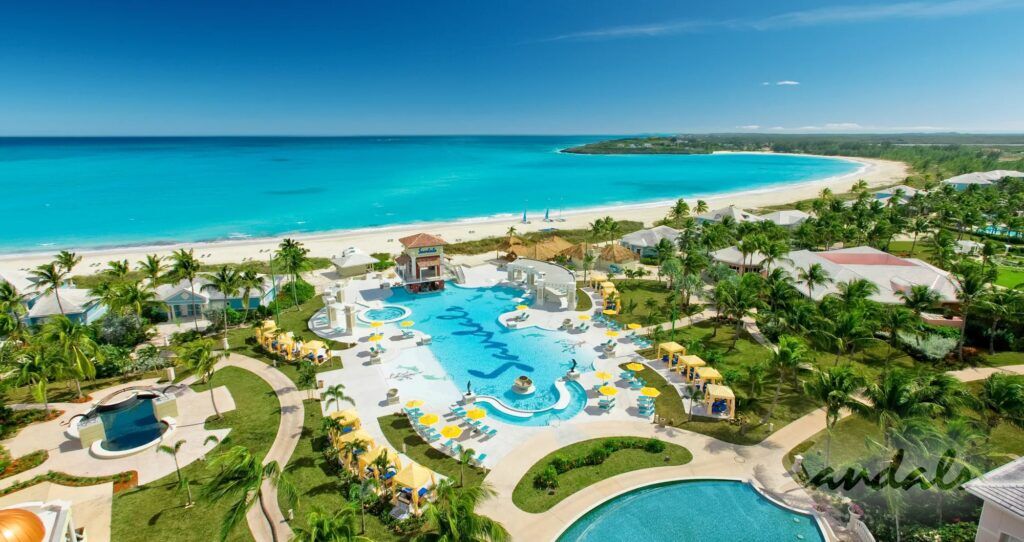 If you're looking for a place to stay at a Sandals Resort where you can truly experience the best beach, go no further than this one. The resort's lovely white sand and heavenly blue waves make for pleasant strolls along the coast.
Guests are impressed by the resort's beautiful golf course, the resort's proximity to the renowned Swimming Pigs, and the resort's spacious swimming pool. Great Exuma is a short drive from the airport in The Bahamas.
Sandals Emerald Bay is one of the best Sandals resorts to visit if you're looking for a picturesque ocean view.
Best Sandals Resorts in Barbados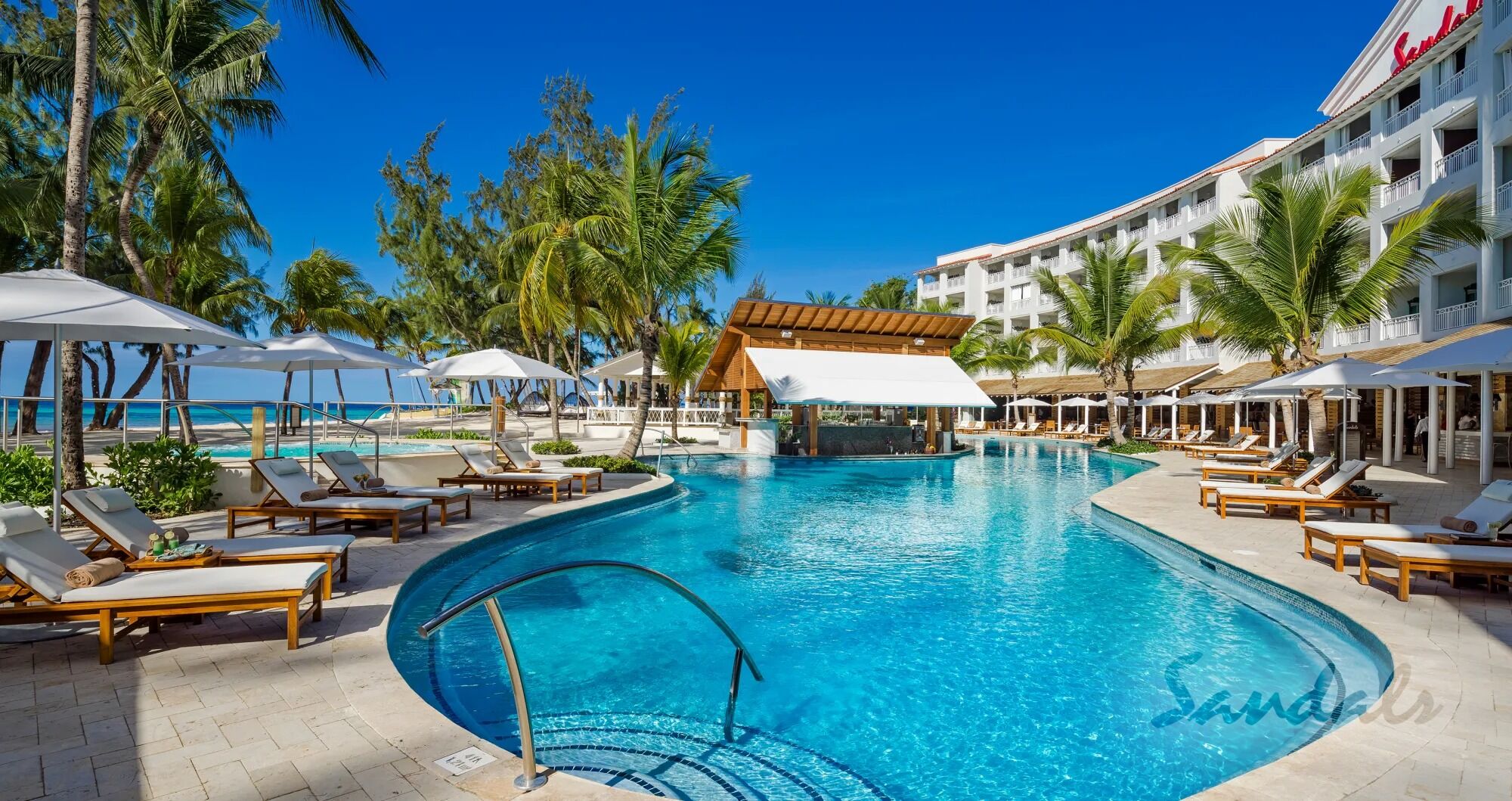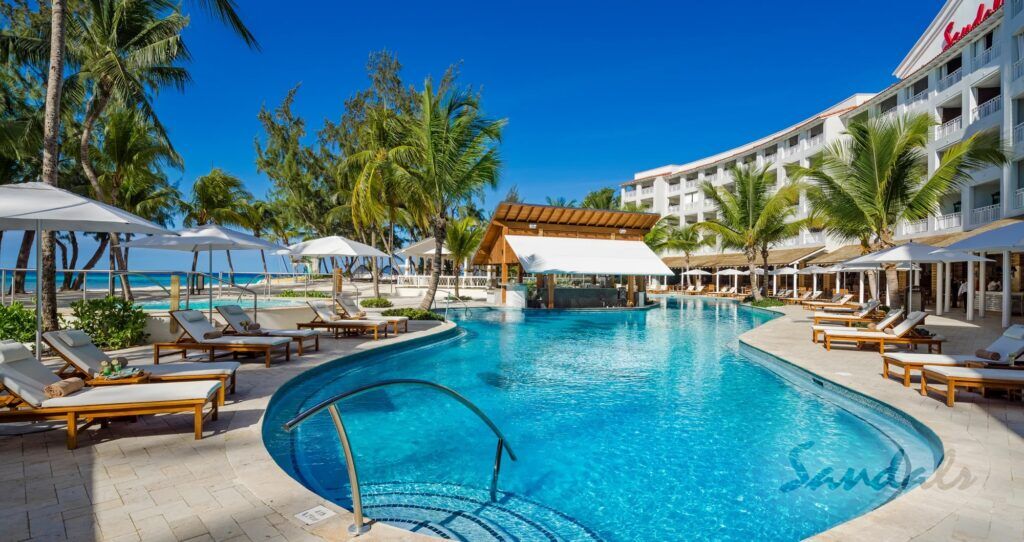 The most luxurious and best Sandals resort ever built, Sandals Barbados is in a prime location that has long been a favorite of celebrities and high society. Here, at this 5-star Luxury Included resort, elegance and sophistication coexist.
There are 11 restaurants, eight lounges and hip bars, and three pools, all of which are designed to stimulate the senses. Furthermore, the hotel even features architecture that pulls the outdoors in.
With its powdery white sands, Dover Beach provides the ideal setting for this Barbados resort. Because of its proximity to Sandals Royal Barbados, you can take advantage of several nearby restaurants, bars, and other luxurious amenities. This is an excellent opportunity to have the best of two 5-star vacations.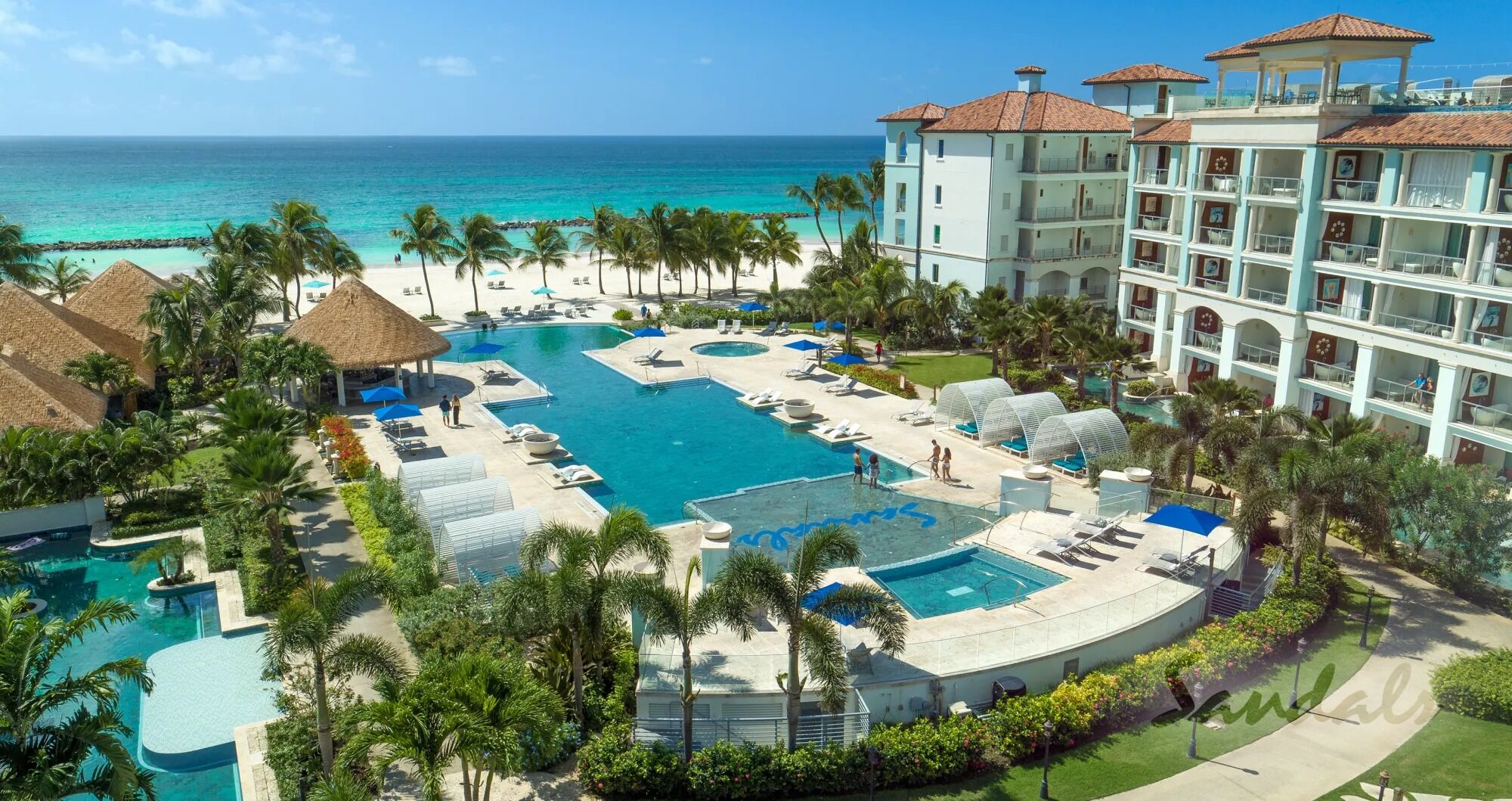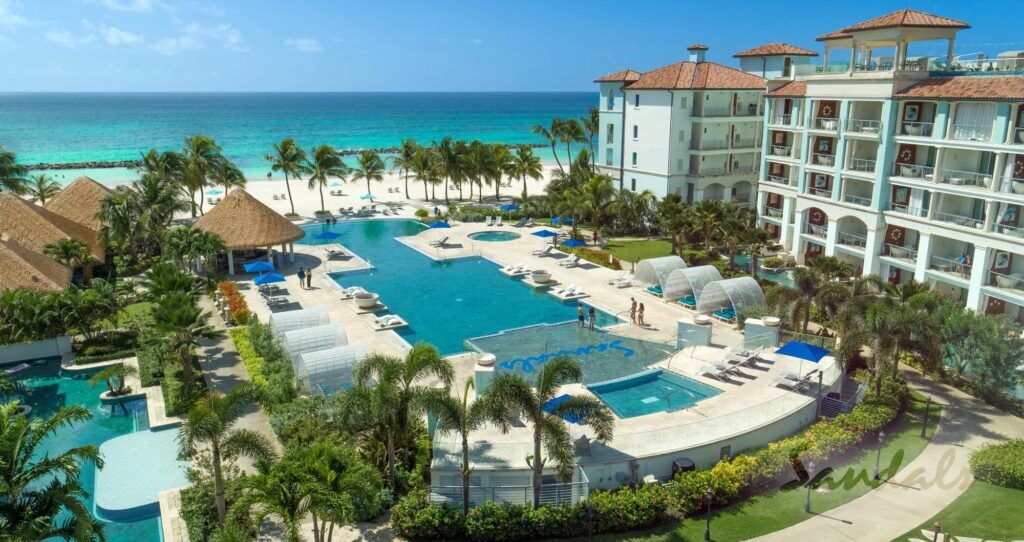 It is one of the newest Sandals Resorts and boasts a rooftop bar, a bowling alley, and a gorgeous infinity pool. Visitors at Sandals Royal Barbados also have access to the sister property, Sandals Barbados. Everything is included, from services to dining options. A short ride from the airport will get you to this Barbados resort.
Best Sandals Resort in Grenada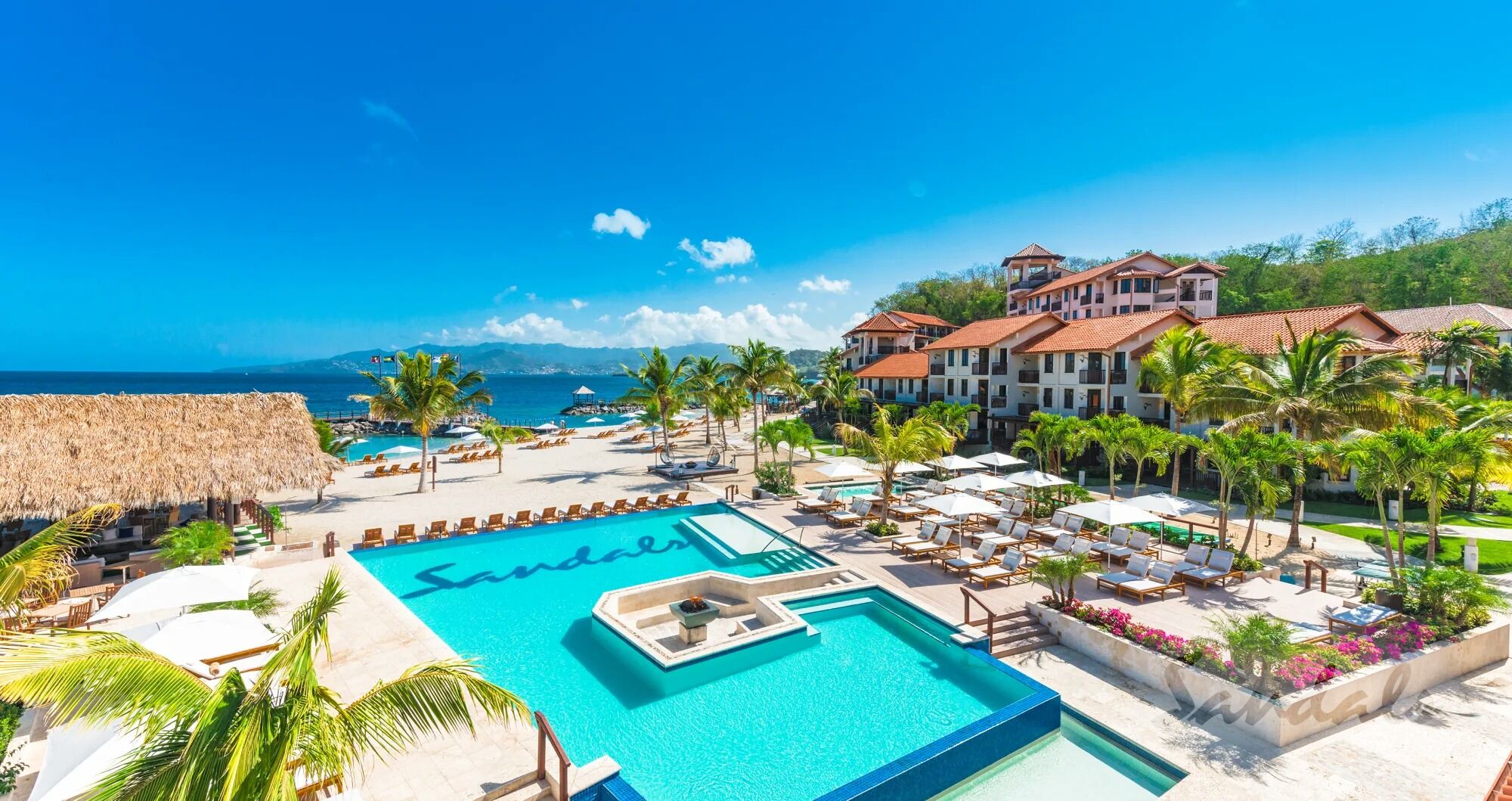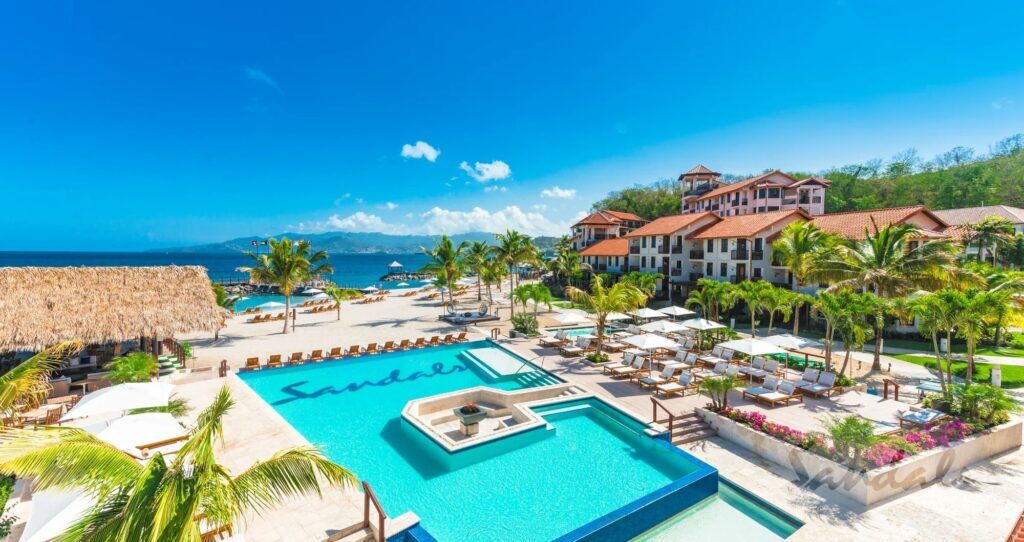 Sandals Grenada, one of the newest of the Sandals Resorts, has won rave reviews for its stunning landscape, delicious dining options, and luxurious suites with private plunge pools. This property is the best Sandals Resorts to visit for scuba diving.
Enjoy a wonderfully romantic and unique Caribbean experience at this resort, which is centrally located on Pink Gin Beach, Grenada. Swimming pool suites, roadways, and sky pools are just a few of the 69 suites with butler service.
Best Sandals Resort in Antigua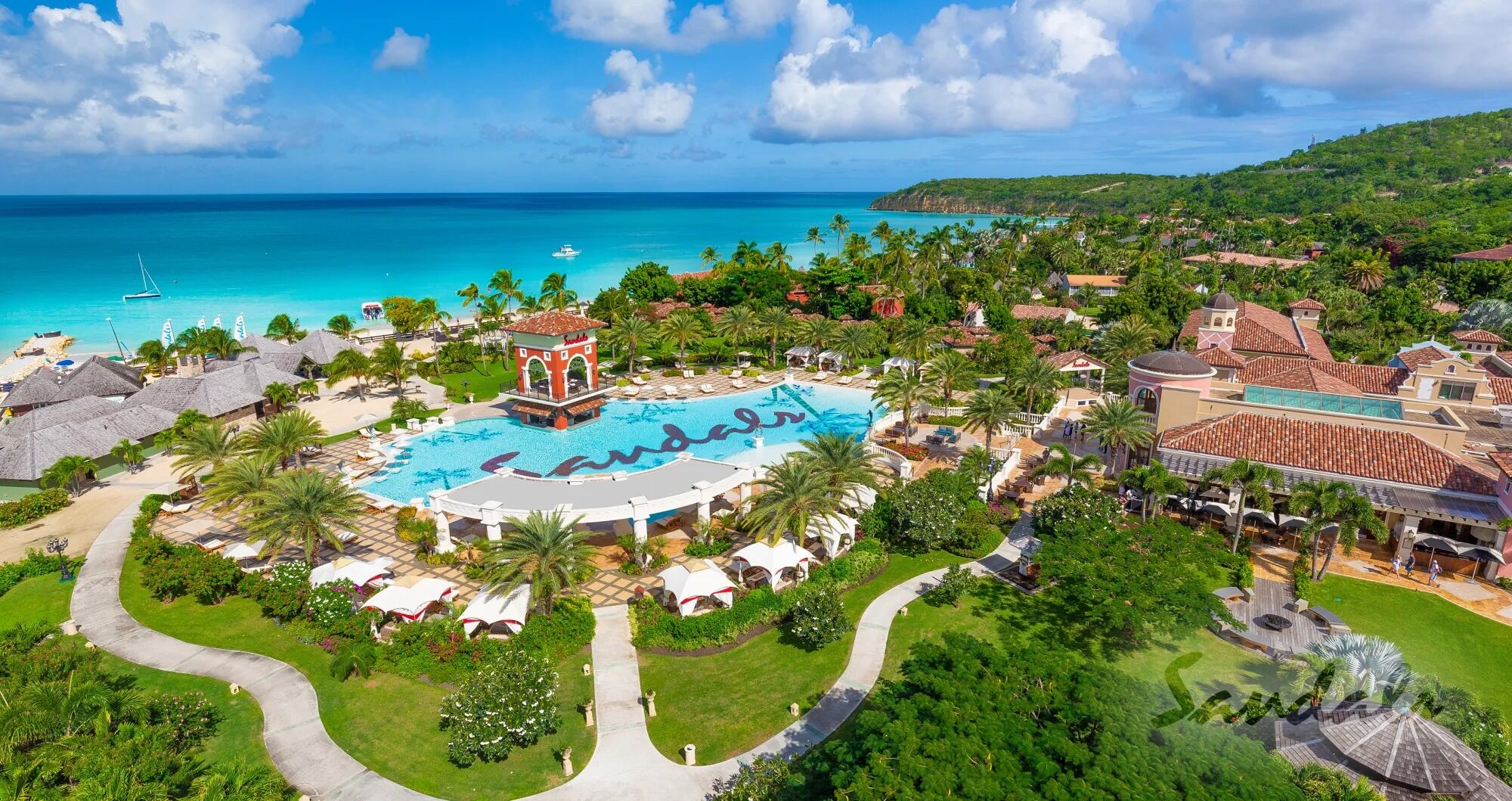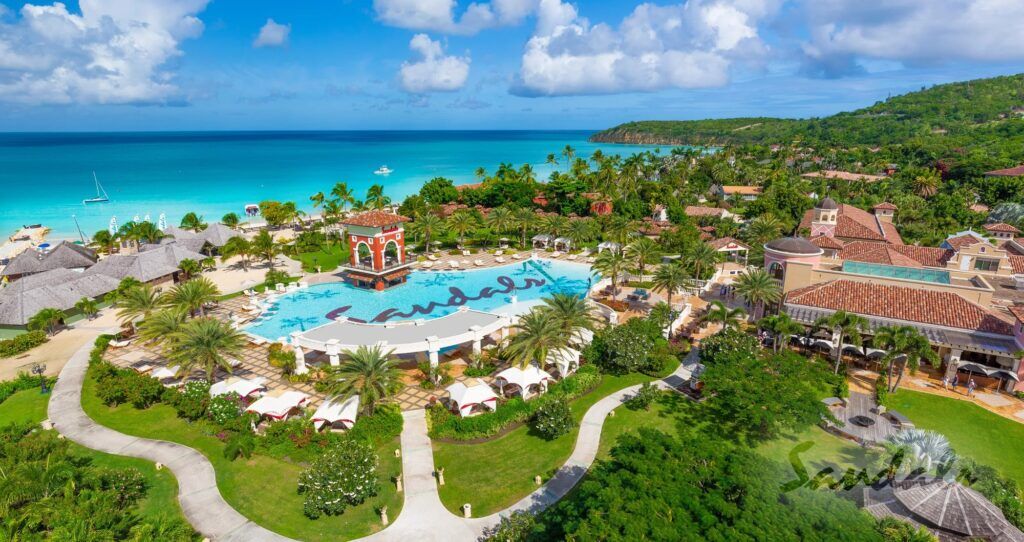 This resort is located on Dickenson Bay, Antigua's most beautiful and well-known beach, and is reserved exclusively for adults. Sandals Grande Antigua is one of the best Sandals resorts for a couple's vacation. It is often recognized as the most romantic resort in the world.
This property boasts a Caribbean Beachfront Village, a picturesque garden paradise surrounded by the sea and swept by the Trade winds. The Six-Star, all-suite Mediterranean Oceanview Village is an oasis of elegant refinement, where European grandeur unfolds from the hillside to villas-by-the-sea.
Guests often lie on the soft, white sands and soak up the sun in the Caribbean. Moreover, you can indulge in the most romantic getaway of your life and write the next chapter in your love story.
Best Sandals Resort in Curaçao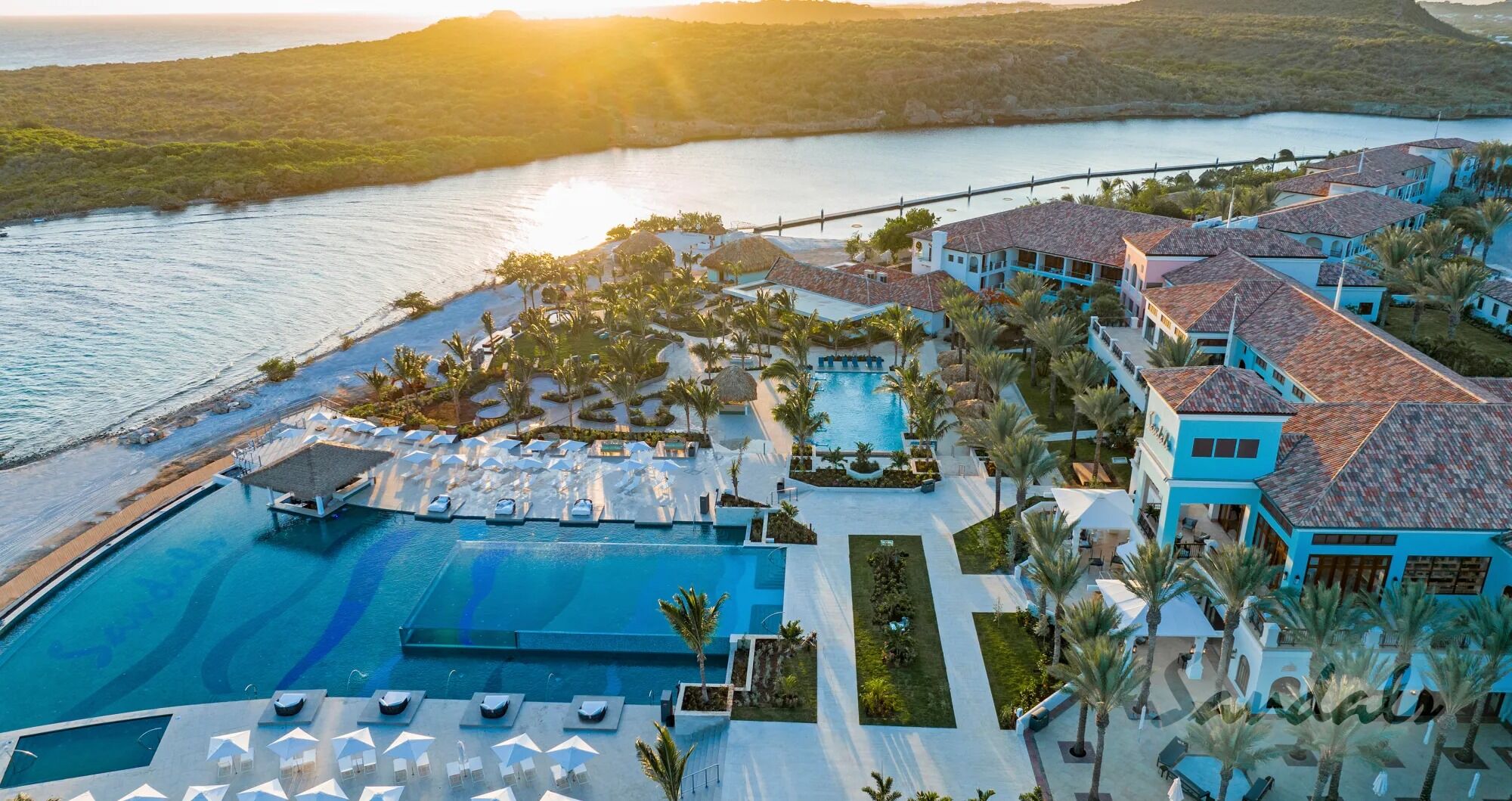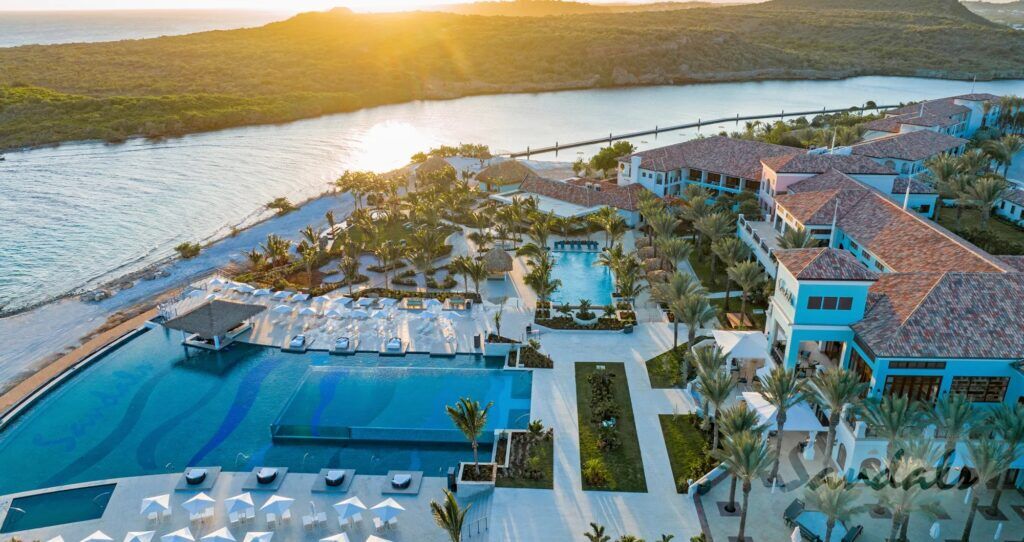 Located in the Dutch Caribbean's Lesser Antilles, roughly 40 miles north of the Venezuelan coast, lies Sandals Royal Curacao, the newest addition to the Sandals family of resorts. Sandals Royal Curacao, which opened in June 2022, is regarded as a crown gem of the Caribbean thanks to its cutting-edge implementation of Sandals 2.0 design concepts.
If you're seeking a luxurious resort with all the latest conveniences, you've found it. As far as Sandals Resorts go, this is up there with the finest of them regarding underwater activities like scuba diving and snorkeling.
Final Thoughts
With this handy list of the best Sandals resorts, you may pick the ideal location for a memorable honeymoon or other romantic getaways with your partner. The ultimate romantic break is waiting for you. When it comes to entertainment options, you won't be disappointed. In that case, why delay any longer? Plan your couple's vacation now in a Sandals resort.