Bioluminescent bays are an absolute must-see for any visitor to Puerto Rico. If you are traveling in the Caribbean, you don't want to miss out on this fantastic opportunity. Below are the three bioluminescent Puerto Rico beaches at night that you can visit and enjoy.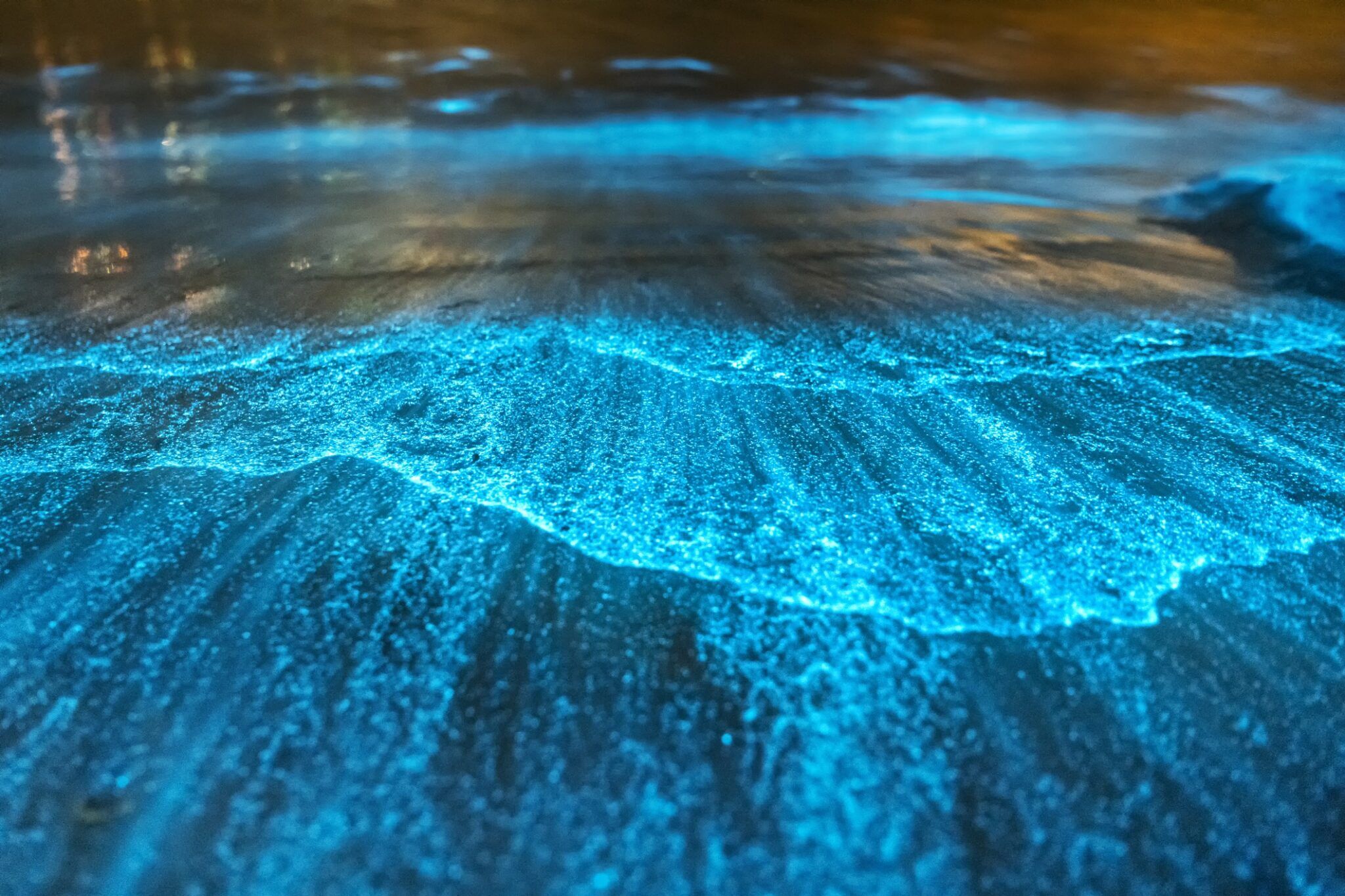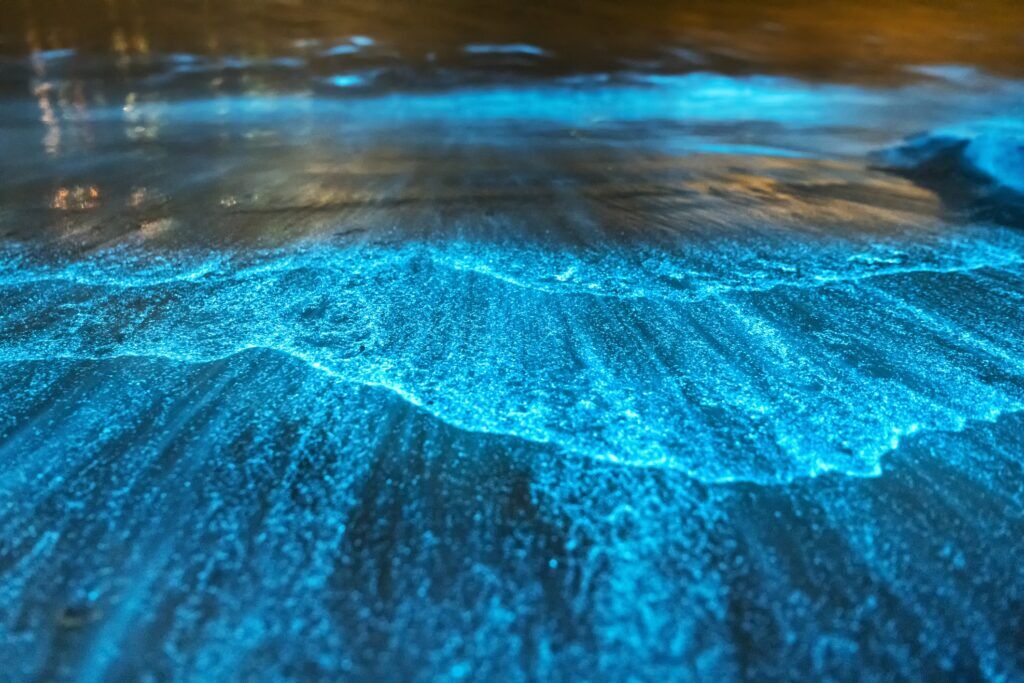 1. Mosquito Bioluminescent Bay
Rare and stunning, bioluminescence is an event to behold. It happens when dinoflagellates grow in quantities big enough that cause them to "light in the dark" when disturbed. On the island of Vieques is Mosquito Bay, which is the brightest among the bioluminescent Puerto Rico beaches at night.
The natural splendor and pure atmosphere of this bay are enough to make any visitor want to stay forever. Its stunning luminosity is due in part to the high concentration of dinoflagellates found there. After Hurricane Maria, the dinoflagellate count of the three bays decreased but it is slowly rising. Mosquito and La Parguera bay are significantly brighter than before.
Light pollution-free, Mosquito bay is one of Puerto Rico's most stunning attractions. Because of this, visitors from around the world flock to this place.
You'll have to take a ferry from San Juan to Vieques to get to this bay if you wish to visit the main island of Puerto Rico. But the quickest and easiest option is to take a flight from San Juan to Vieques. From there, you can take a bio bay trip from La Esperanza.
You can also get to Vieques by taking a ferry from the port of Ceiba. It is accessible by renting a car or a cab at the San Juan airport.
2. La Parguera Bioluminescent Bay
The only bioluminescent bay in Puerto Rico that accepts motorboat traffic is La Parguera. The bay can be found in Lajas, which is the island's southwestern region.
Some excursions will even supply you with the necessary gear to go swimming at night. You may observe the organisms that give the bay its luminescence from a glass-bottom boat.
La Parguera is one of the best bioluminescent Puerto Rico beaches at night you can visit since you can swim in this bay. It's the only bioluminescent bay in Puerto Rico where you can swim.
Unlike the other two bioluminescent bays, La Parguera has a more thorough interchange of water with the ocean. Because of this, the bay can maintain its cleanliness. The water washes away potential pollutants such as insecticides, tanning oils, and fragrances.
Boat tours are a great way for families to see Puerto Rico's emerald waters without the hassle of driving around at night. Visitors can choose to stay on the boat and observe or get in the water during their tour. On a night with a new moon, this bay takes on a bluish-green glow rather than a brilliant blue color.
Getting to La Parguera is a breeze if you rent a car in San Juan and drive there. As an added bonus, travelers can stop as often as they like en route to Lajas using this route.
3. Laguna Grande Bioluminiscent Bay
The Laguna Grande in Fajardo is the only one of Puerto Rico's three bio bays that isn't actually a bay. This extraordinary body of water is a lagoon because of the lengthy, narrow canal that leads to the brilliant "glow-in-the-dark" water.
Given its proximity to the capital city, San Juan, this ecological bay receives the most visitors of any in Puerto Rico. Kayaking through mangrove creeks is an enjoyable experience. And you get to do that until you reach the bioluminescent lagoon at Laguna Grande.
Though it's the most convenient for tourists, this lagoon's environment has yet to fully recover from Hurricane Maria. Laguna Grande is still lagging when it comes to dinoflagellate count compared to the two bays.
For adaptability, hiring a vehicle service or taking a taxi is your best bet. The drive from San Juan to Fajardo is short, but having a car means you may stop in El Yunque and Luquillo along the way. To navigate the public transit system, you should know at least some basic Spanish.
Tips When Visiting Bioluminescent Puerto Rico Beaches at Night
1. Visit the bioluminescent Puerto Rico beaches at night when there is no moon to spoil the experience.
You should wait for a new moon before visiting the bioluminescent Puerto Rico beaches at night. If you can't make it during the new moon, try to avoid going when it is a full moon. You can also wait when it's too cloudy.
You'll appreciate the bioluminescent lights from the bay more if you visit when it's dark and there are no moon or artificial lights.
2. Avoid using products that can harm the organisms in bioluminescent bays.
Mosquitoes thrive in the bio bays due to the abundance of mangrove plants, thus most visitors bring insect repellent with them. But, be sure that the product won't cause any ecological repercussions.
Inquire with your tour guide before bringing any chemicals to La Parguera, as some of them are banned from the water. To be safe, however, visitors to bioluminescent Puerto Rico's beaches at night should bring no harmful chemicals with them.
Before entering bio bays, it is recommended that tourists remove any traces of lotions, sunscreen, perfume, insect repellant, shampoo, and other chemicals from their bodies to reduce the risk of harming the organisms that give the bays their luminosity.
3. Pack extra clothes when visiting the bioluminescent Puerto Rico beaches at night.
Water will get into your kayak regardless of whether you are swimming or not. When visiting the bioluminescent bay, it's a good idea to have some extra dry clothes and a towel in case you become cold or get wet.
Final Thoughts
Bioluminescence can be observed in Puerto Rico at any time of the year. However, many people agree that the months of December through May are ideal for visiting the bioluminescent bays because the temperature is mild and the waters are clear.
Of the world's five known bioluminescent bays, three are found in Puerto Rico. If you're already planning a trip here, you should definitely check out one of the three bioluminescent Puerto Rico beaches at night.