If your goal is to go camping in Florida, beach camping is definitely an option. Camping on or near beaches is a surreal experience, and something you shouldn't miss out on! Overall, beach camping provides an awesome time with the tropical breeze and the sound of the waves!
The 10 best beaches for camping in Florida definitely have to be the ones listed below. These are the best beach camping spots available, each with its own unique locations, views, and camping spots.
You don't want to miss out on some of these secret spots – the great Floridian vibe of these places is too good to pass up.
10 Best Spots for Camping on Florida Beaches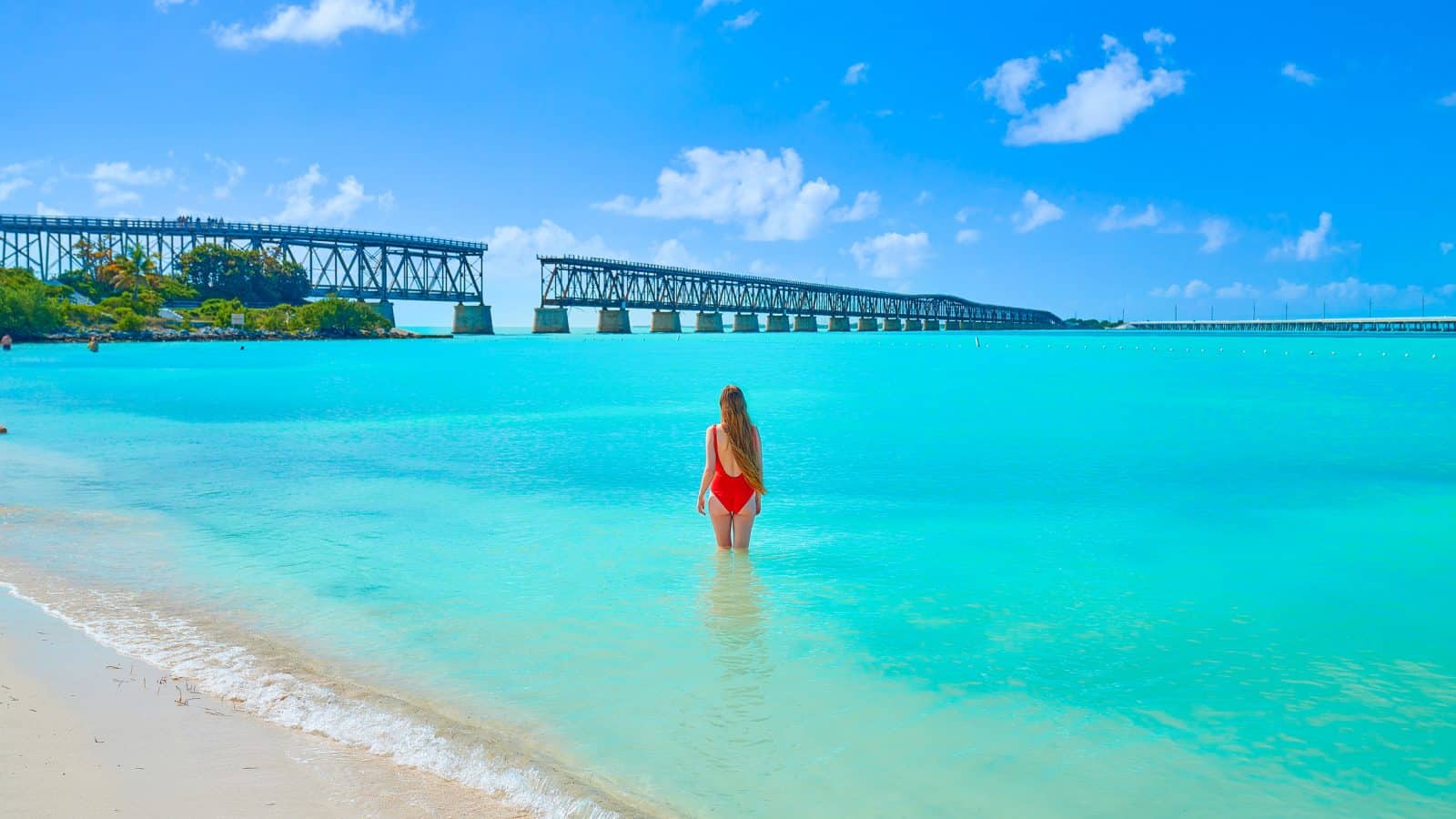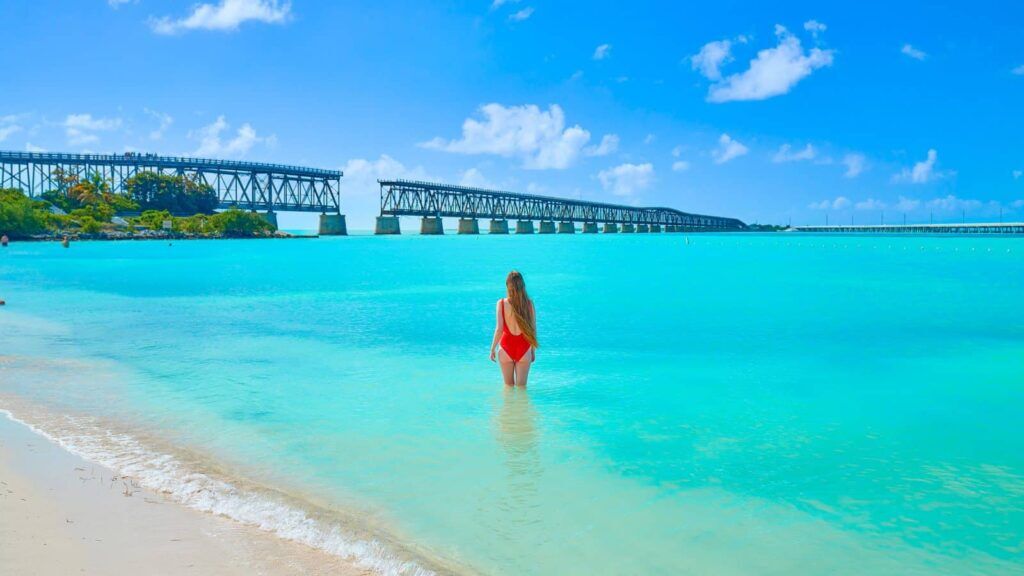 Offering many ideal campgrounds, the Bahia Honda State Park is one of the best locations to vibe in the Florida weather without a doubt. This location offers beachside camping on their Bayside campgrounds, as well as many other campgrounds a mere stone's throw away from the beach.
Because of all this and more, the Bahia Honda State Park is undoubtedly one of the top contenders for a great beach camping experience. This beach offers an absolutely breathtaking view of the Florida keys, something you can't miss when you head to Florida.
---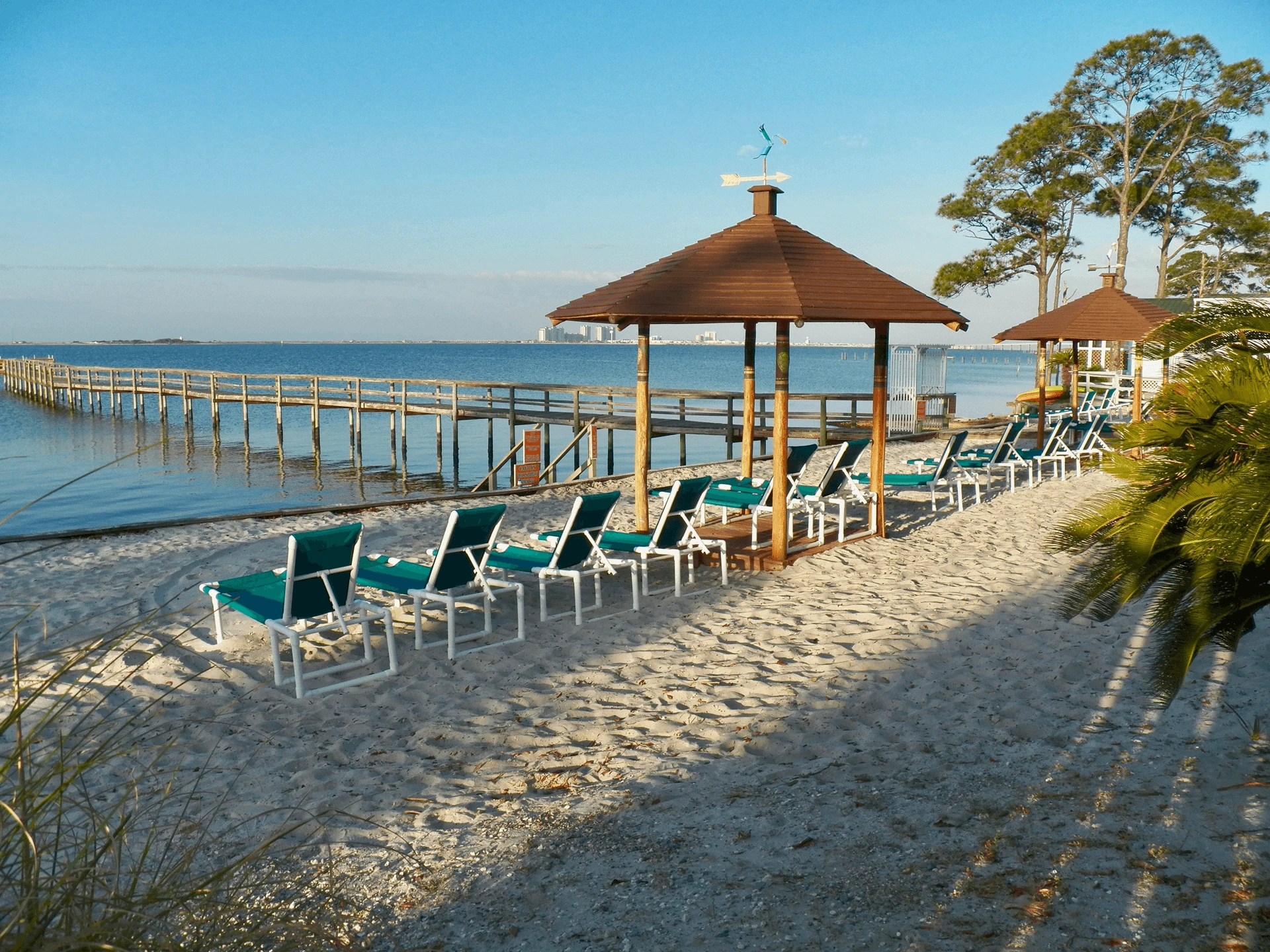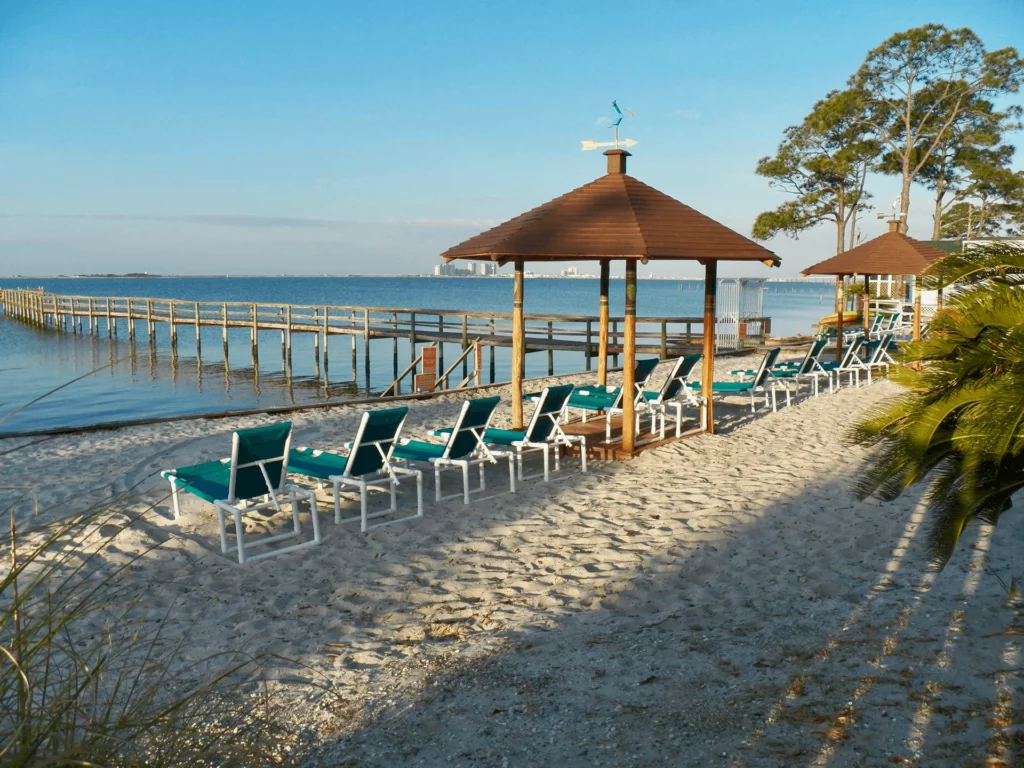 The Navarre Beach Camping Resort claims to be one of the best secret camping spots available in Florida. This awesome location is highly rated and gives its visitors and vacationers the option of choosing a seaside camping spot. Even beyond this, all of their camping spots are mere minutes away from the beachfront.
They offer multiple ways to stay, including RV spots, travel trailer rentals, and even cabins for their more avid vacationers. This spot undoubtedly will give you the fun location and beachside spot you need for your next Florida vacation. This spot offers both a completely private beach, as well as 5-minute access to the Gulf Beaches.
---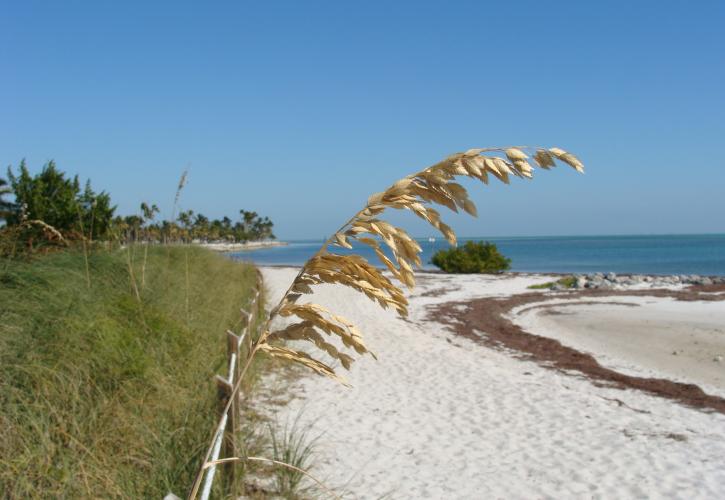 The Curry Hammock State Park is one of the best locations for those Florida vacationers looking for a seaside experience. This spot is uninhabited and untouched, making it a must-see for those on the adventurous side. The park offers 28 different campsites a mere walking distance from the beach and ocean.
A fantastic place for kayaking, fishing, exploring, camping, and basically, everything else needed to make your vacation awesome, the Curry Hammock State Park shouldn't be excluded from your list. It's a very large area of uninhabited land and protects many of the different crucial aspects of the Florida ecosystem.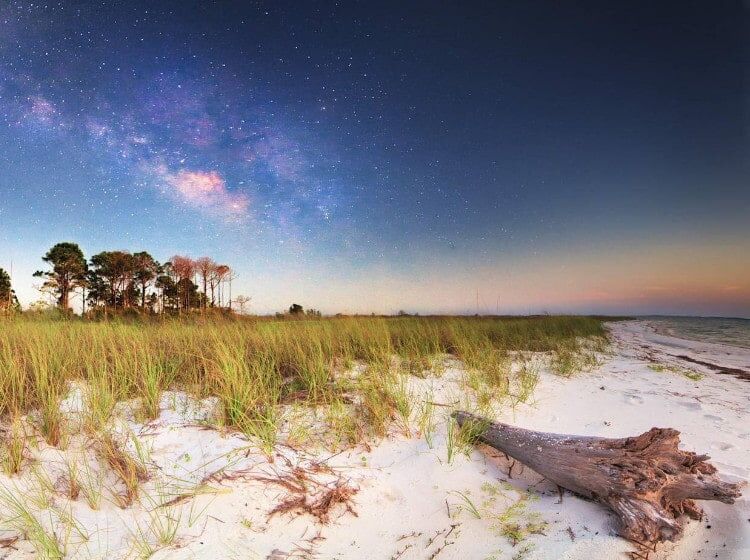 Okay, this one is a fantastic pick. The St. George Island State Park offers some of the best views, spots, and locations available for any avid fan of the Florida oceans. This state park is located on St. George Island, approximately 10 miles southeast of Eastpoint, making it a fantastic location for any looking to vacation in northwestern Florida.
This state park offers over 60 campsites with easy access to the ocean and beach. Because of this, it easily makes its way onto the list of beaches for camping in Florida. This state park also has fantastic locations for kayaking and boating.
---
The West Jupiter Camping & RV Resort is a fantastic location for any vacationers looking for beachside access and camping spots. This resort is located in Jupiter Florida and offers beach access in mere minutes. A pristine and rustic setting for any campers looking for a relaxing time, the West Jupiter Camping Resort is a fantastic choice for beach camping.
It offers a relaxing vibe and experience, meaning that if you're looking for a relaxing and chill beachgoing experience, this camping resort very well may be the one for you. With that being said, it is also located in Jupiter Florida, which means that you won't have to worry about having ease of access – because you're right next to everything you need.
---
The Anastasia State Park has vibrant, sandy-white beaches and a fantastic camping area for any beachgoers looking to vacation a skip and a jump away from their favorite oceans. At a low fee of $8 per vehicle, this is the perfect spot for any vacationing budget. This pristine location offers over 1,600 acres of beaches, sand dunes, and marshes, making it the perfect way to experience the outdoors.
The 139 campsites in this state park are just a stroll from the sandy shores of the beach, making it an ideal place to camp. This state park also offers a plethora of wildlife that inhabits it, making it a great place to view nature at its finest.
---
Camping on the Gulf offers over 200 camping, RV, and cabin spots directly on the Gulf of Mexico, which means it's a great and pristine location for those looking to camp in the more tropical area of Florida.
Camping on the Gulf also offers a pool and hot tub for any vacationers looking to have a nice, relaxing end to their day or simply enjoy a tropical beach experience without having to get their feet dirty.
---
For those avid surfers looking for a new vacationing park, the Sebastian Inlet State Park is the go-to location. This fantastic location is open 24/7 365, which means that no matter when you're trying to access the park, it'll be a great location to vacation. This park boasts both the "First Peak" and the "Monster Hole" for surfers, but that doesn't mean it's just a surfer's paradise.
The park also features campgrounds with beach access and plenty of places to take a relaxing stroll and view the wildlife. This state park also offers campgrounds for both RVs and tent campers, which means that no matter your style the park has a valid option for you.
---
The Gamble Rogers Memorial State Recreation Area is a fantastic 144 recreational area for any beach campers looking for a campground. This recreation area is 18 miles north of Daytona Beach, which provides great access for any vacationers and a pristine beach camping location. This area also offers beach access, and of course was created in honor of Gamble Rogers, which makes it even more interesting due to the local legends.
This park is open between 8 A.M. and sundown every day, including holidays, which makes it a perfect vacationing spot, sun, shine, or holiday.
---
Located between Panama City Beach and Destin, Grayton Beach State Park is an ideal camping and beach location for any of those looking to vacation in Florida near the Destin or Panama areas.
This massive park is 2,200 acres and offers cabin rentals as well as beach access. Many of the campgrounds in this state park offer beachside access, which means it's a fantastic location for any beachgoers, no matter if they want to camp in an RV, or tent, or even rent a cabin. There's no wonder that Grayton Beach State Park is one of the most popular parks in the state of Florida! Grayton Beach offers some of the most pristine locations in Florida, but it is a much busier location than many of the other beaches on this list.
Find Your Own
Remember, though, that ultimately your camping on Florida beaches experience is based on your own imagination. You can find any beach you want, you just have to search for it. No matter what beachside camping experience you're looking for – whether you're a surf enthusiast, a wildlife connoisseur or you just want a relaxing beachside chair – you'll be able to find it if you just outlook.
Summing It Up
Well, that's it for the 10 best beaches for camping in Florida. Remember that these beaches are some of the best options for almost any reason and camping type – no matter if you're going RV camping, tent camping, or want to rent a cabin. These beaches are great for camping enthusiasts, but there are so many more options no matter what you're looking for.
If you're looking for a popular beach, there are beaches on this list that fit this option. Or maybe you're looking for a secluded option – well, there are beaches on this list that fit that too. The options are basically unlimited, and no matter if you're looking for surf spots, sightseeing areas, or wildlife-watching viewpoints, one of these 10 best beaches for camping in Florida is sure to fit your taste.