The honeymoon is the most memorable trip for newlyweds. To celebrate the beginning of your marriage, you should visit one of the world's finest all-inclusive resorts. Finding the ideal place to spend your honeymoon among all the possibilities might be challenging. But don't worry! We've included a few of the best honeymoon all-inclusive resorts in the world for you and your new spouse to explore.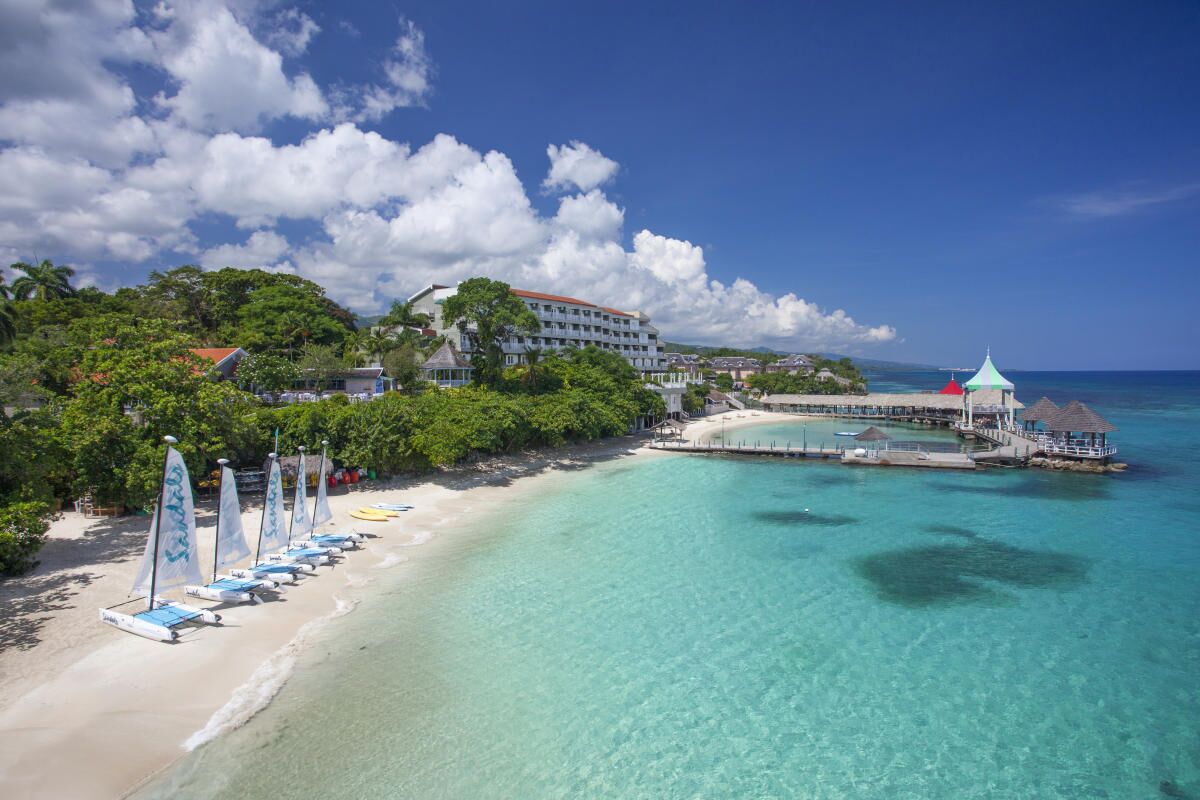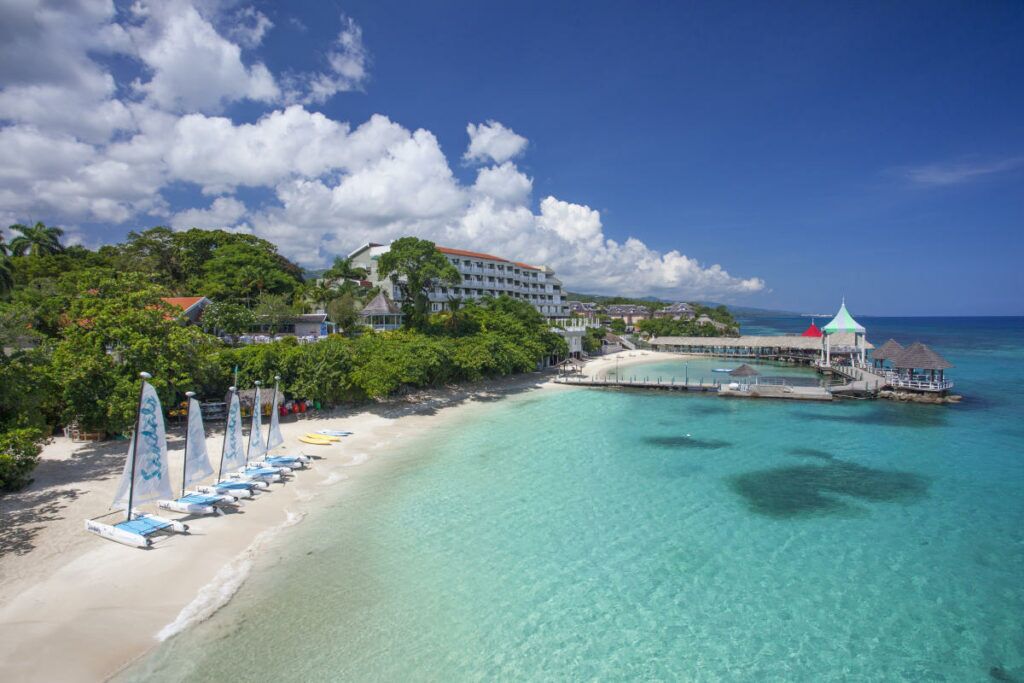 Sandals Ochi, located in picturesque Ocho Rios, Jamaica, is a favorite among honeymooners. Not only is it one of the most reasonably priced Sandals resorts, but it also has some of the best reviews. Moreover, it is among the best honeymoon all-inclusive resorts for many tourists.
The area is divided by a road: the Riviera Coastal Village and the Ochi Beach Club. The Great House and All-Butler Riviera Villas are further back in the gardens. Both feature complimentary 24-hour white-glove butler service.
A personal butler takes the luxury and pampering provided in a Butler-level room to a whole new level. There is a sauna and a steam room for your use. Afterward, choose from various services, such as a couple's massage on the sand. Modern cardio equipment and group exercise classes can be found at the fitness center.
Sandals Ochi is known for its seven pools and proximity to the beach. To enjoy some of the all-inclusive booze, head to the busy main pool with a swim-up bar, water fountains, and a ring of lounge chairs. You can choose from one of Sandals Ochi's 16 restaurants for a fine dining experience anywhere on the resort's grounds. All meals are included in the regular rate, and no hidden fees or surcharges exist.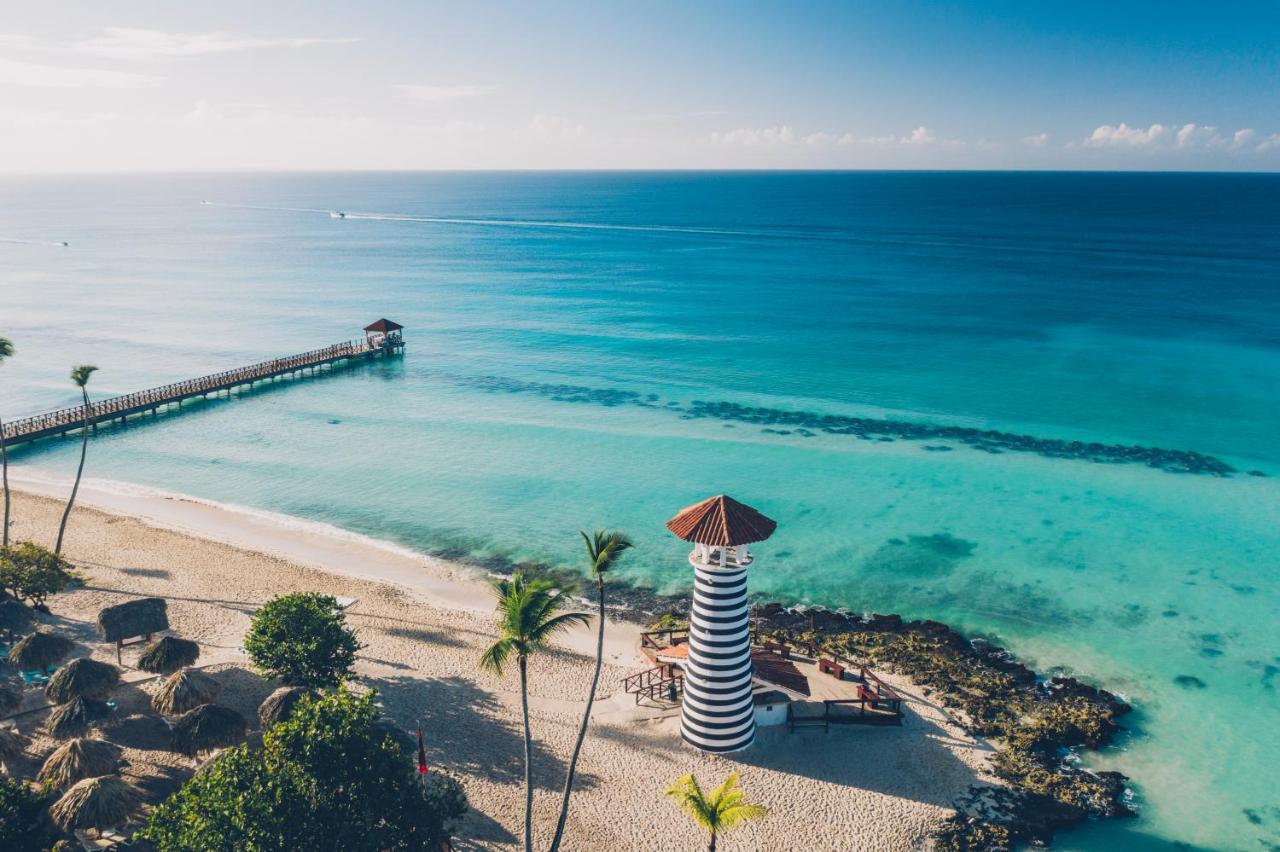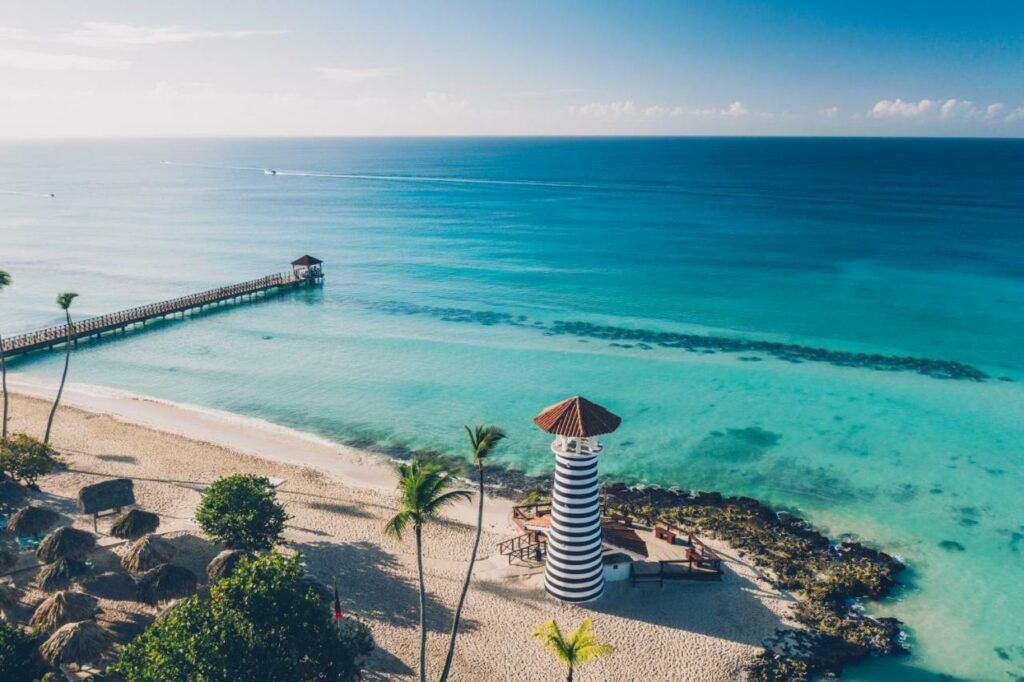 Bayahibe is a picturesque fishing community known for its beautiful beaches, lush landscape, and abundant marine life. Visitors can take photos at Iberostar Selection Hacienda Dominicus that seem like postcards, thanks to the picturesque beach and landmark lighthouse.
Couples can find fun activities for honeymooning at this 5-star resort with colonial architecture and beautiful grounds. You can reach Dominicus Beach at 1.4 kilometers and Saona Island at 2.3 kilometers from the Iberostar Hacienda Dominicus.
In addition, this resort also exemplifies Iberostar's Wave of Change campaign, which aims to preserve the seas around its hotels. The three pillars are reducing single-use plastic, increasing sustainable seafood consumption, and enhancing coastal health.
This is definitely one of the all-inclusive honeymoon destinations for eco-conscious couples.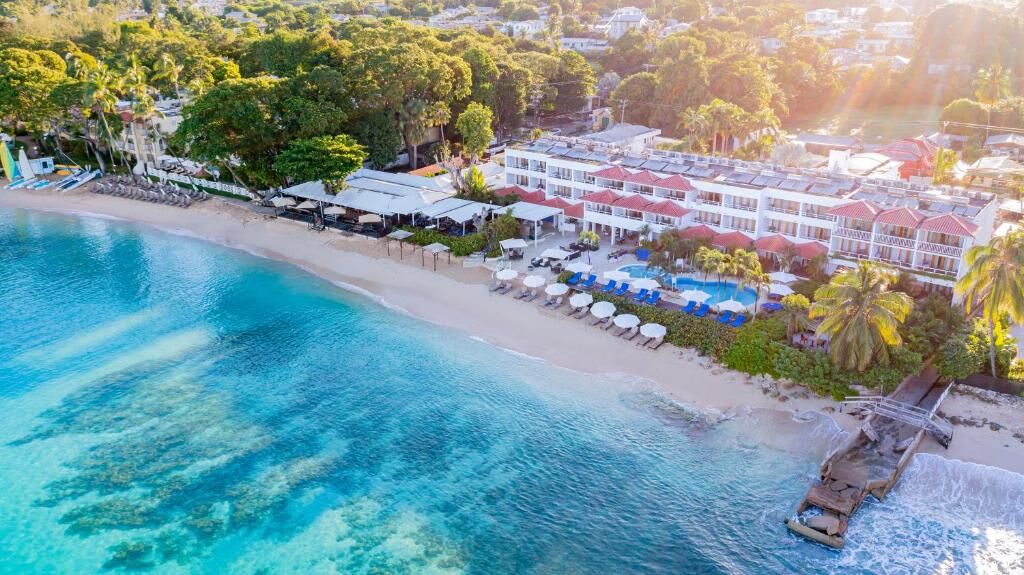 All adult couples are welcome at The House by Elegant Hotels, a St. James, Barbados resort. It is an excellent option for couples seeking a relaxing and romantic getaway. It ranks high among the best honeymoon all-inclusive resorts. This compact boutique resort from All-Inclusive by Marriott will impress with its beachfront location, high-end amenities, personalized service, delectable dining options, excellent spa, and complimentary watersports.
Guests enter the House through a private driveway adorned with lily ponds and walls of blooming bougainvillea, setting the tone for a day of sheer pleasure. In addition to the breathtaking scenery of the Caribbean Sea and the white sand beach, guests are treated to attentive treatment around the clock by a personal ambassador.
A champagne breakfast, 30-minute jet lag massage, afternoon tea, and evening canapés are all included in every stay. Moreover, there are daily tailored activities, Wi-Fi, water sports, and the best vantage point for the world's most breathtaking sunsets.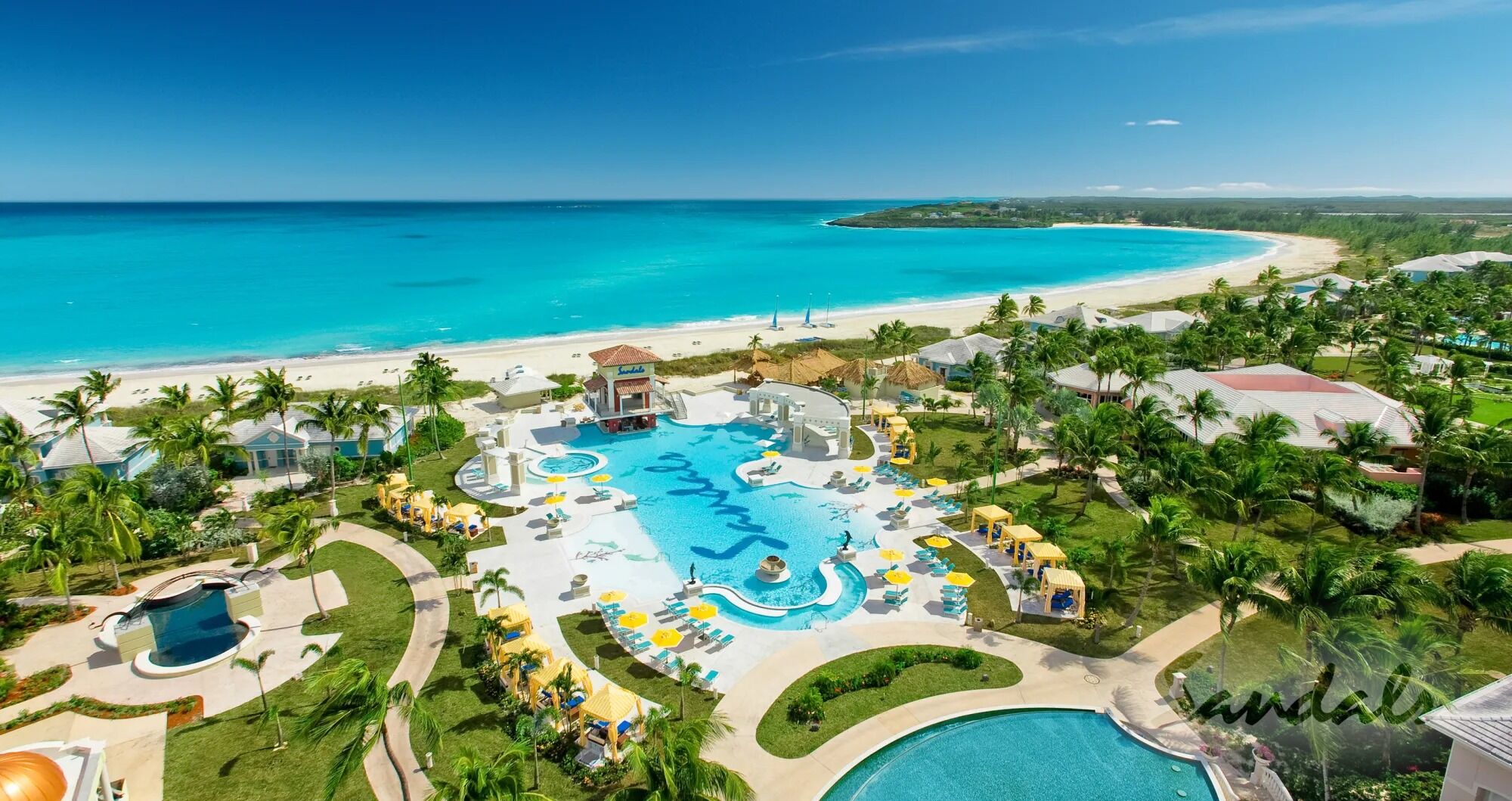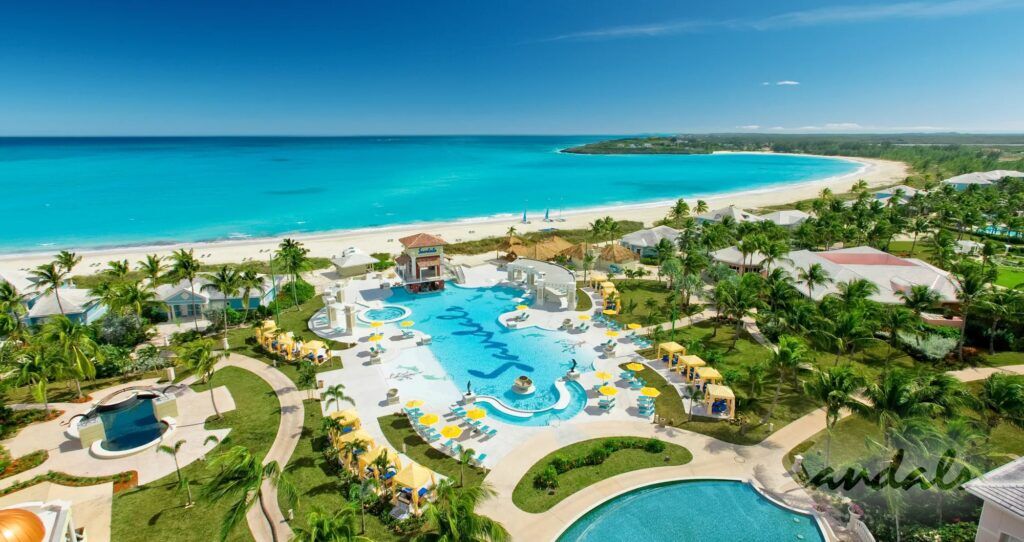 If you're looking for a luxurious place to spend your honeymoon, go no further than Sandals Emerald Bay, a resort in the Great Exuma region of the Bahamas. Take your time and take advantage of the resort's 500 acres of tranquility dedicated solely to couples.
Guests of Sandals Emerald Bay can choose from a wide variety of hotel and suite types spread throughout three significant areas of the resort.
Stay at the Seaside Villas if you wish to be in close proximity to the water. Meanwhile, Ocean Village and Bay House Village are located some distance from the water.
White-glove butler service is available around the clock for all guests at the resort's villas and suites. Everything from transportation to the beach to dinner and drinks will be taken care of by your personal butler. He or she will also give a superb level of service that you will surely appreciate. In addition, the butler may occasionally provide you with a pleasant surprise, such as the ideal cocktail, when you require it.
The blue ocean at Sandals Emerald Bay is as enticing as the beautiful white sand along the beach's length. The resort elevates the splendor of nature to stunning new heights, making it one of the top honeymoon all-inclusive resorts for newlyweds.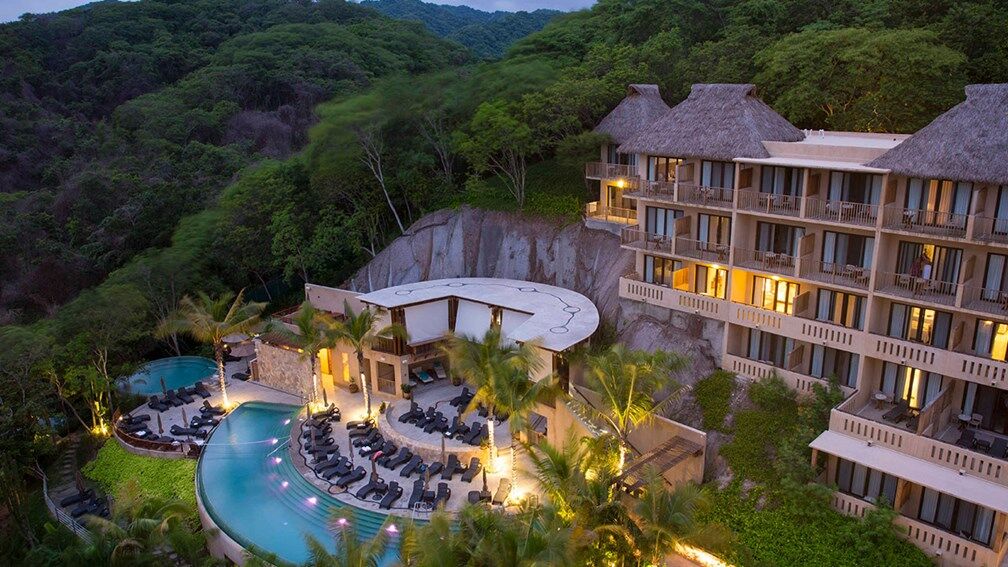 Enjoy a one-of-a-kind getaway amid nature at this All-Inclusive Marriott resort. Among one of the best honeymoon all-inclusive resorts, it has luxurious rooms, gourmet cuisine, and convenient facilities.
This resort has first-rate rooms and facilities, so you and your loved one can comfortably relax. The romantic atmosphere would be enhanced by waking up to majestic mountains. Moreover, the resort's rain showers are ideal for taking long, soothing showers with your spouse.
The Tzicuri Spa offers a 50-minute couple's massage accompanied by sparkling champagne, chocolate-covered strawberries, and canapés.
In addition, the resort's lobby serves both light fare and upscale fare, such as specialty drinks and hors d'oeuvres, throughout the day and night.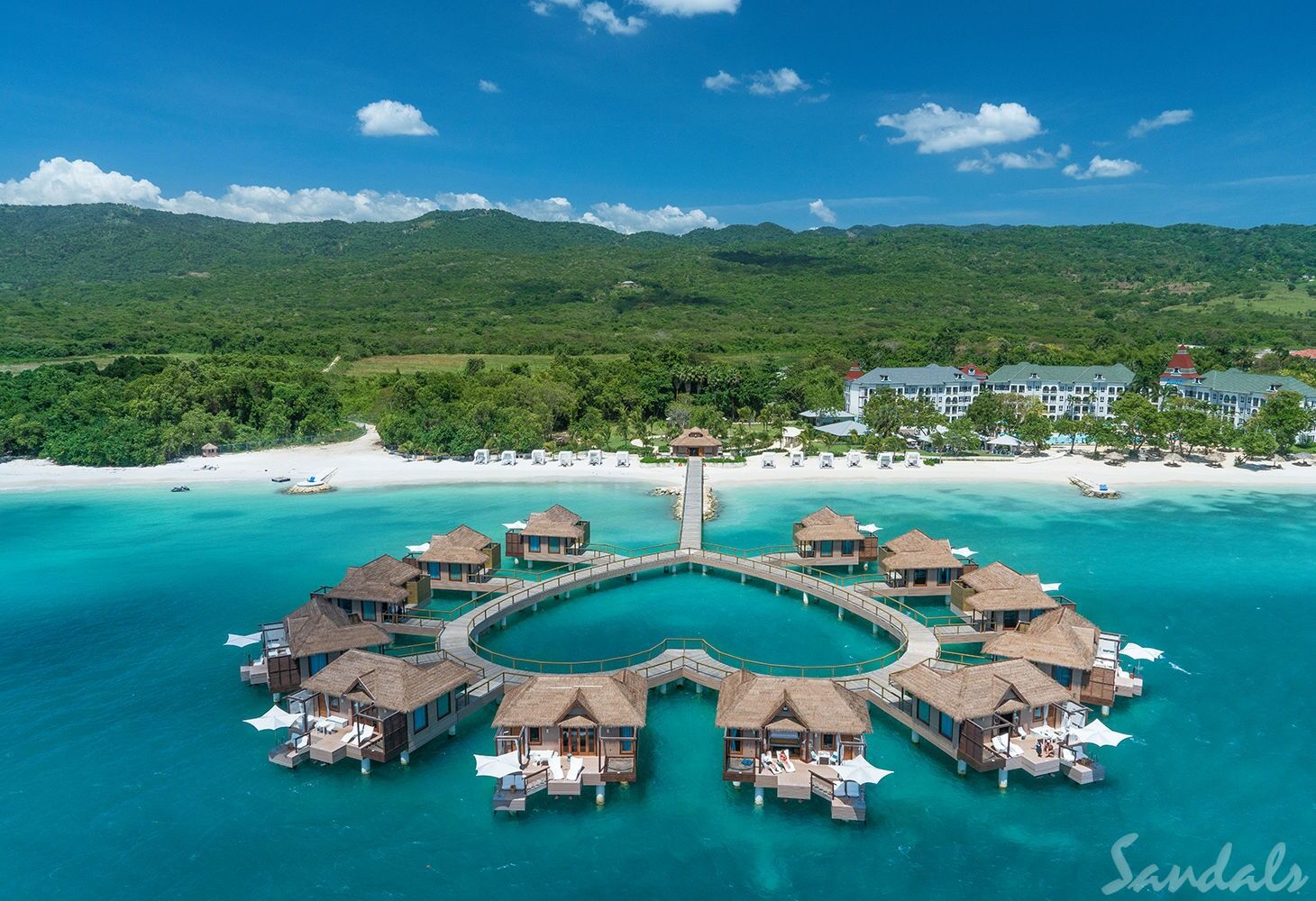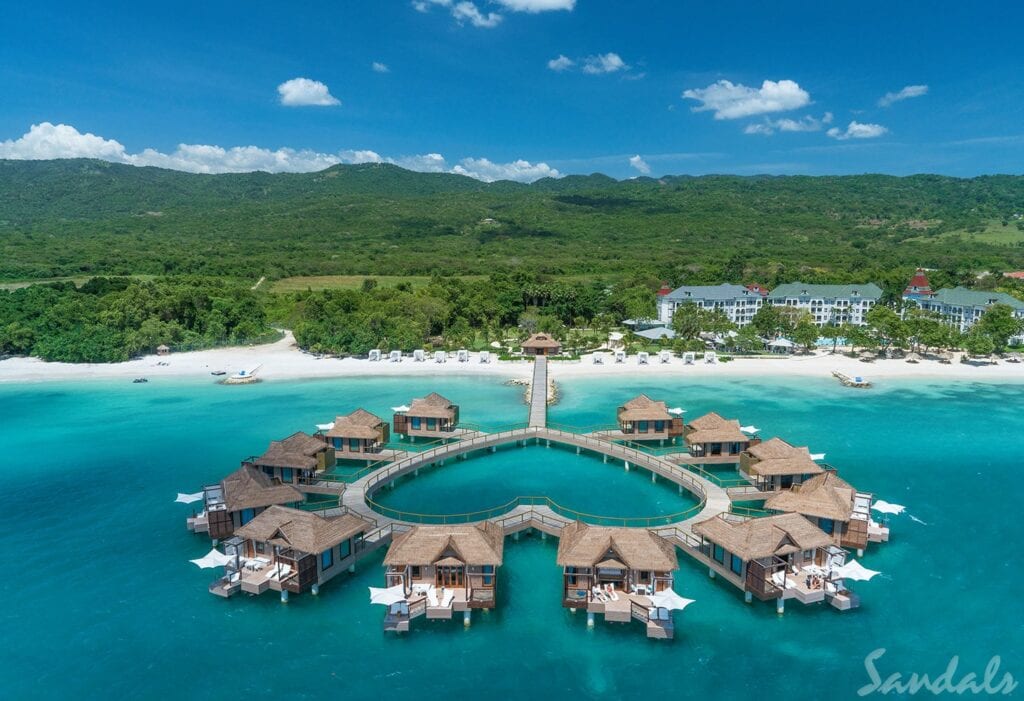 Located in southern Jamaica, Sandals South Coast was once known as Whitehouse European Village & Spa. It shares the same beautiful beaches as the other Sandals resorts and the charming European beachside communities with which it shares a 500-acre nature reserve. Going here is equivalent to a honeymoon in several beautiful European destinations while staying at Sandals South Coast in Jamaica. No wonder it's one of the best honeymoon all-inclusive resorts.
Sandals South Coast is close to Whitehouse, but its location within the wildlife preserve ensures it remains private and isolated. Astonishingly, all the rooms provide stunning ocean views and are equipped with high-end conveniences. You may choose a butler suite for the ultimate in pampering from a personal butler who will attend to your every whim with white gloves.
Various room types are available at Sandals South Coast, including a few in floating bungalows. Despite its remote setting, Sandals South Coast offers various land and sea pursuits, such as relaxing beach massage.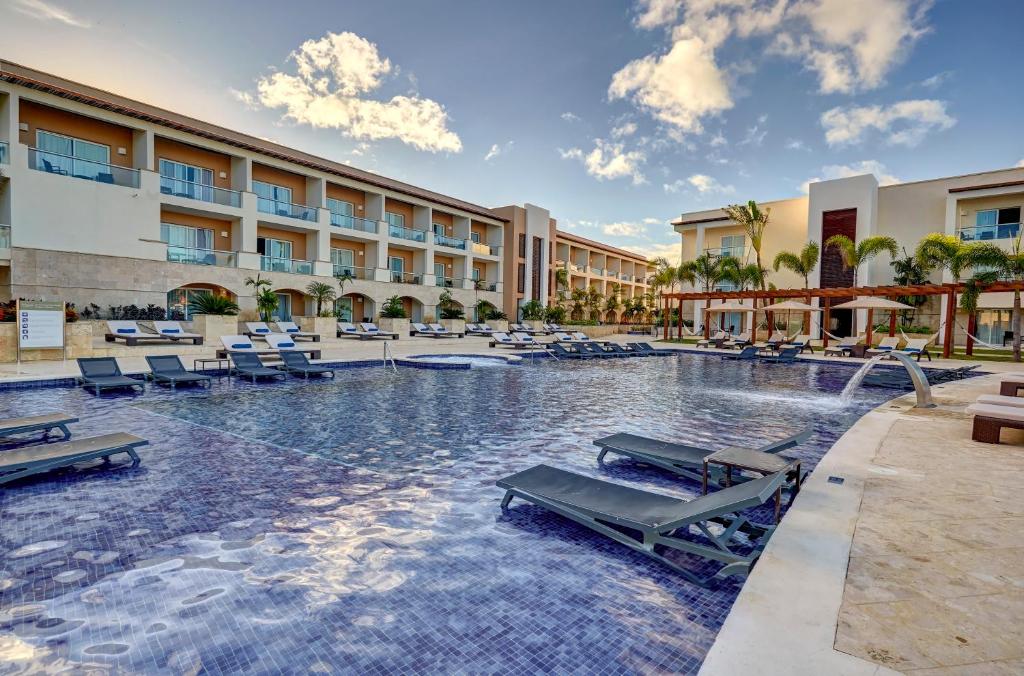 At one of the Caribbean's trendiest spots, you'll find Hideaway at Royalton Punta Cana. It is an adults-only boutique resort within the larger Royalton Punta Cana resort. The resort is also considered one of the popular honeymoon all-inclusive resorts.
Hideaway's contemporary rooms provide the ideal backdrop for a relaxing beach vacation. The one hundred sixty-eight rooms are outfitted with unique DreamBed and thoughtful extras. Moreover, the resort has an international buffet, distinctive culinary experience, and à la carte restaurants will surely please any foodie's discerning taste buds.
The resort's reception room, private stretch of beach, inside the lounge, hidden pool, seafood restaurant, and beach bar provide guests the utmost tranquility, style, and privacy.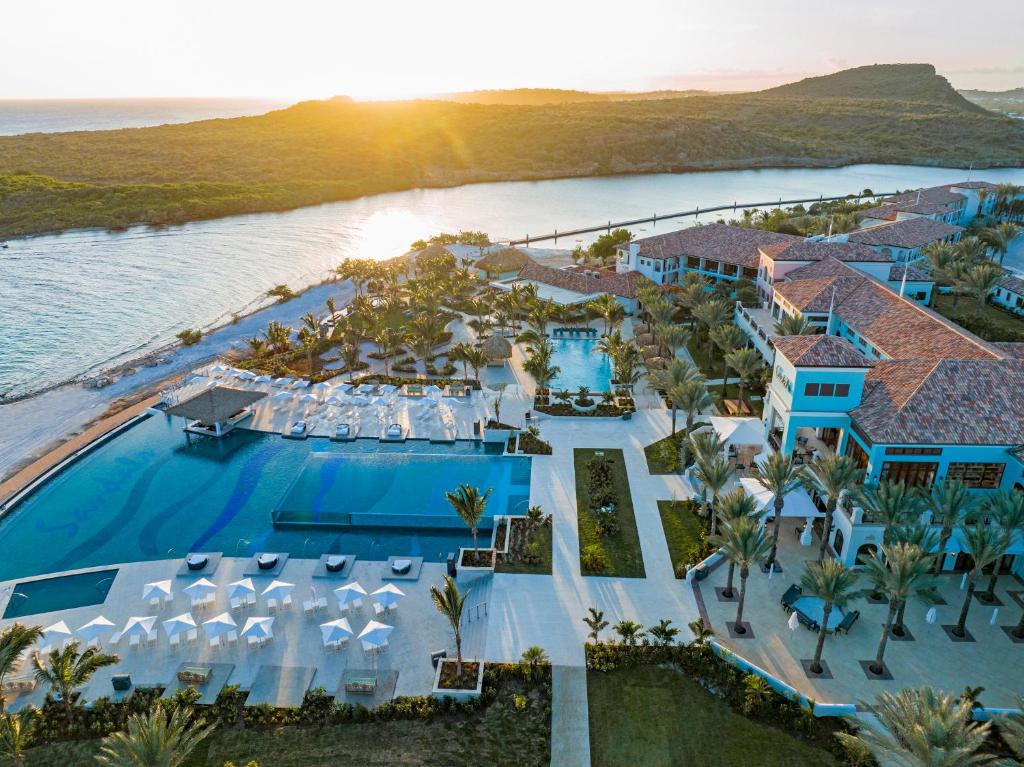 Located in the archipelago of the Leeward Antilles, this all-inclusive resort offers a unique blend of cultural and natural attractions.
Walking hand in hand on the soft sands of the beach will give a unique touch of romance to your honeymoon. The ocean softly meets the desert-like environment, inviting swimmers and divers.
You may use the resort's big pool after a day at the beach. Moreover, you can look at the city's skyline as it approaches the point where Tafelberg Mountain ends. While staying here, you can explore new heights and take in breathtaking vistas while you indulge your sense of adventure. This is one of the best honeymoon all inclusive resorts if you like picturesque views.
The resort itself covers 44 acres, with the surrounding property covering a total of 3,000. Guests can rent a Dutch bike and ride it around the entire property. To get around Curacao, you can also reserve a MINI Cooper.
There are three food trucks in addition to the eight restaurants. Plus, you have access to 13 bars total, including a swim-up bar, and all of them offer free refills of premium liquors.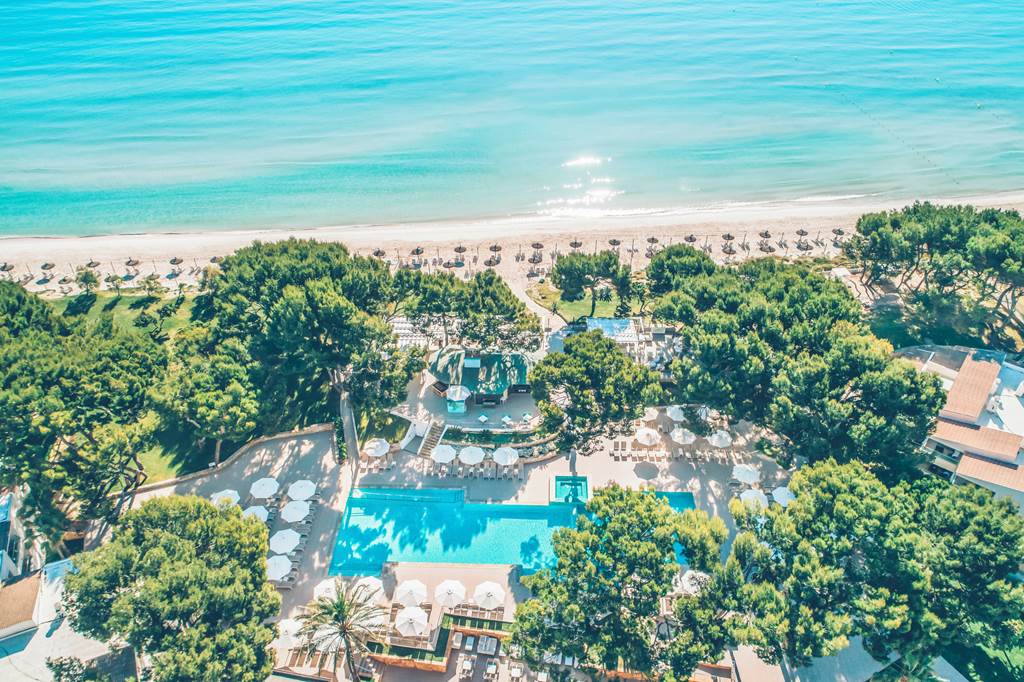 Beach de Muro is a slice of heaven right here on Earth. When asked, tourists ranked the beach among Spain's top three beaches.
Consistent with the area's high standards and conveniently close to the award-winning beach, the Iberostar Selection Playa de Muro Village is an excellent choice for couples seeking an all-inclusive honeymoon resort.
From the superior double rooms to the suites, the Beach de Muro Village hotel provides abundant exquisite settings for rest and relaxation, including a pillow menu with a wide range of options. Moreover, guests in search of tranquility will find it at SPA Sensations.
In addition, guests can enjoy direct access to Beach de Muro, five restaurants, three bars, a chill-out zone, entertainment, and outdoor pools. There is also free premium Wi-Fi, a brand-new fitness center, tennis courts, and the most extensive facilities for cyclists in the area (with a capacity for up to 1,200 bicycles).
Iberostar Selection Playa de Muro is also a green resort, so it's the perfect honeymoon all-inclusive resort for couples who values sustainability. It also participates in the wave of change program.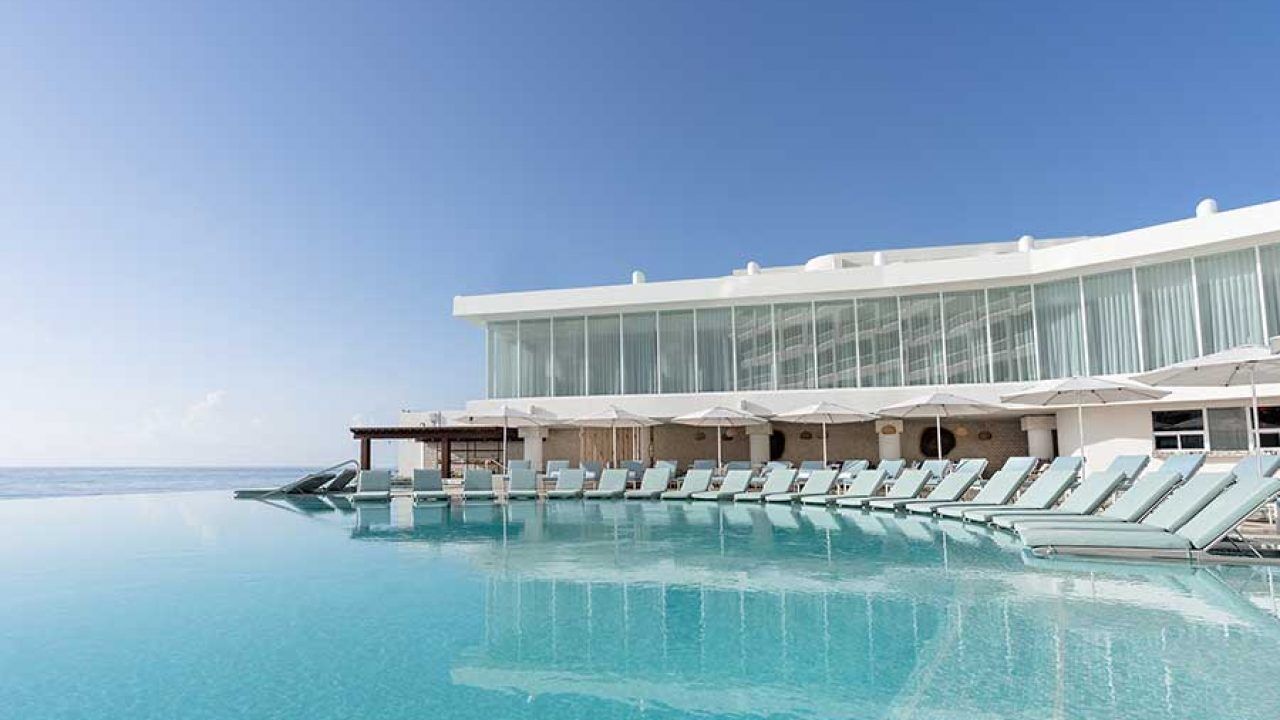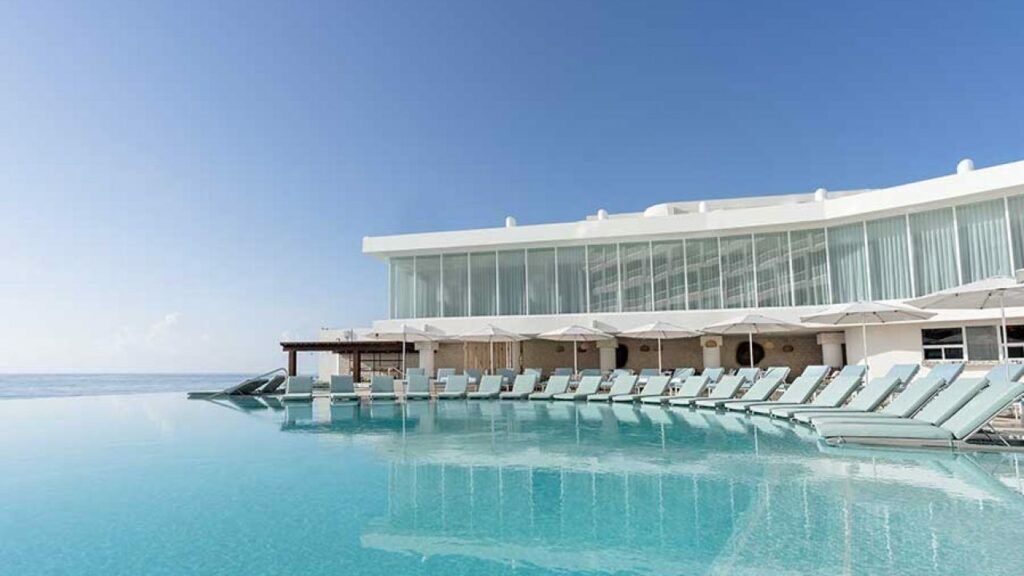 Sun Palace is the premier adults-only resort in Cancun. It's one of the perfect honeymoon all-inclusive resorts for couples seeking a tranquil escape from the hustle and bustle of daily life.
This romantic haven looks out over the azure waters of the Caribbean. In addition, the resort is only about 15 minutes from the airport and offers first-rate service and facilities.
In the heart of Cancun's Hotel Zone, this resort features various romantic pursuits for vacationing couples. You may take romantic strolls down the beach. Furthermore, if you want to get your blood pumping, the Sun Palace also has a fitness facility and a spa where you can have rejuvenating treatments (for a cost).
After unwinding on a chaise lounge, dive into one of the resort's infinity pools. Guests love the Sun Palace for its many conveniences and the delicious options at its many eateries. After dinner, you may go to one of the resort's spacious suites or rooms, complete with whirlpool tubs for two, stocked minibars, free Wi-Fi, and LCD TVs.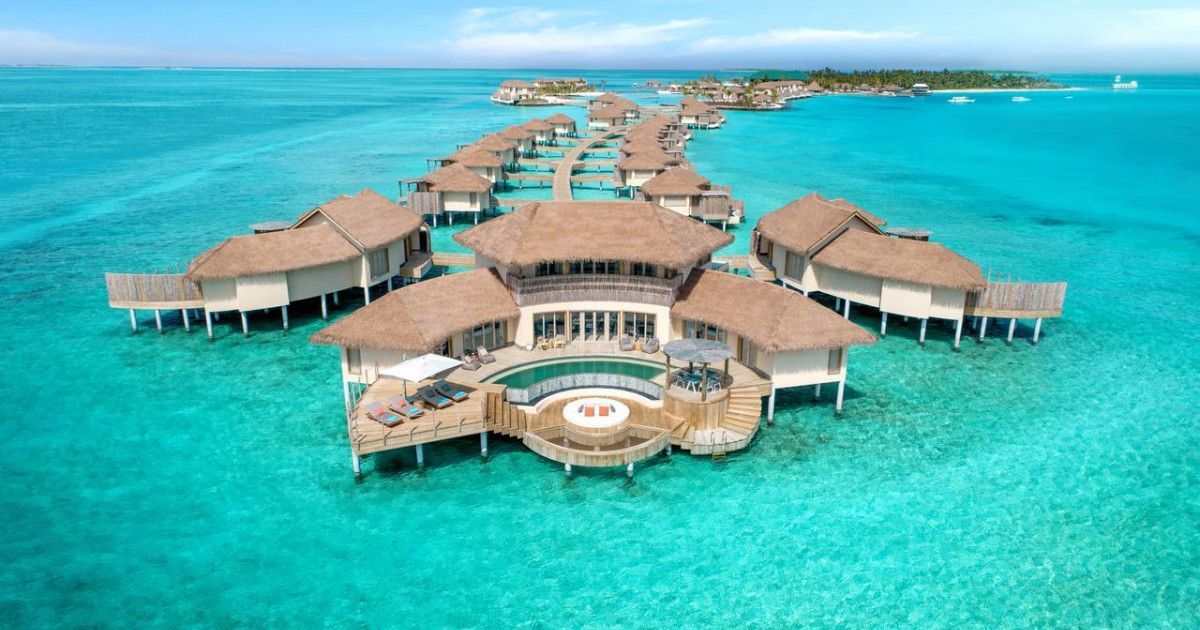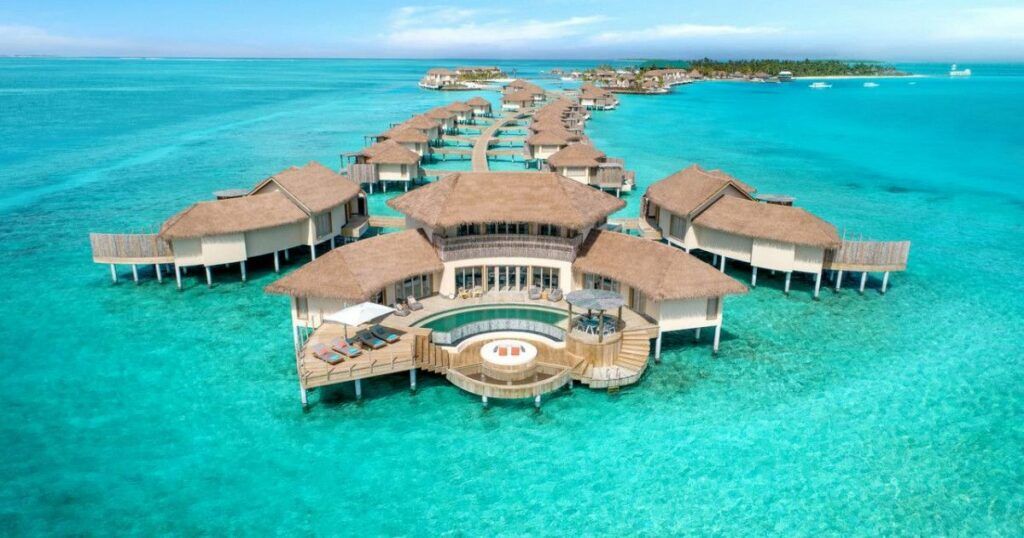 Located on the outskirts of the Raa Atoll, the Intercontinental Maamunagau is a modern resort with a vast setting and trendy interiors. It boasts services that will surely please couples seeking a romantic honeymoon all-inclusive resort. Stunning coastlines and water views surround the area.
This is one of the best all-inclusive resorts you might choose if you and your spouse are hoping to get away and reconnect with nature on your honeymoon. The entire time you're here, you may gaze out into the azure waters of the Indian Ocean.
Moreover, surrounded by abundant marine life and a one-of-a-kind manta ray sanctuary, the five-star resort provides all guests access to Club InterContinental.
Additionally, you may book snorkeling and diving tours to the Raa Atoll's beautiful reefs through the watersports center, supervised by marine biologists. Any watersports that don't include motors, like windsurfing, kayaking, and stand-up paddling, are free of charge. Plus, you may play with water equipment like jet skis, sea doos, and water skis without spending a dime. There are also free yoga classes to end your day.
Final Thoughts
Honeymooners can pick from a wide variety of amazing destinations. Plan ahead with your partner and check out some of the top honeymoon all-inclusive resorts for you two!