Are you looking for the perfect Caribbean getaway? Look no further than Sandals Grande St. Lucian. This comprehensive Sandals Grande St. Lucian review will provide all the information you need to plan your dream vacation, from accommodations and activities to location and cost. Get ready for a luxurious stay with plenty of options in this tropical paradise – it's time to start planning your trip today. Check out the best Sandals Resorts ranked here as well.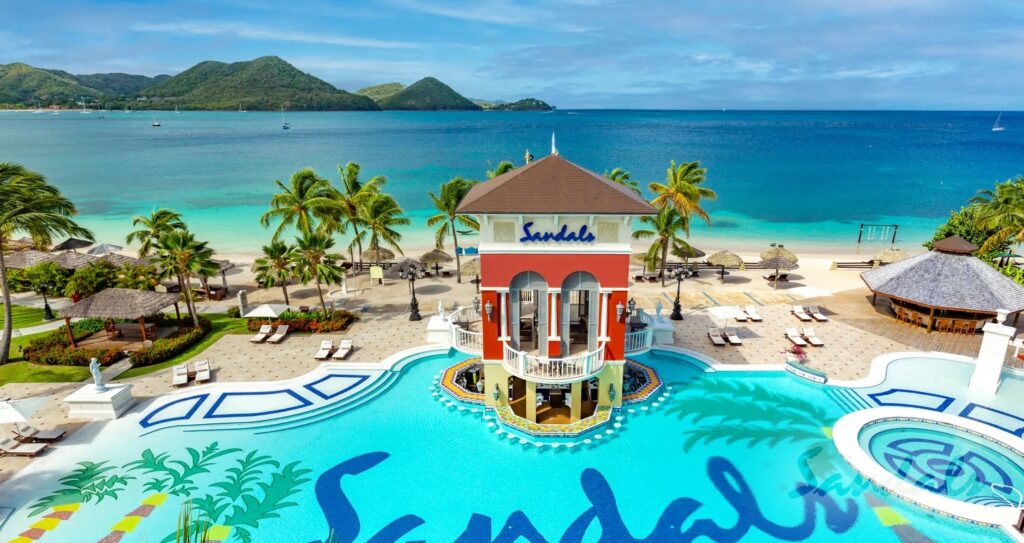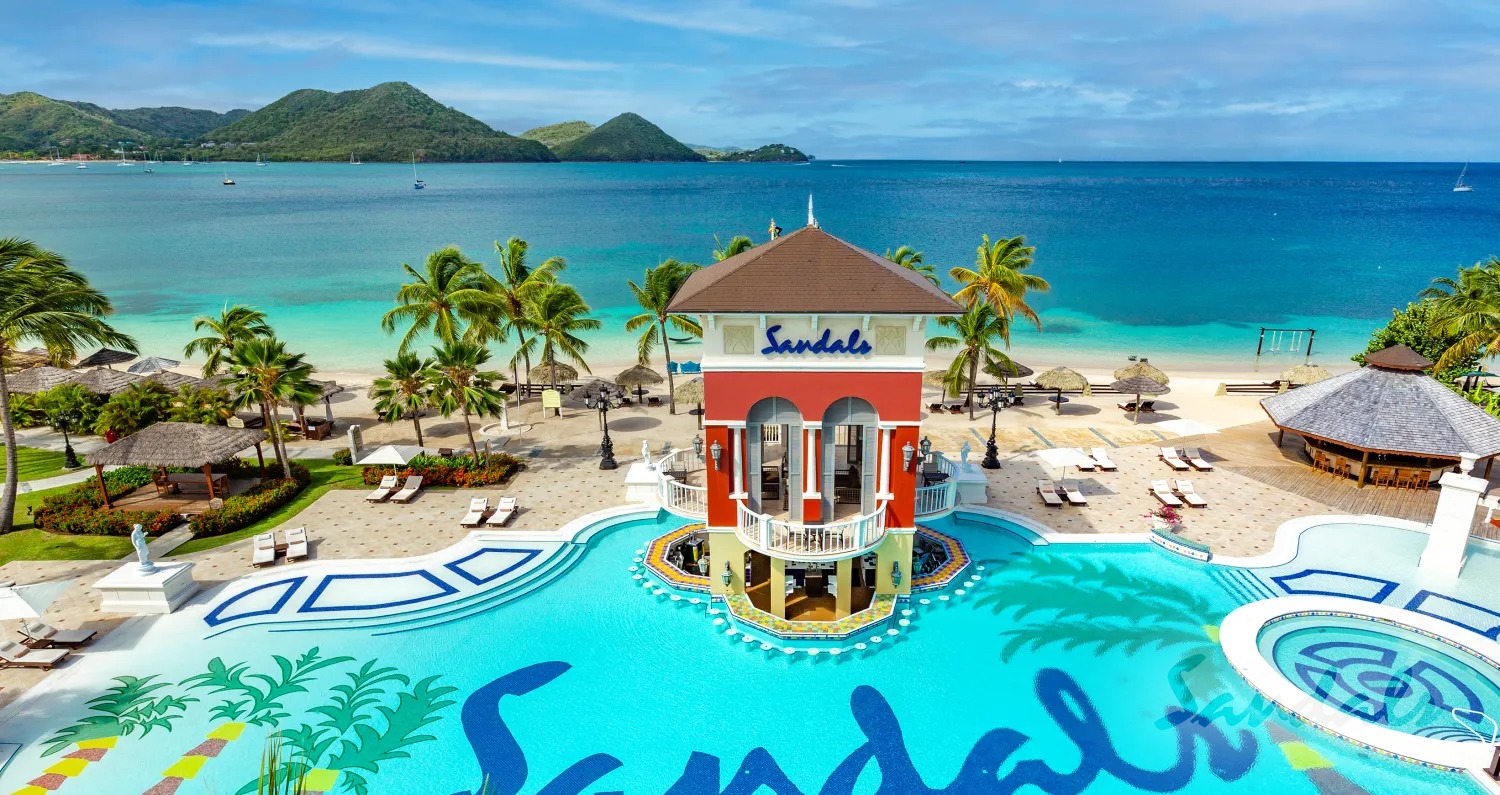 Accommodations
Sandals Grande St. Lucian is the perfect place for a luxurious Caribbean getaway. With its stunning beaches, lush green mountains and tropical rainforests, it's no wonder why this resort has become one of the most sought-after destinations in the world. From its luxurious accommodations to its fine dining options, Sandals Grande St. Lucian offers something for everyone looking to experience paradise on earth.
Accommodations:
The resort features two distinct types of rooms – Butler Suites and Luxury Rooms – each with their own unique amenities that are sure to make your stay unforgettable. The Butler Suites offer extra service with private butler service available 24/7 while Luxury Rooms provide guests with more traditional hotel services like daily housekeeping and room service. Both room types are supplied with contemporary furnishings and decoration, plus Wi-Fi coverage throughout the resort so you can stay connected without any roaming or data worries during your holiday.
Activities:
Whether you're looking for relaxation or adventure, there's something here for everyone at Sandals Grande St. Lucian. Spend some time lounging by one of three swimming pools or take part in any number of activities offered such as snorkeling trips off shore, a visit to Tet Paul Nature Trail, or even a Soufriere Adventure Cruise where you can explore Saint Lucia's majestic coastline up close. For those who want an even more exclusive experience, Red Lane Spa offers treatments ranging from massages and facials to body wraps and manicures all designed to help you unwind after a long day exploring the island's many attractions.
Dining:
With seven restaurants located around the property offering everything from classic Italian cuisine at Bella Napoli Trattoria Pizzeria to fresh seafood dishes served at Barefoot by the Sea Beach Bar & Grill, there's no shortage of delicious meals waiting steps away from your room door. If you prefer something lighter during lunchtime try Dine Barefoot which serves up salads made using local produce sourced straight from Saint Lucia's farms or grab some snacks at Robert Mondavi Wines before heading out on an excursion around town. And don't forget about shopping either – pick up souvenirs from our Gift Shop before heading back home after your stay here in paradise.
The accommodations at Sandals Grande St. Lucian are luxurious and comfortable, making it the perfect place to relax after a day of exploring. With so many activities in this stunning resort, you will surely have an unforgettable vacation experience.
In Summary: Sandals Grande St. Lucian is a luxurious Caribbean destination that offers something for everyone, from private butler service and modern accommodations to an array of activities such as snorkeling trips off shore or spa treatments at Red Lane Spa. The resort also features seven on-site restaurants serving up delicious meals ranging from classic Italian cuisine to fresh seafood dishes.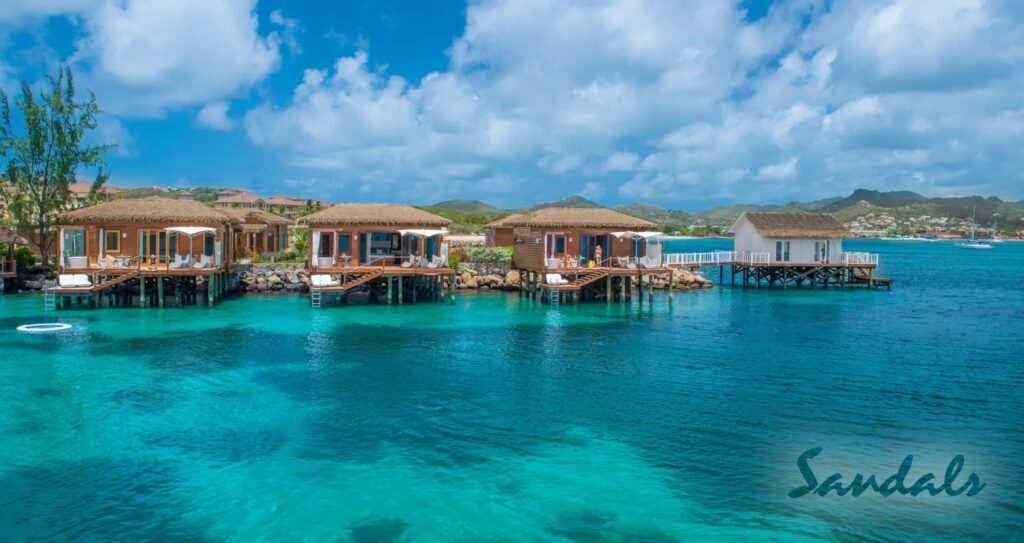 Activities
Sandals Grande St. Lucian offers a variety of activities and amenities for its guests to enjoy during their stay. From golfing at the Sandals Regency La Toc Golf Course, which is ranked as one of the best in the Caribbean, to relaxing spa treatments at Red Lane Spa, there's something for everyone here.
For those looking for an outdoor adventure, Tet Paul Nature Trail is just a few miles away from the resort and offers stunning views of Saint Lucia's lush tropical rainforest. Guests can also take part in Soufriere Adventure Cruise or go on a scuba diving excursion with certified PADI instructors from Sandals Resorts.
If you're looking for more relaxed activities while on vacation, you'll find plenty of options at Sandals Grande St Lucian too. Take advantage of all-inclusive dining experiences like Dine Barefoot where you can savor delicious cuisine made with fresh ingredients sourced locally and paired with Robert Mondavi wines. Or book yourself into one of their luxurious Butler Suites and enjoy private access to your own pool area and exclusive services like room service delivery right to your door. And don't forget about shopping – there's a gift shop full of souvenirs perfect for taking home as reminders of your time spent here.
From beachside lounging to nightlife entertainment, there is something special waiting around every corner at Sandals Grande St Lucian – it is no wonder why this all-inclusive resort is so popular among travelers visiting Saint Lucia's Gros Islet or Vieux Fort areas.
Activities at Sandals Grande St. Lucian offer something for everyone, from beach lounging to watersports and nightly entertainment. Moving on to the location of this resort, it is conveniently situated in a picturesque Caribbean setting with stunning views of both mountains and ocean.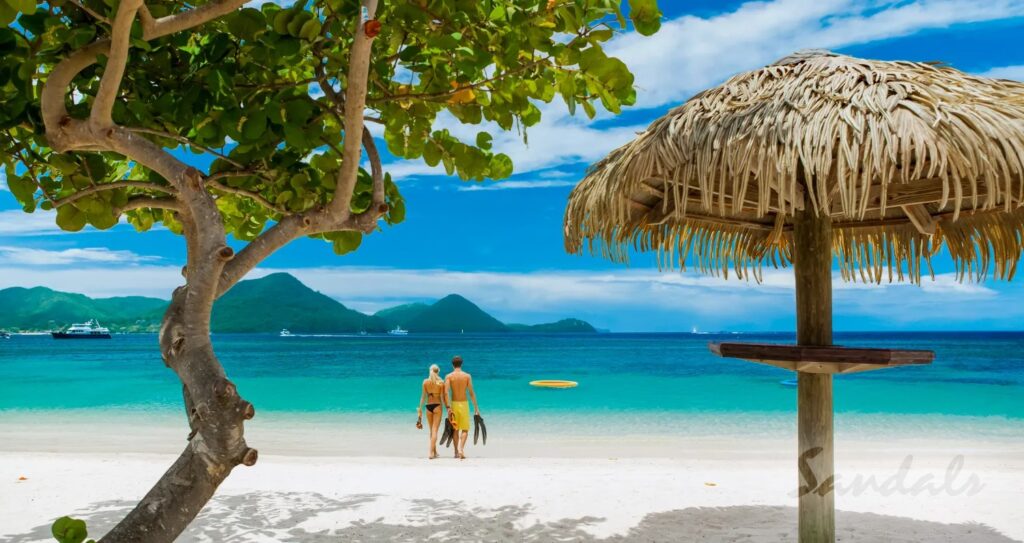 Location
Sandals Grande St. Lucian is a luxurious all-inclusive resort located on the northwest coast of Saint Lucia, one of the most beautiful Caribbean islands. Situated between two bays with breathtaking views and stunning sunsets, Sandals Grande St. Lucian offers guests an unforgettable experience from start to finish.
The resort is conveniently located near some of Saint Lucia's best attractions such as Gros Islet and Soufriere Adventure Cruise, Dine Barefoot at Grand St., Robert Mondavi Wines and Butler Suites for those who wish to indulge in luxury living while enjoying their vacation. Guests can also enjoy a variety of activities including golfing at Sandals Regency La Toc or Halcyon Beach; hiking along Tet Paul Nature Trail; visiting Sulphur Springs; shopping in the gift shop; relaxing at Red Lane Spa; or simply lounging by the pool or beach with a good book.
For those looking for more adventure, plenty of options are available too – from snorkeling off shore reefs to exploring Vieux Fort and its many cultural sites, you'll never be bored. If you're seeking something special to experience in Saint Lucia, look no further – the island offers plenty of thrilling activities. From zip-lining through rainforest canopies to scuba diving among coral gardens teeming with marine life – this island paradise will leave you wanting more.
No matter what kind of traveler you are – whether it's relaxation or adventure that brings you here – Sandals Grande St. Lucian promises an unforgettable experience with fun and surprises around every corner.
The location at Sandals Grande St. Lucian is perfect for travelers looking to explore the Caribbean's beauty and culture, as it offers a variety of activities within close proximity. With that in mind, let us now take a look at the average cost associated with staying here so you can plan your budget accordingly.
In Summary: Lucian offers guests an opportunity to experience the best of Saint Lucia with a variety of activities and attractions from golfing, hiking, shopping and spa treatments to snorkeling, zip lining and scuba diving; making it a perfect vacation destination for those seeking relaxation or adventure.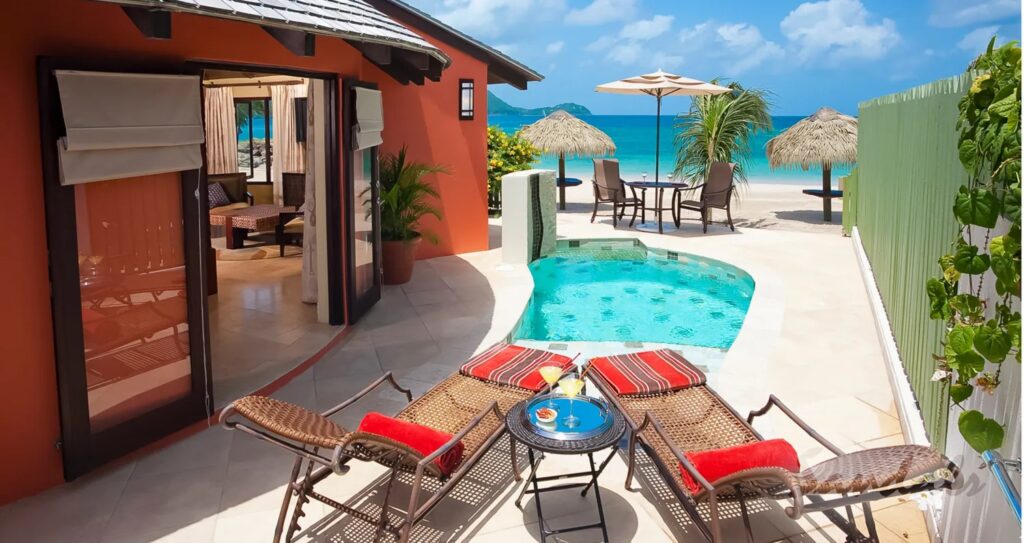 FAQs in Relation to Lucian Review
Which Sandals Resort is the highest rated?
The highest rated Sandals Resort is the Sandals Royal Caribbean in Montego Bay, Jamaica. This resort offers luxury accommodations and amenities such as a private offshore island, over-the-water bungalows with glass floors, five pools including an infinity pool overlooking the ocean, 10 restaurants offering gourmet cuisine from around the world, and numerous activities for all ages. With its impeccable service and unbeatable views of crystal clear waters it's no wonder why this resort has earned top ratings from travelers across the globe.
Are Sandals resorts safe in St. Lucia?
Yes, Sandals resorts in St. Lucia are safe for travelers. The resort chain employs trained personnel to maintain a secure environment and ensure the safety of guests, as well as taking additional measures such as regular health checks for staff and frequent sanitization of public areas. They also take extra precautions such as regular health checks for staff members and frequent sanitization of public areas to prevent any potential spread of disease or illness among visitors. Furthermore, their comprehensive insurance coverage provides peace of mind should an emergency occur while on vacation at one of their properties in St. Lucia.
How much do Sandals St. Lucia employees make?
Sandals St. Lucia employees make an average of $7.25 per hour, with the potential to earn up to $10.50 for more experienced and specialized roles. Staff members who qualify may receive benefits, such as health coverage, vacation allowance and retirement savings plans depending on their job role and time of employment at the resort.
How far is Sandals Grande St Lucian from airport?
The Sandals Grande St Lucian is located approximately 45 minutes away from the Hewanorra International Airport. Perched on a promontory overlooking both the Rodney Bay and Caribbean Sea, the Sandals Grande St Lucian offers magnificent views of land and sea. The drive to the resort from the airport takes travelers through lush tropical rainforest and picturesque beaches, making it an enjoyable journey for all who visit.
Conclusion
Lucian is a great destination for those looking to experience an unforgettable vacation. From the luxurious accommodations and activities available on-site to its convenient location near many attractions, there's something here for everyone. Plus, with competitive prices that won't break your budget, you can rest assured that this sandals grande st lucian review will be one of the best investments you make in travel.
Plan your perfect trip to Lucian with WanderBrief's expert advice and travel tips. Make the most of your vacation by taking advantage of our personalized planning services today!