Are you looking for a luxurious Caribbean getaway? Look no further than Sandals Negril in Jamaica. This comprehensive Sandals Negril review will provide all the details of what this resort has to offer, from accommodations and amenities to activities and average cost. For a romantic getaway or an exciting journey, Sandals Negril has something for everyone. With its stunning beachfront location, vibrant culture and plethora of options, let us help make your dream vacation come true with our detailed analysis of Sandals Negril. Take a look at our review of the best Sandals resorts as well.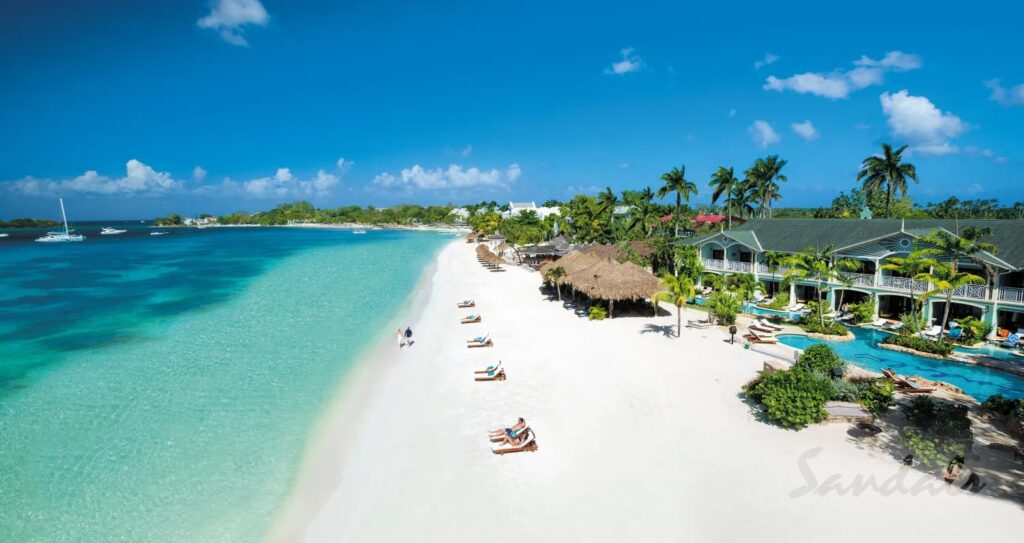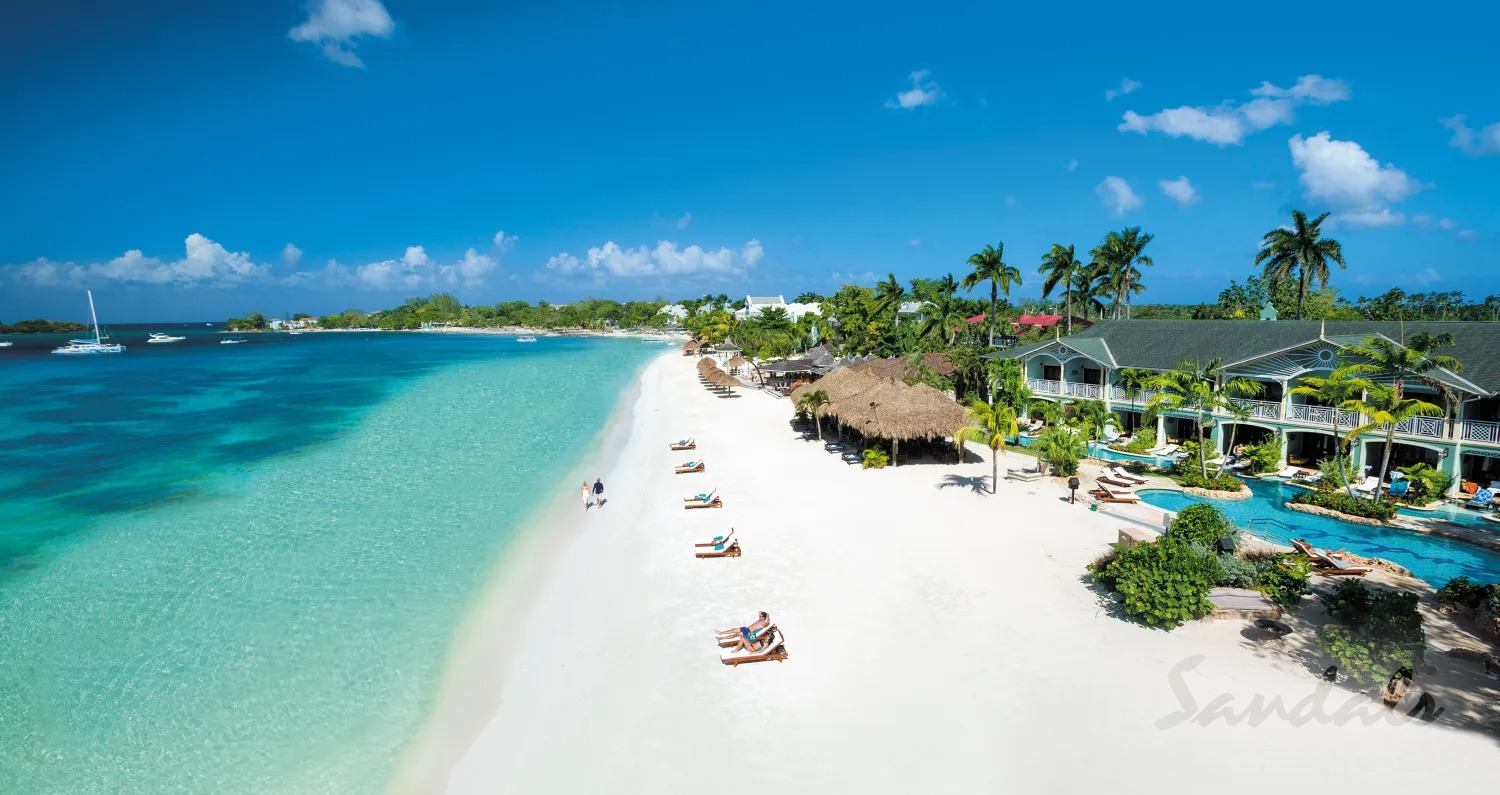 Accommodations
Sandals Negril is the perfect destination for a Caribbean getaway. With an array of accommodation options, you'll find something to suit every taste and budget. From luxurious suites with butler service to beachfront villas with private plunge pools, Sandals Negril has it all.
For those looking for luxury, there are several Butler Elite Suites that come complete with their own personal "Good Hands" Butler who will attend to your every need. These suites also feature white-gloved elegance and modern amenities like high-end bedding and flat screen TVs.
If you want to stay close to the beach, opt for one of the Swim-Up Suites or Beachfront Villas which offer direct access to the crystal clear waters of Negril's seven mile beach. Each suite comes equipped with its own jet ski so you can explore the coastline in style.
Those on a tighter budget can still enjoy all that Sandals Negril has to offer by booking one of their affordable rooms or resort casual studios. Though they may not be as luxurious, these more economical rooms still offer a comfortable stay at an unbeatable price – so it pays to book early. Plus, if you book early enough you might be able snag yourself a great deal.
No matter what type of accommodation you choose at Sandals Negril, rest assured knowing that each room is designed with comfort in mind and provides guests with everything they need for an unforgettable Jamaican vacation experience.
Accommodations at Sandals Negril are luxurious and offer guests a wide range of options to choose from. With its many amenities, Sandals Negril is sure to provide the perfect getaway for any traveler looking for relaxation and adventure.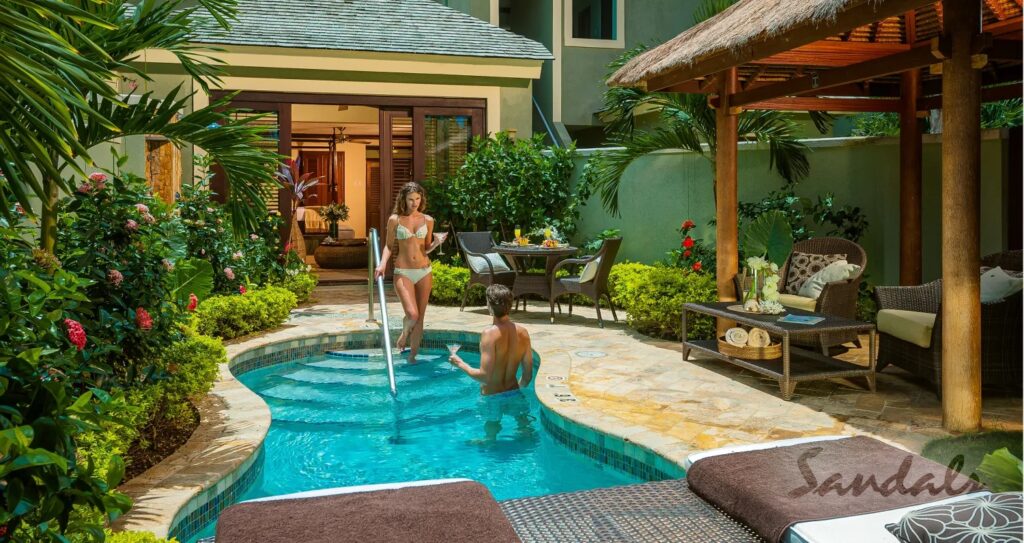 Amenities
At Sandals Negril, you can expect a wide range of amenities to make your stay truly unforgettable. From the moment you arrive, you'll be greeted with luxurious accommodations and top-notch service that will have you feeling pampered and relaxed in no time.
When it comes to dining, there are several options available at Sandals Negril. At Sandals Negril, you can dine on the beach for a romantic experience or savor some delicious fare from one of its many eateries. You can also take advantage of their 24-hour room service if you'd rather enjoy a meal from the comfort of your own suite.
If relaxation is what you seek, then look no further than Sandals Negril's spa services. Choose from an array of treatments including facials, massages and body wraps – all designed to help ease away stress and tension so that when it comes time for bedtime, restful sleep awaits.
For those looking for more active pursuits during their stay at Sandals Negril, there are plenty of activities to choose from such as snorkeling tours around the coral reefs or scuba diving excursions into deep sea waters off Jamaica's coastlines. There is also golfing nearby for avid players or even just a few rounds out on one of the resort's lush greens. For something different altogether why not try stand up paddle boarding? It's sure to get your heart racing.
No matter how long your vacation lasts at this beautiful destination, know that its amenities will keep everyone entertained throughout each day. Whether it's lounging poolside sipping cocktails or taking part in any number of exciting activities offered by this tropical paradise, they have something special waiting just for you.
Amenities at Sandals Negril are plentiful and provide a luxurious experience for all guests. With so much to do, let's explore the activities available in this tropical paradise.
In Summary: Sandals Negril offers a truly luxurious experience, with pampering spa treatments and a variety of activities to keep guests entertained. From romantic beach dinners to scuba diving excursions, there's something for everyone at this tropical paradise.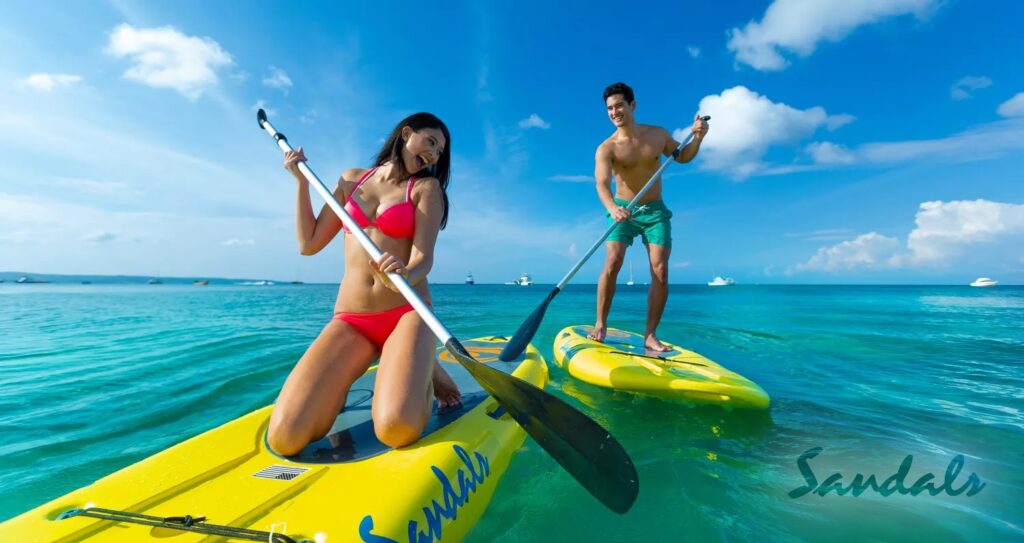 Activities
From snorkeling in crystal-clear waters, to exploring lush tropical gardens, there's something for everyone at this luxurious resort.
For those who love the water, Sandals Negril offers plenty of opportunities to get wet. Guests can go scuba diving and explore vibrant coral reefs or take part in guided snorkel tours. The beachfront also provides easy access to kayaking, paddle boarding, and other fun water sports. If you're feeling brave enough, you can even try your hand at parasailing.
If swimming isn't your thing, there are still plenty of things to do on land as well. Explore the nearby cliffs with an experienced guide or take a relaxing stroll through exotic gardens filled with fragrant flowers and lush vegetation. You can also enjoy some shopping at local markets or visit one of the many art galleries showcasing Caribbean artwork from around the region.
Sandals Negril also has plenty of activities available for children too. Kids will love spending time playing in their very own pool complete with slides and fountains while parents relax by the main pool bar enjoying drinks from around the world. For more adventurous kids there's always rock climbing walls or zip lining courses that provide hours of entertainment.
No matter the pursuit, Sandals Negril has something to offer that will make your stay unforgettable. From land to sea, guests can expect a truly remarkable stay at Sandals Negril that they won't forget in a hurry.
From the beach to the pool, there is no shortage of activities available at Sandals Negril. Whether seeking a tranquil experience or an action-packed holiday, Sandals Negril has something to offer all types of travellers. Moving on to average cost, it's important to know what budgeting looks like before planning your trip.
In Summary: Sandals Negril is an idyllic destination for travelers seeking a bit of everything, from snorkeling in crystal-clear waters to shopping at local markets. With its plethora of activities both on land and sea, this luxurious resort offers something for everyone – even kids. So come prepared to have the time of your life.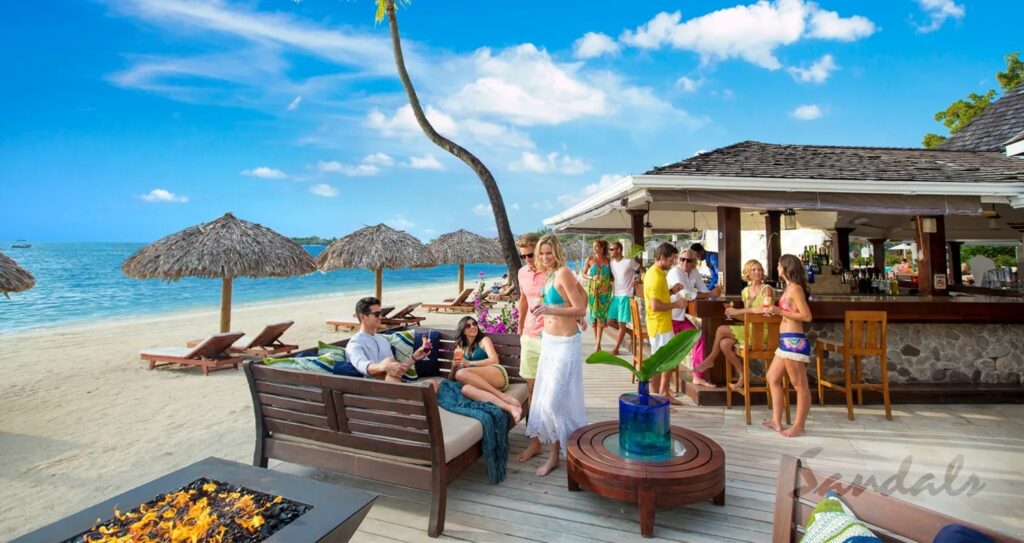 Average Cost
When it comes to devising an ideal excursion, the overall expense is a critical consideration. It's essential to consider how much you can afford before booking any flights or accommodations. Here are some tips for estimating your travel budget:
Accommodations:
When deciding on where to stay, research different options and compare prices. Hotels can be pricier than hostels or Airbnb, but they may provide features like complimentary Wi-Fi and morning meals that could help offset the cost. Additionally, look into package deals that include transportation costs as well as lodging expenses.
Amenities:
Consider what amenities you need during your trip such as laundry facilities, room service, fitness centers etc., and factor those costs into your budget. Also keep an eye out for discounts on things like spa treatments or museum tickets which can help reduce overall spending while still allowing you enjoy all of the attractions available at your destination.
Activities:
Look into activities that don't require a lot of money such as hiking trails or visiting local parks; these often provide great experiences without breaking the bank. If there are certain attractions you want to visit make sure to check if there's an entrance fee beforehand so you're not surprised by hidden costs when it comes time for checkout day.
Overall, creating a detailed budget before embarking on any journey will ensure that everything runs smoothly and no unexpected costs arise. By researching different options and considering amenities you need, you can plan an enjoyable trip without breaking the bank. Additionally, look out for discounts or package deals to help reduce overall spending while allowing you to enjoy all the attractions available at your destination.
FAQs in Relation to Sandals Negril Review
Which Sandals Resort gets the best reviews?
The Sandals Royal Caribbean Resort & Private Island in Montego Bay, Jamaica consistently receives the best reviews from travelers. It offers a private isle with dazzling beachfronts and remarkable oceanic sights, in addition to numerous activities such as snorkeling and kayaking. The resort also offers luxurious accommodations, fine dining options, world-class spas and more. Guests praise its attentive staff for providing an excellent experience during their stay. With its combination of amenities and attentive service, it's no wonder the Sandals Royal Caribbean Resort & Private Island is a favorite among travelers.
Is Negril nicer than Montego Bay?
It is difficult to definitively say that one destination is nicer than the other as beauty and preference are subjective. Negril's repute for its glorious white sands, tranquil waters and relaxed vibe make it a preferred option amongst tourists. Montego Bay also offers beautiful beaches but it tends to be busier with more of an urban feel. Ultimately, it comes down to what kind of adventure you're in search of when deciding between the two spots.
Which is better Ochos Rios or Negril?
Both Ochos Rios and Negril are popular tourist destinations in Jamaica, offering a range of activities and attractions. Ultimately, the choice between these two locations depends on your preferences. Ochos Rios is known for its lush rainforest landscape and outdoor adventure opportunities such as zip-lining or rafting down the White River. Negril has some of Jamaica's most beautiful beaches with crystal clear waters perfect for swimming, snorkeling, diving, or simply relaxing in the sun. No matter what you seek, Ochos Rios and Negril can provide a trip to remember.
What makes Negril unique?
Negril is a unique destination in Jamaica known for its stunning white-sand beaches, crystal clear waters and lush tropical landscape. Negril has become a premier destination for tourists seeking a laid-back atmosphere, luxurious accommodations, vibrant nightlife and exciting outdoor activities. Negril offers visitors a chance to relax on pristine beaches or explore hidden coves while enjoying breathtaking sunsets over the ocean. With an abundance of water sports available such as snorkeling, scuba diving and sailing; plenty of bars, restaurants and shopping; plus exciting attractions like Mayfield Falls and Seven Mile Beach there's something for everyone in Negril.
Conclusion
Overall, Sandals Negril is a great option for travelers looking to experience the beauty of Jamaica. The accommodations are luxurious and modern, with plenty of amenities that make it easy to relax and enjoy your stay. No matter what type of experience you're looking for, there are plenty of options available both on-site and off-site at Sandals Negril to make your stay unforgettable.
And while prices may be slightly higher than some other resorts in the area, they're well worth it when taking into account all that this resort has to offer. If you're considering a vacation in Jamaica, then our sandals negril review suggests giving Sandals Negril serious consideration as an excellent choice.
Plan your perfect getaway to Sandals Negril with WanderBrief. Our expert travel advice will help you make the most of your trip and ensure a memorable experience.