If you're looking for the perfect Caribbean getaway, look no further than Sandals South Coast. From its stunning location to its luxurious accommodations and amenities, this resort offers everything a traveler could want in an unforgettable vacation experience. Our comprehensive review of Sandals South Coast will give you all the information you need to plan your dream trip – from average cost and available activities to room types and more. So read on for our full sandals south coast review. Read our rankings of the best 17 Sandals Resorts as well.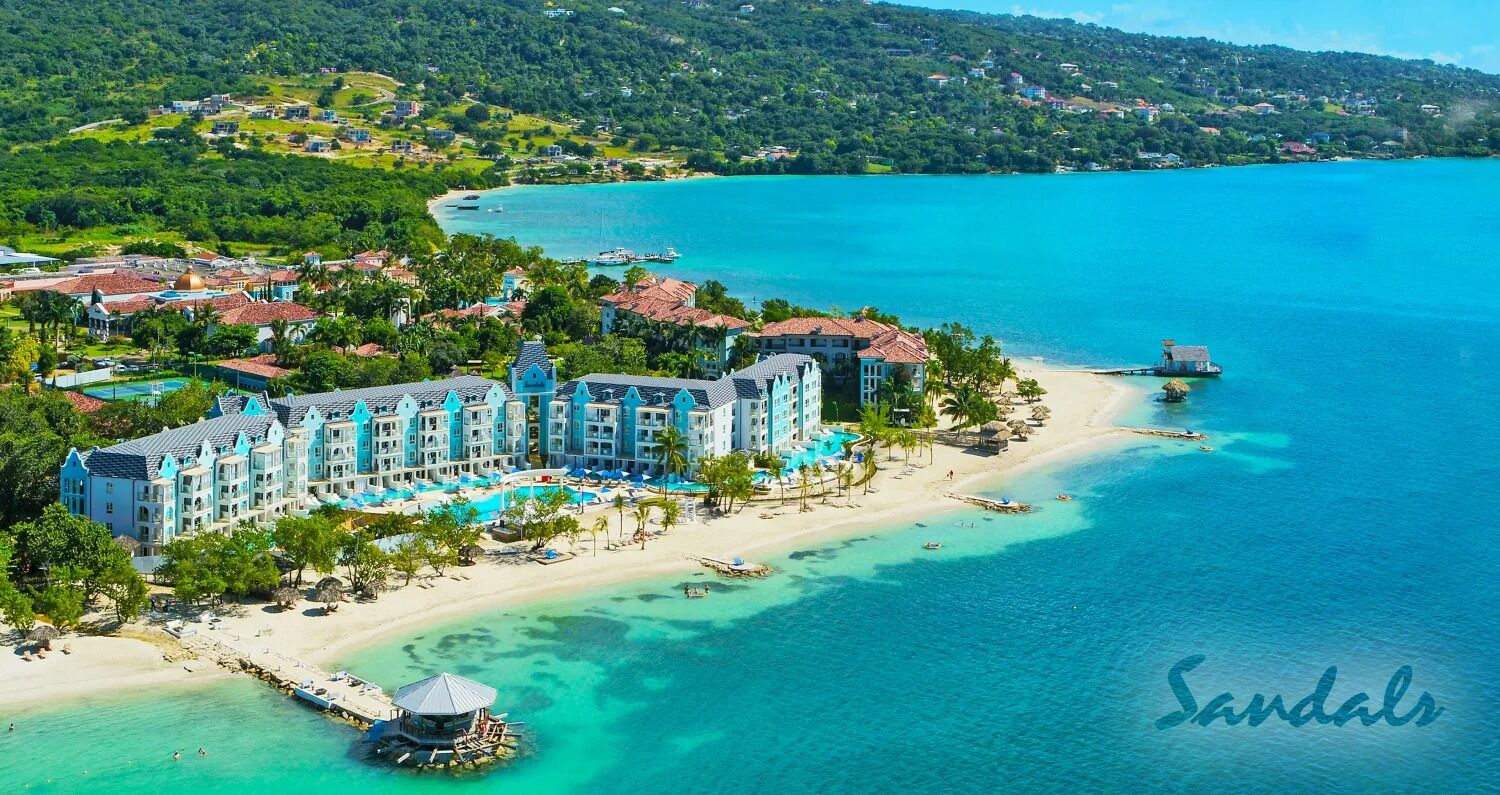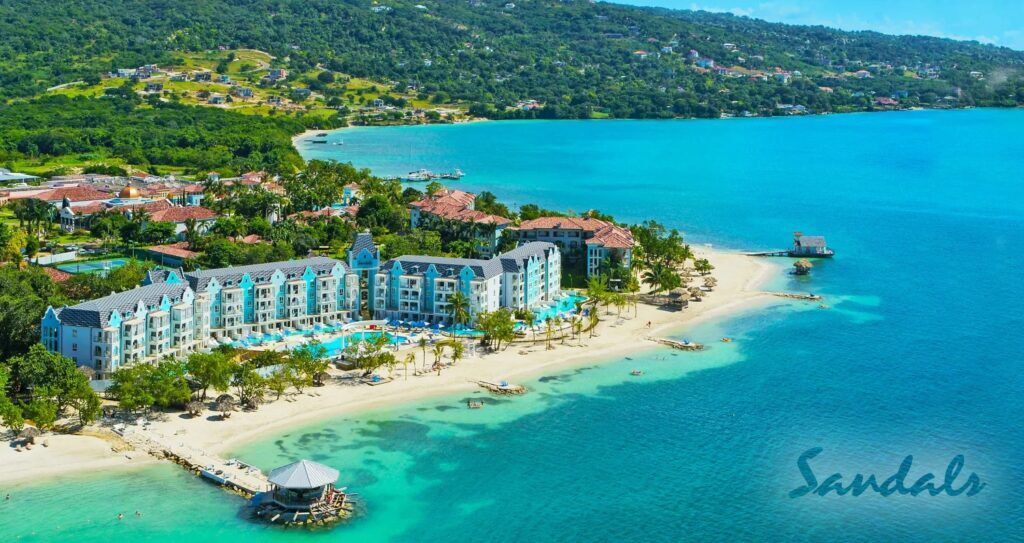 Accommodations
Sandals South Coast offers a variety of accommodations, from beachfront villas to suites and rooms with private balconies or patios. For those seeking a luxurious and comprehensive vacation, Sandals South Coast offers the ideal destination. With its luxurious amenities, beautiful beaches, and stunning views of the Caribbean Sea, Sandals South Coast provides everything you need for a relaxing getaway.
Accommodations range from beachfront villas, suites with balconies/patios offering sea views to swim-up rooms providing direct access to the resort's swimming pools. Each stay is catered to with complimentary Wi-Fi and a butler service for maximum ease.
For those looking for something extra special during their stay at Sandals South Coast, they can treat themselves to one of the resort's overwater bungalows. At Sandals South Coast, guests can enjoy a luxurious stay in an overwater bungalow with air conditioning, king size beds and full bathrooms complete with Jacuzzi tubs as well as private plunge pools for those looking to cool off without leaving their room.
In addition to its amazing accommodations Sandals South Coast also offers some great dining options ranging from seafood restaurants located right on site to jerk shacks offering traditional Jamaican cuisine steps away from main resort area along Jamaica's south coast .
For nightlife there are plenty of popular spots like Club Sandals Lounge where guests can enjoy live music and dancing until late into the night or relax by one of many swim up bars scattered throughout this mile stretch paradise.
Accommodations at Sandals South Coast are top-notch and provide a luxurious experience for all guests. At Sandals South Coast, you can craft a remarkable getaway that caters to your specific desires with the extensive range of features available.
In Summary: Sandals South Coast is the perfect spot for an all-inclusive vacation, offering luxury amenities and accommodations like beachfront villas, suites with private balconies or patios overlooking the Caribbean Sea and even swim-up suites. There are also fantastic dining options available ranging from seafood restaurants to jerk shacks as well as nightlife spots such as Club Sandals Lounge where guests can dance until they drop.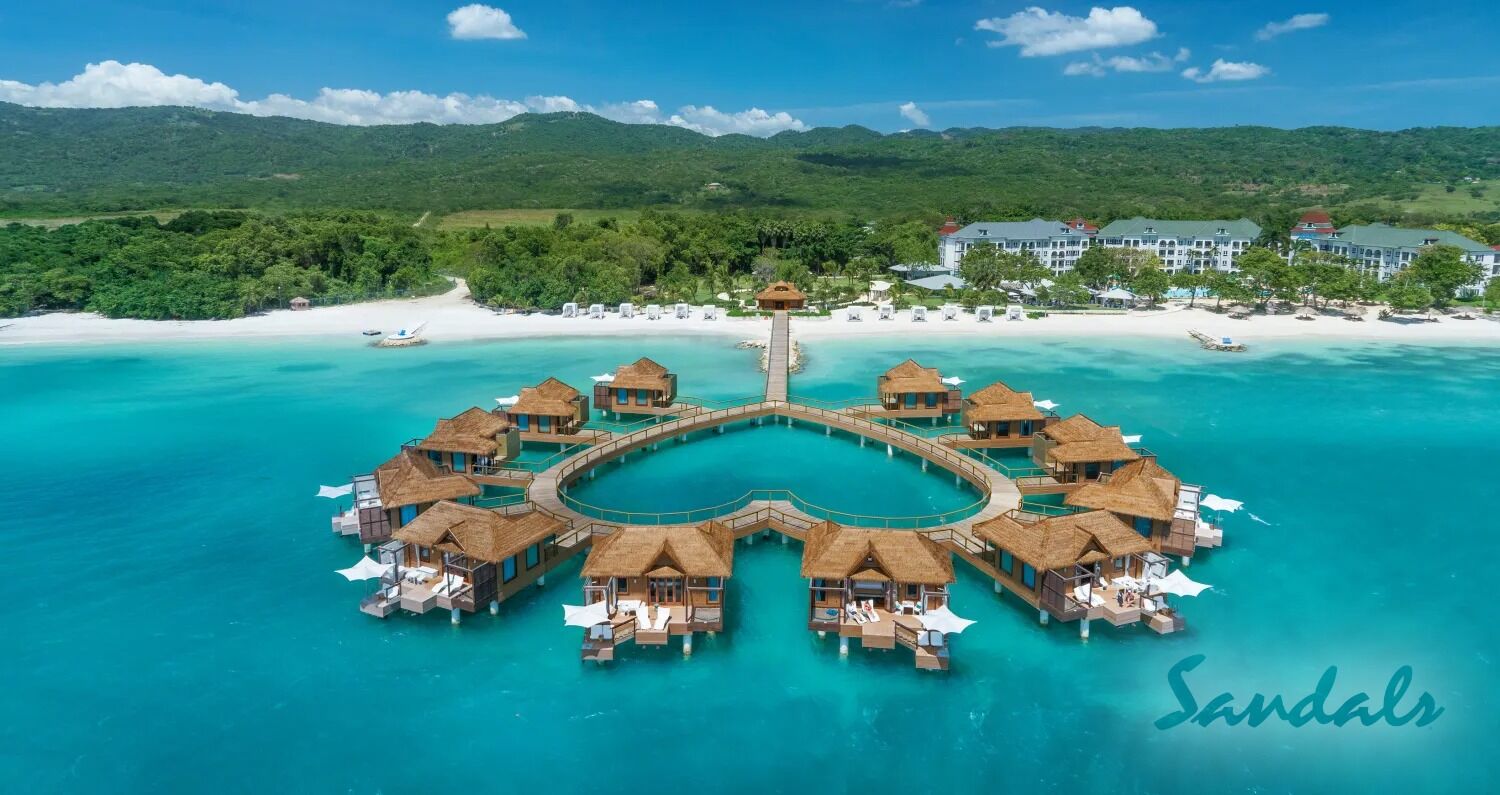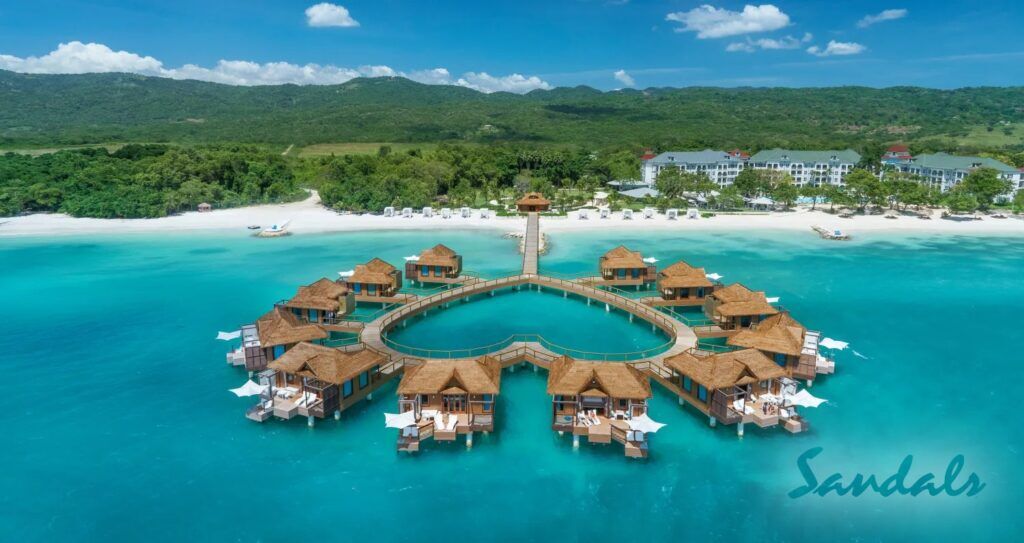 Amenities
Sandals South Coast is the perfect place to get away and enjoy a luxurious resort experience. At Sandals South Coast, you can experience a lavish getaway with its spa, fitness center, eateries and bars as well as plenty of fun activities to keep you entertained.
The Spa at Sandals South Coast features a variety of treatments such as massages, facials, manicures/pedicures and more. The Fitness Center offers up-to-date machines so you can maintain your fitness while on holiday. There are also several restaurants with different cuisines ranging from Italian to Jamaican jerk shack cuisine. You can also find plenty of spots to kick back with a cool beverage after an exhausting day in the sun or just chill out with pals.
When it comes to activities there's something for everyone. From beach volleyball to scuba diving there's no shortage of things to do at Sandals South Coast. If that wasn't enough they even have an over-the-water wedding chapel for couples looking to tie the knot in paradise.
For those who prefer lounging around by the pool or beach they offer swim up suites which provide direct access into the water without having to leave your room. Plus their Club Sandals Lounge provides exclusive benefits like private beach access and butler service so you can feel extra special during your stay at this luxurious resort.
Whether it's soaking up some sun on one of Jamaica's stunning beaches or exploring popular spots like YS Falls or Negril's seven mile stretch, when staying at Sandals South Coast you won't run out of things to do. Plus all meals and drinks are included, so all that's left is deciding what your favorite thing about this excellent choice will be.
Amenities at Sandals South Coast are top-notch and provide guests with a luxurious vacation experience. Moving on to the next heading, Activities offers plenty of options for those looking to explore Jamaica's beautiful landscape.
In Summary: Sandals South Coast offers an all-inclusive luxury experience, with a spa and fitness center, multiple restaurants and bars, beach volleyball courts and even an over-the-water wedding chapel. With direct access to the pool or beach from swim up suites in addition to exclusive Club Sandals Lounge benefits like private beach access, this resort is truly a one stop shop for your perfect Caribbean getaway.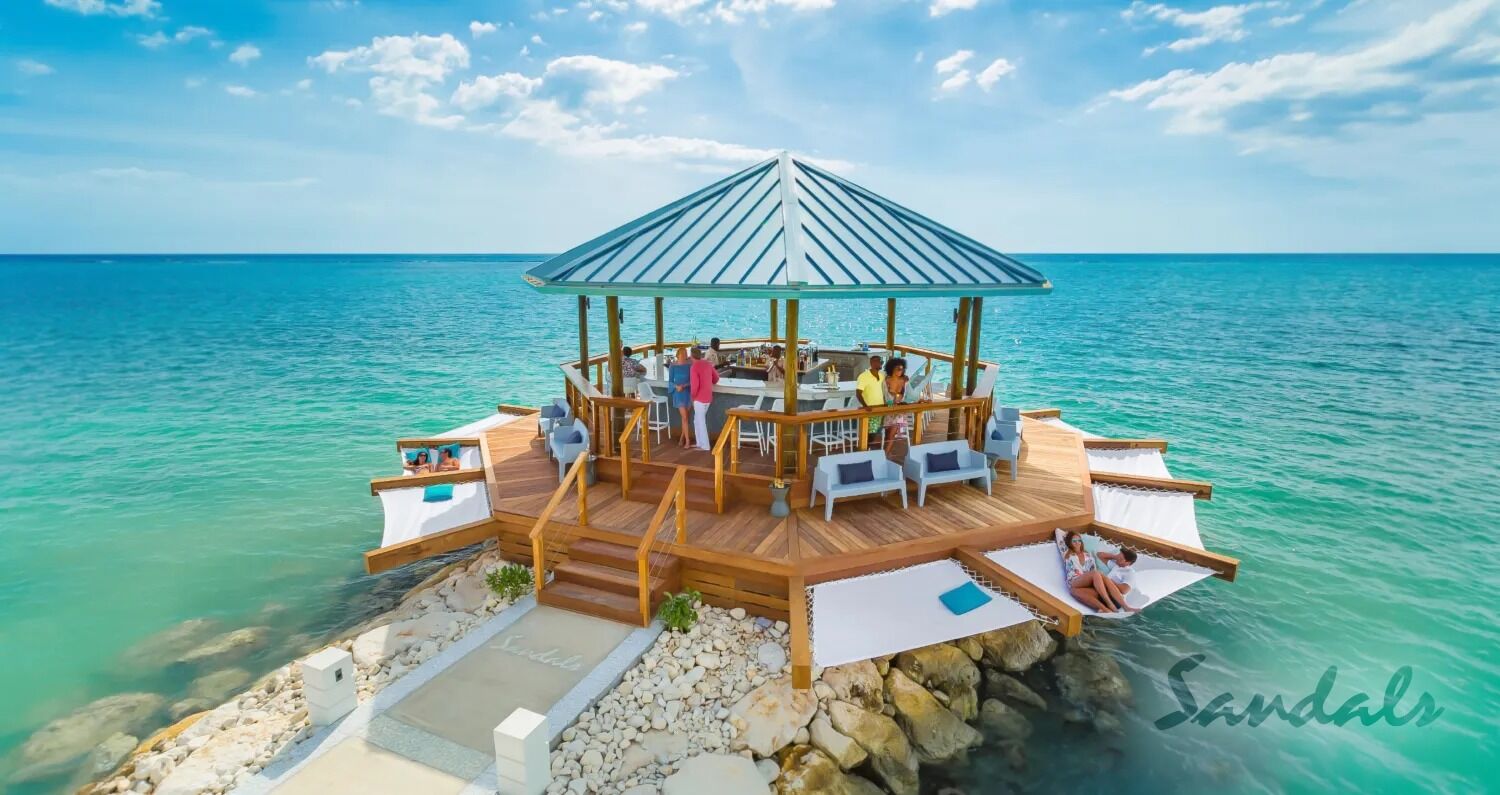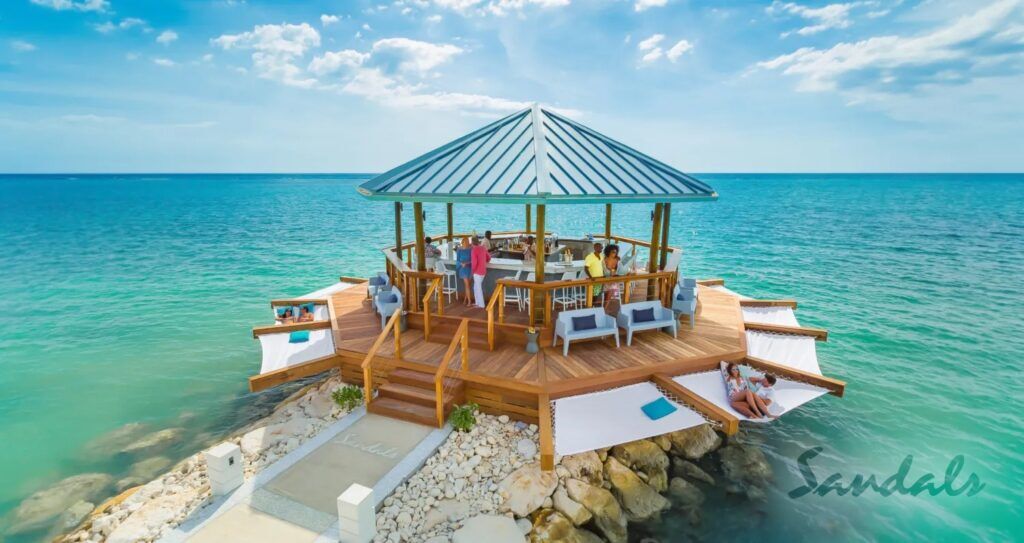 Activities
When it comes to activities, travelers are in luck. There's something for everyone. For those seeking a day of leisure or an action-packed outing, there's no shortage of choices.
Snorkeling:
If you're interested in exploring the underwater world, snorkeling is a great way to do it. Soak in the breathtaking sights of aquatic wildlife as you glide through crystal-clear waters with your snorkeling gear. All necessary gear can be rented from local vendors near popular beaches or resorts.
Kayaking:
For those who want to explore above the surface, kayaking is another fun activity that allows visitors to navigate through tropical waters while taking in breathtaking views along the way. Kayaks can be rented from various locations around the island and guided tours are also available for beginners or those seeking more challenging routes.
Sailing:
Take your vacation up a notch by chartering a sailboat for an unforgettable experience out on open seas. From romantic sunset cruises to full-day excursions complete with lunch stops on secluded islands – sailing is sure to make your trip one you won't soon forget.
Scuba Diving:
Experienced divers will love exploring all that lies beneath the waves here – with stunning coral reefs teeming with colorful fish just waiting to be discovered. Local dive shops offer courses suitable for both beginner and advanced levels as well as guided dives led by experienced instructors so even first-timers can join in on this exciting adventure.
Tennis & Golfing:
Both tennis courts and golf courses are plentiful throughout many parts of this destination – offering guests an opportunity to perfect their swings while enjoying some friendly competition amongst friends or family members alike. Whether it's hitting balls off grassy fairways under sunny skies or rallying backhands across clay courts surrounded by lush vegetation – these sports provide hours of entertainment during any stay here.
No matter what type of activities appeal most, there is something special about spending time outdoors and soaking up some sunshine amidst such picturesque surroundings. Don't miss out on all this paradise has to offer during your visit here – whether it's diving deep into azure depths below sea level or teeing off atop emerald greens above, this destination truly has it all when it comes time to pick how best to spend your days away from home sweet home.
Activities at Sandals South Coast are plentiful and varied, providing something for everyone. With that in mind, let's take a look at the average cost of these activities to help you plan your perfect trip.
In Summary: This idyllic isle provides an array of attractions, from lounging on the shore to uncovering its glittering marine life. From snorkeling to scuba diving, visitors of this Caribbean paradise can enjoy a variety of aquatic activities.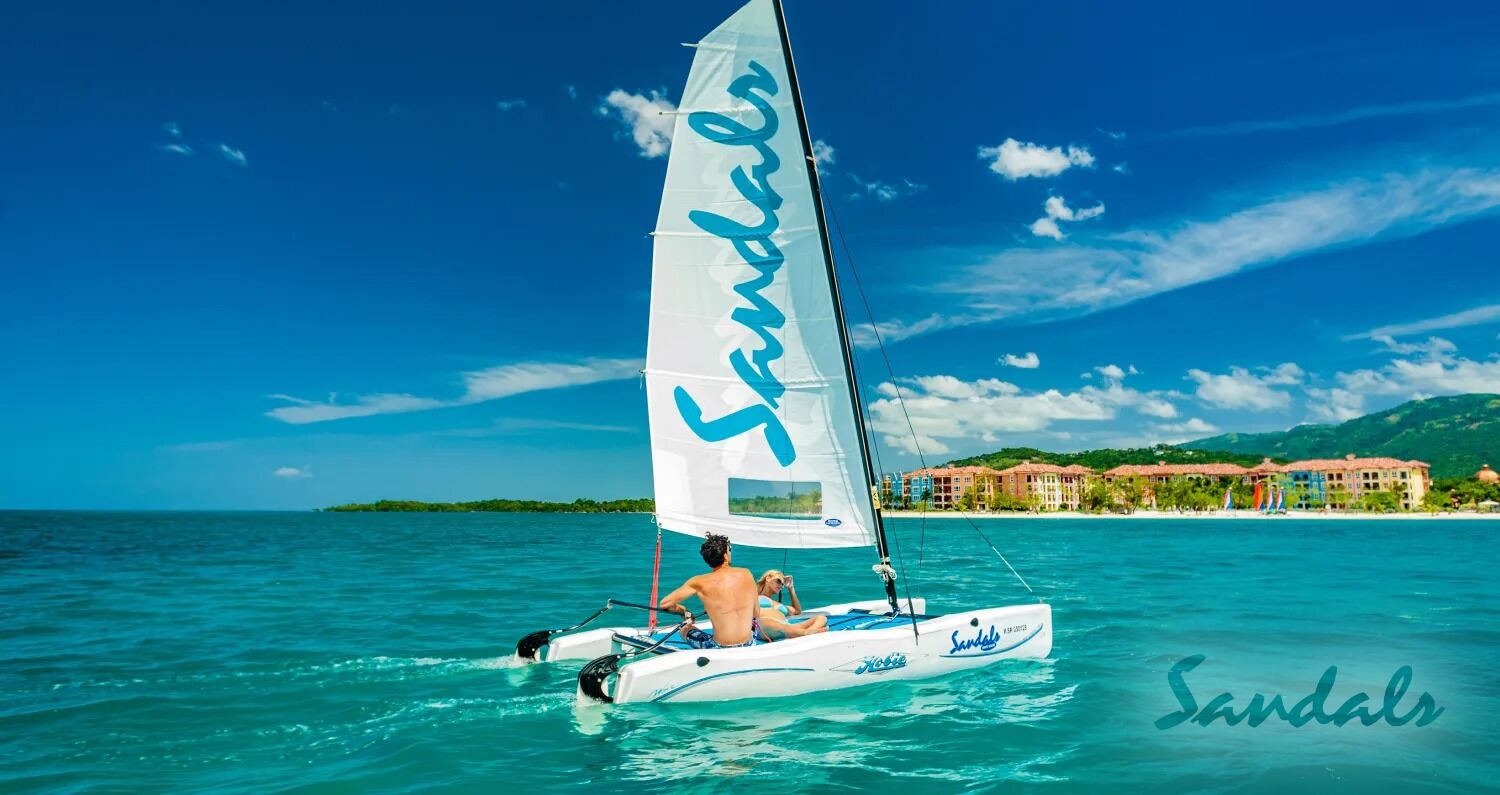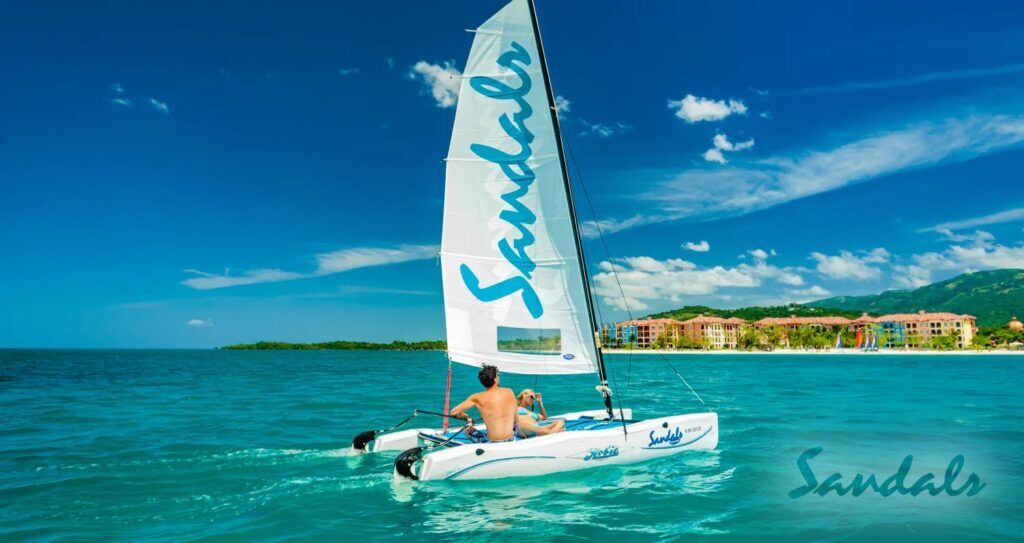 FAQs in Relation to Sandals South Coast Review
Which village at Sandals South Coast is best?
The best village at Sandals South Coast is the Caribbean Village. This luxurious resort offers a variety of amenities and activities to ensure guests have an unforgettable experience. The beachfront villas afford breathtaking sights, and the eateries offer delightful fare from diverse places. With its own spa, fitness center, pool complex with water slides and swim up bars, this destination has something for everyone. Plus, with its close proximity to local attractions such as Dunn's River Falls and Dolphin Cove it makes for an ideal holiday getaway.
Is Sandals South Coast a party resort?
No, Sandals South Coast is not a party resort. At Sandals South Coast, guests can partake in a variety of leisurely activities like beach volleyball, kayaking, and snorkeling while also having access to bars for socializing without the distraction of loud music or partying. There are also several bars onsite for guests to enjoy drinks in a social setting but they do not have any late night or loud music events like some other resorts may offer. Guests can look forward to an enjoyable vacation experience without having to worry about excessive noise or partying that could potentially disturb their relaxation time.
Is Club Level worth it Sandals South Coast?
Club Level at Sandals South Coast is worth it for travelers who want to experience a luxurious vacation. Club Level guests have access to exclusive amenities such as an upgraded room, private pool and beach areas, complimentary spa treatments, personalized concierge services, and all-inclusive dining options. The additional cost of the Club Level package can be well worth it for those looking for a truly unforgettable getaway.
Is the beach at Sandals South Coast private?
Yes, the beach at Sandals South Coast is private. It is exclusively for guests of the resort and has a designated area that can only be accessed by those staying onsite. There are also security guards patrolling to ensure privacy and safety for all visitors. The turquoise expanse of the beach, with its multitude of aquatic activities to enjoy, beckons visitors looking for a peaceful retreat or an exciting day out.
Conclusion
In conclusion, Sandals South Coast is an excellent choice for travelers looking to enjoy a luxurious getaway. The resort's location offers stunning views of the Caribbean Sea and its accommodations are both spacious and comfortable. Amenities such as multiple pools, watersports activities, spa services and fine dining provide something for everyone while still maintaining a relaxed atmosphere. With plenty of entertainment options onsite or nearby, it's easy to see why this destination has become so popular among those seeking out sandals south coast reviews that praise its beauty and amenities.
Plan your next vacation with WanderBrief and experience the perfect getaway to Sandals South Coast. With our expert advice, you can trust that your trip will be an unforgettable one!