Have you been invited to a destination beach wedding?
You're probably excited about attending a wedding with a view of the ocean, but you might also be confused about how you're supposed to dress.
Should you wear a jacket and tie? Do you need to strap on heels or dress shoes to trudge through the sand?
This guide on what to wear to a Caribbean wedding will answer all your questions.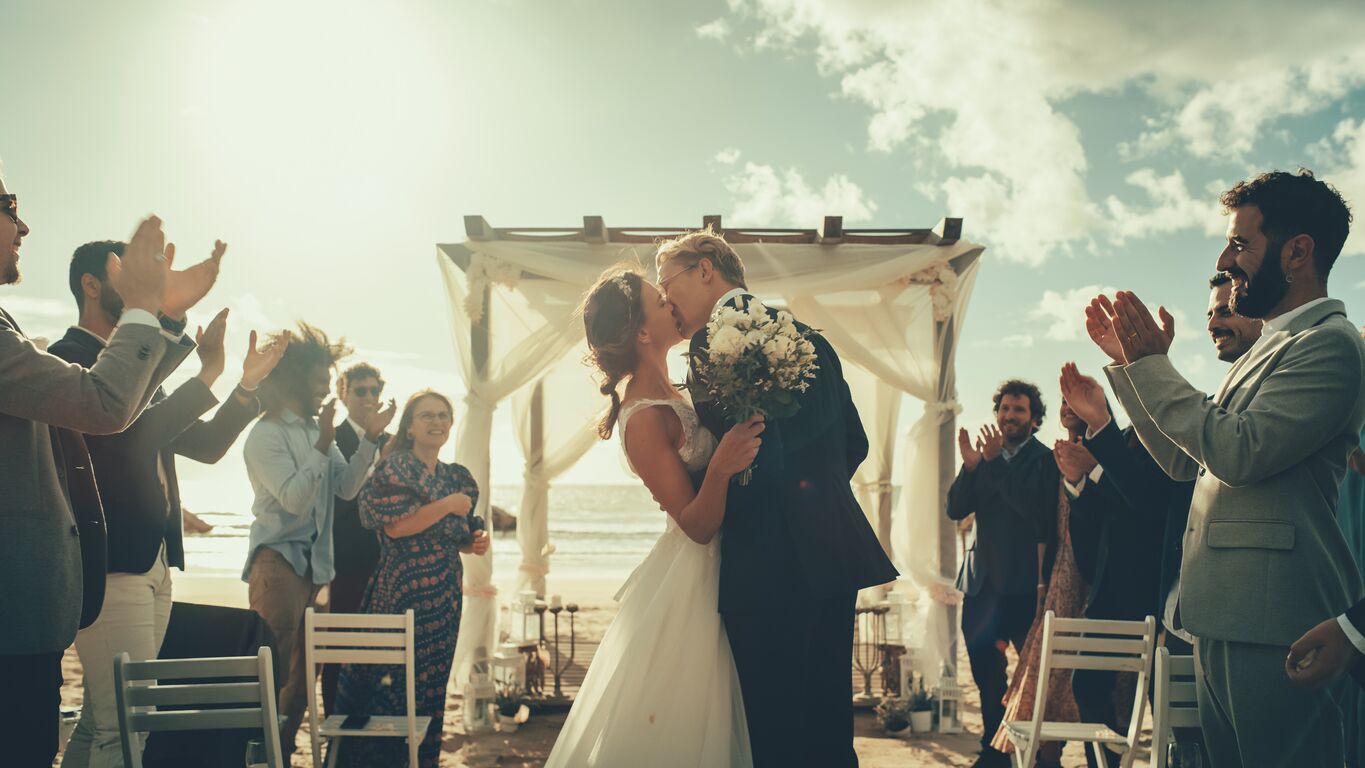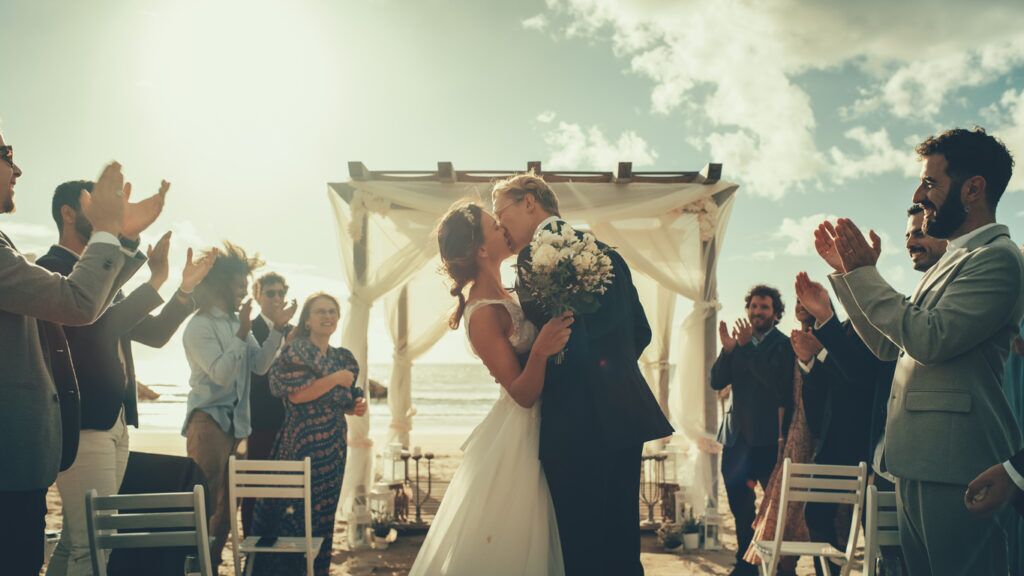 Beach Wedding Dress Codes
The first step to choosing your Caribbean wedding outfit is figuring out the dress code for the event. It will likely fall into one of these three categories:
Beach Formal
Beach formal is the fanciest dress code.
It's unlikely you'll be expected to wear a tuxedo or ball gown. A formal beach outfit will typically include a jacket and tie or bowtie for men and a maxi or midi dress with heels for women.
Solid colors or simple patterns are best for this type of event. Leave the bold floral prints in your suitcase and save them for another day.
Beach Semi-Formal
A beach semi-formal dress code allows you to dress a bit more comfortably than you would at a formal event. However, you'll still be expected to put in some effort.
Beach formal and semi-formal outfits look similar, but you'll notice that brighter colors and patterns are more acceptable with semi-formal outfits. Just don't go too bold — an over-the-top outfit may upstage the bride and groom and draw attention away from them on their big day.
Beach Casual
Beach casual is, naturally, the least dressy option for a Caribbean wedding.
At a casual beach wedding, sundresses and sandals are considered fair game (although, you should stay away from cheap beach flip-flops). Short-sleeved shirts are permissible for men, too — but avoid plain cotton T-shirts.
Put simply, you should still put in some effort — you're attending a wedding, after all — but you can also choose a more comfortable outfit than what you'd wear to a semi-formal or formal event.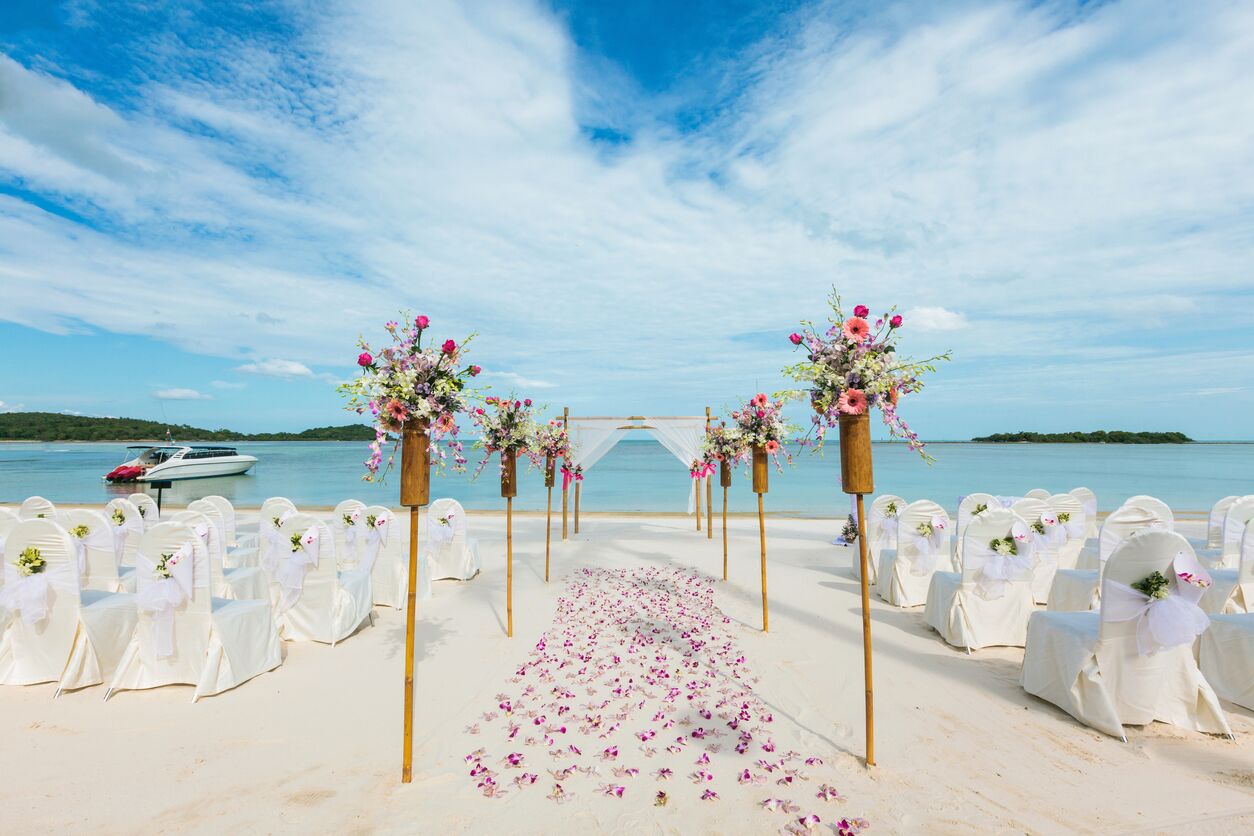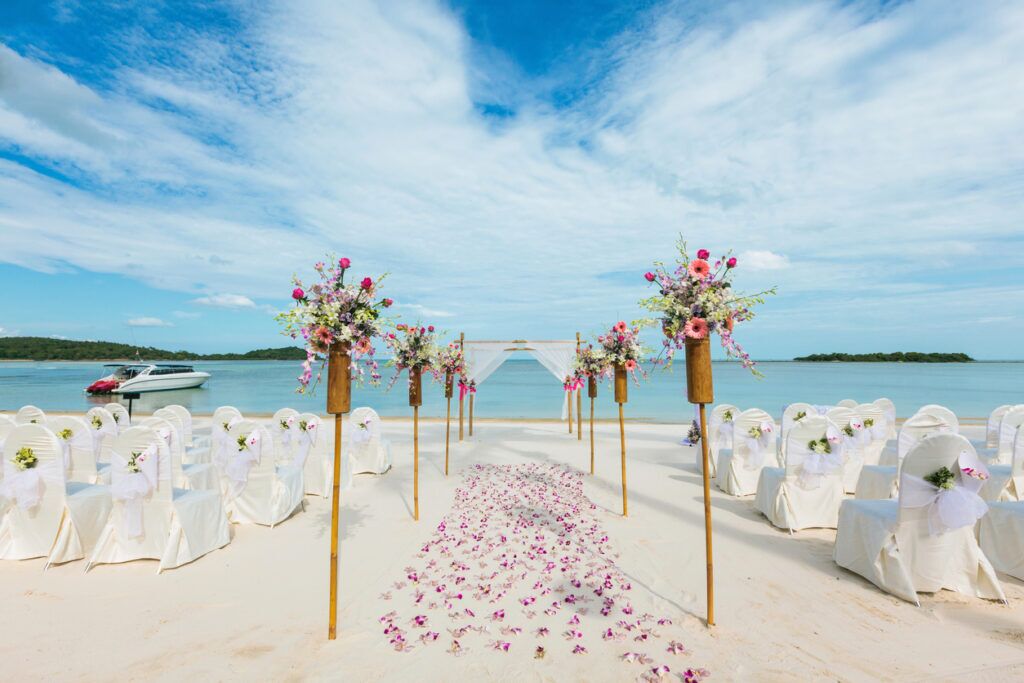 What to Wear to a Caribbean Wedding
Once you know the dress code, your next job is to take a look at your closet — or plan a shopping trip to your favorite store — and pick an outfit.
Men's Beach Wedding Outfit Ideas
For men who have never attended a beach wedding, here are some suggestions:
Formal
Lightweight suit
Long-sleeve shirt and tie with jacket and slacks
Linen, khaki, or seersucker fabrics
Stick to solid, light colors (avoid white or cream)
Dress shoes that complement your slacks/suit pants
Semi-Formal
Slacks, dress shirt, and sport coat or blazer
Brighter colors and patterns are permissible
Loafers or nice, on-theme boat shoes
Casual
Slacks and short-sleeve collared shirts/polos
Loafers or on-theme boat shoes
Nice sandals may be permissible
Women's Beach Wedding Outfit Ideas
For women, these beach wedding outfit ideas are all good ones to keep in mind:
Formal
Long, high-low, or tea-length dress
Long or tea-length jumpsuit
Stick to solid, light colors (avoid white or cream)
Chunky heels or dressy sandals
Semi-Formal
Long or tea-length dress
Jumpsuit or formal romper
Brighter colors and patterns are permissible
Chunky heels, dressy sandals, or wedges
Casual
Maxi dress or flowy sundress
High-quality romper
Dressy separates (top and skirt)
Strappy or platform sandals
Bonus Tips
Do you still feel confused about what you're going to wear? If so, these bonus tips can help you finalize your outfit:
When in Doubt, Opt for Semi-Formal
Most wedding invitations will include a note about the dress code, letting you know if it's formal, semi-formal, or casual.
If there's no information, reach out to a member of the wedding party far in advance (don't wait until the night before the wedding) or opt for a semi-formal look that won't make you seem out of place.
Hats and Sunglasses Are Permissible
Sun hats or fedoras are usually permissible at beach weddings. However, you should remove them during the ceremony to avoid blocking someone's view (in other words, don't assume you can cover up a bad hair day with a hat).
Sunglasses are acceptable at a beach wedding, too (stash them in your pocket or purse during pictures).
Stick to Slip-On Shoes
Walking through the sand in a clunky, lace-up pair of shoes is a recipe for sand getting stuck between your toes all night long. Choose a pair that you can easily slip on and off. Just make sure they align with the dress code.
Double-Check Dress Length
Short dresses can work for beach weddings, especially semi-formal and casual weddings.
However, avoid wearing dresses that are too short. Otherwise, you'll end up with your hands glued to your sides all night to prevent your dress from blowing up when a breeze hits.
Steer Clear of Shorts
At casual weddings, men may be able to get away with wearing a nice pair of shorts (no denim or cargo shorts, though). However, if you're on the fence about this option, skip them and opt for a lightweight pair of slacks instead.
Get a Pedicure
If you're going to wear open-toed shoes to the wedding, get a pedicure beforehand.
This rule applies to women and men. You'll feel much more confident mingling with guests or dancing the night away if your toenails are neatly trimmed, buffed, and painted.
Check the Weather
Finally, don't forget to check the weather forecast for the big day.
Bring an umbrella to protect your hair and outfit if rain is on the horizon. If it's likely to be an extra-windy day, consider pulling your hair back, so it's not blowing in your face through the entire wedding.
Start Planning Your Caribbean Wedding Attire Today
If you've never attended a ceremony on the beach, it might be a bit overwhelming to decide what to wear to a Caribbean wedding.
The good news is that if you keep the tips discussed above in mind, you'll have no trouble choosing a comfortable, event-appropriate outfit that looks great in pictures.
Need more help planning your trip to the Caribbean? Check out some of our blog posts for additional travel tips today!