Are you looking for the perfect vacation spot? Look no further than Sandals Ochi resort. This comprehensive Sandals Ochi review will give you all of the information that you need to plan a luxurious and unforgettable trip. From its ideal location in Jamaica, to its comfortable accommodations and wide range of amenities and activities, this resort has it all. Learn more about what makes this destination so special before planning your next getaway. Check out our review of the best Sandals resorts as well.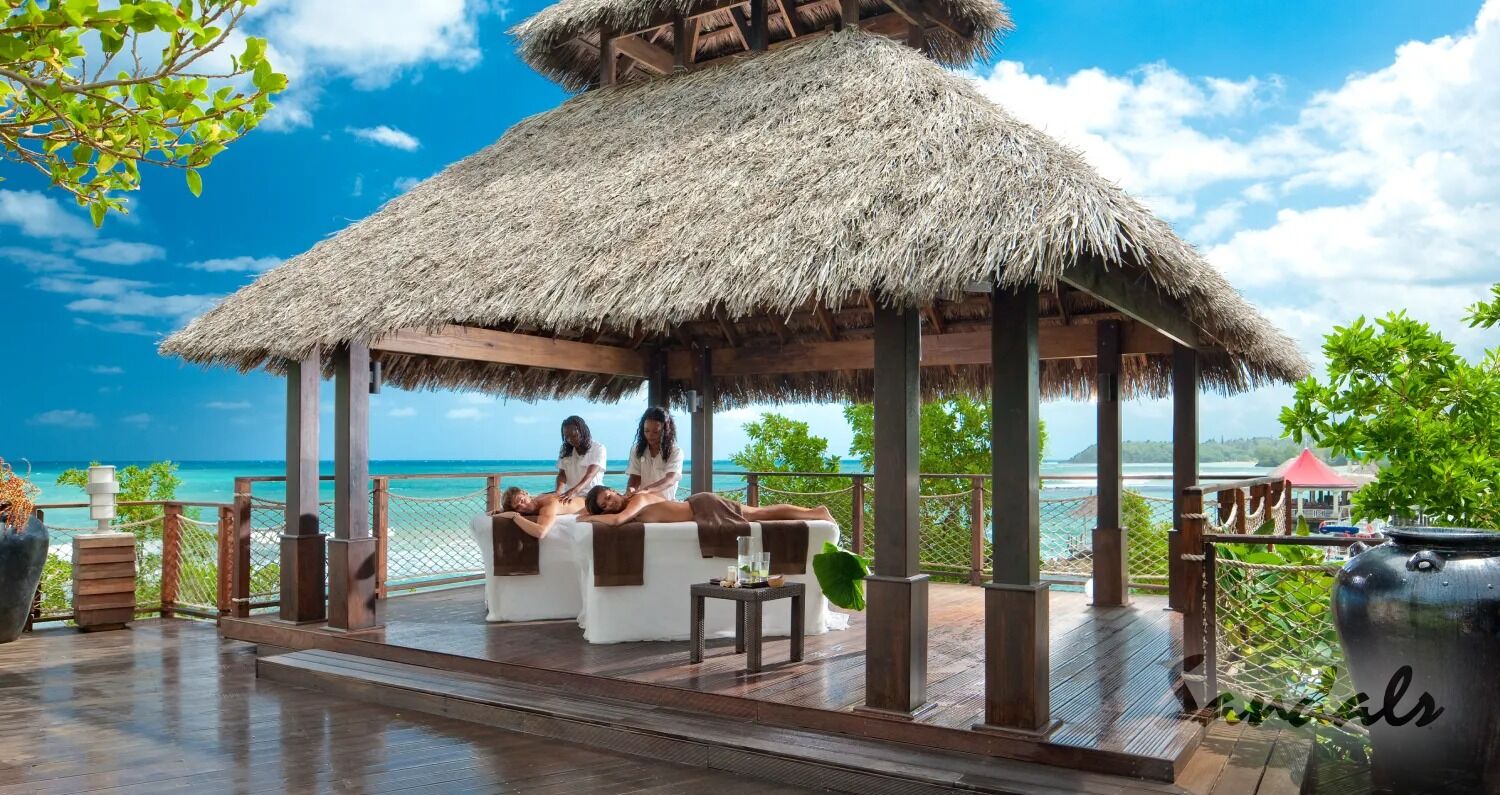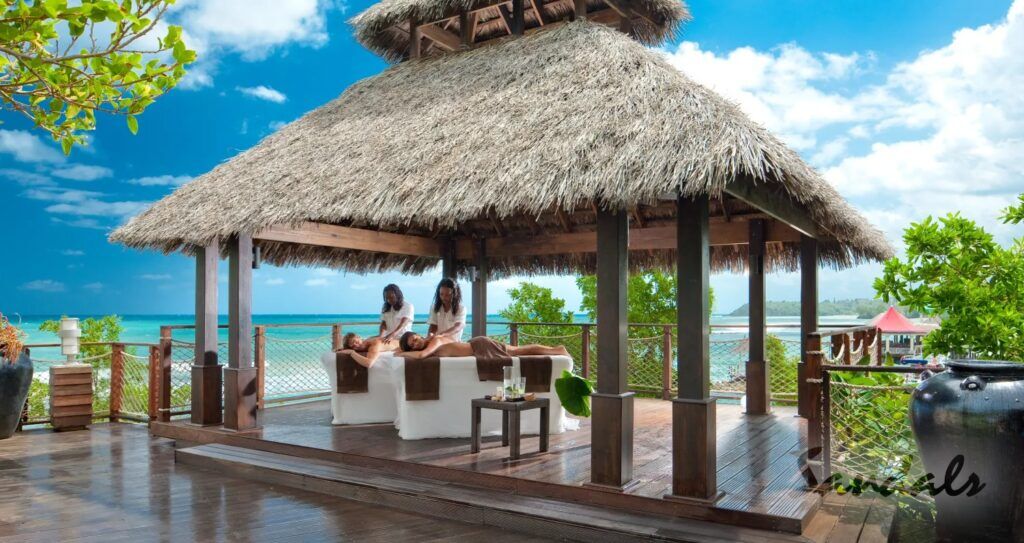 Accommodations
Sandals Ochi offers a variety of luxurious accommodations, ranging from beachfront villas to ocean view suites. At Sandals Ochi, there is something for all budgets – from a budget-friendly vacation to an extravagant stay. For those seeking the ultimate in pampering and indulgence, Sandals Ochi's Butler Elite Suites offer round-the-clock butler service and mahogany furniture. Guests can also enjoy fine dining options like Filet Mignon at the Seaside Grill, as well as gift shops and Kelly's Dockside bar & grill.
The Red Lane Spa is available to all resort guests, offering massages, body treatments, facials and more. Additionally, nearby golf courses such as Sandals South Coast Golf Course and Sandals Grande Riviera Beach & Villa Golf Resort are perfect for those who want to hit the links during their stay. Whatever your preference may be – an intimate retreat or a family vacation filled with fun activities – Sandals Ochi has something to suit every taste.
The accommodations at Sandals Ochi are luxurious and provide the perfect backdrop for a romantic getaway. Next, let's consider the facilities provided by this resort.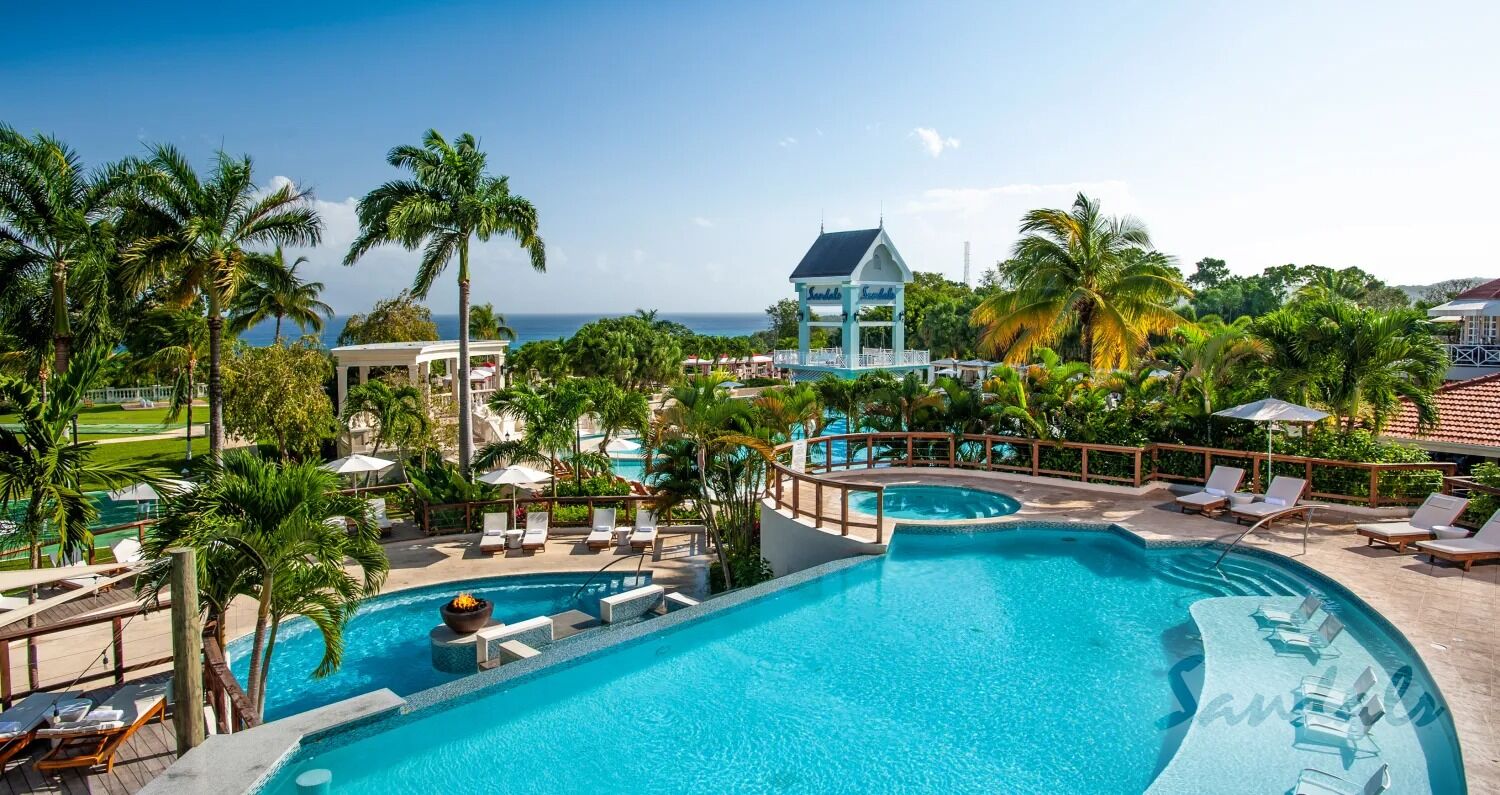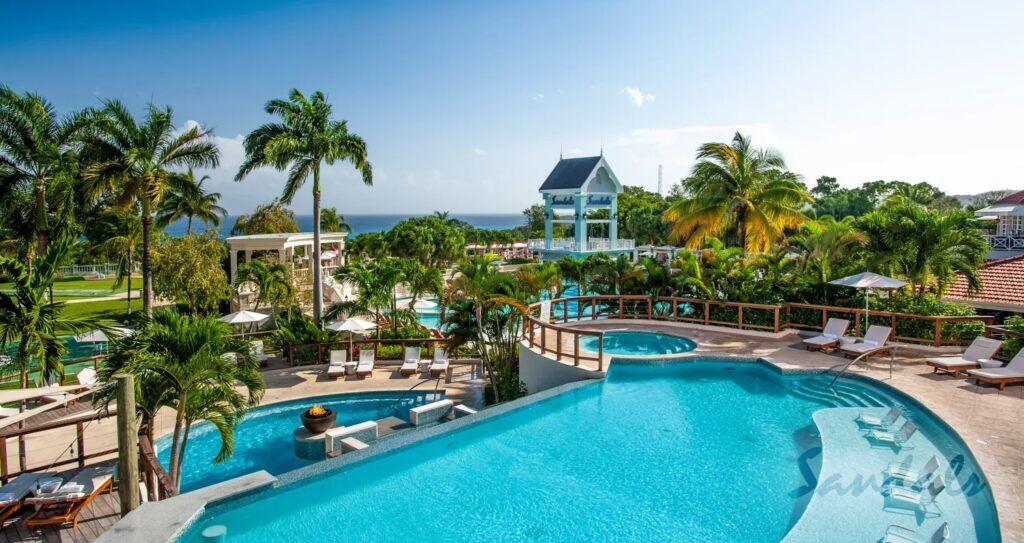 Amenities
Sandals Ochi Beach Resort offers a wide variety of amenities for guests to enjoy. From multiple restaurants, bars and pools to spas and activities like golfing and snorkeling, there is something for everyone. The resort also features the exclusive Ochi Beach Club with private cabanas that offer luxury seating and dining options.
For those looking for an extra special stay, Sandals has Butler Elite Suites available that feature mahogany furniture, marble bathrooms with Jacuzzis, full-sized tubs, flat screen TVs in every room as well as access to personal butlers who can attend to your every need. In addition, each suite comes complete with its own private pool or hot tub on the terrace where you can relax after a long day exploring all that Sandals Ochi has to offer.
At Sandals Ochi, you can indulge in a wide range of culinary delights from casual beachside grills serving up filet mignon or grouper sandwiches to gourmet establishments offering lobster ravioli and steak tartare. The Seaside Grill is also not to be missed, boasting classic American favorites such as burgers and fries – all prepared with locally-sourced ingredients where feasible. So don't miss out on the opportunity to tantalize your taste buds.
Amenities at Sandals Ochi are plentiful and luxurious, making for a truly comfortable stay. With a plethora of exhilarating experiences on offer, your stay is bound to be an exciting and memorable one.
In Summary: Sandals Ochi Beach Resort provides an array of luxuries for guests to enjoy, from a private beach club with cabanas and butler service to gourmet restaurants serving up tantalizing dishes. It is the perfect destination for those looking for an unforgettable stay in paradise.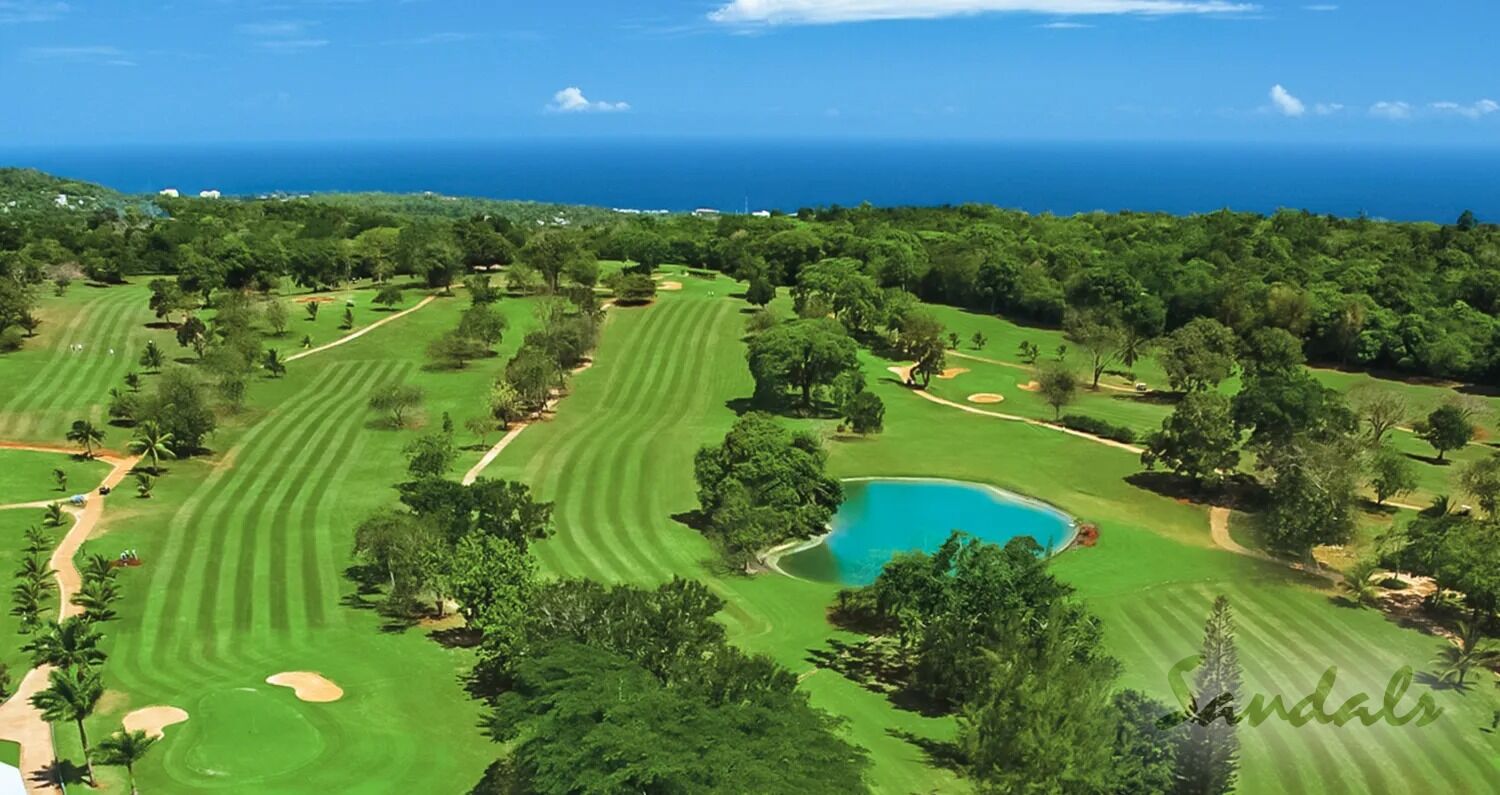 Activities
At Sandals Ochi, there's no shortage of activities to keep you busy. For those seeking an exciting escapade or simply desiring to bask in the warm Caribbean rays, Sandals Ochi has something for everyone. Visitors to Sandals Ochi can partake in an array of recreational activities, ranging from aquatic pursuits like snorkeling and scuba diving to more sedentary options such as tennis and yoga.
For those who prefer a more laid-back vacation experience, Sandals Ochi offers an array of lounging options including hammocks strung between palm trees on the beachfront lawns or poolside cabanas with comfortable seating areas perfect for sipping cocktails while taking in the stunning views. Guests can also take advantage of nearby shopping opportunities at duty free stores offering designer brands and souvenirs from around the world.
When it comes time to refuel after all that activity, there are numerous dining options available at Sandals Ochi ranging from gourmet restaurants serving international cuisine to casual eateries featuring local favorites like jerk chicken and seafood dishes. For a full review of what's on offer at this popular resort destination be sure to check out our gift shop which features exclusive merchandise only available here.
Activities at Sandals Ochi offer something for everyone, from beach lounging to exciting water sports. Cost can be a determining factor when organising a journey, and the total expenditure will depend on what activities are selected.
Average Cost
The price of a journey can differ depending on where you go, the lodgings, features and pursuits selected.
When deciding on a destination, consider how much you can afford to spend and research different locations that fit within your budget. Popular destinations like Hawaii or New York City can be more expensive than lesser known spots in South America or Southeast Asia. Consider researching different locations that fit within your budget before making a final decision.
The cost of accommodation can range widely depending on the type of lodging you select. For those seeking a luxurious stay, be prepared to pay more than if opting for an economical alternative such as a hostel or Airbnb. Keep in mind that cheaper options may require some sacrifices when it comes to comfort and convenience – so make sure to read reviews carefully before booking.
Amenities:
Depending on where you go, certain amenities may come with an additional fee such as Wi-Fi access in hotels or spa treatments at resorts. It's a smart idea to plan for extra costs like Wi-Fi or spa services when making your budget so you don't get caught off guard.
Activities:
Activities also play a big role in determining the overall cost of your trip – especially if they involve transportation costs (like renting a car). You should research local attractions and plan out which ones will fit into your budget beforehand so that way you don't end up spending too much money while away from home.
Overall, planning ahead is key when it comes to staying within an average cost range for travel expenses. With some smart shopping around and careful consideration of all factors involved (location, accommodation types, amenities & activities), anyone can enjoy their dream vacation without breaking the bank.
In Summary: With a bit of smart planning, budget-conscious travellers can enjoy their dream vacation without breaking the bank. Researching destinations and accommodation options ahead of time is key for sticking to an average cost range, as well as considering all other factors like amenities and activities before booking. By taking these steps into account, anyone can have a holiday to remember – on any budget.
FAQs in Relation to Sandals Ochi Review
Is Sandals Ochi a party resort?
No, Sandals Ochi is not a party resort. Sandals Ochi offers a range of activities and amenities to suit all types of travelers, from those seeking relaxation or an adventure with their family to couples looking for romance. While there are some lively bars and nightclubs onsite, the atmosphere at Sandals Ochi is more laid-back than that of an actual party resort. The resort also provides plenty of options for those who want to enjoy the Caribbean sunshine without having their peace disturbed by loud music or crowds.
When was Sandals Ochi renovated?
Sandals Ochi was renovated in 2015. In 2015, Sandals Ochi underwent a comprehensive renovation that included the addition of new restaurants, bars and pools as well as the refurbishment of existing facilities, culminating in updated guest rooms with modern furnishings and amenities. All guest rooms were updated with modern furnishings and amenities to create an even more luxurious experience for guests. In addition, Sandals Ochi introduced its own private beach club which features exclusive services such as personal cabanas and butler service. With these updates, Sandals Ochi has become one of the premier resorts in Jamaica offering world-class hospitality and unparalleled experiences for travelers looking to make their Caribbean vacation perfect.
What did Sandals Ochi used to be called?
Sandals Ochi was formerly known as Sandals Grande Riviera Beach & Villa Golf Resort. It opened in 1996 and is located on the northern coast of Jamaica, near Ocho Rios. The lobby has been remodeled and the eateries and bars have had a refresh since its launch. Its current offerings include multiple pools, five beaches, six dining options, three golf courses, water sports activities such as snorkeling and kayaking, spa services and more. Sandals Ochi has become a popular destination for travelers looking to experience the beauty and culture of Jamaica.
What airport is best for Sandals Ochi?
The best airport for Sandals Ochi is the Norman Manley International Airport (KIN) in Kingston, Jamaica. Located approximately 45 minutes from the resort, KIN offers daily direct flights to many major cities across North America and Europe. In addition, various regional carriers provide flights to other Caribbean destinations such as Antigua and St Lucia. Travelers should check their flight options carefully before booking tickets since some carriers only fly certain days of the week or seasonally.
Conclusion
In conclusion, the Sandals Ochi resort is an excellent choice for travelers looking to plan a perfect trip. Boasting a picturesque setting and superior amenities, Sandals Ochi provides an unparalleled vacation experience. A plethora of activities are available to keep guests amused, and the amenities provided are of the highest quality. And while prices can be on the higher side compared to other resorts in Jamaica, with all that this resort has to offer, it's well worth every penny spent. All things considered our sandals ochi review would highly recommend this destination as one of your best options when planning a getaway.
Plan your perfect trip to Sandals Ochi with WanderBrief! Our expert travel advice will help you make the most of your vacation.