Hoping to spend your honeymoon in a romantic setting? Are you trying to find a resort with a private pool? Choosing a romantic getaway among the many stunning locations is a challenging feat. But don't worry! Here are some of the best honeymoon resorts with private pools. Choose one and have a memorable vacation with your loved one.
Barbados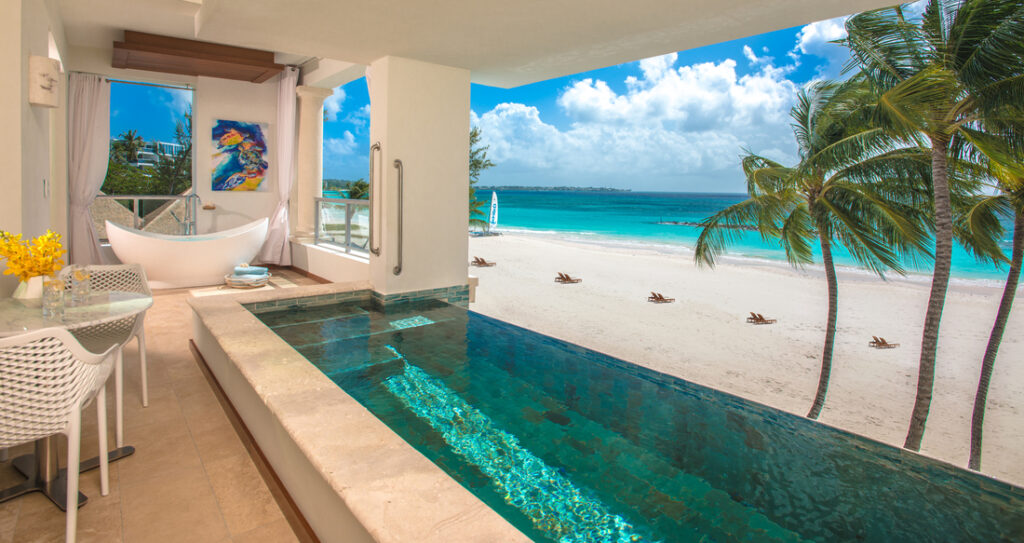 Barbados is one of the most enchanting places to spend a honeymoon. Enjoy your stay in a "Love Nest" butler suite on the beach, complete with a private pool. Another option is a pool in the sky with a view of the water from its infinity edge. Moreover, the resort provides all the comforts of home in these luxurious accommodations, including breathtaking ocean views.
Macau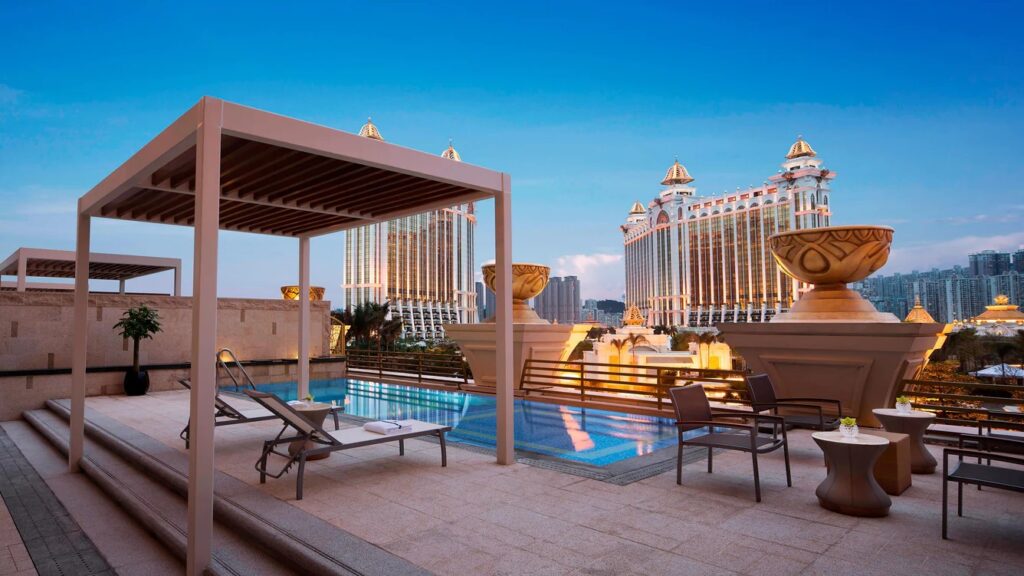 Those on their honeymoon should have nothing but the best. To experience the best of what Macau offers, book the two-bedroom Presidential Suite at one of the world's best honeymoon resorts with private pools. In addition to the executive lounge access and the plunge pool on the patio, this accommodation has seven televisions. Indulge in the height of luxury while taking in stunning panoramas of the city below.
Mexico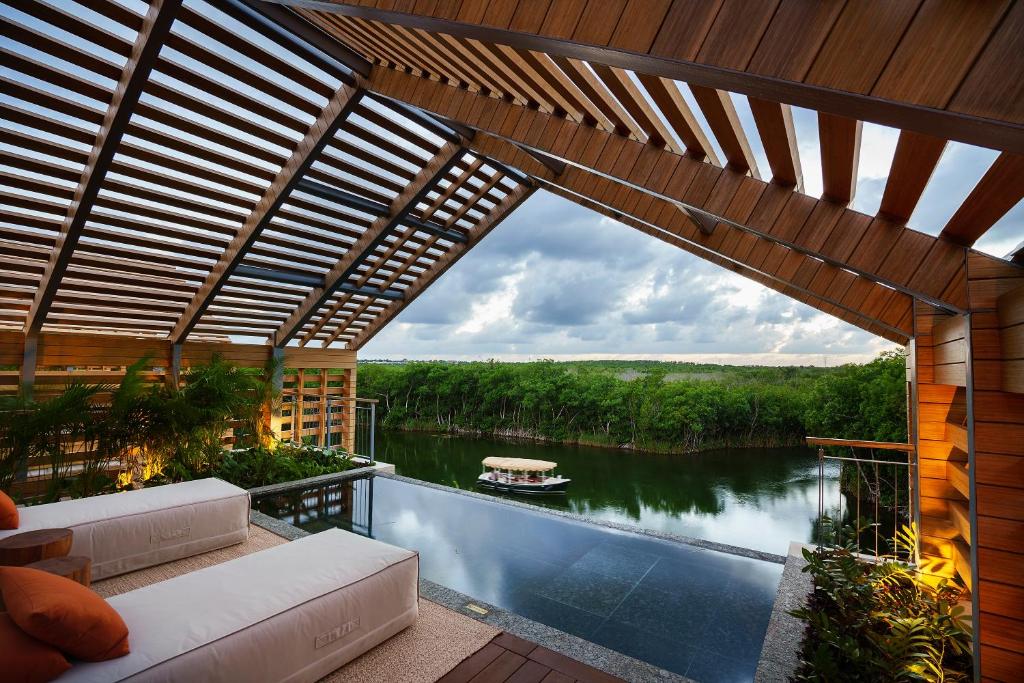 Book a stay in a spa-pool villa at the Banyan Tree Mayakoba for a romantic getaway. After enjoying a massage in the privacy of your treatment room, you may unwind in your rectangular H2O sanctuary. The furnishings are a mix of Asian minimalism with Mexican color. Plan on seeing low-key buildings that blend in with the surroundings and a primarily neutral color scheme with pops of orange and red. If you want privacy, natural beauty, and romance, this is one of the top honeymoon resorts with private pools.
Bora Bora, French Polynesia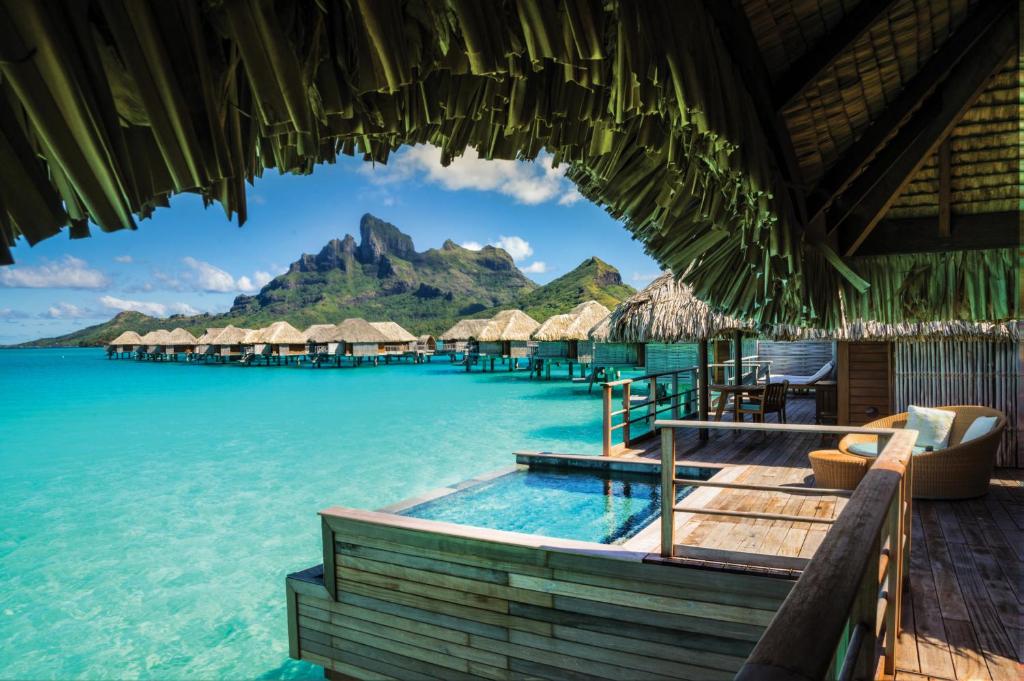 This place is one of the finest honeymoon resorts with private pools, as the luxurious overwater bungalows have direct diving or step-in access to the lagoon. If a couple books an overwater bungalow with a plunge pool, they can swim in the lanai's freshwater pool. It's ideal for a champagne soak at sunset or a post-snorkeling shower.
The interior's modern Polynesian design is just as enticing as the exterior, especially the king-size jacuzzi tub overlooking the lagoon. Underneath your feet in the living area, you can watch colorful reef fish through the glass panel on the floor.
Jamaica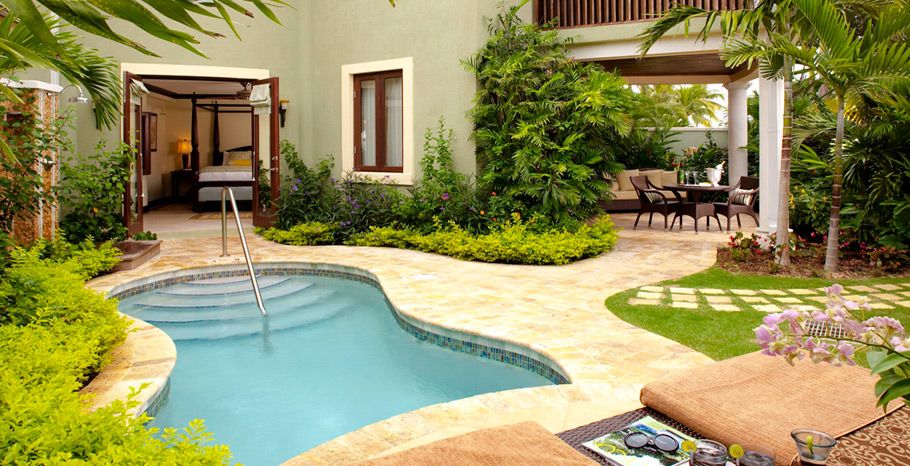 White sand and complete seclusion are two of the many highlights of this all-inclusive Jamaican resort. Take advantage of the outdoor shower, small waterfall, and plunge pool in the Billionaire Honeymoon One Bedroom Butler Suite.
Get some rest and quiet in your room throughout the day, and then hit up the resort's exciting nightlife when it's time to unwind. Basketball, snorkeling, kayaking, paddle boarding, and spa services are just some of the daily activities available at this resort. It's a top choice among honeymoon resorts with private pools for those searching for exciting activities.
St. Lucia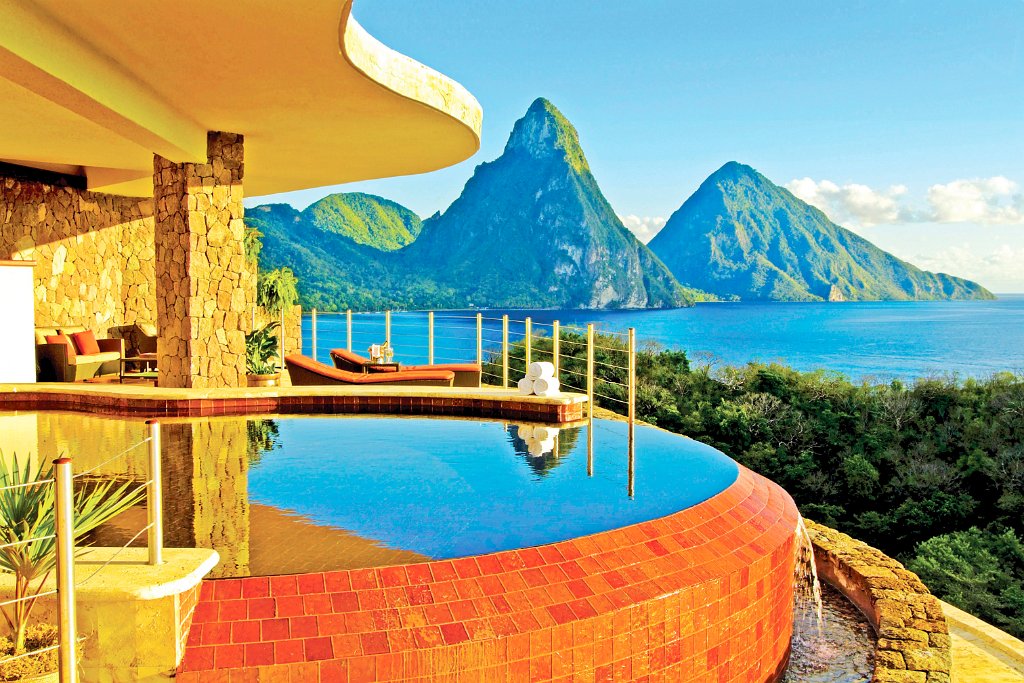 Standing tall over the 600-acre beachside resort of Anse Chastanet on the southwestern coast of St. Lucia in the Caribbean is the Jade Mountain Resort. The resort is a veritable cornucopia of organic design, each building a tribute to the island's breathtaking natural beauty.
Because of its unique structure, a visit to Jade Mountain St. Lucia is among the most memorable Caribbean resort stays available.
Each villa at this resort has a private bridge leading to a private infinity pool and soaring stone columns. In all honesty, this is one of the most picturesque honeymoon resorts with private pools.
Antigua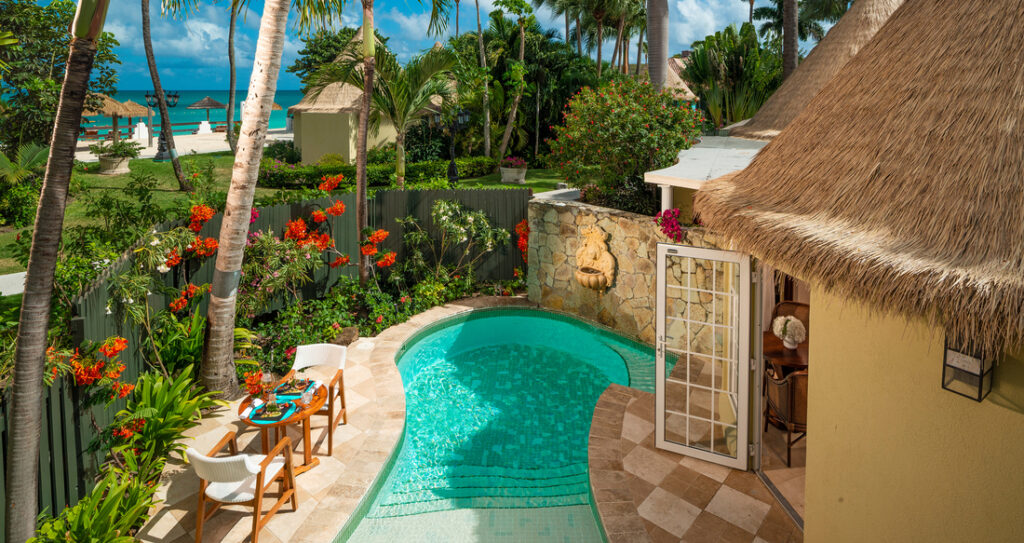 Suites, villas, and rondavels are all available at this spectacular seaside resort. There's a honeymoon suite waiting for you among the many available options, complete with personal butler service and a swimming pool.
Soak in your private pool or whirlpool while taking in the breathtaking scenery of Dickenson Bay. You'll find it here if you're looking for the finest white sand beach in Antigua.
Maldives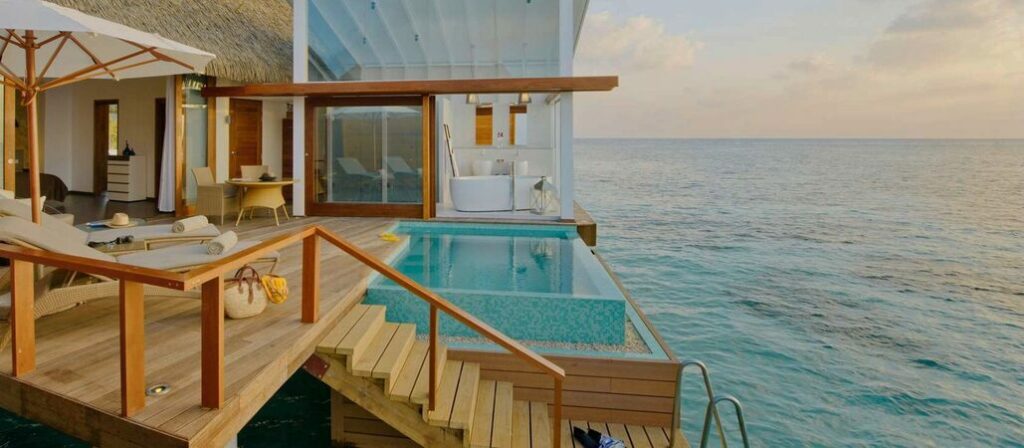 On North Ari Atoll, 70 kilometers southwest of Male', you'll find the lovely Maldives hotel Kandolhu. A seaplane ride can take you there in less than half an hour. Kandolhu is a unique Maldives resort with just 30 villas, and it wonderfully combines the natural aspects of the Maldives with modern construction and creature comforts. These honeymoon resorts with private pools and stunning ocean views are ideal.
Grenada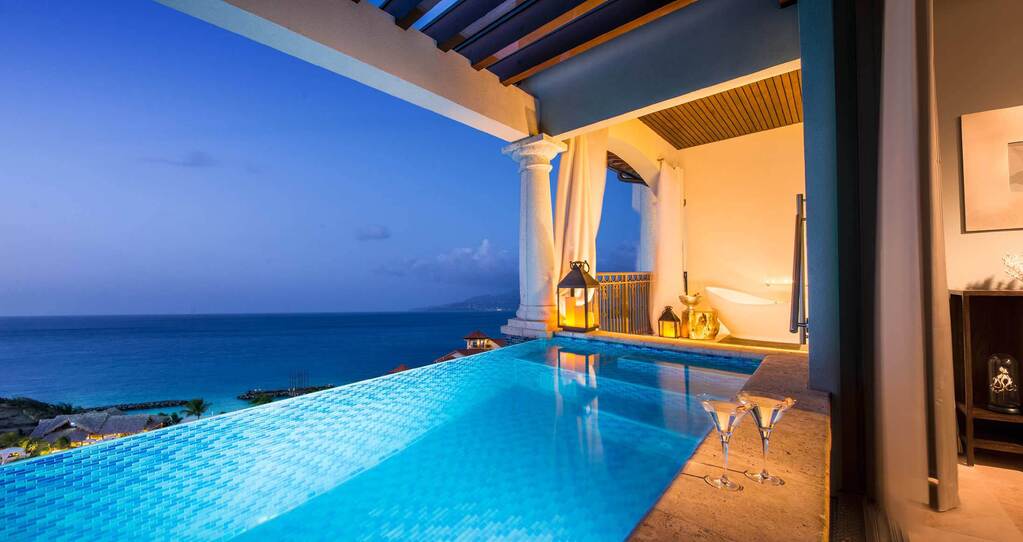 On Pink Gin Beach, this all-inclusive resort features villas with one bedroom and a private pool. Enjoy a refreshing dip in your private pool or a soothing soak in your whirlpool tub. Alternatively, stay in a suite overlooking the ocean located above a school. Your suite is cantilevered right over this fantastic infinity pool. Alternately, relax in a swim-up room. At this unique resort, you can pick what you want to do.
Greece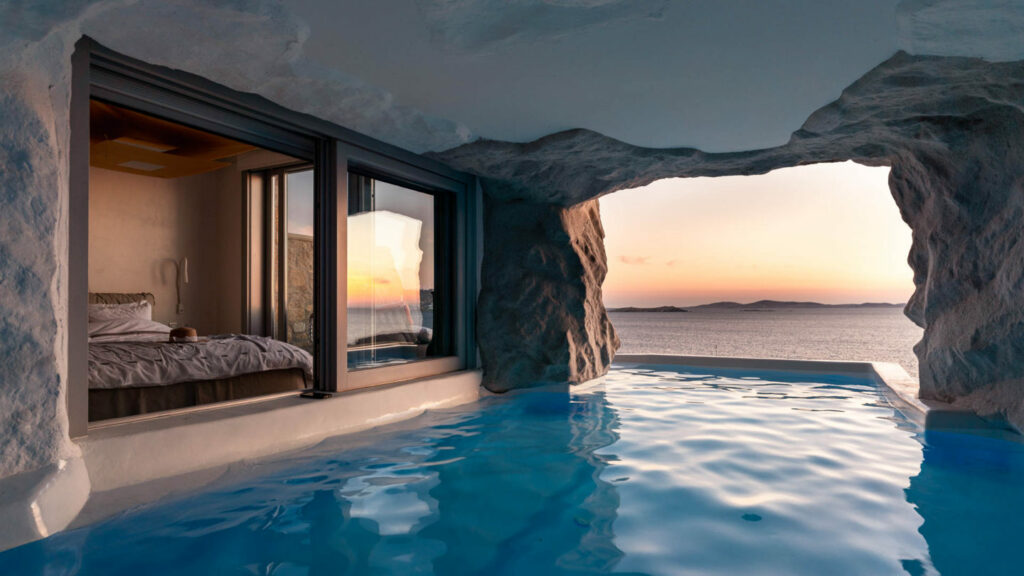 Cavo Tagoo is one of the most excellent options for a honeymoon resort with a private pool. The exterior is traditional Mykonian white, keeping the island's Cycladic style, while the interior is bright and airy. The classic ground-floor rooms offer private terraces with refreshing plunge pools, while the top-floor deluxe accommodations have infinity-edge pools with views of the Aegean Sea. A complimentary shuttle travels between the hotel and Old Town every five minutes.
Jamaica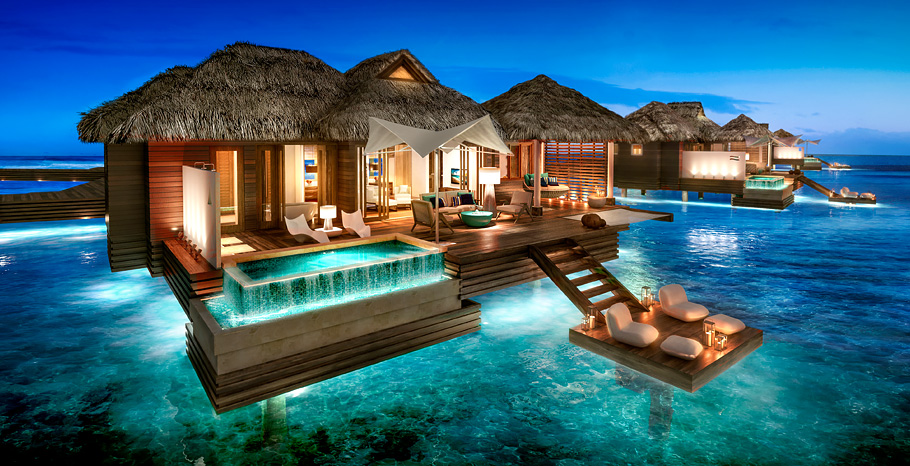 It feels like you are in paradise if you stay in one of these private islands, over-the-water villas with your infinity pool! Relax on the swing and the hammock on your deck. Your suite's floor is made of glass, so you can look out at the exotic surroundings without leaving the comfort of your bed. You may take in the beauty of the sea from the comfort of your villa, day or night, thanks to nighttime illumination. Excellent seclusion and lavishness!
Croatia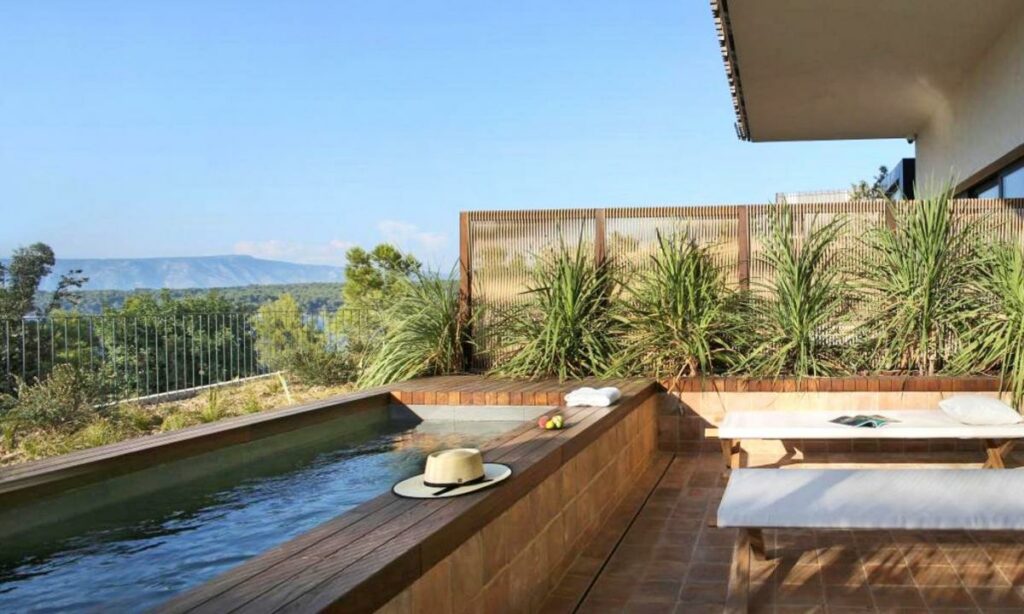 You can find the five-star Maslina Resort on the Croatian island of Hvar, near Stari Grad, one of the region's oldest settlements. Maslina is a mindful luxury resort focusing on health and wellness, family and community, fine dining, and respect for cultural traditions and authentic experiences.
It features fifty guest rooms and suites in addition to three private villas. Consider this option if you and your partner are looking for a honeymoon resort with a private pool in a natural setting.
St. Lucia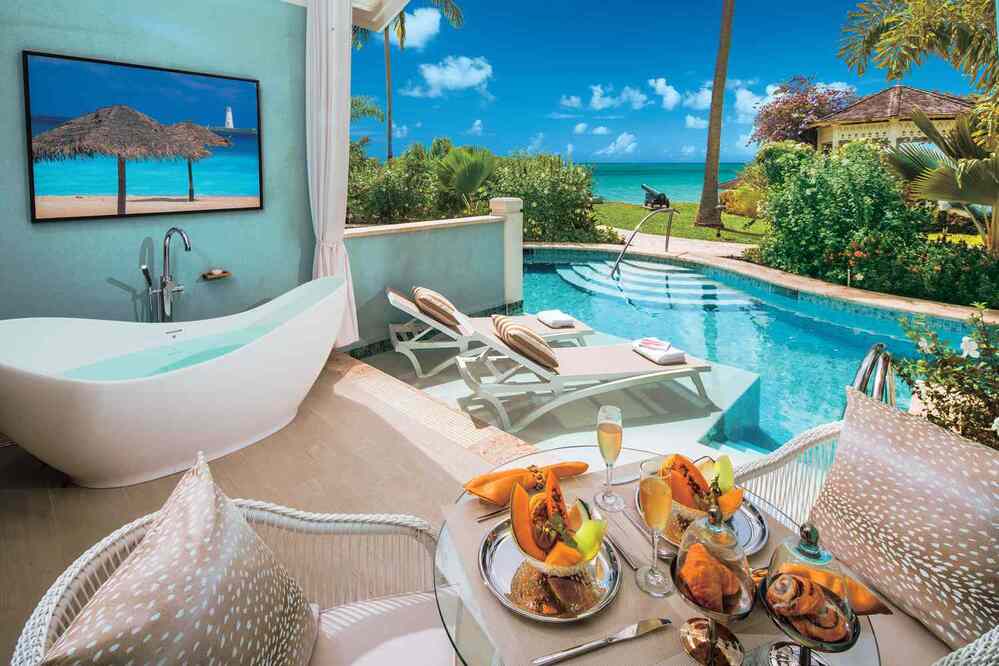 While indulging in the six gourmet restaurants, you can relax in a private pool. If you want, you can also have a gentle massage. The plunge pool creates a unique setting for enjoying the outdoors in all its glory.
This oceanfront accommodation, "Love Nest," has all the amenities a couple might want for their special night. You can enjoy scuba diving, paddleboarding, beach volleyball, pool tables, and a spa at this expansive resort. When you factor in complimentary meals and snacks, your honeymoon has all the makings of a dream come true.
Italy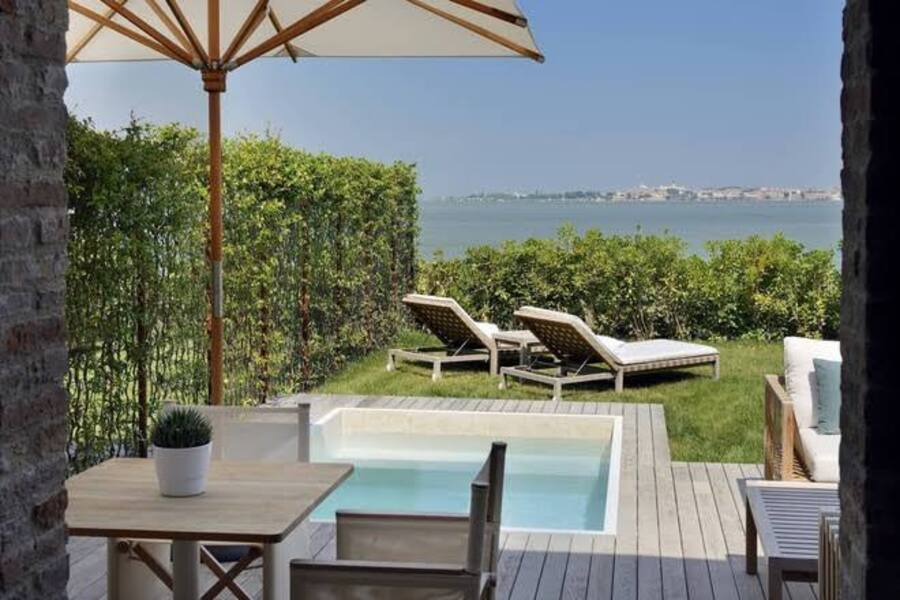 In Venice, luxury is elevated to heights in a two-story apartment with a private plunge pool. There are no limits to the opulence you may experience at JW Marriott. Take advantage of the spa or the rooftop pool.
In addition to private gardens, some posh homes also feature private plunge pools. This place is one of the best honeymoon resorts in terms of privacy, grandeur, and overall quality.
Hawaii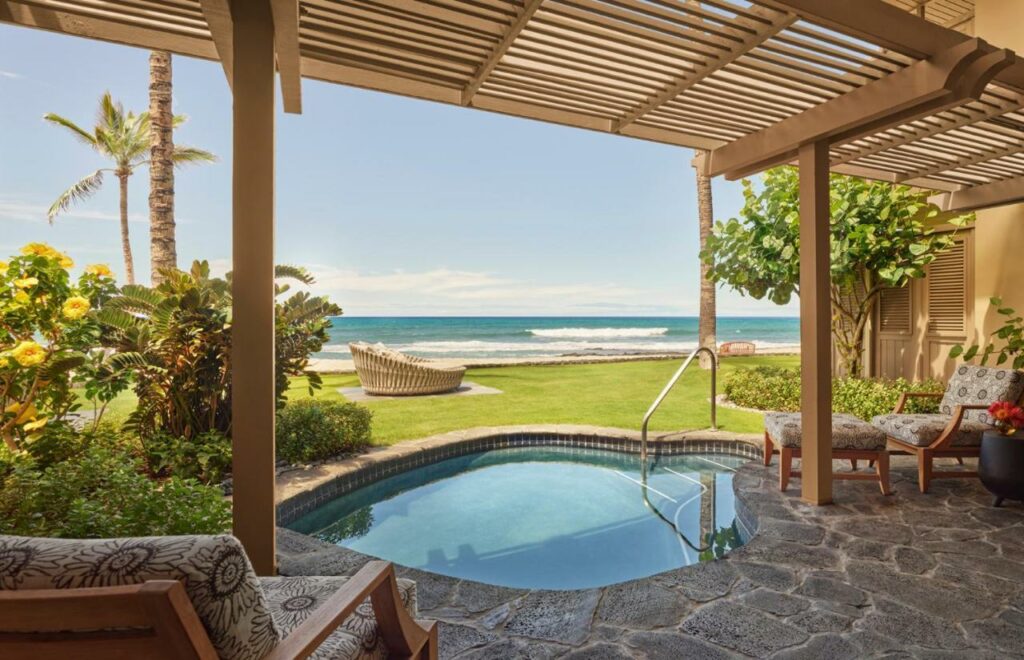 The sunny Western coast of The Big Island is home to the Four Seasons Resort, which features three roomy villas. Each has a balcony or terrace with a view of the ocean. And, of course, there's the alluring in-house swimming pool. The largest and least crowded of the Hawaiian islands are perfect for a romantic getaway because of the quiet and seclusion it offers.
Four Seasons is one of the most secluded honeymoon resorts with private pools, making it ideal for a romantic getaway.
Jamaica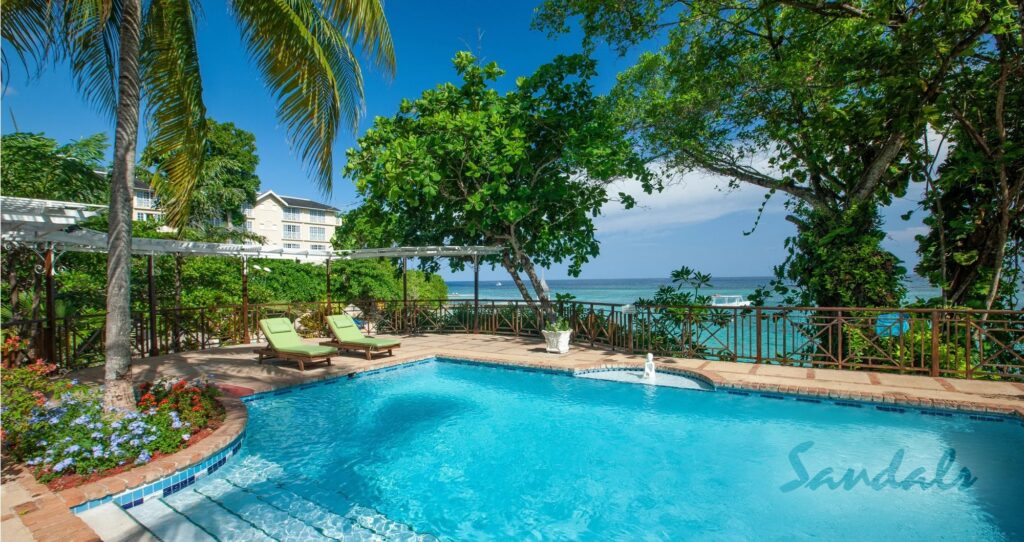 Seeking seclusion, comfort, and leisure? The three-bedroom Villa Plantana on the beach is a great option, with a private pool. Even the driveway leading to your house is private.
A private stone path can reach the main part of the resort. Each of the bedrooms features a patio and a four-poster bed. The villa can sleep anywhere from one to three people.
Antigua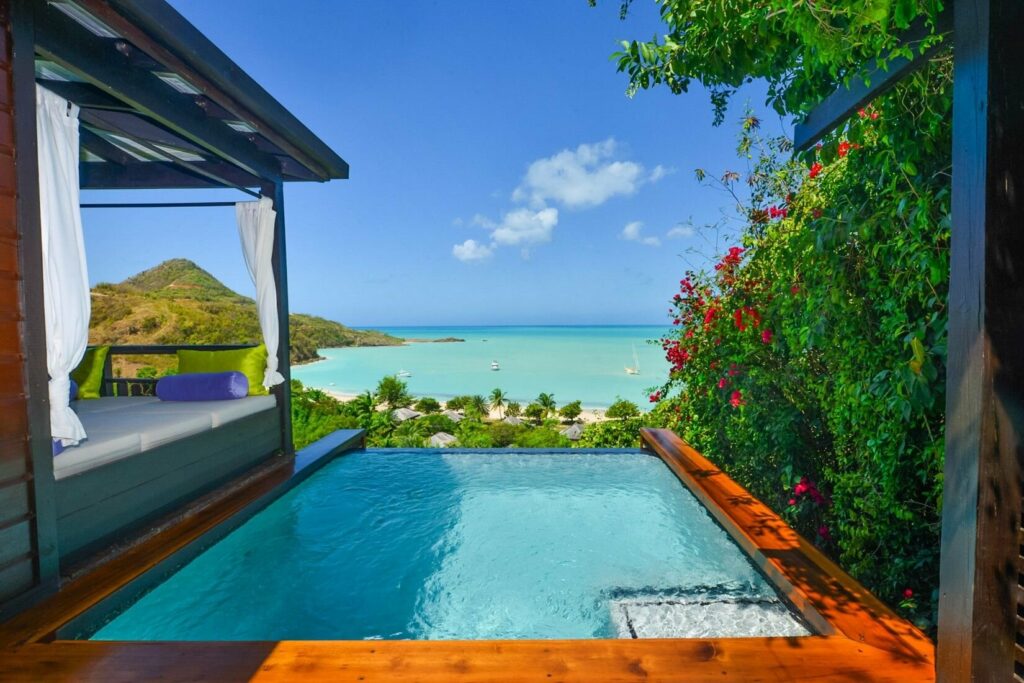 If you're looking for seclusion and a plunge pool, one of the 17 cottage apartments perched on the hillside is your best bet. You'll have to climb a series of stone stairs to get there. There is a king-size bed, an outdoor shower, a sun deck that encircles two sides of the building, and an infinity-edge plunge pool at this treehouse-style getaway that is well worth the effort. Intimate honeymooning couples will find this one of the best resorts with private pools.
St. Lucia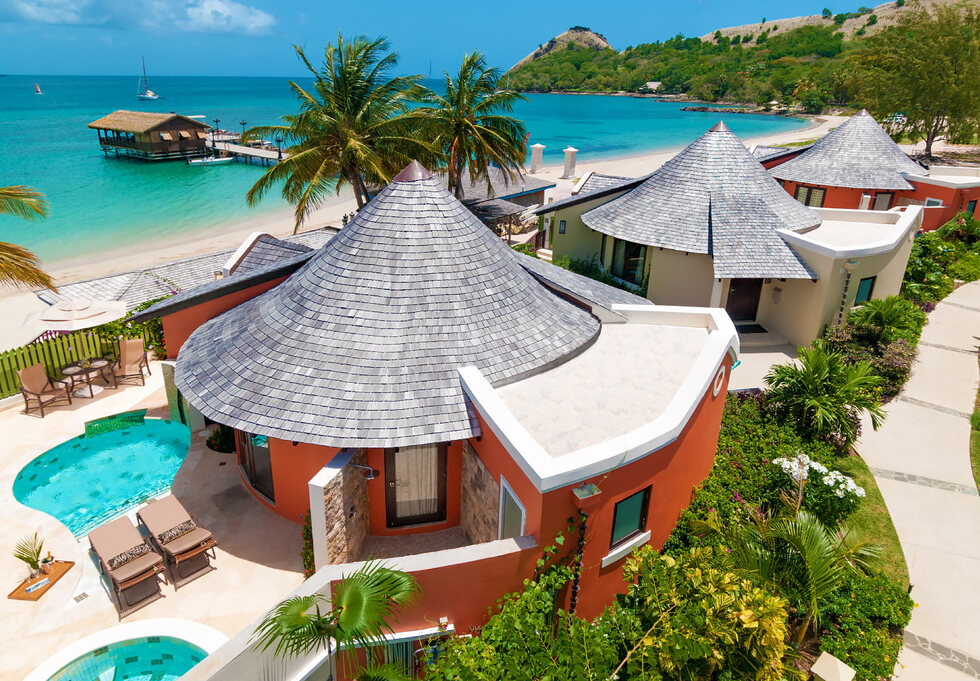 The best choice for your honeymoon is to stay at this adults-only resort. A plunge pool, private jacuzzi, and shower stall, all located outdoors, characterize the butler suites at this luxurious resort. Only a few steps separate you from the beach and the ocean, yet you'll feel like you're miles away in your private paradise.
Thailand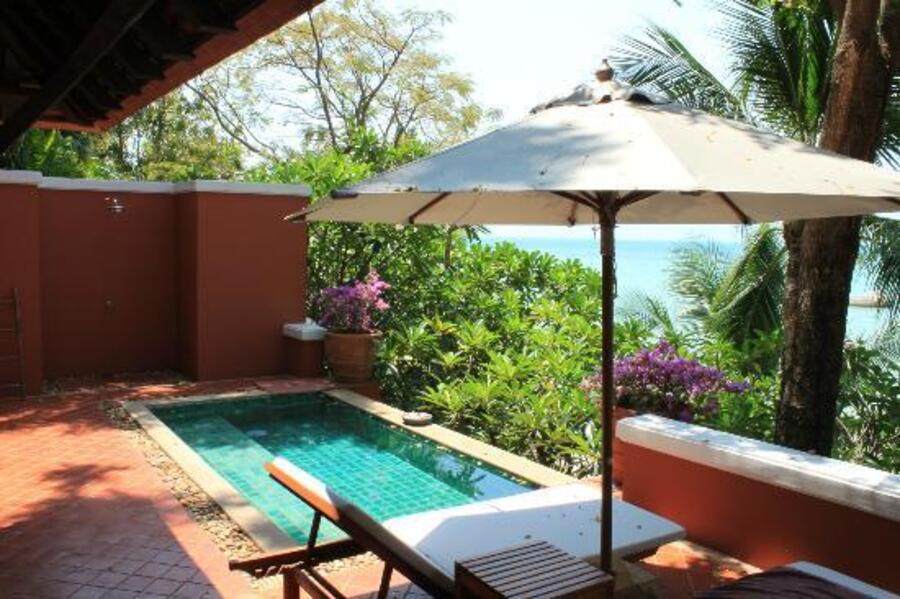 This place is one of the most fantastic honeymoon resorts with private pools if you want to go somewhere exotic for your trip. Charming staff, stunning scenery, and luxurious accommodations await you in this resort. You can rent a villa with one, two, or both bedrooms on the beach at this fantastic location. You may walk right out of your room and into the pool area.
This beachside resort provides a tranquil boutique close to Lamai Beach and Fisherman's Village. Furthermore, the resort has several restaurants where visitors can taste delicious seafood with only the finest ingredients.
Jamaica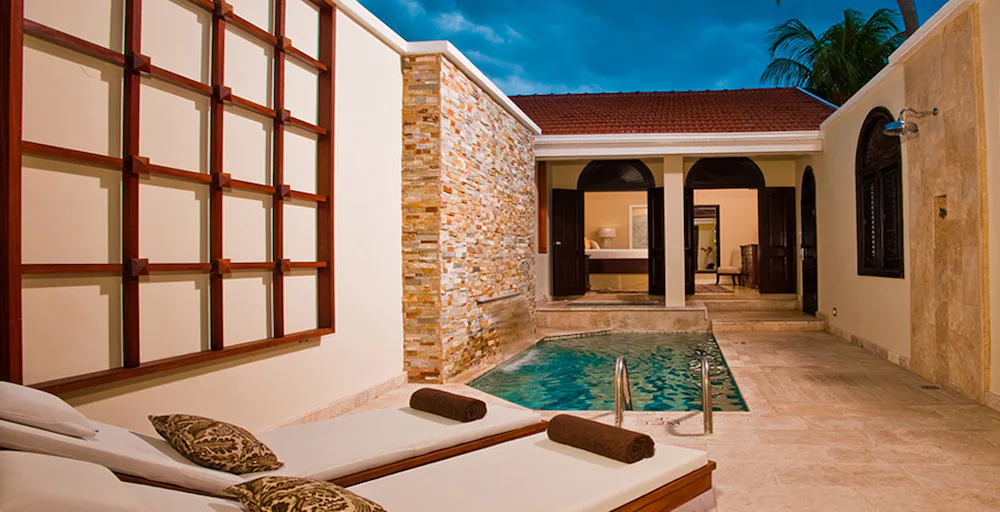 The Butler Villa at Sandals Ochi lives up to the resort's stellar reputation. Unsurprisingly, this is regarded as one of the finest honeymoon resorts with private pools. There's plenty of room for everyone with a villa that offers four opulent one-bedroom apartments. You can use this beautiful villa and its private pool exclusively for your honeymoon party to invite as many as possible. You'll love this authentic Jamaican dish with mangoes, greens, and exotic orchids.
St. Lucia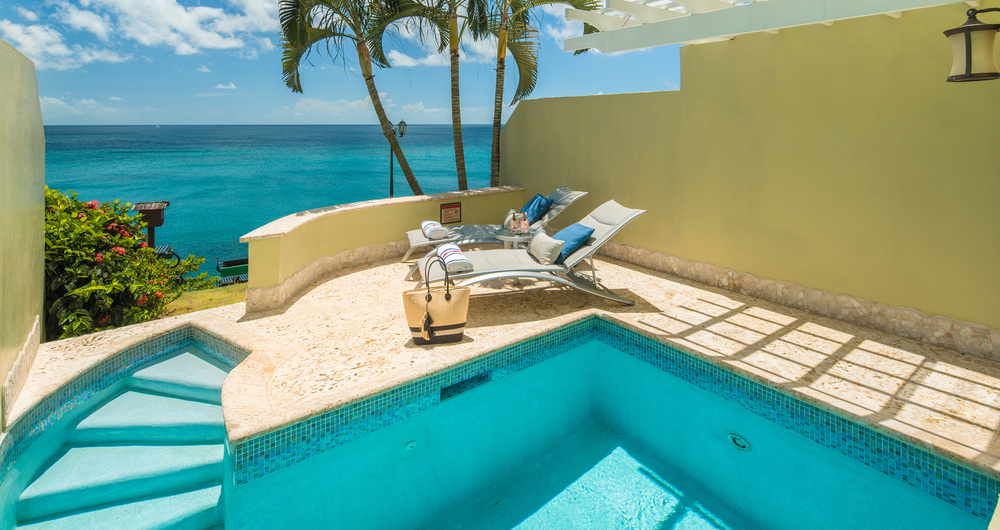 This adults-only resort is one of the top honeymoon resorts with private pools, and it occupies a stunning 220 acres in a tropical setting.
There's plenty to keep it busy. Daytime activities include golfing, windsurfing, scuba diving, or beach volleyball. Take it easy in one of our ten luxurious suites, each with a private balcony with a view of the sea and the beautiful island of Saint Lucia.
Each oceanfront villa suite has a private pool, sundeck, and butler service. There's no need to go elsewhere, what with the hotel's excellent room service and facilities.
Arizona, USA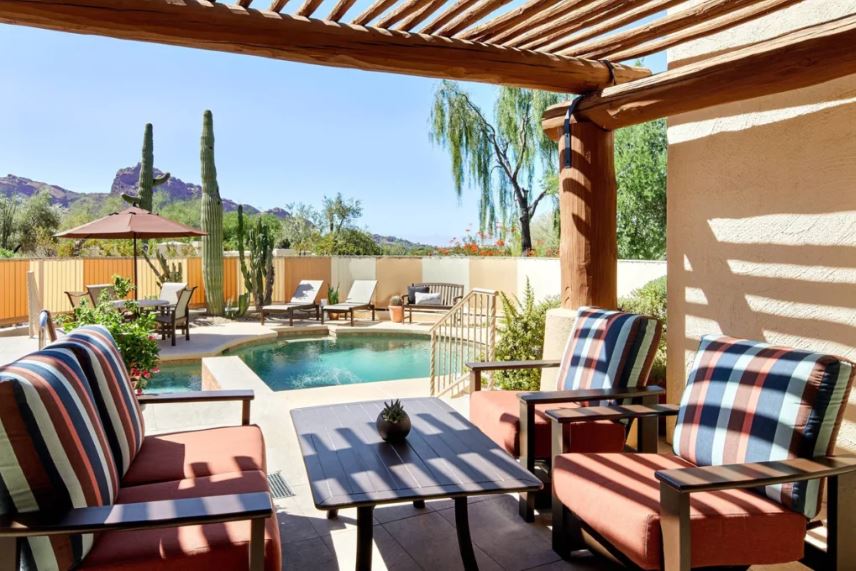 You may unwind in the comfort of your pool at the Jackrabbit or Deluxe Pool Suite. Swimming in heated outdoor pools, playing golf, and relaxing in the spa are just a few perks. If you want to take your pet on your honeymoon, this is one of the best pet-friendly resorts with a private pool.
Pets are welcome at the JW, so you don't have to worry about leaving a pet behind while having a blast on your vacation. Relax in tranquility and indulge in fine food in the desert on your honeymoon.
Final Thoughts
Spending a romantic getaway with your partner dipping your toes into warm water, and sipping cocktails is not an impossible dream. By booking some of these honeymoon resorts with private pools, you and your spouse will have a tranquil and romantic getaway you two will love.