Because most people only go on their honeymoon once or twice in their entire lives, proper planning is necessary. There is surely a resort that will meet any couple's needs, whether they are looking for a luxurious experience, a more economical setting, or an all-inclusive honeymoon. To assist you in narrowing down your options, we have produced a list of some of the best resorts for a honeymoon that you can choose from.
Negril Jamaica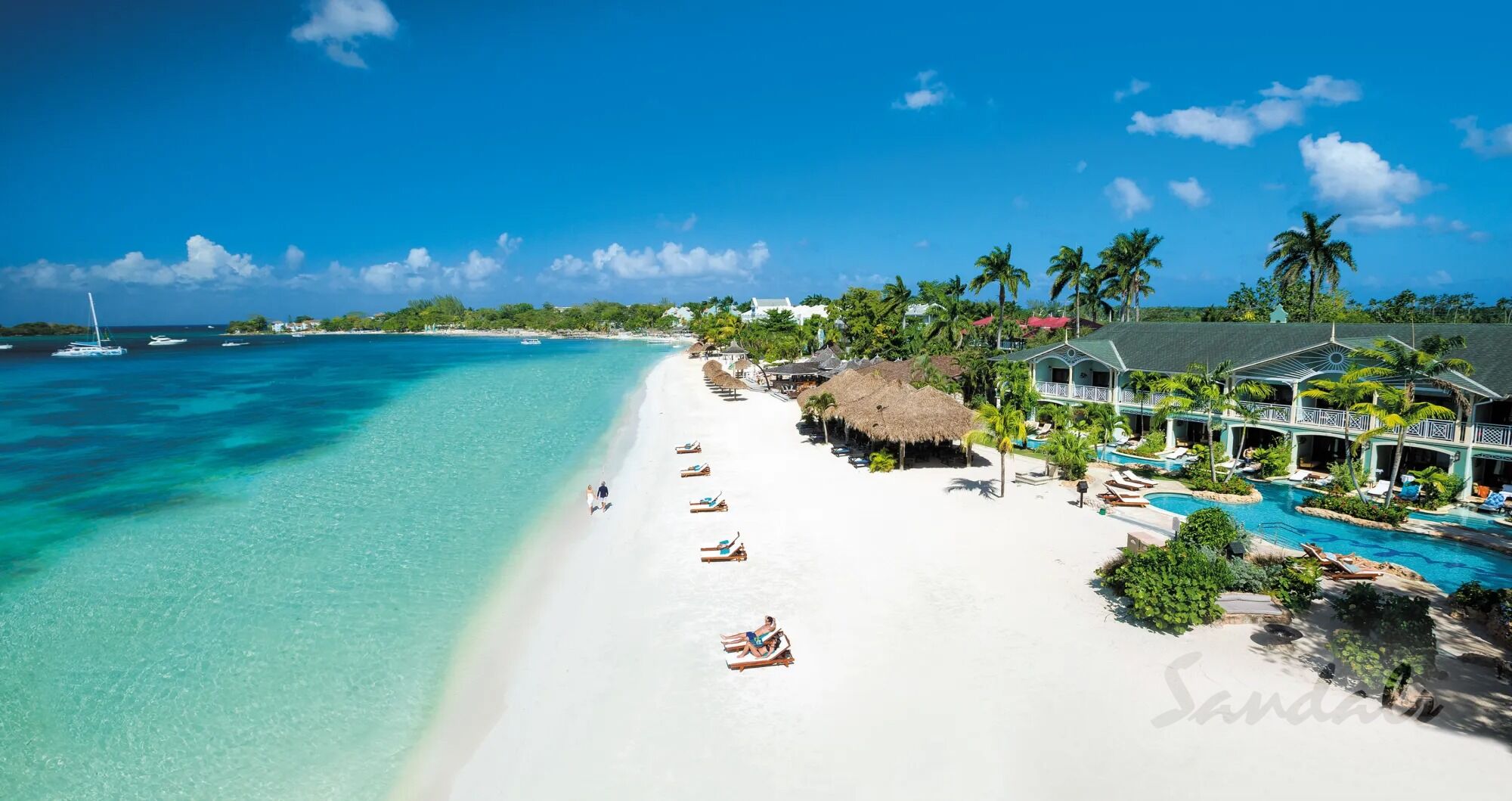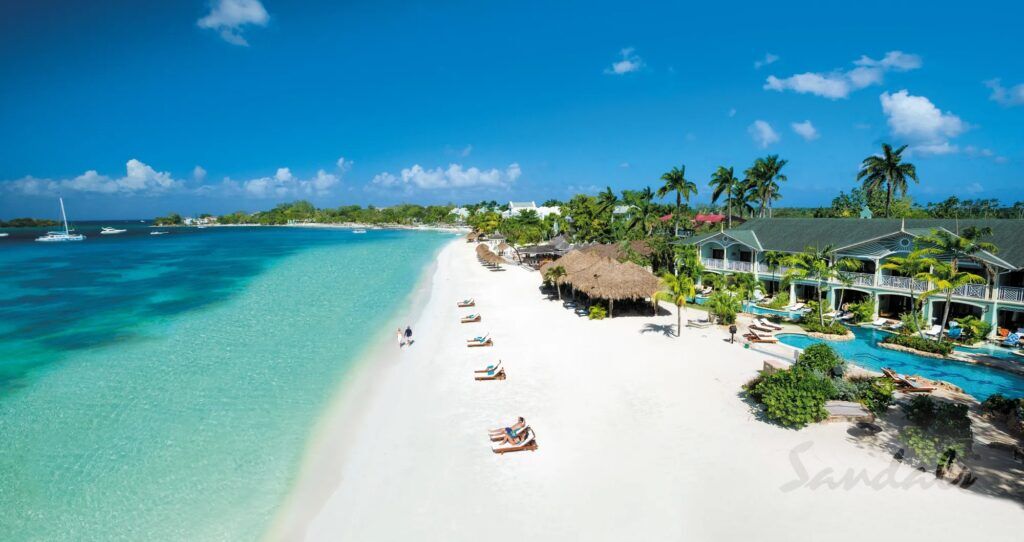 Sandals Negril boasts Jamaica's longest and most beautiful beach, making it one of the best resorts for a honeymoon. It's a wonderful spot to unwind. Couples can soak their toes in the soft, white sand as a refreshing ocean breeze blows in.
Spend the day basking in the rays of the sun and the night twirling carefreely under the twinkling lights of the stars. At this carefree resort, all that matters is having a good time.
You can select from various honeymoon suites conveniently located close to Seven Mile Beach's famed white sands. The magnificent landscape of the Jamaican shore is brought within through rich colors and the ingenious usage of glass.
Because of its low price tag, Sandals Negril is a popular option for honeymooners on a tighter budget. Your honeymoon package at any of the Sandals Resorts includes lodging. An abundance of land and sea pursuits are also available. Moreover, there is an unlimited gourmet meal at various restaurants and bars. Also, if you book your honeymoon at Sandals within the first 30 days after your wedding, you'll receive several free perks.
Antigua


Take your honeymoon to a new level by booking a private Chairman's Overwater Bungalow at this five-star adults-only resort. Private verandas overlooking Deep Bay and the Caribbean are a feature of each of the huts made of natural wood. It gives them perfect spots to relax and enjoy the sunset.
The Chairman's Overwater Bungalows' Diamond Club rooms have king-sized beds. Moreover, there are living and dining areas and swim-out infinity plunge pools with shimmering sea views. There is also a hammock over the water and glass floor inserts through which guests can see the vibrant marine life below. It's one of the best resorts for a honeymoon, especially for couples looking for a luxurious experience.
A honeymoon package at The Royalton Antigua includes a free lunch delivered to your bungalow by a butler. The resort also boasts an extended room service menu and a minibar restocked twice daily.
When you're ready to venture out of your ocean-view haven, you'll find many fun activities and delectable cuisine options.
Montego Bay, Jamaica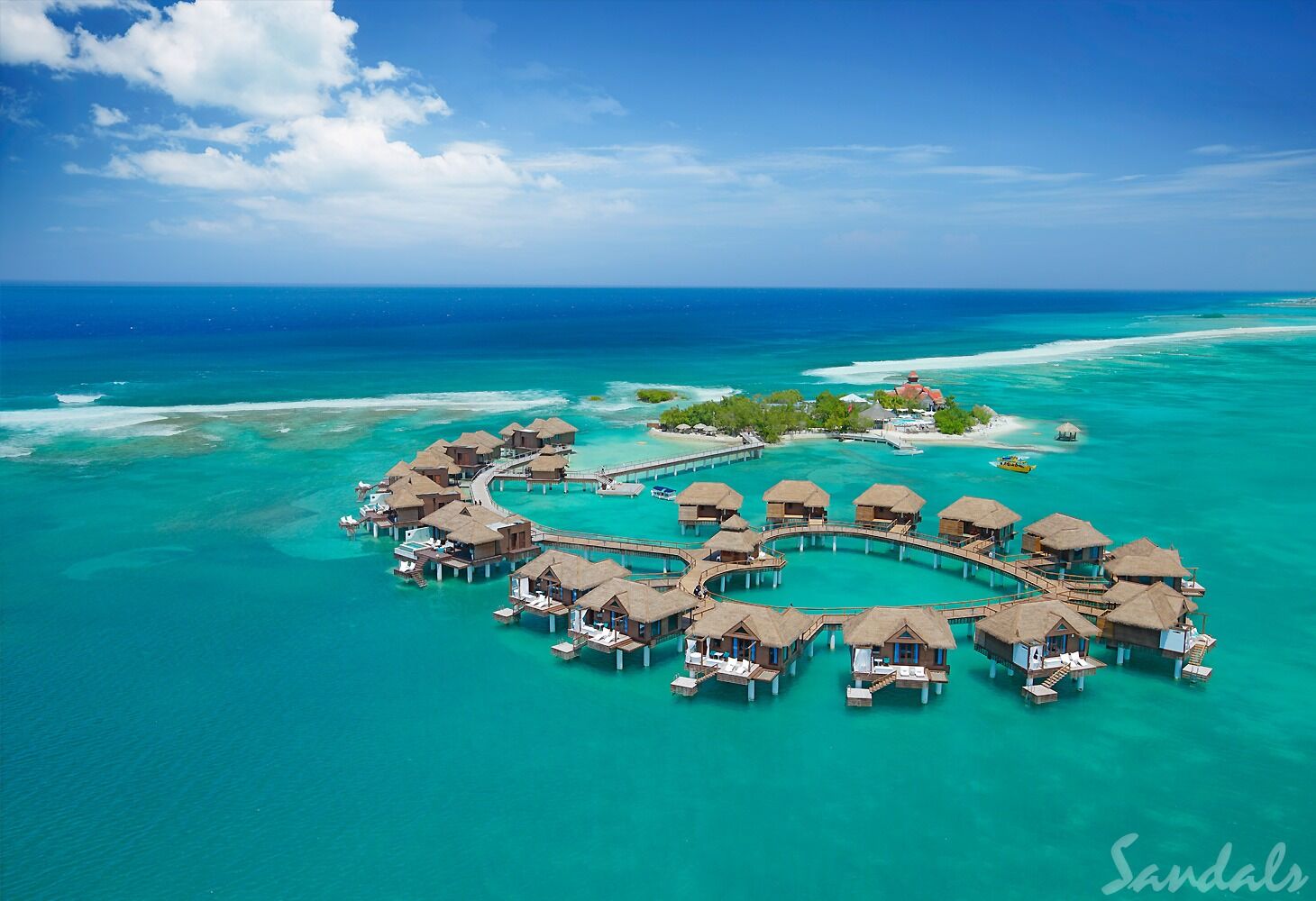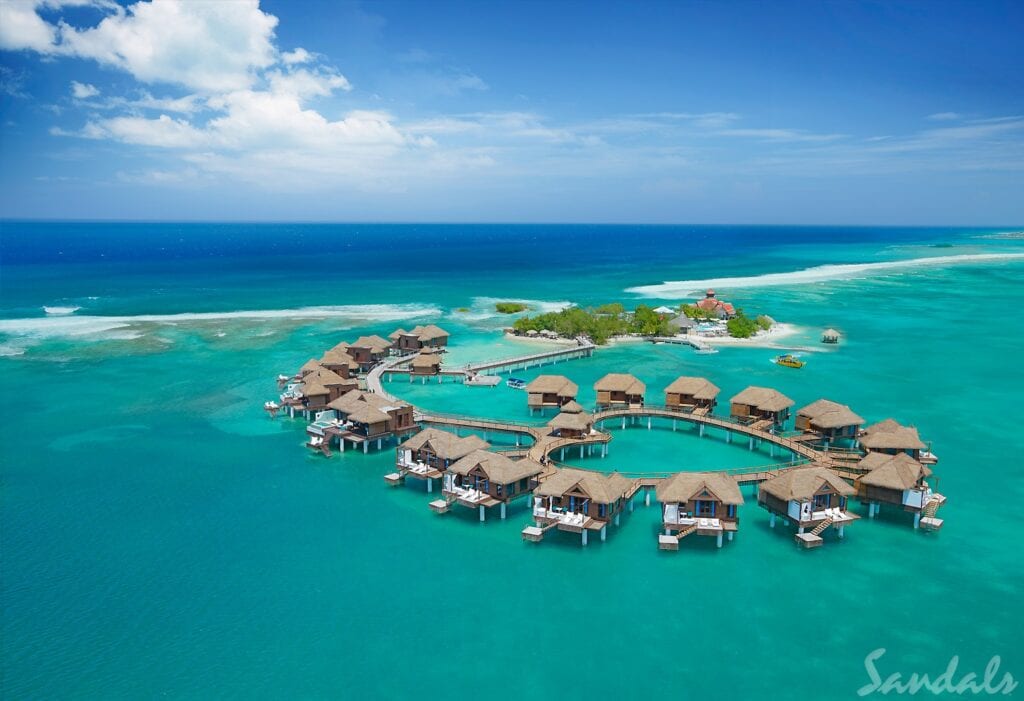 Hidden away in a picture-perfect setting, Sandals Royal Caribbean ranks high among the best resorts for a honeymoon. It has everything a newlywed couple might desire on their getaway. There's a great Thai restaurant, nightly entertainment, a pool, and a private beach. This resort also has a Georgian-style Great House, giving guests a taste of British colonial life.
You can get the ultimate romantic experience as a couple by booking a stay in one of the Sandals' overwater bungalows. The bungalows are on its private island, located only a few minutes offshore.
Your honeymoon package at any Sandals Resort includes lodging and an extensive selection of on-site dining options. There is also an open bar with quality liquor and access to water and land activities.
Cancun, Mexico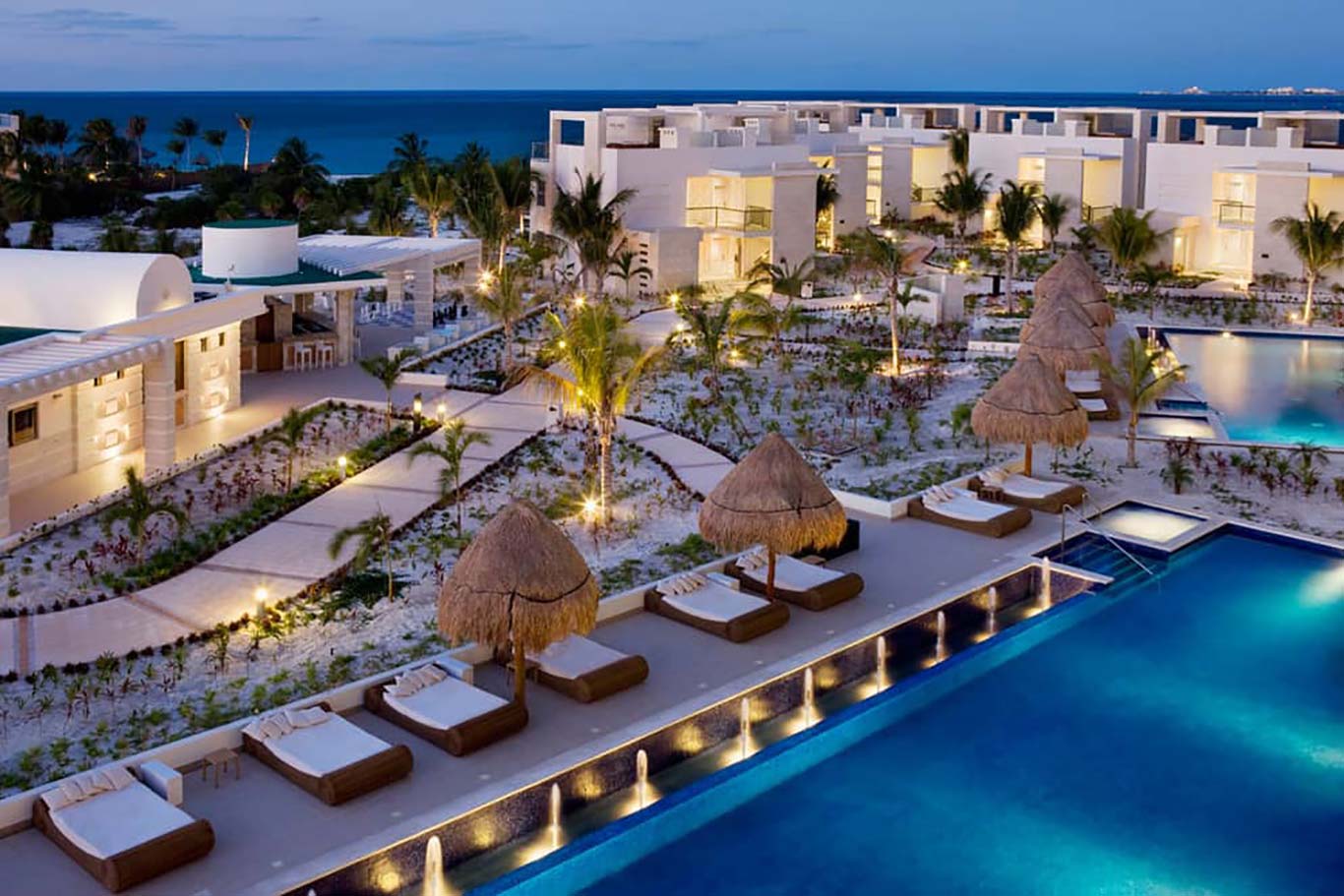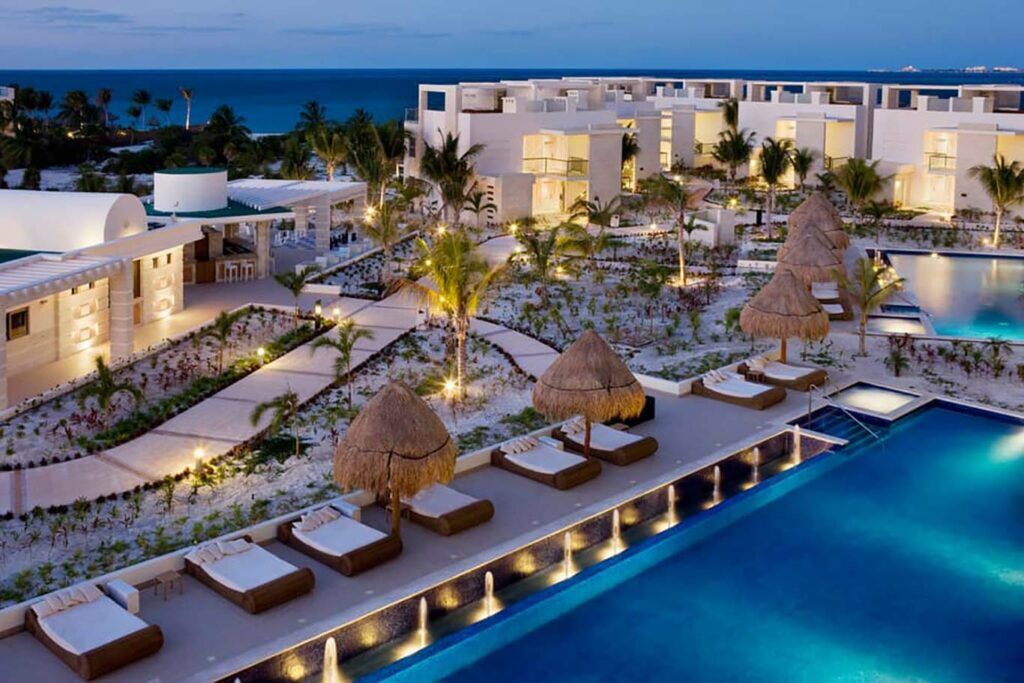 Beloved Playa Mujeres is one of the best resorts for a honeymoon. Why? Built for romance, this resort was designed with couples in mind.
The adults-only all-inclusive resort features private plunge pools in its spacious apartments. It creates a tranquil and romantic atmosphere. You may splurge on a Casita Suite complete with your private pool. The resort also boasts activities that are only for couples.
A stay at the spa, an aquatic paradise with a large hydrotherapy area and multiple treatment rooms, is the perfect place for a romantic getaway.
Aside from sailing, snorkeling, and kayaking, guests may take advantage of the resort's three swimming pools. You can also splurge on their four Jacuzzis and cooking classes. Moreover, there is a fitness center and other amenities for you to use.
Antigua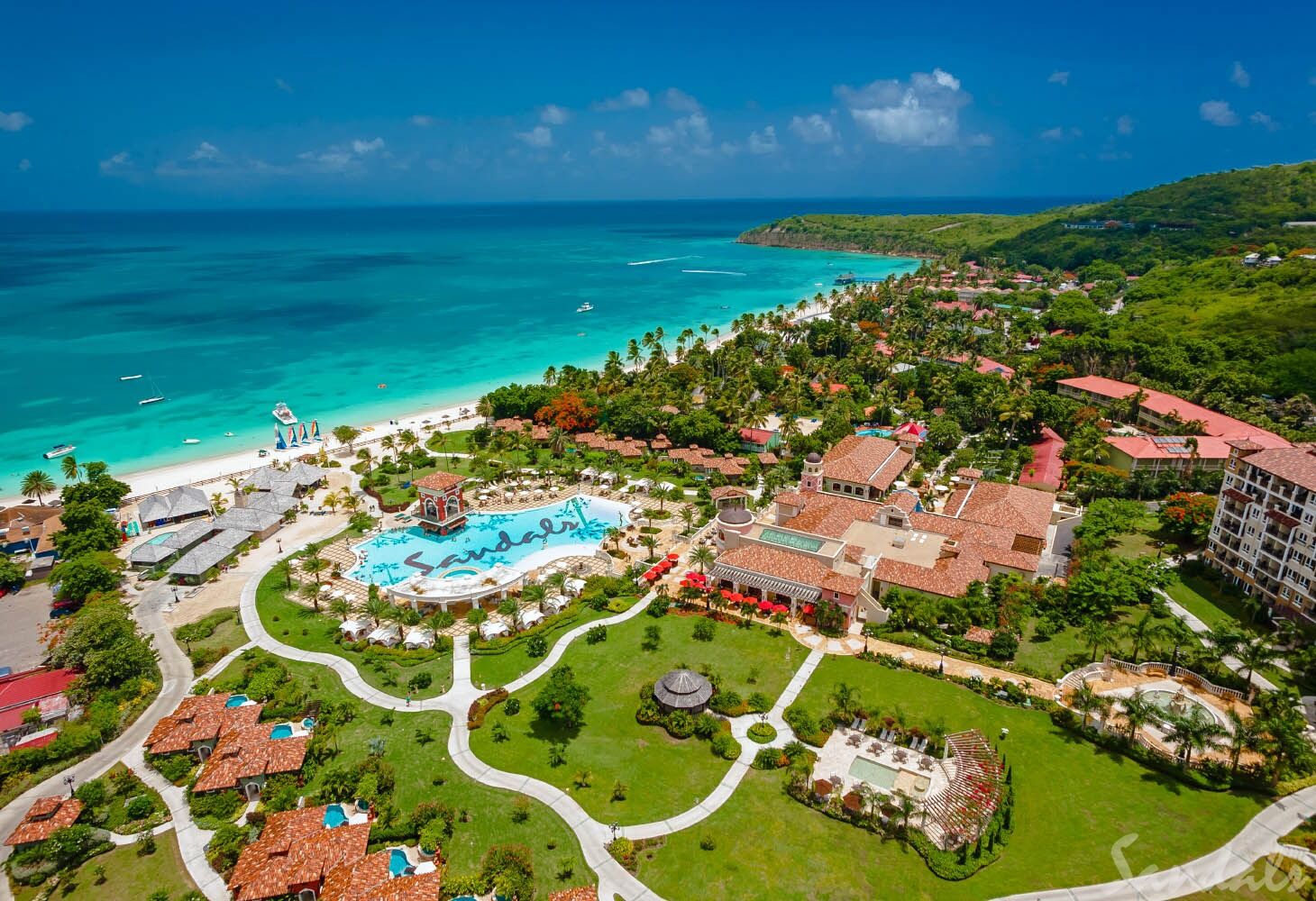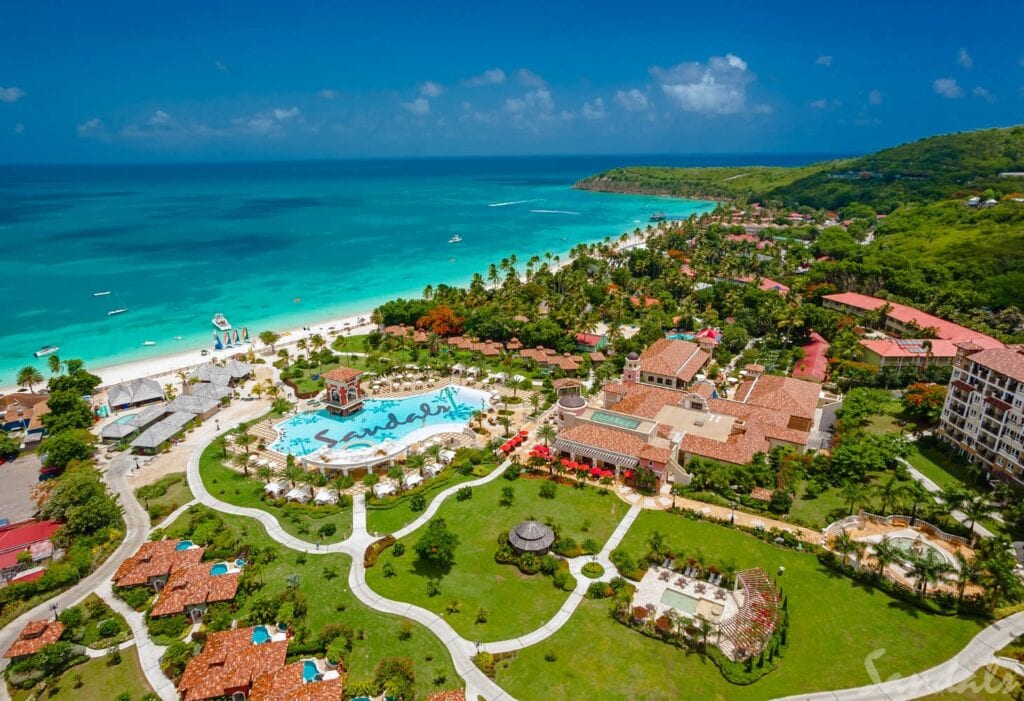 The World Travel Awards has often recognized Sandals Grande Antigua as the Caribbean's Best Romantic Resort. It was also once even named as World's Most Romantic Resort.
Sandals Grande Antigua, situated on Antigua's most well-known beach, Dickenson Bay, allows honeymooners to choose between two distinct atmospheres.
You can find the Caribbean Coastal Village can play on the resort's western side. It features tranquil, crystal-clear water, ideal for water sports or romantic private day bed set-ups. Moreover, the suites have private pools, and the surrounding has lush tropical vegetation.
At the same time, you'll find a 6-star, all-suite oceanfront village on the opposite side. It has breathtaking panoramas in every direction. Some of its villas come with a personal butler.
On your honeymoon, you can choose from eleven restaurants and seven bars, providing many options no matter where you stay. All meals come with free, top-shelf alcohol and plenty of opportunities for fun on land and sea.
Punta Cana, Dominican Republic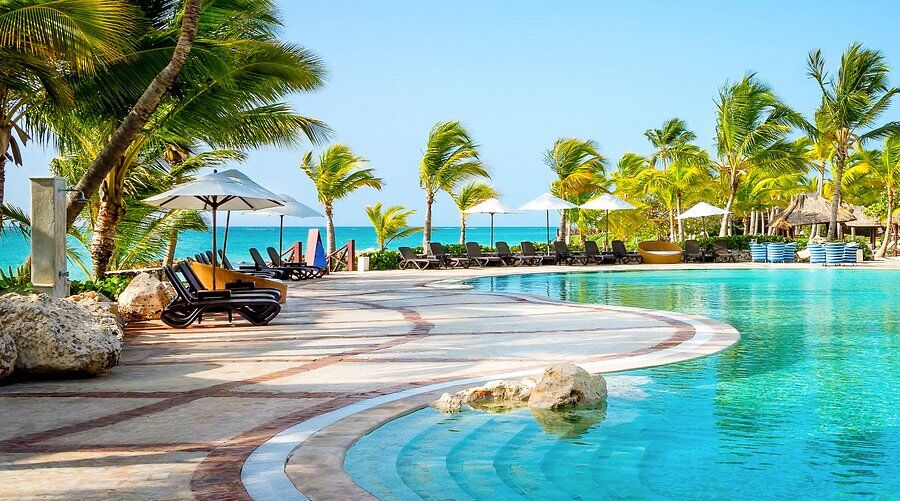 You can find this all-inclusive resort in the exclusive Cap Cana beachfront reserve. It's only around a 15-minute drive from Punta Cana International Airport.
Not merely because of its castle-like architecture, Sanctuary Cap Cana looks like a Spanish colonial village by the sea. It has a romantic vibe making it one of the best resorts for a honeymoon.
All 323 of its suites are beautifully designed with sleek modern lines, natural wood, stone, rattan, and various room layouts (from beachfront bungalows to castle rooms). In addition, this resort boasts five pools and a Jack Nicklaus-designed golf course. The resort also features six bars and five restaurants (one perched on stilts over the lake).
With the all-inclusive theme, you may fill your days with exciting excursions and luxurious facilities. You can keep active with things like ocean kayaking and cooking lessons. Because of the resort's endless supply of poolside cabanas and daybeds, visitors often extend their stays.
Bahamas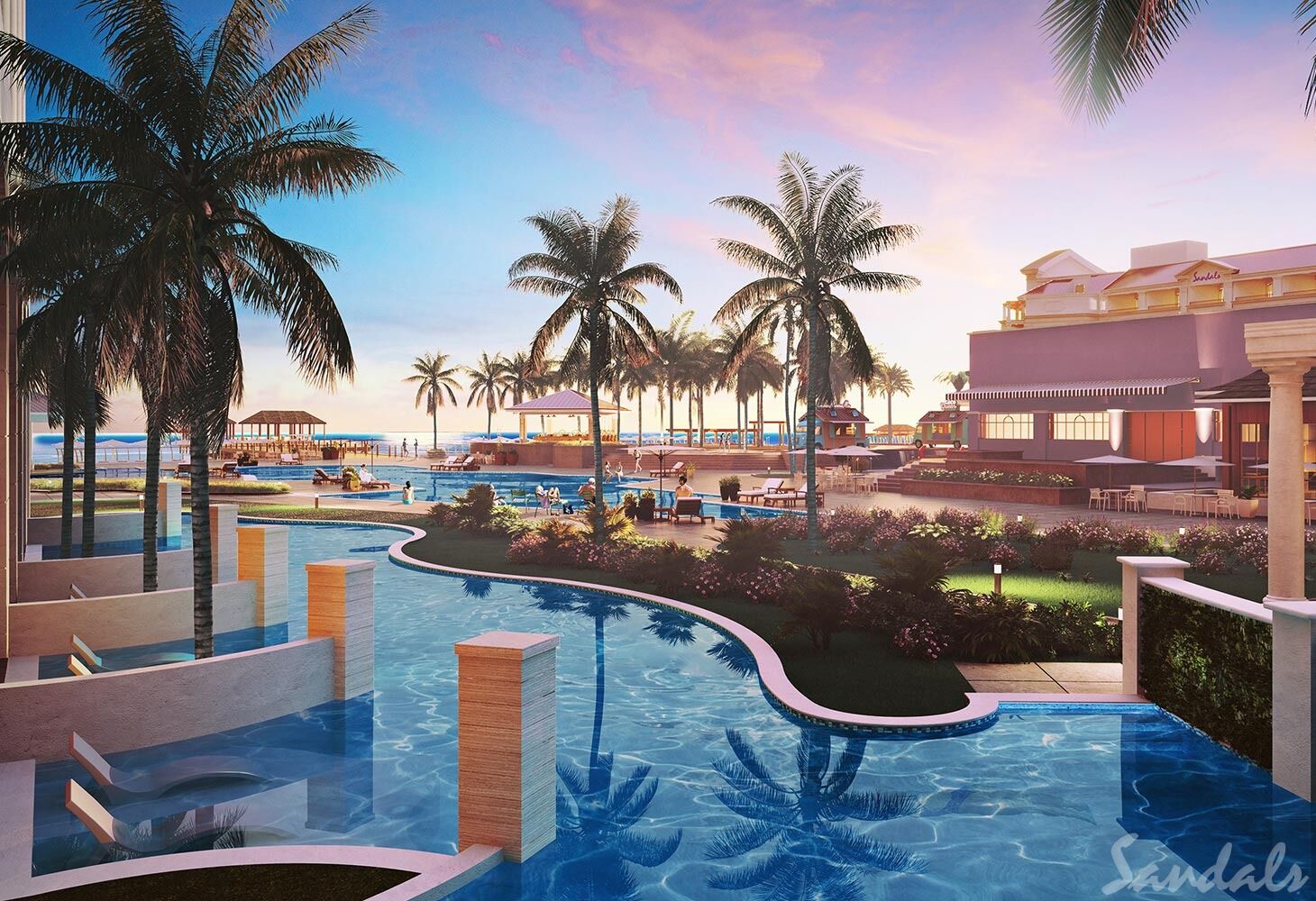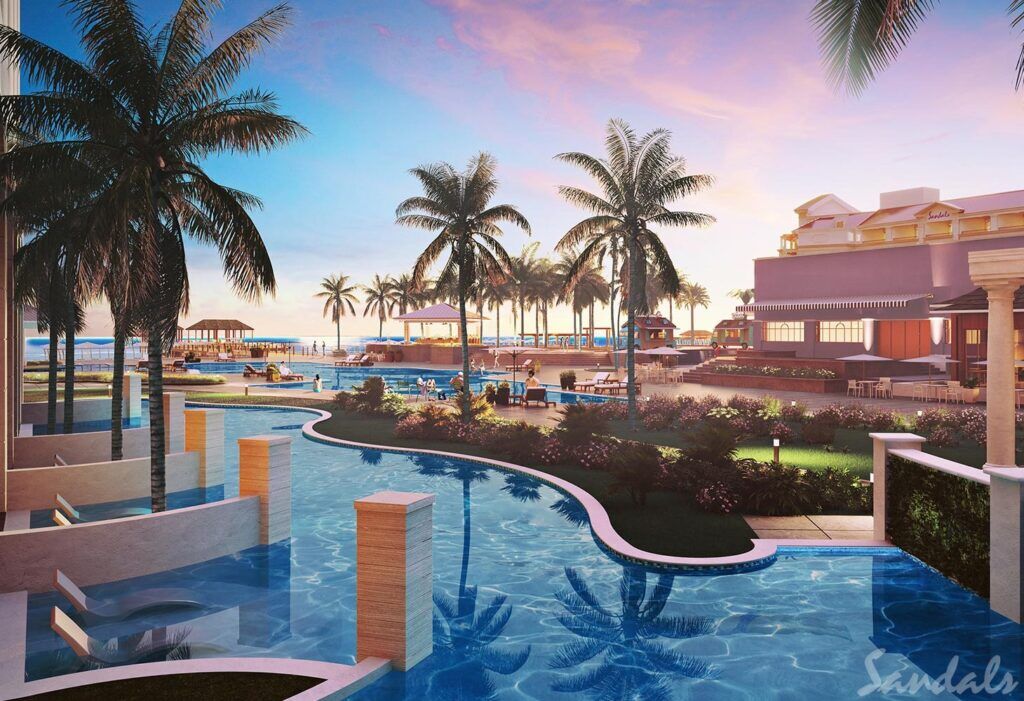 The opulent all-inclusive resort has recently added new Crystal Lagoon Swim-up Suites with butler service and Beachfront Swim-Up Butler and Club Level Suites only steps from the water, giving honeymooners a wide range of alternatives for a relaxing escape. No wonder it is one of the best resorts for a honeymoon.
In addition to the traditional fare, guests can try one of the hotel's 13 new dining concepts, such as the seaside lounge Coconut Grove, shaded by coconut palms. Moreover, there are traditional Bahamian meals at Coco Queen. There are also some Italian standards at Bahama Mamma Mia and sweets and coffee at Sweets 'N' Tings, three of the newest food trucks in town.
Your honeymoon package at any Sandals Resort includes your hotel and unlimited dining. There is also premium booze at multiple bars and abundant water and land activities.
St. Lucia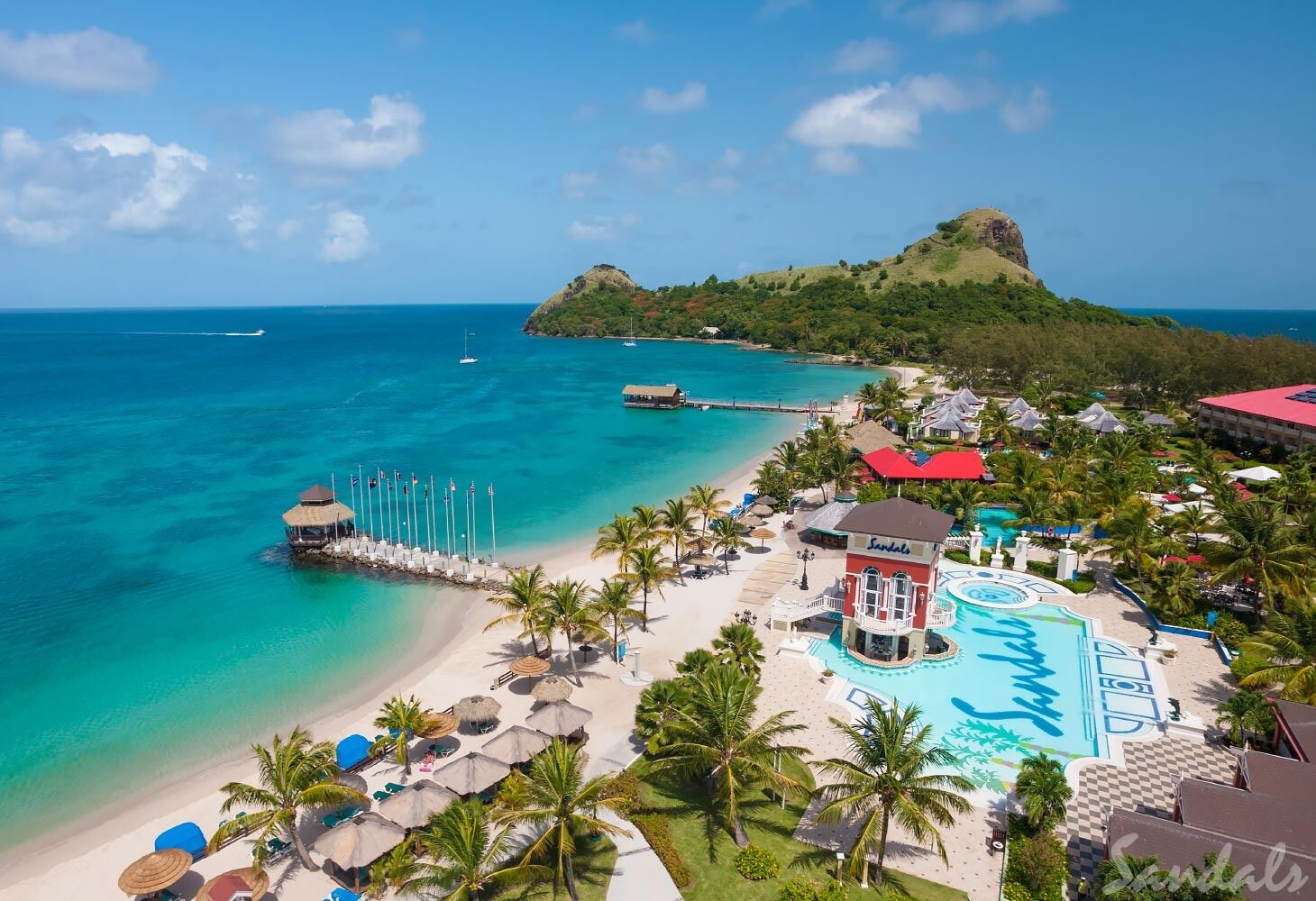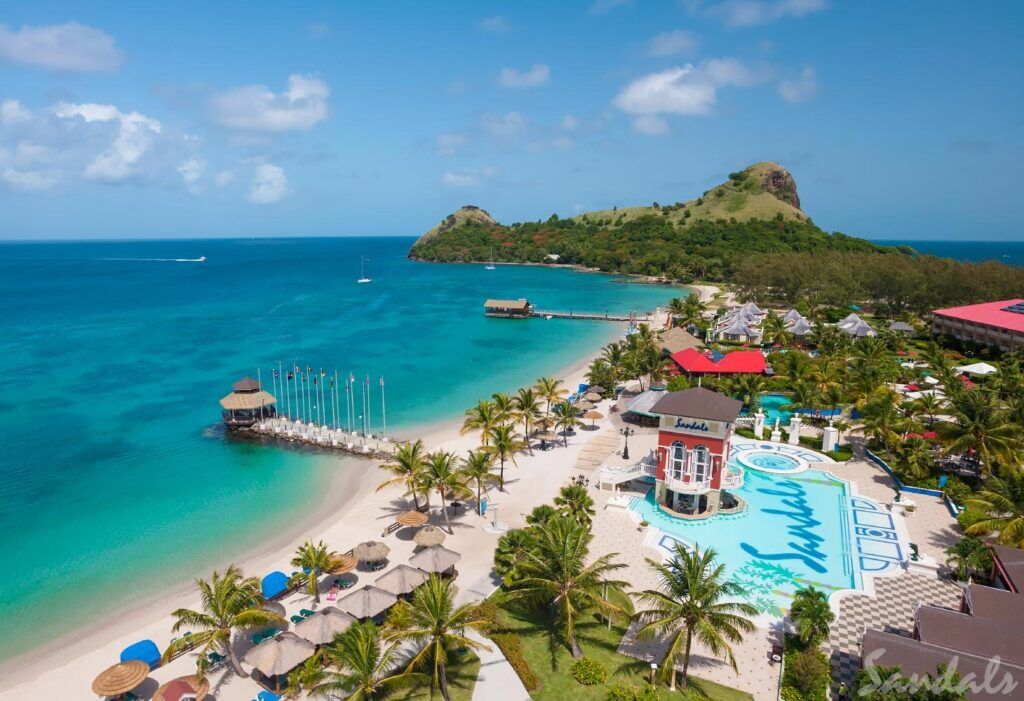 Sandals Grande St. Lucian's 9 Over-the-Water Honeymoon Butler Bungalows offer a genuinely luxurious all-inclusive experience. This makes them one of the best resorts for a honeymoon. Your butler will assist you with every aspect of your stay. From unpacking to reserving restaurants and activities. And from drawing a bath with rose petals to replenishing your (free) deluxe minibar.
St. Lucia's overwater bungalows include hardwood floors and glass panels for a close-up look at the aquatic life below. Your private sun deck extends into the sea, and a short staircase lets you enter the water from the balcony.
The largest and busiest of the Sandals resorts, the Sandals Grande St. Lucian is always bustling with guests. During your time at the resort, you can participate in various land- and water-based activities. Also, you can visit two additional Sandals properties on the same island.
Bora Bora
In Bora Bora, you'll find the luxurious InterContinental Bora Bora & Thalasso Spa. It ranks among the best resorts for a honeymoon.
Bora Bora, a paradisical island perched on a dormant volcano, is home to a stunning lagoon that reflects many different colors of blue. Perhaps the most romantic place on earth, this South Pacific island is dotted with white sand beaches and overwater villas.
The 84 overwater villas at the InterContinental Bora Bora are spread out along two jetties and are rather significant. Each villa has its own distinct layout. There's a beautiful view of the beach or Mount Otemanu. Furthermore, a furnished terrace is available (some even have a plunge pool).
A glass-bottomed coffee table in the living room provides views of the lagoon and the coral fish. Moreover, a large picture window surrounds picturesque views of the lagoon from the bathroom's double vanity, shower, and separate tub. The villas have eco-friendly, deep-sea water air conditioning. They are designed in a modern take on island style that nods to traditional Polynesian motifs.
Ocho Rios, Jamaica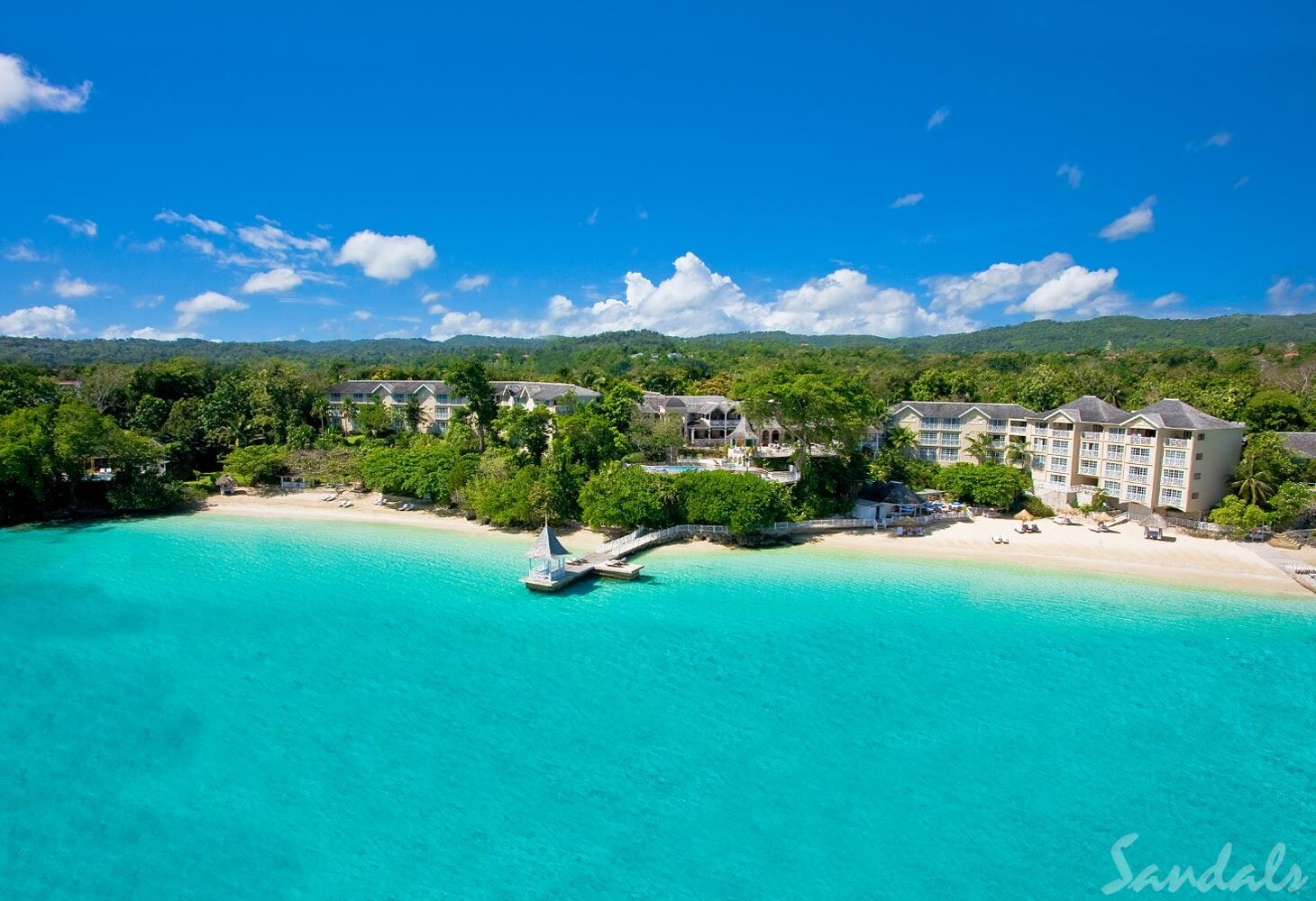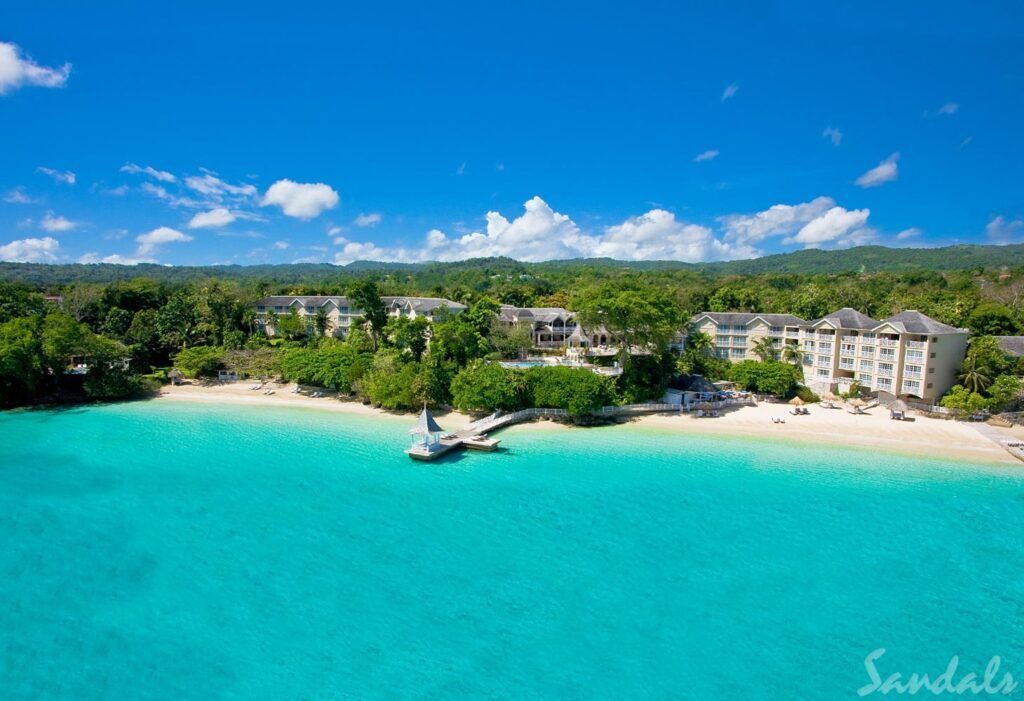 Sandals Royal Plantation in Ocho Rios is an adults-only resort with just 74 beachfront suites with breathtaking Caribbean Sea views. This secluded property is one of the best resorts for a honeymoon. It has everything a newlywed couple needs for a memorable honeymoon, even for the butler service. Relax in the pool and golf on the perfectly groomed greens where colorful peacocks roam.
With the only champagne and caviar bar in Jamaica, this resort blends classic and contemporary design. Suites at the Love Nest are tastefully decorated in various tropical and classical styles.
Your honeymoon package at any Sandals Resort includes your hotel, unlimited meals at various restaurants, unlimited drinks at various bars, and access to different water and land activities.
Ocho Rios, Jamaica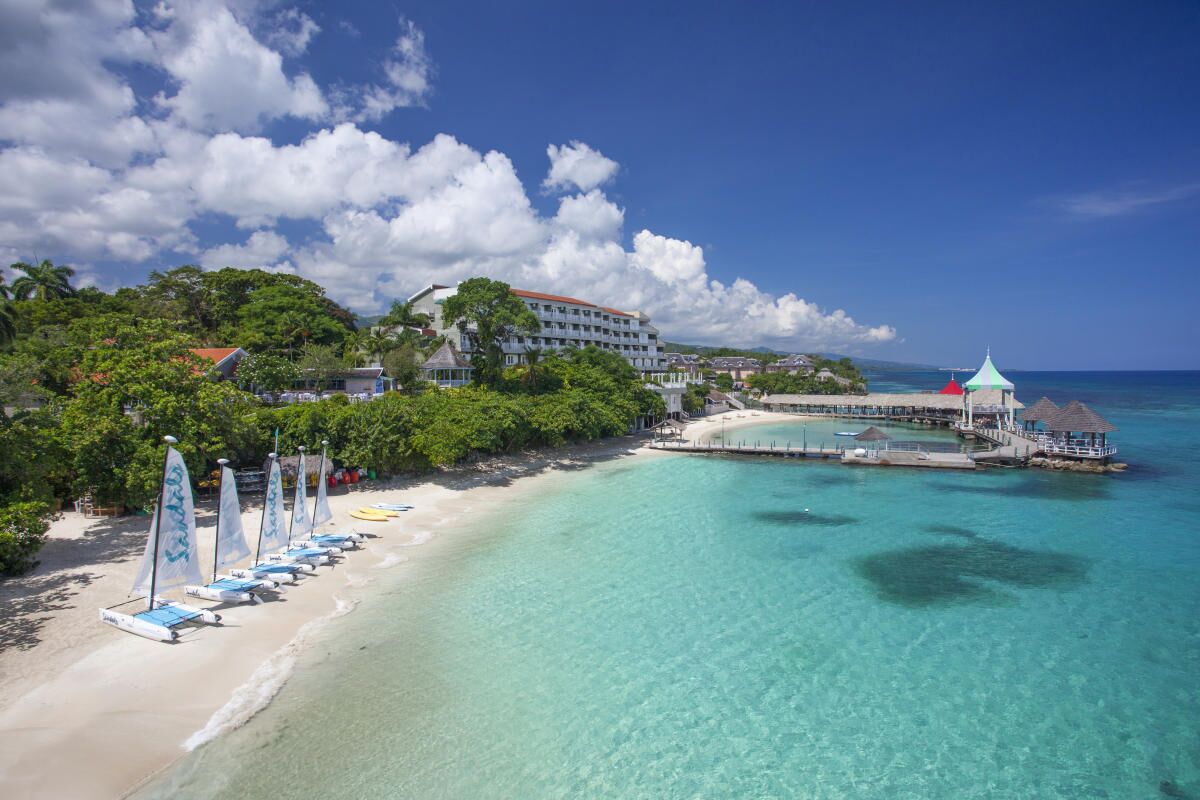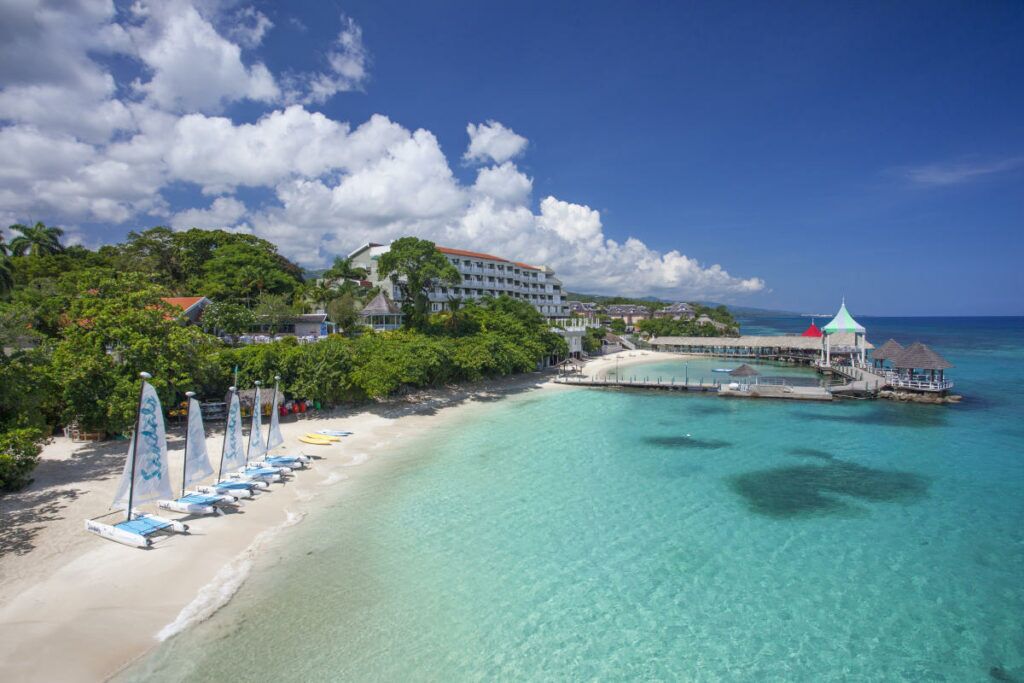 Among Sandals Resorts, Sandals Ochi is the most cost-effective for a honeymoon. This makes the place one of the best resorts for honeymooners with tight budgets.
Thanks to the Great House Luxury package, the resort's shops, restaurants, and bars are all within walking distance. Sandals Golf & Country Club green fees and no land or water recreation limits are included.
Each room has a balcony, an en suite bathroom, and a minibar with water, juice, soda, and local beer.
The Sandals Ochi features a famous beach club, 16 dining options, and 11 bars. If you want to stay somewhere fun, this is it. There are, however, plenty of quiet places to retreat to and recharge throughout your honeymoon.
Final Thoughts
Some couples look forward to their honeymoon more than any other aspect of their wedding. Couples who place a high value on their honeymoon and want to spend their well-deserved time away in a picture-perfect setting can do so by reserving a stay at one of the best resorts for honeymoons anywhere in the world. Start making preparations for your honeymoon right away and have a trip of a lifetime.