Many vacationers aspire to stay at a Sandals Resort because of its reputation as one of the world's finest. There is, of course, a cost to such luxury. Fortunately, not every Sandals resort will break the bank for you. Here are some of the cheapest Sandals resorts you can book for your next vacation.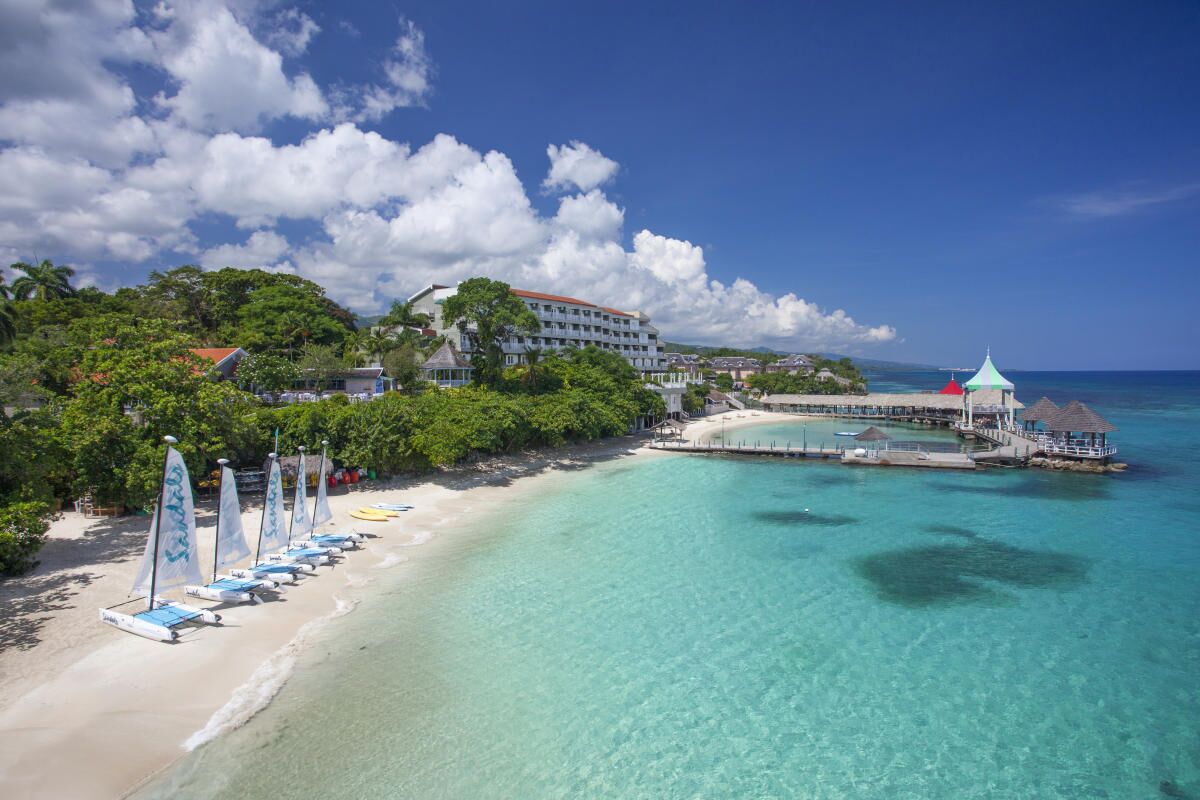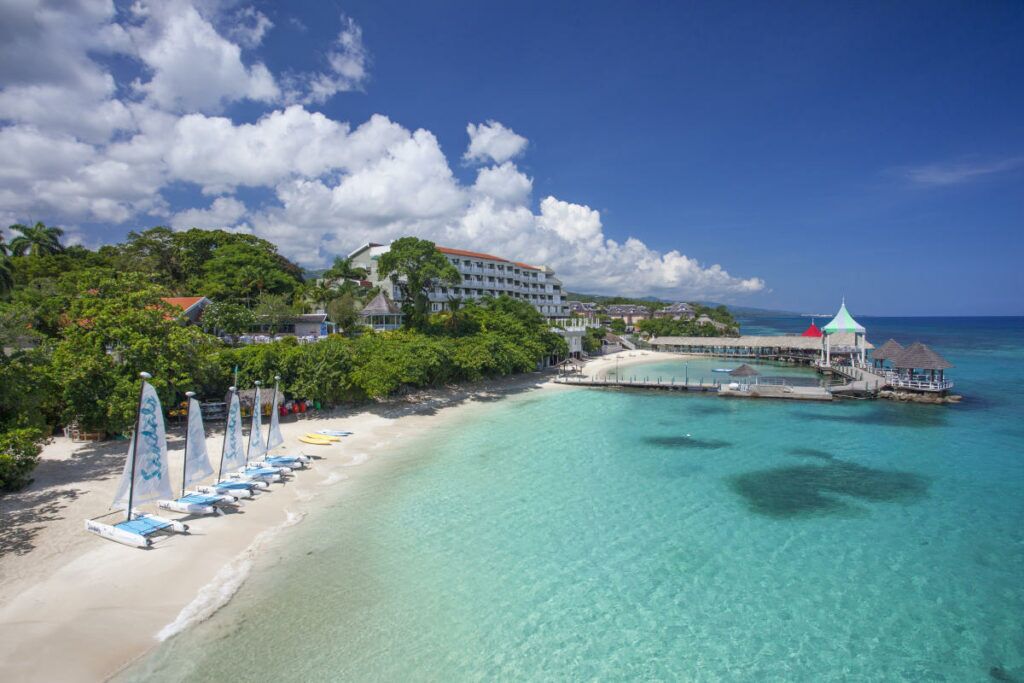 Ocho Rios, Jamaica
Starting Price Per Person: $241 per night
A 5-star, all-inclusive resort with 11 bars and 16 restaurants is available at Sandals Ochi in Ocho Rios, Jamaica. It's the cheapest Sandals resorts you can find. Because of its tranquil environment, it's the perfect spot to unwind.
In addition to the resort's five-star amenities, your one-bedroom villa suite features a private pool. You can also have a romantic honeymoon by staying in a villa by the pool at the butler village.
Moreover, there are comfortable beds and modern bathrooms, each with a balcony with picturesque views. Water, soda, juice, and local beer are all readily available, as is a selection of wines from the Robert Mondavi Winery.
This all-inclusive resort has 98 individual pools and seven communal ones. Get a drink at one of the poolside bars, too. For various reasons, this resort makes for an excellent vacation spot.
Also, the 18-hole course is perfect for a leisurely afternoon or swing practice. As an added bonus, the Ochi beach club hosts amazing parties for people seeking wild shenanigans.
---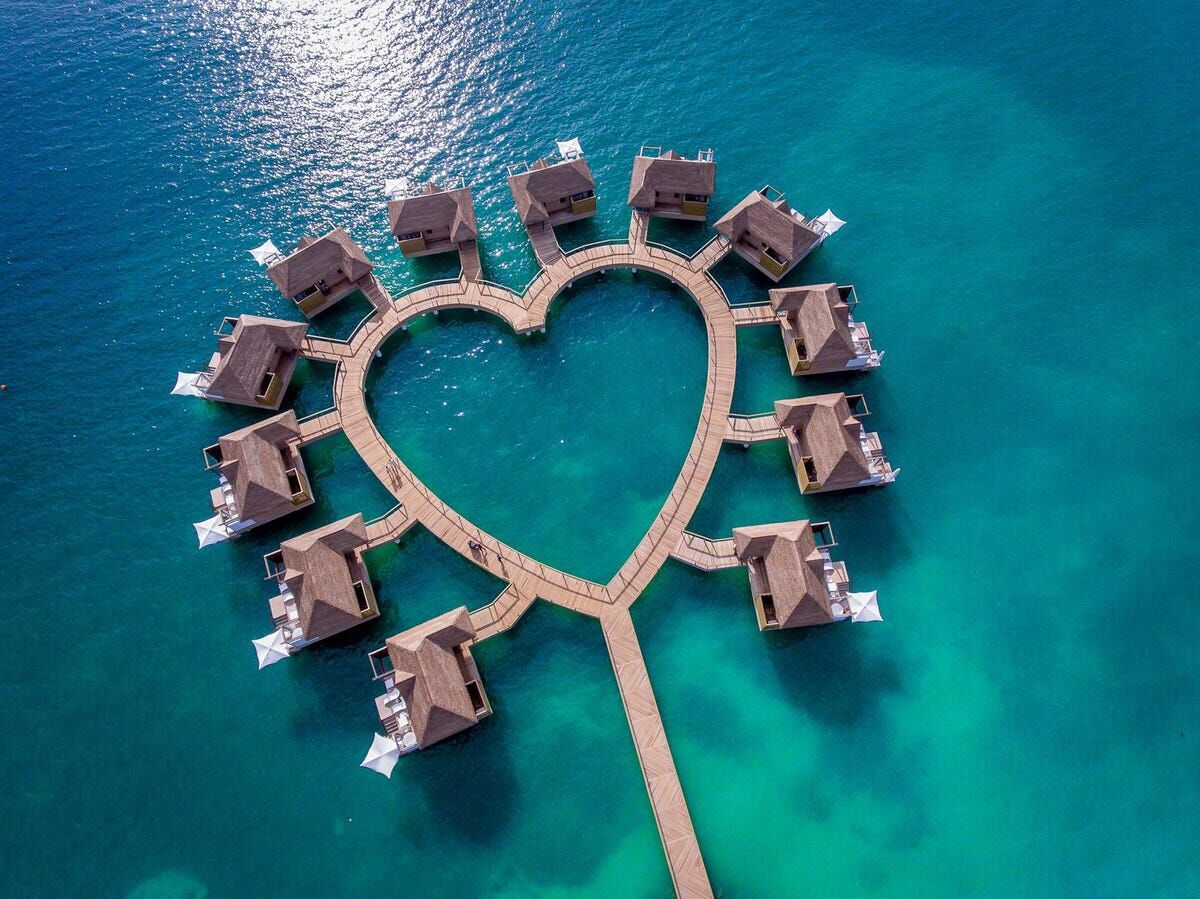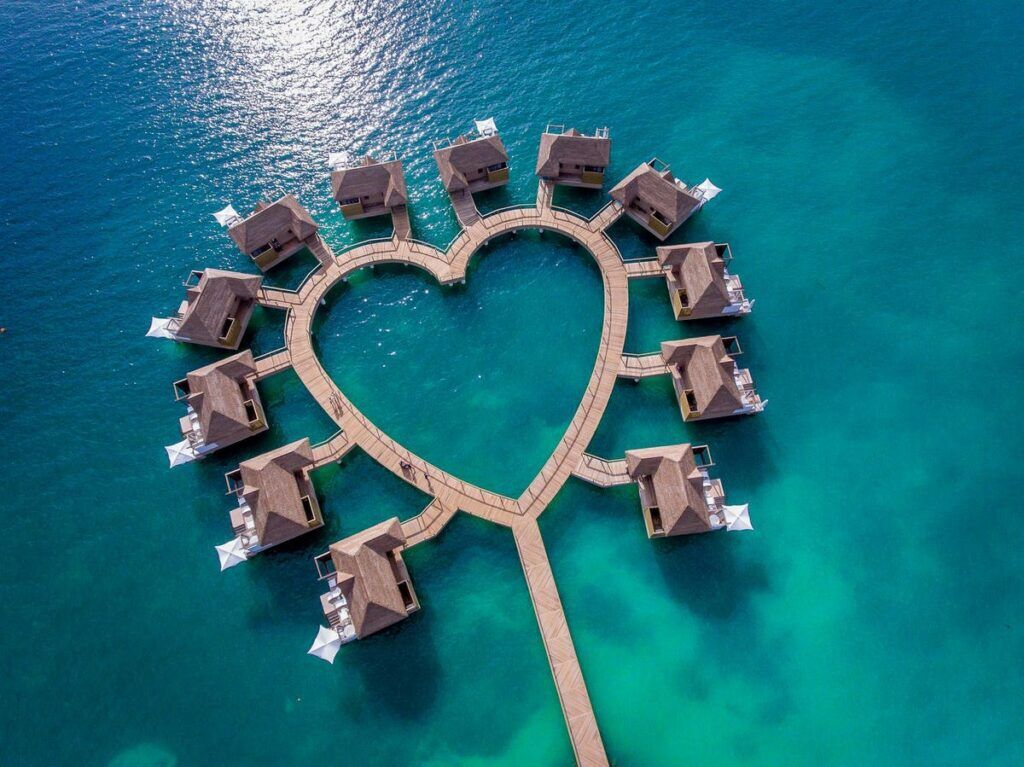 White House, Jamaica
Starting Price Per Person: $300 per night
Sandals South Coast is among the cheapest Sandals resorts. The resort's peaceful setting amid a 500-acre nature preserve sets it apart from similar establishments. It's the ideal setting for some much-needed leisure time.
Overwater bungalows with glass floor panels and hammocks are just two of the incredible amenities offered at this resort. Moreover, nine restaurants of varying quality offer a wide variety of cuisines.
Sandals South Coast offers a unique blend of European architecture, all-beachfront suites, and the latest in Sandals' signature services and facilities. The heart-shaped over-water cottages enhance the loveliness of this location.
Sandals South Coast has the best beach wedding settings, including an overwater chapel with a glass floor. The resort also boasts the largest pool in Jamaica, complete with a spectacular swim-up bar.
If massages and facials are outside the budget, you may still enjoy the spa's sauna, hot tubs, and steam rooms. Also available at Sandals South Coast are overwater bungalows, nine dining options, four swimming areas, and seven bars.
---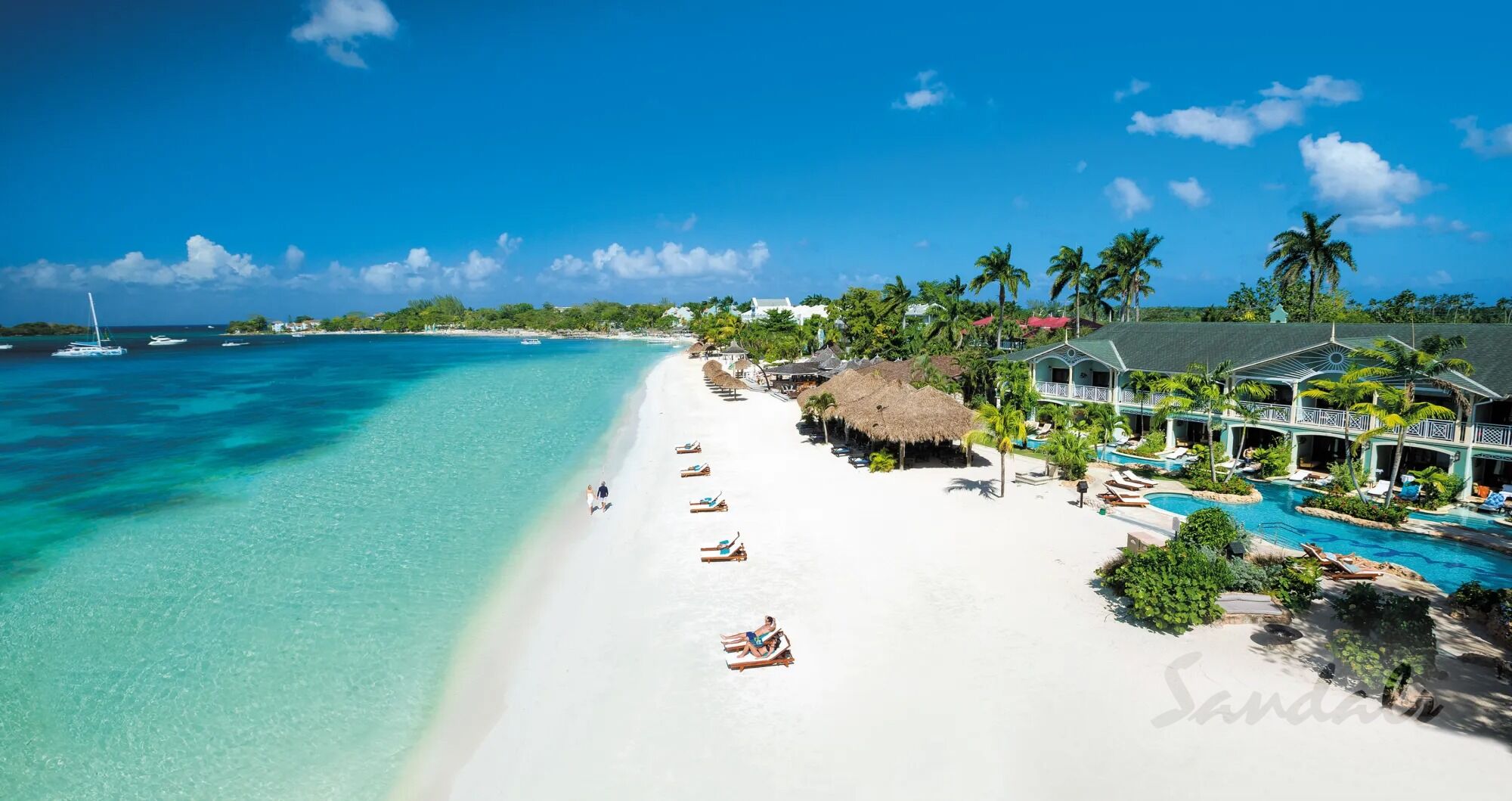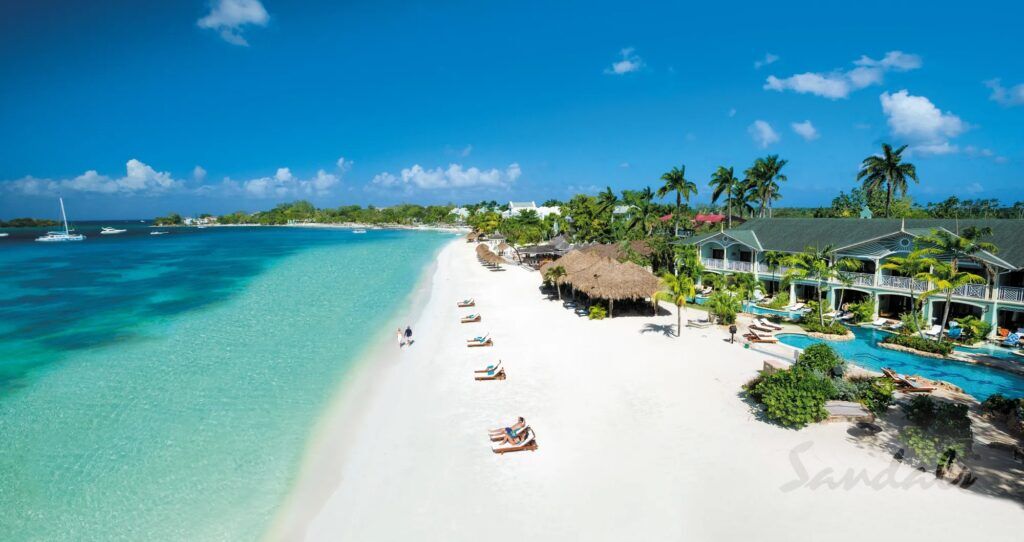 Negril, Jamaica
Starting Price Per Person: $280 per night
If you're looking for one of the cheapest Sandals resorts, go no further than Sandals Negril. It's a fantastic choice for those on a tighter budget who want access to all the amenities, delicious food, and exciting activities that Sandals is famous for. It offers an all-inclusive stay on a pristine stretch of Negril's 7-mile beach, with breathtaking scenery and a relaxed atmosphere. You'll agree that this beach is stunning.
Fine cuisine may be had at any of the seven restaurants, and guests can relax in one of the seven two-story suites. Negril has everything a vacationer might want in terms of entertainment. Unwind in the shade of a palm tree and take advantage of the free scuba diving, snorkeling, sailing, and wakeboarding offered at the resort.
There are suites with private pools or a swim-up laguna, so you can stay in the water if you want to. The Caribbean Deluxe on the Paradise wing is the most budget-friendly option.
Optional butler service, parasailing, swim-up apartments, and four-post mahogany beds are just a few of the amenities at Sandals Negril. Everything at Sandals Negril is within easy walking distance because the resort is smaller than others. Security guards ensure everyone's safety on the beach.
---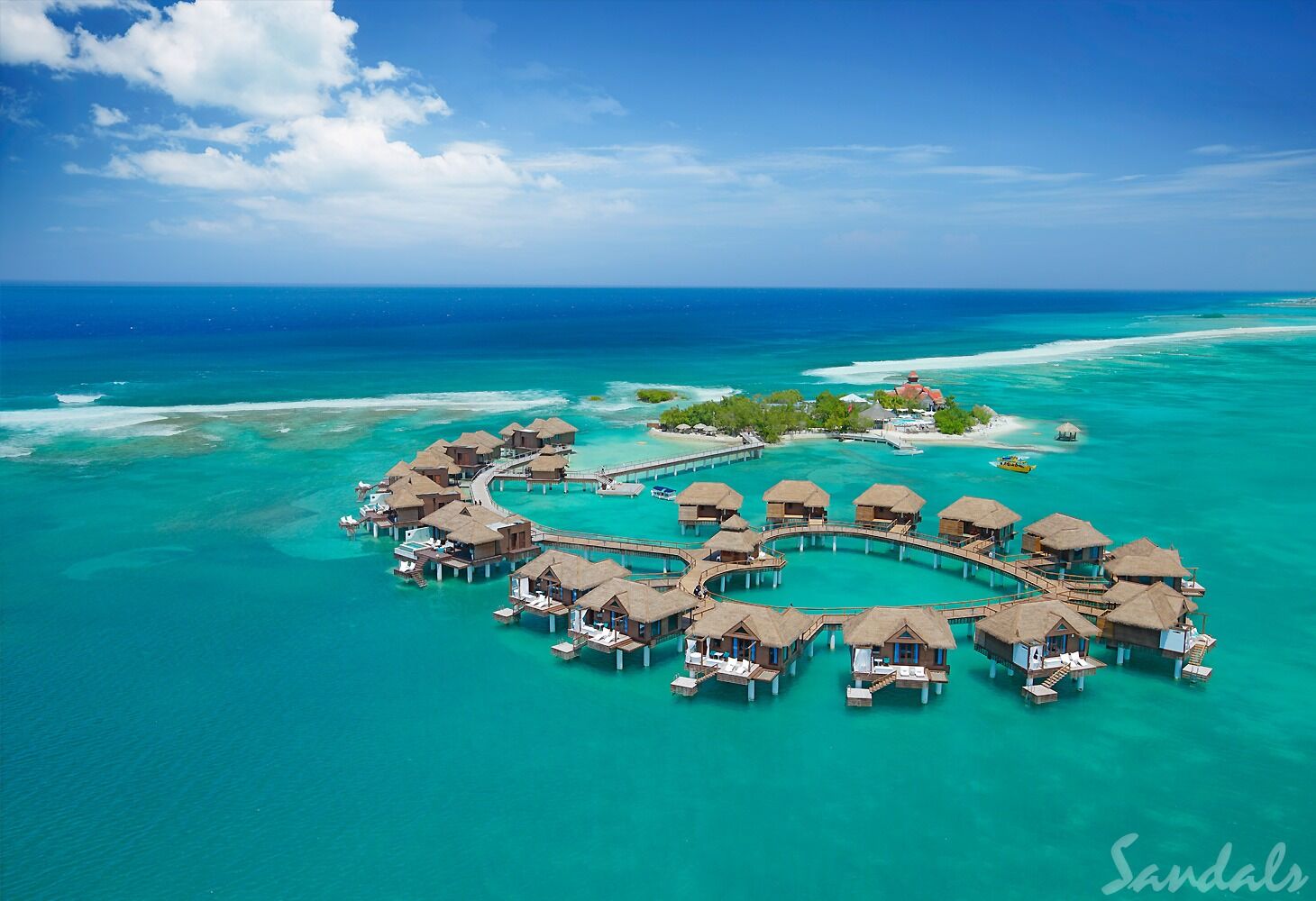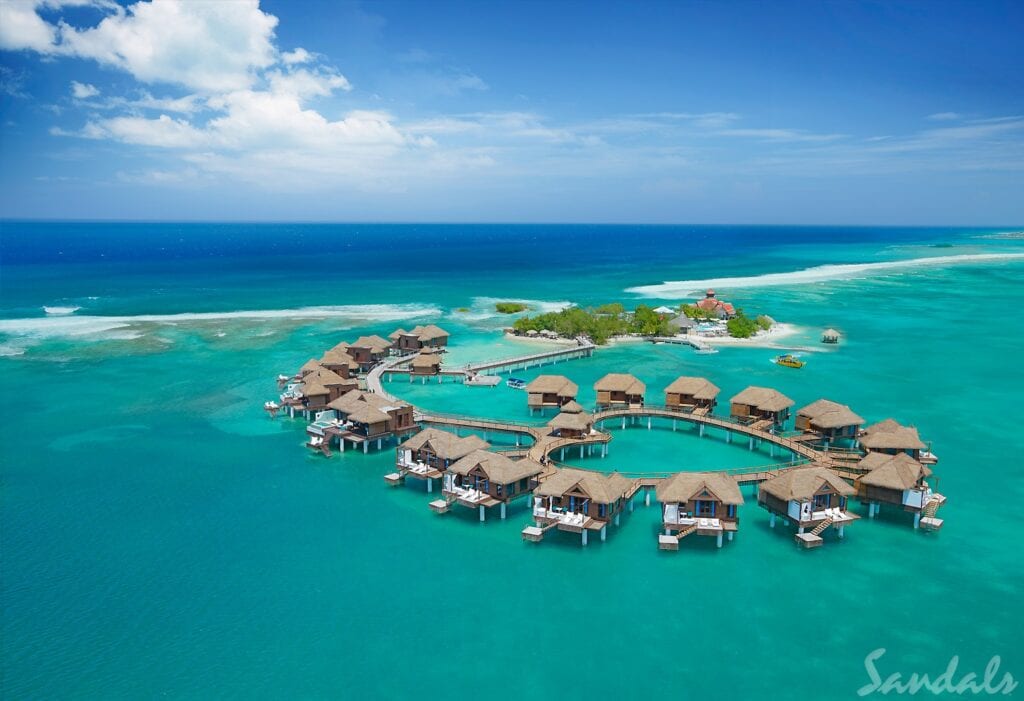 Montego Bay, Jamaica
Starting Price Per Person: $313 per night
Next on the list of the cheapest Sandals resorts to visit is Sandals Royal Caribbean. Couples on a budget who want to stay near the water and take in breathtaking views can do so at this Montego Bay resort.
The Coastal Honeymoon Walkout Club Level Suites, are designed to make you happy at a price that won't break the bank. Suites on the bottom floor of the Balmoral building, right on the beach. Guests will love the location, which is just a short walk from the beach and features excellent views.
The Great House at Sandals Royal Caribbean, designed in the Gregorian style, is a nod to the resort's British roots, which are also reflected in resort customs like afternoon tea and a rollicking game of croquet.
Nine on-site restaurants provide cuisine worldwide, while another 12 may be found at neighboring Sandals properties. You must take advantage of the real dragon boat ride to one of the offshore Royal Thai restaurants.
---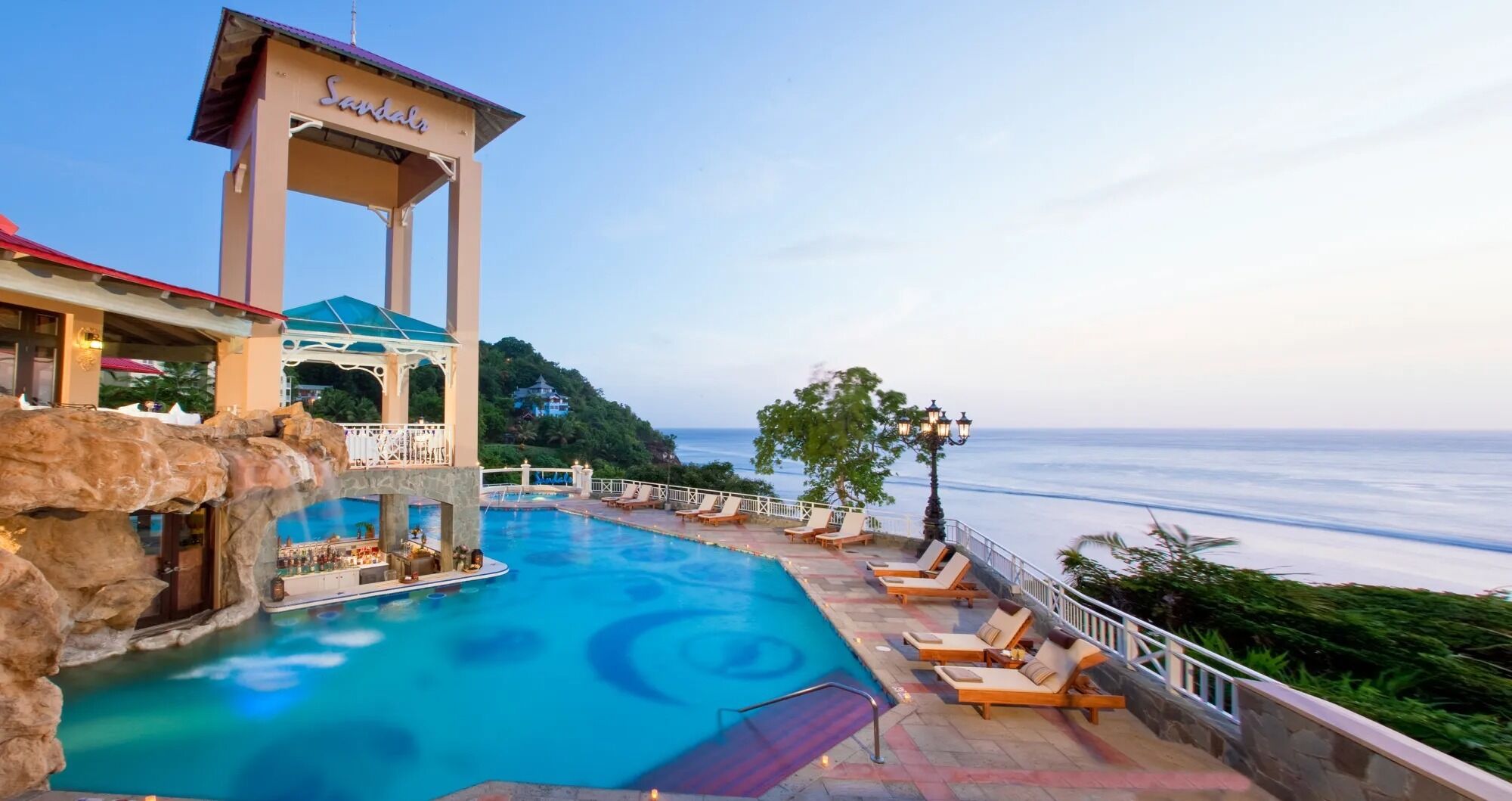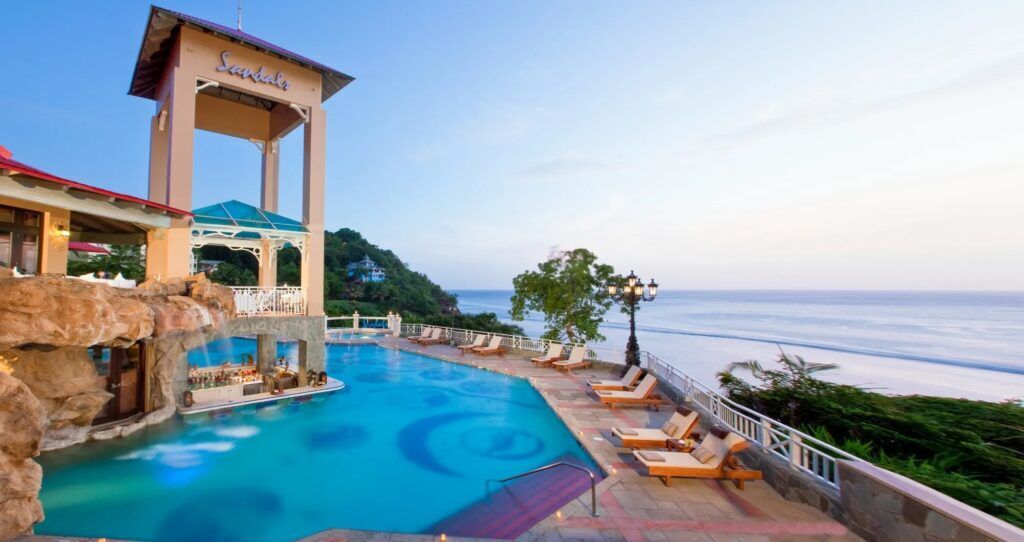 La Toc Road, Castries, St Lucia
Starting Price Per Person: $282 per night
In addition to being one of the cheapest Sandals resorts, this Sandals Regency La Toc is one of the most luxurious. The crescent-shaped beach at Sandals Regency La Toc is half a mile long, surrounded by verdant hills, winding fairways, and exotic coral cliffs. One of the most beautiful resorts around, so this resort may be the best option if you want a suite with a private pool.
At Sandals Regency La Toc, you may choose from accommodations like the Sunset Bluff Honeymoon Beachfront One Bedroom Butler Villa Suite with Private Pool. This accommodation is decorated in a modern island design. The bedroom's sliding glass doors lead out to a private pool. Moreover, there are sun loungers and a bistro on the roomy terrace.
The resort is the ultimate luxury thanks to its tropical location and the rolling fairways of the demanding executive-style golf course. In addition, the resort's unique Sunset Oceanview Bluff Village furthers the feeling of remoteness.
Sandals Regency La Toc is located on a stunning half-mile crescent-shaped beach in the "Green of the Caribbean" because of its magnificent emerald waters.
---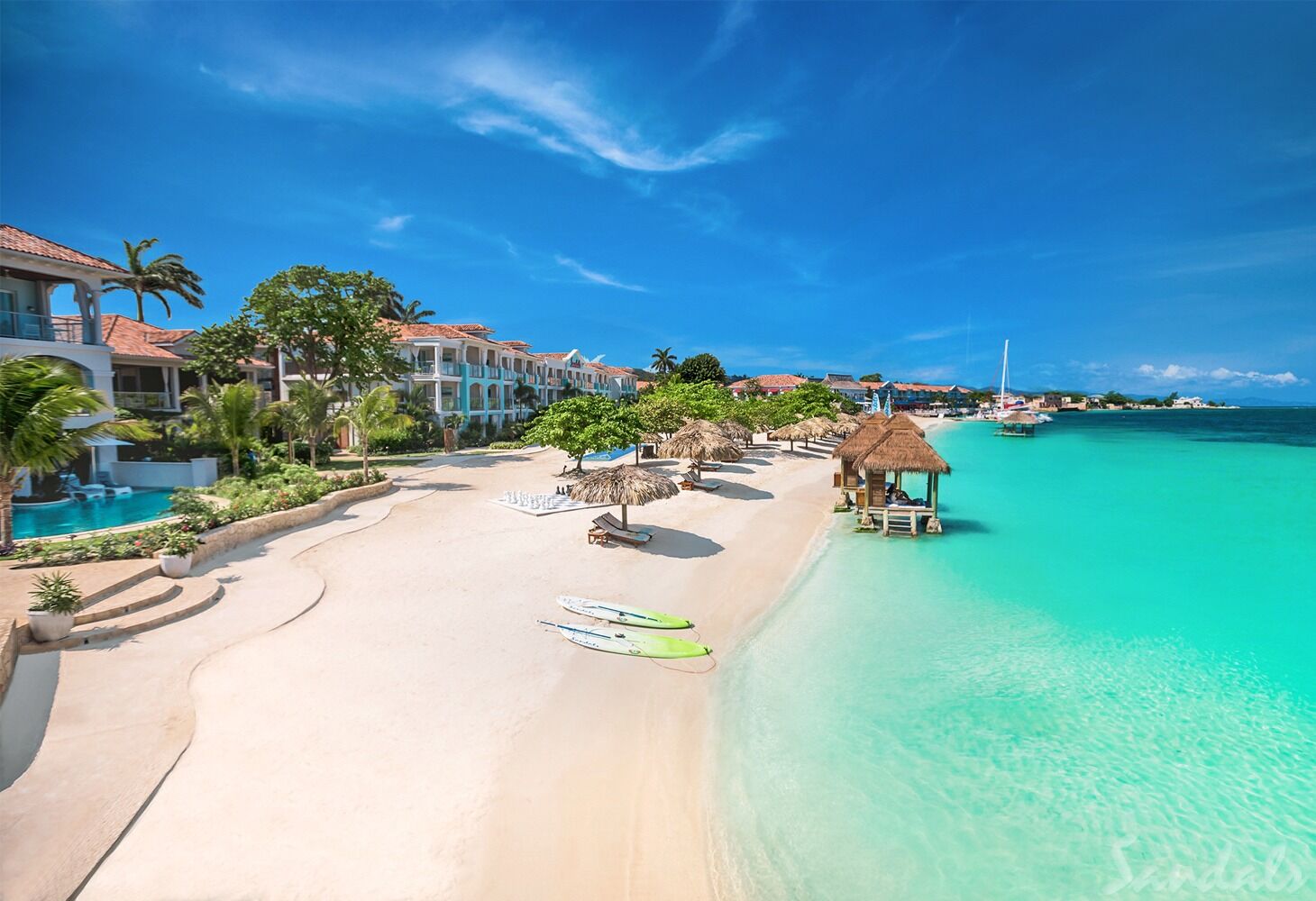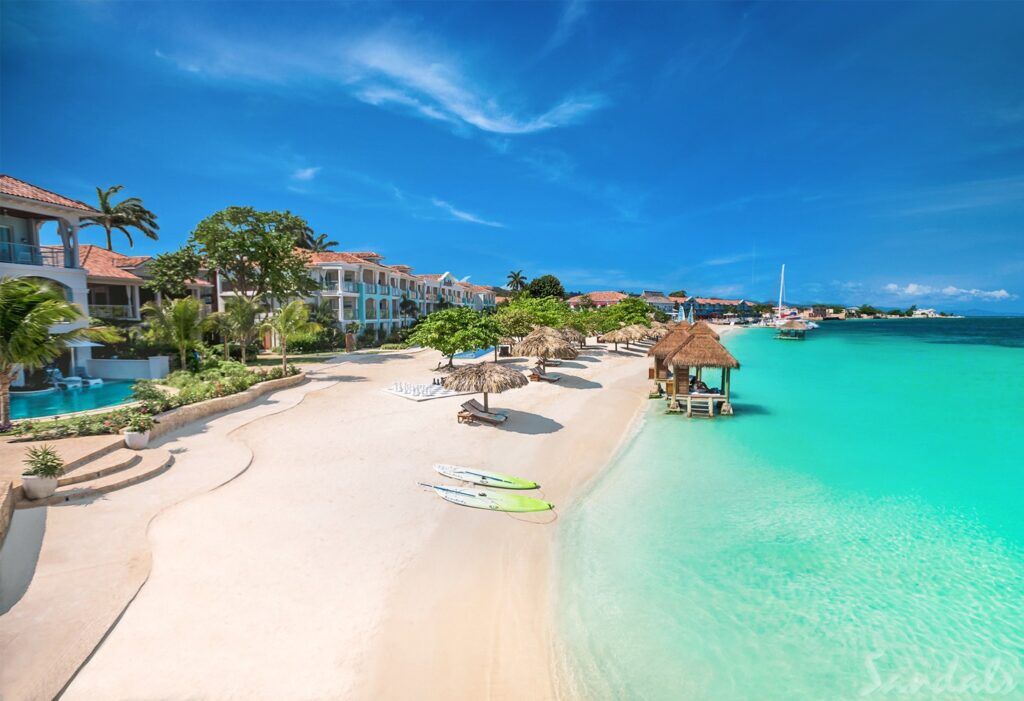 Montego Bay, Jamaica
Starting Price Per Person: $342 per night
Sandals Montego Bay's beautiful scenery and exciting activities will make a memorable trip. It's also one of the cheapest Sandals resorts you can stay at. If you're seeking a resort with a wide variety of activities, you'll find them here.
Twelve eateries and six bars are available, including a few with swim-up access. Water activities abound, and snorkeling among the magnificent reefs is an absolute must for the adventurist set.
The resort's covert location on the beach is within easy walking distance of fascinating reefs. Enjoy the sunshine while sipping a drink from the brand-new Over-the-Water Bar or unwind in your Tranquillity Soaking Tub. A second Sandals Royal Caribbean resort is located nearby. The resort provides complimentary transportation both to and from the airport.
This is the first Sandals resort to feature all-inclusive rates. One apartment features a private pool, and both rooms have butler service. With its picturesque lake chapel, this location is ideal for a wedding at a distant place.
Sandals Montego Bay consistently ranks among the chain's most sought-after destinations with its plush rooms, exciting activities, and beautiful beaches.
---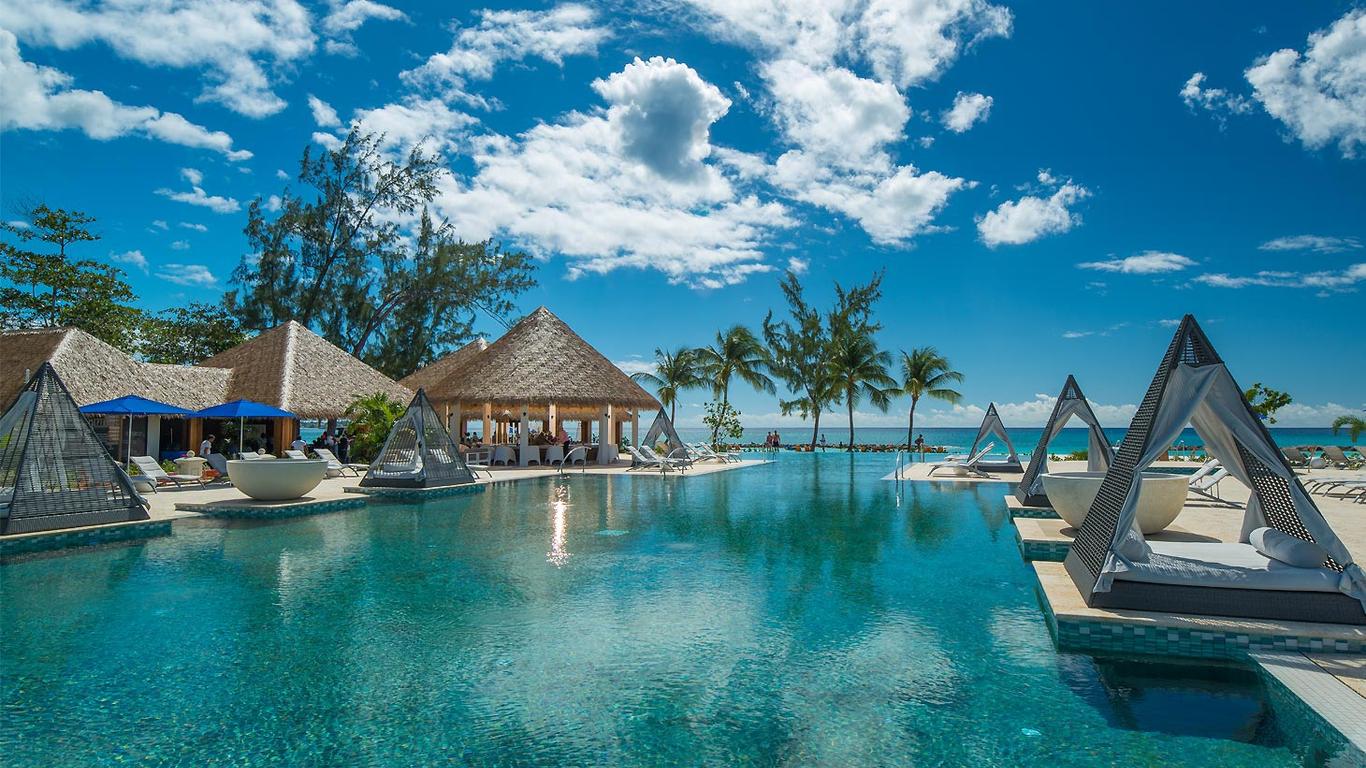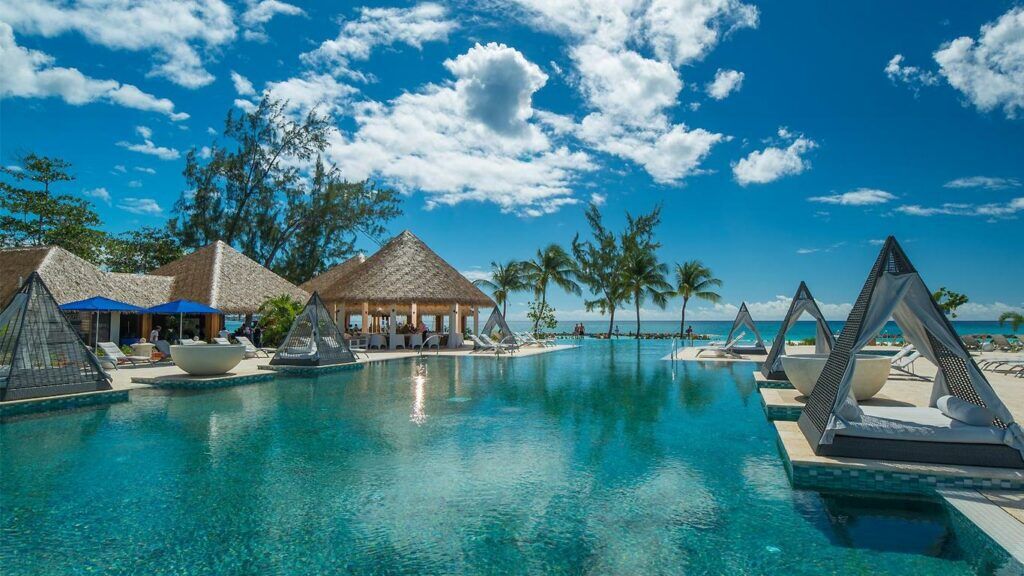 St Lawrence Gap, Barbados
Starting Price Per Person: $270 per night
Regarding Sandals resorts, Sandals Barbados is one of the cheapest. Its superb customer service has earned it excellent marks.
There are eleven dining options and seven drinking establishments to choose from. Activities like snorkeling and kayaking, which take place in the water, are also accessible. A unique feature of this resort is the availability of "swim-up suites," which allow guests to feel completely at one with the resort while still enjoying the seclusion they require.
The suites are practical because they provide easy access between the pool and the room. The Junior Palm Suite is the most reasonably priced suite with an Outdoor Serenity Soaking Tub on the South Seas Club Level.
Being near Sandals Royal Barbados means easy access to many excellent dining options, nightlife venues, and other upscale facilities.
You can definitely combine the luxury of two trips into one unforgettable experience. This location has lovely white-sand beaches, monkeys, and crystal-clear water.
---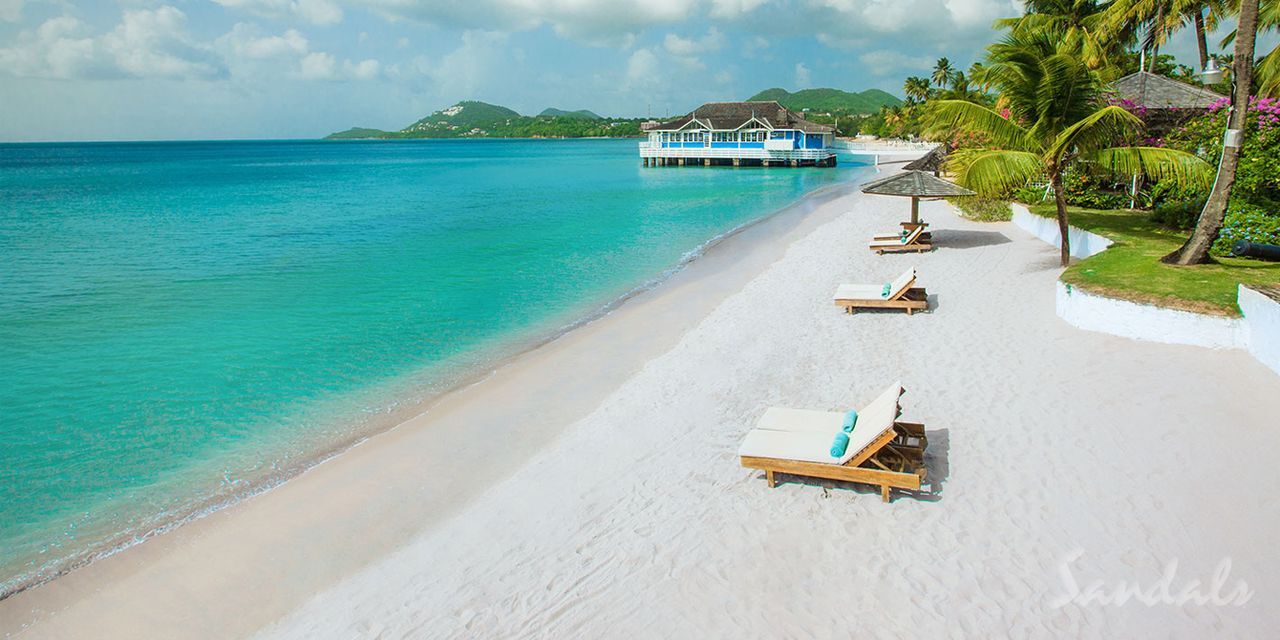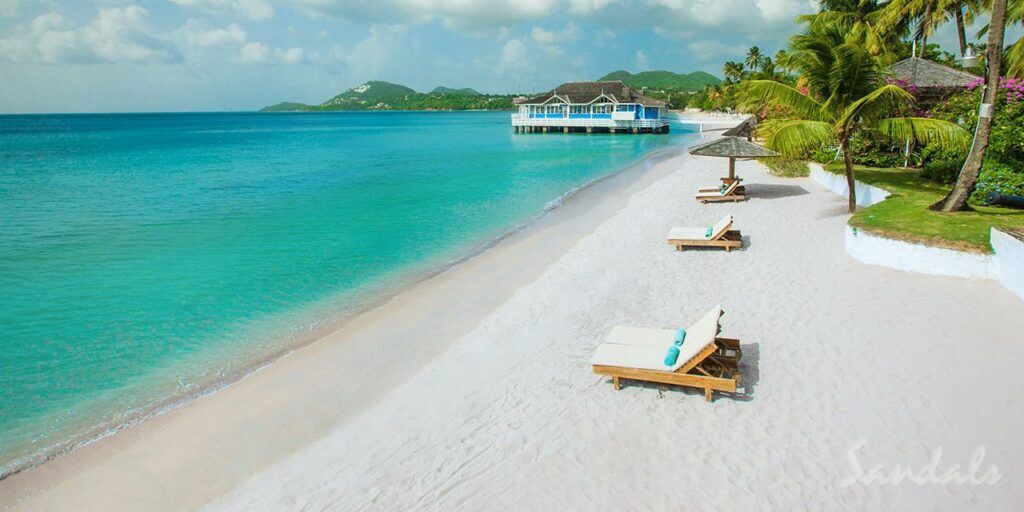 Gros Islet Hwy, Castries, St Lucia
Starting Price Per Person: $313 per night
With its beautiful white sand beaches and lush tropical plants, Sandals Halcyon Beach is one of the cheapest Sandals resorts. Also, this one feels the most quintessentially Caribbean out of all the Sandals Resorts. Guests of this all-inclusive Caribbean resort have access to seven different bar concepts and six delectable Global Gourmet restaurants.
Each suite has a patio where visitors can relax and enjoy breathtaking views of the grounds, highlighted by the resort's towering palm trees. Much aquatic activity occurs in the larger pool collection, including swim-up bars. Guests can use the complimentary shuttle service, which allows them to spend less money on transportation without sacrificing convenience.
A Crystal Lagoon Poolside Luxury Room is the most reasonably priced option. You can find it on the upper floors of Mon Repos, Vieux Fort, Prasline, or Roseau. Enjoy the tranquil atmosphere from the comfort of your private balcony at the beautiful crystal lagoons poolside rooms.
---
Sandals Cheapest and Best Value Rooms/Suites
Sandals Ochi Jamaica: Great House Luxury Room
Sandals South Coast Jamaica: Beachfront Deluxe Room
Sandals Negril: Caribbean Deluxe Room
Sandals Royal Caribbean: Caribbean Deluxe Room
Sandals Regency La Toc: Honeymoon Luxury Room
Sandals Montego Bay: Caribbean Deluxe Room
Sandals Barbados: Caribbean Deluxe Room
Sandals Halcyon Beach: Crystal Lagoon Poolside Luxury Room
---
Additional Tips When Booking a Sandals Resort
Here are some suggestions for those trying to make the most of a smaller budget while still having a wonderful time on your Sandals holiday.
Sandals offer considerable discounts for early booking. Plane tickets often cost less if purchased three to four months in advance. Taking a trip during peak season can cost a lot more. Avoid the expensive December through April period to keep costs down, especially around the holidays.
It's simple to locate the frequent discounts offered by Sandals resorts. You can find out what deals are currently offered by visiting their website.
To find out which following Sandals resorts will launch, visit the website. Great opening-week discounts are typical when a new Sandals resort debuts. In May of 2023, Sandals will unveil Dunn's River.
Among the Sandals resorts, Sandals Ochi is the most budget-friendly option. Thus, this resort is a superb option for those on a modest budget who wish to enjoy the world-famous Sandals service.
All of the rooms at a Sandals resort are decorated similarly. The only distinctions between them are the quality of their views (garden, oceanview, oceanfront), the closeness of their locations to the beach, the quality of their services (standard, club, butler), the size of their rooms (standard, suite, 1BR suite, etc.), and the presence of any perks they may offer (private pool, swim-up, whirlpool tub, etc.). The Deluxe room category is the entry-level option at all Sandals resorts. These rooms typically have a garden view.
Final Thoughts
The beaches at a Sandals resort are some of the cleanest and most beautiful you'll ever see. They also offer some of the most luxurious lodgings in the world. There's no need to wait any longer now that you have a list of the cheapest Sandals resorts. Get a reservation at the Sandals resort that most speak to your soul, and have a holiday you'll never forget.